THIS POST MAY CONTAIN AFFILIATE LINKS. PLEASE READ THE DISCLOSURE FOR MORE INFO.
Sports autobiographies are my favourite book genre. I started this page in May 2018 and you'll find my notes from the sports autobiographies I've read from global superstars (players and coaches) to journeymen. I had been wanting to recap the sports books I read for a while now. Thanks to Derek Sivers and Nat Eliason for the inspiration on how to organise my notes.
Click on each title you want to read the notes of.
RIC FLAIR: TO BE THE MAN – by RIC FLAIR (7/10)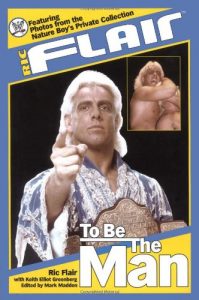 Date Finished: January 2018
BUY ON AMAZON
I was never a massive fan of Ric Flair growing up, but in hindsight, I can see why some do call him the greatest wrestler of all time. In this book, you'll hear plenty of stories an insight into the business and Ric's key to looking the best. The only downside for me is the book jumped around a bit too much which made it confusing at times.
Cyrille Regis: My Story – by Cyrille Regis. (7/10) Having never heard of Cyrille Regis before opening this book, I wish I got to see him play. One of the pioneers of black footballers becoming a norm in English football. Doesn't hold back in his story, even if it's embarrassing.
Best Seat In The House: Your Backstage Pass through My WWE Journey – by Justin Roberts (8/10) The world of WWE is full of drama on the outside, and it looks even more complicated on the inside as we learn from Justin. Lots of gems about building relationships, following your passion, and dealing with bullying.
Running for My Life: One Lost Boy's Journey from the Killing Fields of Sudan to the Olympic Games – by Lopez Lomong (10/10) If you one a dose of humility, this is a must-read. Lomong was born in Sudan, before being captured by rebel soldiers while attending church. Less than 20 years later he achieved his dream of becoming an Olympian with the U.S.A. on his chest. An inspirational autobiography with bits of humour that put it into the 10/10 category.
Getting A Grip: On My Game, My Body, My Mind… My Self – by Monica Seles (8/10) A great insight into Monica's life as a tennis prodigy who quickly became a 16-year-old world sensation. She talks about her brief entry into the world of a celebrity, realizing she's better off being 'just famous'. Then the stabbing and all the after effects. She's brutally honest and doesn't mind shying away from emotions, though it felt repetitive at times and there were some areas that could have gone deeper. Definitely, one of the toughest and best athlete autobiographies someone has had to write.
A Life Well Played: My Stories – by Arnold Palmer (9/10) The smile of Arnold Palmer is far from fake. This book features various stories from Arnold's life, many leave you saying "only Arnie". In between smiles you'll get lots of glimpses of how to live a moral life. And yes, a few golf tips along the way. This is always going to be on the list of best sports memoirs.
The Power of Negative Thinking: An Unconventional Approach to Achieving Positive Results – by Bob Knight (10/10) EVERYONE can learn a lot from this book. Don't make assumptions about the book based on the title as there's no weird new age mythical stuff in this book. Bob gives insights from his successful career about what he thought about when coaching in various situations which when seen in isolation can be negative, but as a whole is totally practical.
Bigger Than the Game: Restitching a Major League Life 9/10 Dirk calls himself an author and you can tell in the flow of the story, he is serious. A great candid read where Dirk goes through a tough period of his career, and for us, we get to hear him talk about it openly. This must have been tough to write, but a great story told by a quality writer who experienced what many of us can only dream of.
David Beckham: My Side 7/10 Published in 2004, there are lots of gems in this book right from his childhood through but it dragged on a bit too often at times (especially during the times he retold details from matches). Considering it was written during an interesting time in David's career (one year into playing with Real Madrid) there is so much that happened afterward, you need to read all his books to get the full picture (I haven't yet).
Pacman: My Story of Hope, Resilience, and Never-Say-Never Determination (7.5/10) This book could easily be one of the best books written by athletes if there was some basic editing done. That was frustrating at times, but as long as you can see past that, you'll find this book all about focus, appreciation, and giving back. It's to give back to his people that Manny has transcended boxing and gone into politics, he has seen the possibilities that exist beyond the Philippines and wants to give his people the opportunity to experience that. Boxing is his segway to his community though, that is something he really understands and is the reason he has fought so many times. He gives them hope!
Strongman: My Story – by Eddie 'The Beast' Hall (8/10) A good length of a book that takes you from Eddies somewhat troubled childhood (that included being a prominent swimmer) to achieving success in business through to being one of the worlds best in strongman competitions. Not hiding behind words in this book, plenty of inspiration for you to apply to your life in and out of the sports industry.
Letters to a Young Gymnast – by Nadia Comaneci (9/10) Written to the young who write her letters, we can all learn from Nadia in this book. I loved her positive outlook on sacrifice, and while she doesn't open up 100%, she shows a lot of vulnerability in throughout the book. The other lesson I took away is perfection, there is no such thing as perfection even though we constantly seek it.
Jonah Lomu Autobiography – by Jonah Lomu (6/10) The great man wouldn't appear again in the black jersey after this book was published, but he went on to achieve great work post-rugby. Some nice touches on the All Blacks culture and fellow players are in the book but lacks depth in personal areas he could have opened up about (kidneys, relationships, expectations). Hated having to give this a 6 but also confirmed to be the best sports autobiographies are written at least five years after retirement from the top level.
Roberto: Kicking Every Ball – by Roberto Martinez (4/10) I don't understand the layout of the book. The chapters jump back and forth, it would have been easier to stick to a chronological order. The last chapter was complete filler. Some gems in there, but his followup book will be 10x better.
Neymar: Conversations With My Father (7.5/10) Wowee, an interesting book despite coming so early in his career. The sections by his Dad (Neymar Sr) are brilliant as he has so much experience and his lessons are way deeper imo. But the passion you sense from Neymar Jr is also impressive. A great read on one of the biggest superstars ever (can't wait for the sequel).
This Road I Ride: – by Juliana Buhring (7/10) 1. Growing up in a cult | 2. Losing the love of your life. Those two events are enough suffering for everyone to push themselves to extremes in life. This ike chronicles the events leading up to her decision to cycle around the world (in a world record time), with various events coming into play throughout the book from past events.
Jamie Vardy: From Nowhere, My Story – by Jamie Vardy (7/10) The title of one of the more inspirational autobiographies I've read so far is totally accurate. After excelling as a child, Jamie fell off the bandwagon when he was rejected by the club he loved so dearly. He hit some low points, but with a combination of family, talent, and the belief of a few individuals Jamie again the tools to not only win a Premiership but to go on and represent England after turning professional at the age of 24. The dream was always there, yet the journey was certainly rocky. One of the top sports autobiographies with a story of redemption.
Blood, Sweat, and Treason: My Story by Henry Olonga (8/10) Most well known for taking a stance against Robert Mugabe while playing for the Zimbabwean cricket team which meant he couldn't safely return to Zimbabwe. Has some interesting insights from how mentors affected him throughout life in a professional career where he was a good cricketer but was never going to be a great.
Relentless: From Good To Great To Unstoppable – by Tim Grover (8/10) Tim was the coach of some of basketballs greatest players. His methods have been tried and tested throughout the years, and he knows what works. You'll learn about the Zone, stress, being a leader, all about striving to be the best. Lots of quotables.
Quiet Leadership: Winning Hearts, Minds and Matches by Carlo Ancelotti (9/10) I resonated with this book as a quieter person. This autobiography about a leader of various teams gives some great advice on relationships, communication, and leadership. A valuable book that you can learn from about leading teams in any industry. His early chat about the leadership arc chat was also an interesting insight.
My Story: Crossing the Line by Luis Suarez (7/10) Growing up in Uruguay, Luis had to fight his way to get from the backstreets of his homeland all the way to Barcelona. You'll learn a lot about how much it takes to fight to reach your goals and dreams from this book in addition to learning about Luis Suarez thinks about some of the more controversial moments in his career.
Sir Curtly Ambrose: Time To Talk (5/10) If you're not a cricket fan, you'll struggle with this cricketers autobiography as there is a decent amount of cricket speak involved. But if you want to hear from someone who has succeeded when they others might not have because of pride, this is for you. Considering he wrote this book 15 years after retiring from international cricket, this book left a lot to be desired other.
A Different Kind Of Daughter by Maria Toorpakai (9/10) Wholly shit, this is real. Since 2001 we've heard a lot about the Taliban in the media, but Maria grew up surrounded by the Taliban. And they wanted her dead. She had liberal parents (they were Muslim) and the family is crazy strong, and Maria drew strength from them clearly as she was determined to not let them control her life. An amazing, vivid, powerful sports biography about the story of a professional squash player from Pakistan.
The Artist: Being Iniesta by Andre Iniesta (7.5/10) I'm not the biggest football fan, but Andre Iniesta is one of the faces I recognise. In a star-studded team like Barcelona, he was a fixture in the team, his teammates acknowledge the things he did in the middle of the field helped them win a lot of games. This family man is open and honest throughout the book and has asked for input in the book from those he has learned to trust most throughout his career.
Gunning for Greatness: My Life by Mesut Ozil (8/10) In the current world, immigration is a big issue and while Mesut grew up and has represented Germany, his Turkish blood still causes many, many issues. Even after living there for 20+ years! He talks openly about the conflict and his viewpoints, and how we should all be integrated and work together. Just like millions do on the football pitch.
Pepe: My Autobiography (8/10) Pepe, a goalkeeper, usually remembered for his bad saves than his great saves. It takes a certain personality to be a great goalkeeper, and if I was too take three quality from this book that applies to Pepe's success they're luck, gratitude, consistency. He knows luck plays a role in making it to the top of the football world and is forever grateful he has the chance (and is grateful for the fans and his family). But he has always worked hard to maximize his success. An inspirational autobiography from a positive human.
Johnathan Thurston: The Autobiography (8/10) If you're a fan of rugby league or familar with the sport at all, you'll love this tell-all autobiography from one of the games best players the game has seen. From growing up with a massive family, struggles in his teenage years to get any kind of recognition, to numerous off-field incidents that could have snowballed into a disaster. Johnathan had to work hard to get where he ended his playing career, a rugby league legend. But as they say, nothing comes easy. If you're not familiar with the sport, this rugby league autobiography might be hard to follow at times.
I Am Duran: The Autobiography (4/10) I am definitely not a Roberto Duran fan. This may be why I've given him such a low score, but the book in fairness is written in a conversational style which is cool…he also owns up to his mistakes, but it's the contradictions throughout the book which frustrates me. He isn't someone you'll want to look up to, but you can take bits and pieces from his grit and determination when he is inside the ring (oh, except for the fight when he quit).