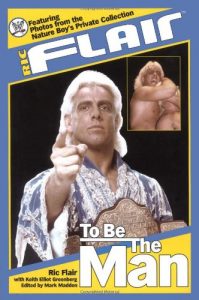 Date Finished: January 2018
Did I Like It? 7/10
The books Amazon Page
He might not be the typical wrestler build you usually see in today's WWE superstars, but Ric Flair was one of the greatest of all time. How he survived the life he lived earlier in his career I'll never know, but he never shunned his responsibility in making others look good. An inspirational book with some crazy stories (including the bad). Respect.
Click here to the index of sports autobiographies.
What I Highlighted:
Introduction
Flair transformed wherever he was into the only place to be on the planet.
Ric had greatness, and those who came close to him took some of it with them.
CHAPTER 1 BLACK MARKET BABY
trying to prove to myself, to my peers, and to the fans who paid anywhere from five to five hundred dollars that I could be the best at what I chose to do for a living.
There is no off-season in our business, and we're the toughest athletes alive.
While fans were saying that I could have a five-star match with anyone at any time, behind the scenes I'd be called an old piece of shit
Hell, I began to wonder if I even had a legacy at all.
World Championship Wrestling (WCW), tried to sue me out of my profession.
"To be the man, you've gotta beat the man,"
I'm sure that if I attended school now, I'd be diagnosed with attention deficit hyperactivity disorder,
My priority was going out and being the party.
My parents would attend one of my football games every season, but they never saw me wrestle, so I felt like I was on my own.
I was definitely good enough to make the team. It was just a simple question of getting my grades right.
I understood their fears, but didn't share their apprehension.
CHAPTER 2 BREAKING INTO THE BUSINESS!
I'd always done well at sports, so I figured that if I kept getting bigger and stronger, I could make it.
We had to do 500 free squats, 200 push-ups, and 200 sit-ups. I'd never trained so hard in my life.
I called up Greg and said, "I'm done." I was dead. Mentally, I couldn't take it.
I was a young guy, but he was a star, so I appreciated the time he took with me.
I was infatuated with being like Dusty.
We've worked hard to create a certain mystique about this business, and it bothers me when so much of the magic is given away.
That was how you became one of the boys—you got rode hard. The veterans wanted to see if you would break.
"Thanks for taking me under your wing and helping me become part of the business."
CHAPTER 3 MR. CHARISMA
When I'd get backstage, though, I got the impression that the older, wilder guys saw something in me that the other rookies lacked.
Clearly, I had a long way to go before I got my priorities straight. I was pretty much willing to do anything that Wahoo asked.
I learned a lot watching Valentine—the way that he made everything he did seem meaningful.
I was feeling more confident every time I stepped into the ring, and I was learning against a whole variety of opponents.
I'd found a forum where both my athletic ability and my personal eccentricities were held in high regard.
They utilized crowd psychology in ways so many of today's wrestlers can't comprehend. It's not their fault; they never learned.
An older wrestler named Art Neilson taught me the importance of bleeding.
Everybody's skin heals differently. I guess I'm lucky.
The territory was just wide open, and you couldn't pay me to be home. Not because of anything Leslie ever did, but because I didn't want to miss a party. I was having too much fun being Ric Flair.
You went to work, or you didn't get paid—or, even worse, you lost your spot.
CHAPTER 4 THE MAN WHO SAVED WRESTLING
On TV, we hated each other, and they actually thought that he was coming to finish me off while I was lying at death's door; that's how real it was to the fans.
With all the mean-spirited jokes he'd pulled, he got less sympathy than most people in his position.
I loved wrestling and everything about it, and I believed with all my heart that I would recover sooner.
I also needed it to keep myself intact. What a heartless bastard he was for saying that, but it served me right for searching for compassion in such a callous profession.
CHAPTER 5 WHERE DOES A TURKEY LIKE THIS FIT INTO MY PLANS?
Olivia played a big role in creating the aura of Ric Flair. She was the best.
The knife-edged chops that have become such a big part of my routine were largely inspired by Wahoo and Terry Funk.
I was still learning the secrets of becoming great. I prided myself on my cardiovascular conditioning.
I was determined to wrestle a classic every night, and willing to sell my heart out to make it happen.
I discovered that once you showed that type of good faith, most opponents would sell all your stuff, too.
The important thing was how the fans felt when the night was over.
It didn't matter; we gave them such a good match, they really didn't care who won that night.
CHAPTER 6 I AIN'T STUPID ENOUGH
It was just the way the business was run. The word compassion did not exist.
Not once had I stopped to ask myself, "How could you cause someone so much anguish?" I can't pinpoint anything that Leslie ever did wrong.
and I haven't forgiven myself for putting my Ric Flair persona before her and two beautiful children.
For anyone out there who cares, you can never take things like this back. You can never replace the moments you've lost. Trust me, money and time cannot mend all the wounds that you've inflicted by being so selfish.
If he saw one of his opponents at the airport, he wouldn't talk to him. This was his life, and he sacrificed everything to be the best.
The one thing I learned from the experience was to judge people by the way they treat you.
CHAPTER 7 SIXTY-MINUTE MAN
But the actual wrestling part of the job gave me life.
Three hundred and eighty matches a year. And I loved it.
CHAPTER 8 YOU'VE BEEN HERE BEFORE, AND WE'VE NEVER BEEN THE SAME
I fell in love with Beth the moment I first laid my eyes on her.
Being the Nature Boy meant a lot of things, including not taking care of my business. I just went through life so fast. I bought whatever I wanted…
Whenever you lose the championship, you wonder, "What have I done wrong?"
I've always been more comfortable as the antagonist, but this was an easy role to play.
The moment was planned, but I think a lot of these guys were genuinely happy for me. So were the fans.
CHAPTER 9 ANY KIND OF HEAT I CAN GET
Still, I blame myself for making certain concessions only because I wanted to avoid a confrontation.
When I was growing up, my dad got it through my head that drugs were the end, so I stayed away from them. It was a matter of individual choice.
CHAPTER 10 THINGS ARE TAKING PLACE
I was on such a mission to be Ric Flair that I neglected what was really important.
he chooses to fill my shoes by having a strong work ethic, I'll be proud. If
it's your family that matters.
When people use the word integrity in reference to professional wrestling, I still laugh.
CHAPTER 11 I JUST HAPPEN TO BE YOUR MASTER
He was so good that it wasn't even like working.
I was running on vitamins and nutritional supplements. Only in my most private moments did I worry about neglecting my health.
He received an outlandish money deal that made some wrestlers jealous; his educated point of view was refreshing, but challenging.
I had to teach him how to perform and draw money. I made all his power moves look real convincing.
THERE WERE TWO reasons why the title kept coming back to me: I had proven that I could draw money, and I would do what was right for business.
CHAPTER 12 THE DUSTY FINISH
People let their egos get in the way of good business decisions.
CHAPTER 13 TEST OF TIME
Despite how much the business had changed, in the ring, the chemistry was all there.
The experience made me realize that everything I did had consequences.
I wasn't consumed with what was right for Ric Flair; it was what was right for business.
Ric and Steamboat knew how to get the crowd to where they wanted it to go, like symphony conductors.
CHAPTER 14 LIKE ICE CREAM TO COW MANURE
Like me, he has adjusted over the years, going from describing the short-arm scissors to the moonsault.
Hardcore became a niche for a lot of guys who couldn't do fuck-all in the ring.
It was the first time that I ever had to deal with not being wanted. I lost my confidence and started having terrible anxieties.
So I started seeing a sports psychologist.
He didn't kiss my ass, and I didn't kiss his; the mutual respect was already there.
CHAPTER 15 THE REAL WORLD'S CHAMP
I remember saying to myself, "This is the biggest star in the business, and has his priorities in order." In my mind, he was a quality human being.
I did them to enhance my appearance, but never my performance. It was my own choice.
If we got three or four hours of sleep every night, we were lucky. I like to party and can handle some of that, but every day for months took a toll.
He shared my belief that the best matches are called in the ring and on the fly, not laid out on paper.
I wouldn't trade good health for any amount of money.
CHAPTER 16 THIS GUY'S GOT A VISION
At that stage of my life, I really just wanted to be a wrestler.
Unfortunately, his inability to separate himself from his personal feelings often threw those talents off-track.
They told me all the time that they were proud of me, but I know they had no passion for the business.
I was finally beginning to mature, and realizing how important it was to make my marriage work.
I thought that money could buy damage control. Then I learned that you get much further by talking about what's wrong.
But I needed to know that I still had a job, so I stood my ground to the very end, until Bill Shaw arrived at Halloween Havoc with my contract in his hand.
CHAPTER 17 HIS EXCELLENCY WILL ALWAYS BE WITH US
Personally, I don't think it's healthy for anyone in any field to not have outside interests,
think that's part of the reason we've seen a number of ex-wrestlers disintegrate—
I went because it was an opportunity to associate myself with someone like Muhammad Ali as an international sports dignitary, and represent professional wrestling to a huge population who had never seen it.
We're independent contractors, so we have to find our own way in the business. It's almost like we're not allowed to be friends.
Eric and I used the same strategy we employed to recruit Hogan. First, I called Randy up, then Eric and I flew to Florida and took him out to dinner, selling him on the company.
Call me paranoid, but I was starting to feel a little manipulated.
CHAPTER 18 HUMILIATION
Vince wants his wrestlers to respect each other. Bischoff didn't care because I don't think he respected anyone else.
This was probably the second show I'd missed in twenty-five years. Still, the company had to punish me.
In terms of storyline, the turn and result didn't make sense. The only motive seemed to be burying me.
CHAPTER 19 FIRE ME! I'M ALREADY FIRED!
That's what makes him great—he cares about his trade, and he cares about the fans.
As big as he'd gotten in the business, he never forgot who Ric Flair was, or my connection to his family.
Now I was beginning to lose my self-respect. I was questioning my own value as a performer.
CHAPTER 20 THIS IS HOW I TRAVEL, YOU JACKASS!
Despite my history with Eric, I wasn't upset by the move, and neither was Beth. It was just business.
I'm a professional wrestler, and that's the most unprofessional thing I could have done. You never take advantage of a person who's put his trust in you that way.
And then there was Hogan-—with all his experience, and all his celebrity—trying to be cute. He whipped David like a dog. It was sickening, and I'll never forgive him for it.
His death hit me harder than I expected. I probably drank more than I ever did in my life.
You can't have an accountant running a wrestling company. You need a wrestling person.
CHAPTER 21 IS ZSA ZSA GABOR SICK THIS WEEK?
Well, let me tell you something: if you're good in this business, you'll figure out
If you're great, it will eventually come out.
I couldn't wait for the company to go out of business; I just didn't feel like walking out and getting sued again.
Do you know how it felt, lying there on the canvas with fake blood splattered all over me after losing to a magazine writer? You figure it out.
CHAPTER 22 WE KNOW YOU CAN HANDLE IT
It seemed to me like my legacy had been destroyed.
Once I came back from rotator cuff surgery, I quit working out after an entire life of being in the gym. I just didn't care. The fans could tell that I was out of shape, and they heckled me about it.
Sting definitely carried his end of the match. I couldn't carry mine.
After a lifetime of denial, it took the three of them to convince me that the future wasn't tomorrow. The future was now.
I've really cut back on drinking inside the house. I don't think it sets a good example for my children.
I TOOK IT as a challenge, and began working out hard.
IT WAS NICE to hear that kind of applause again, but just a handful of people knew the true story.
Just having a legend put that trust in me gave me the rub I needed with the boys.
CHAPTER 23 DONT YOU KNOW WHO I AM?
My self-doubt was still there.
As I've said repeatedly, if you want to be the best—whether your philosophy is old school, new school, whatever—you go out and make your opponent look as good as humanly possible.
…watching something, learning it, and applying it are three separate things.
I've called 98, 99 percent of my matches since the beginning of my career because I dont hear so well.
I told Vince afterward that this was everything that is good and right about our business. I was proud and honored to lift
She thinks I work harder than I have to, and she's right.
I'm a firm believer that athletics lead to mental toughness, an essential quality for a teenager dealing with peer pressure.
I believe that I'm better than I was a month ago. And next month, I'll be better than I am now.
In our business, you're only as good as your last match—unless you have a legacy.
The bottom line is this: Space Mountain may be the oldest ride in the park. But it still has the longest line.