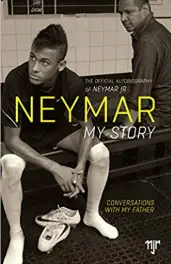 Date Finished: June 2018
Did I Like It? 7.5/10
The books Amazon Page
Neymar is a polarising character on and off the pitch. Having read this book, you can't help but feel a little bit more love for him whatever your current opinion is. The chapters go back and forth but unfortunately, I only highlighted sections by Neymar Jr. His Dad (Neymar Sr) provides some huge lessons learned from his experience as a pro footballer and as manager of Neymar Jr.
Click here to the index of sports autobiographies.
What I Highlighted:
In a country where football still stands as an important way to escape the poverty trap, both Neymars have valuable lessons to teach.
Introduction
As his star has risen to stratospheric heights, there has been a steady and constant influence over his life and career, someone who has been by his side every step of the way: his father, Neymar Sr.
From Son to Father
Football has been a tool for shaping who I am as a person: it has helped me evolve my personality by understanding the importance of discipline, teamwork, of placing yourself within the context of a team environment, knowing that you can only truly thrive if you work hard with and for others. No one can ever stand alone –in life or in football –and greatness can only be achieved through dedication and hard work.
I need to be responsible –but it is easier when you love what you do.
It takes patience and also persistence to get better and try to make those who criticise today speak well of you in the next game.
Empty criticism is no good; but with constructive criticism you can make a real difference.
First Matches
Life experience is so important and should never be dismissed.
But improvisation is also essential in football, and I learned to do this very early in life, playing futsal.
The secret is that it's possible to 'train' how to improvise and to play with that kind of creative instinct.
My parents always did everything they could for me to be happy. Without my parents, this book wouldn't exist. This story would be just another boy's dream.
The Eternal Santos Fc
There's nothing better than working somewhere that you love, that feels like home.
One of the best things in football is to experience a sense of belonging, a feeling of 'all for one and one for all' among the players and the fans, and across an entire organisation.
I want to give myself to the teams I love, as if I were a fan watching from the stands.
Great squads formed within a club are not just winning teams: they are teams everyone likes to see. It's like homemade food: it always has more flavour, more love.
I Am Neymar Jr
The only thing I never turn off is my passion. I live and breathe football 24-7, either playing or watching. I like to review plays from other players so I can absorb them.
I like to learn from these guys and adapt their moves or use them as inspiration to create my own.
I think it's very important to remember moves, goals, matches, so you can always get better and better.
When it's time to relax, my joy depends on football.
But the friends I have today are the most important to me and I always try to be with them, in both good and in bad times.
The Debut
There is no such thing as an ugly goal.
The Fans
It is a wonderful feeling to be popular and well known, but all my achievements, professionally and in my personal life, have been realised thanks to humility and dedication, and that is a lesson I shall never forget.
But as time goes on, you get used to the attention and just have to accept that it comes with the job.
Consolidation and Learning
You have to be humble and very patient and just wait for your chance to come again.
Because we were happy, we played happily and were able to bring so much joy to the fans and everyone who liked football.
I'll Stay
It wasn't easy. But, as before, it was the right decision for us. We did the right thing for our family, friends and my career.
Again, we thought more about my happiness and development as an athlete than we thought about money.
I obey the orders I receive, that's how I have achieved everything I have.
In life and in football, we are here to make friends, not enemies, even with those at rival clubs –like Paulinho, who was a defender for Corinthians and is my colleague in the Seleção.
She said that was not her son. Not the Juninho she knew and loved.
I'll never forget that. I felt even worse when I heard her saying that. However, it also helped me to grow up and never make the same mistake again.
In the following days, turning on the TV was hard. Everyone was criticising me; I was called a monster. Those were horrible nights. I kept asking God for forgiveness hour after hour, minute after minute. If it hadn't been for my friends and my family, I wouldn't be where I am today. I was so close to quitting football altogether.
My friends wanted to tear down the sign, but I said that they shouldn't, because the fans have the right to always say what they are thinking.
You can never justify a mistake. My parents always taught me to not try to explain my mistakes, but try to learn from them.
A Football Lesson
Today, I play for Barcelona with the same passion, dedication and affection that I gave to the glorious jersey of Santos.
The National Team
In every game you play you face players also trying their best to win and to fulfil their own lifelong ambitions and dreams. As much as you try, sometimes things go wrong. There are things that are beyond our control. That's why we always have to be physically and mentally prepared to the best of our ability, because when it's your turn, you have to give all you can. And you may never get another chance.
Mi Casa, Su Casa
The jersey is different to one I grew up wanting to play in, but I play with the same dedication and passion for Barcelona that I felt when I played for Santos.
Davi Lucca
WHEN I WAS TOLD I was going to be a father, at 19, just before the final match of the 2011 Campeonato Paulista, I confess I didn't know how to react. It was a difficult time, with so much going on around me. I was afraid of all the responsibilities. I felt I wasn't ready yet. It was too soon. I cried a lot at first.
My life became so much more special after his arrival. Today and every day, Davi is my joy and my happiness.
Davi Lucca will be the same thing I was to my father: the mascot of my teams.
Since that day, I don't think about myself anymore. I think about him: my son.
The Future
WHAT WILL BE MY future? Where will I be ten years from now? I don't know. I hope I can continue to do what makes me happy.
I want to bring joy to the fans of the sport. I don't train to be the best in the world. I don't play to show off. I play to help my club and my teammates. I play for my country. I play because I love football.
I only got where I am because I had my father to orientate and support me.
I can't predict the future, but I know my family will always be there.
Football is not only about victory, draw, or defeat. It's much more than that. It's not just we versus them. Football is a child's game that grown-ups take seriously. But it doesn't need to be serious all the time. I want to have fun. I want to make people happy. I want to keep running, playing, dribbling and scoring. I always wanted to be a footballer.
If a child has a dream, he must chase it. And never give up, even if people say it will never come true. I want to be the boy who never stopped dreaming.
Instituto Projeto Neymar Jr
Through sport, the institute's objective is to expand the horizons of the children, the families and all of the community, transmitting specific knowledge and information that enriches the lives of the citizens so they can grow in a better environment.