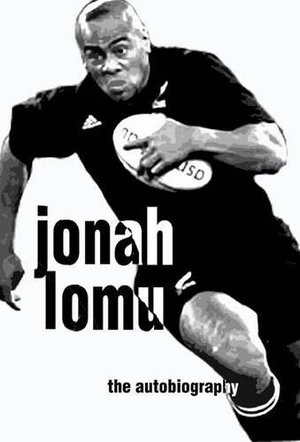 Date Finished: May 2018
Did I Like It? 6/10
The books Amazon Page
I've seen first hand the status of Jonah as I've explored other countries and it's a shame he's no longer with us. The book is an overview of his life…he wasn't even 30 before this was published. While it's a nice read he rarely goes deep into the topics, like his kidneys, which he admits he doesn't talk about much. You can get a sense of how he suddenly became an icon, but again, nothing too deep which is perhaps related to his upbringing?
Click here to the index of sports autobiographies.
What I Highlighted:
1. The Machine Age
When you make mistakes and you play badly you have to accept it.
Fiona has helped me face up to the biggest challenge of my life.
I may some day forgive him for what happened to me as a child, but I will never forget.
To me, rugby is life. It's what I know –it's all I know.
It's not about money. I want to leave the game on my terms.
To be acknowledged by your fellow players is the greatest honour of all.
2. Look Back in Anger
I liked being with my friends and I particularly loved the idea of missing class to do sport.
It was going to take a long time for all that anger inside of me to go away. The one thing that kept me from losing it completely at Wesley was sport.
3. Saved by the Bell
I was only fourteen, but I was wise to the way of the streets and I could handle myself.
It was in my fourth-form year that I first came into contact with a man who would help shape the rest of my life.
Nowadays, I'm not a great churchgoer, but my faith is still important to me.
Right through those school years my biggest supporter was my mother.
4. 11 is the Loneliest Number
Food poisoning or not, this was a New Zealand jumper and I wasn't going to miss the opportunity.
Players were hitting very hard and for a while I thought a lot of the aggression was centred on me. I began to have doubts. Was I really wanted?
When I was named in the final trial to pick the All Blacks team to play France in Christchurch, I made a mental decision to just put everything else out of my mind. I told myself that the selectors were showing faith in me and that I had to perform to the best of my abilities. Forget all that stuff about not being good enough. I had to get rid of any negative thoughts and simply try to fit in.
As I walked out of the dressing room I was reminded by several players that All Blacks always hold their heads high win or lose. It's something I've tried to carry with me throughout my career.
That's the thing about the All Blacks –there are never any negatives when you're preparing for a Test, even if you have just dropped the first game of a series.
Losing is not an option. It's just not in the All Blacks culture. Everything is about belief –belief in yourself, belief in your team-mates and, above all, it's about belief in the jersey.
I kept a lot of what I thought to myself and that's when the self-doubt creeps in –when you start to think you're on your own.
There had been many highlights, but, perhaps most importantly, there were a couple of failed tests to reflect on.
5. Beam me up, Laurie
If it's not something I believe in, I won't put my name to it.
To this day we still don't have a formal manager–player contract. Everything has been done on a handshake. Our word has always been our bond.
Instead, I looked at the positives and took on board the words of encouragement I was getting from Phil and Rushie.
When I wasn't selected for this team or that, I took it as a rejection of me as both a player and a person.
That All Blacks jersey, though, is a powerful magnet –the closer I thought I was getting, the more I wanted it.
I decided then that it was going to be my number. One way or another it has been with me ever since.
6. Big Game Hunting
It was just nice to have someone there to discuss things with, to help me escape from some of the pressure.
I had the taste –the taste of the All Blacks, the taste for the jersey. Every day I got up, I just thought, I want more.
7. High in the Cape, Low on the Veldt
Rugby's a team game. Sometimes play doesn't go your way. Other times, everything clicks.
Would we have won if we'd been fully fit? Who can say? I've accepted the loss. You can't go through life making excuses.
Fame, if that's what you want to call it, has huge benefits. There are great rewards and amazing recognition.
8. Silver Cups and Golden Contracts
By now, though, I'd actually got to like him and I found we were communicating much better.
I just said to them I wanted to play for the All Blacks. Sell the deal to me so I can still wear the black jersey, then I'll sign.
I don't care what anyone says, loyalty still counts in the All Blacks –you bet it counts.
I told that if he didn't understand how I ticked, then he just had to ask. It sounds easy, I suppose. Really, though, Laurie knew nothing of my background and, quite rightly, he just tried to treat me like he would any young All Black.
9. Two Weddings and a Final
Coming to terms with being famous is not that easy. It's something I struggled with a lot early on in my career.
I can live with people asking for autographs as long they're polite.
Fame and the money that goes with it as a professional rugby player are sweet as long as you keep your head screwed on.
10. A Good Hart and a Bad Knee
Revenge would be a bonus.
It helped the team grow closer and we needed to be strong for the challenge that lay ahead.
The Boks were competitive, but it was our fitness in the end that got us home.
11. Hard Pill(s) to Swallow
In fact, I've never been bitter about my condition. I've always thought of it as my problem. No one caused it to happen to me. I've always said it's something that I have to manage myself.
If I had to give up rugby for a period, then that was fine. It wasn't like it was the finish or anything.
Speaking in front of big audiences was becoming a lot easier. As Phil said, I was honing my skills.
The hardest part was always going to be the pain. My tolerance levels were way down and while I knew it would be tough going, in the end it simply came down to how much desire I had.
I had learned so much about myself. I had learned about things I'd hardly ever thought of before. Willpower was one of them. If you want something badly enough, then anything is possible.
12. Mourning Glory, Courting Gold
Whatever, I find you can lose your focus if you start thinking the next Test will be easy.
However, there was one other factor that led me to believe we'd perform well –we were all close mates. Because I've never been a big drinker I suppose you could say I've managed to stay out of trouble.
I enjoyed making the new guys feel welcome. I got a buzz out of taking them out, showing them some of my favourite spots.
Professional rugby has allowed me the opportunity to pursue this passion.
When I get into a car and turn on my sounds I'm in a world of my own. It's my time, my space and it's cool.
13. Riding the Pine
If I didn't do something myself, then I might not be in a position to make my choices about my future.
I had never once run thirteen minutes thirty seconds for 3km and there were times, lots of times, when I doubted I'd ever make it, but at the back of my mind was always the thought of the World Cup … the thought of missing out.
It's about being happy in the environment.
A coach who communicates with his players gets my nod.
14. Non, non, non …
We needed a second half battle plan. Instead we went into our shells.
Being a humble winner is easy. Being decent, being gracious in defeat, is a lot harder.
15. Wellington Boots
For all the big money that was being talked and the promise of a secure life after rugby, it always came back to the same thing. It always came back to the jersey. Winning a World Cup in the black jersey was what I wanted most. It was the fix.
16. Winning is a Rush
I told him I couldn't guarantee that we'd win the tournament, but I did make him a promise. I would run until I dropped.
17. A Bad Year at the Office
My relationship with the Hurricanes coach, Graham Mourie, hadn't been that hot so I thought I'd try and work on improving things.
Mentally, I had just lost it in Canberra. That day I came close to completely cracking. Everything seemed to be closing in. Of course, my kidney condition wasn't getting any better. In fact it was getting worse.
My head wasn't right. When that happens, then nothing's ever going to work. So much of my rugby has been about instinct.