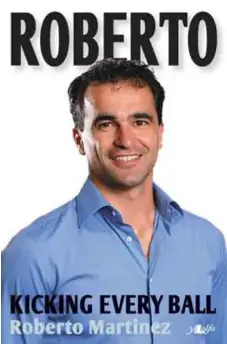 Date Finished: June 2018
Did I Like It? 4/10
The books Amazon Page
Roberto Martinez was in the early days of his management career when he wrote this book. It was too earlu. In hindsight, he has had management success so you can see learn from him, but there was too much urgency to publish this. I'm looking forward to another book in the future though. Oh yea, the layout is weird…he keeps jumping through different periods of his carer rather than sticking to chronological.
Click here to the index of sports autobiographies. and you can see some football autobiographies here.
What I Highlighted:
When something unexpected comes along you have to assess whether it is right for you.
Football is a results industry, but I don't believe the result can ever make your style of play irrelevant. To me it is important that the route to the result is attractive.
As a manager I want to rely on the talent of the player, not on percentage football, to win a game.
In a desire to make a name for themselves, they would have to be prepared to go through that wall that marks the difference between achievement and mediocrity.
I suppose anyone can pick a team, but not everyone can manage it, treating each player with respect and getting the very best out of them.
The more information you have on individual members of the squad, the easier it is to motivate them and help them through tricky periods in their careers.
You cannot manage a player if he is a close friend, but the information you have gleaned from such a friendship is vital in helping a player reach his potential.
I never want to manage a team that can only ever play in one style.
If you are a dictator, they do what you tell them when you are around and then behave in a completely different way when your back is turned.
Mentally you have to be in the place where you enjoy the pressure of wanting to win. It's important that the pressure comes from yourself, not just from other people.
In football you need time to build a solid base from which you can progress.
If you can only produce good football on your own ground, then you are going to be a mid-table team, not winners.
We had discovered the areas which needed improving, as well as seeing the strengths in our game.
I needed to bring in players who were different from what we already had.
I knew that we would miss his flair and his ability to entertain the fans, but I also thought that no player should be bigger than Swansea City.
As a manager it is much easier to sell the club and say what direction you want to take it if you are able to have a face-to-face conversation.
To control that market you have to be prepared to put in a lot of miles and watch an awful lot of games.
I believe that it is important for a club to find its own identity and seek raw talent from all over Europe. Such players, coming from different sporting backgrounds, also bring a freshness and new dimension into the dressing room which is good for everyone associated with the club.
Sometimes the result can be an unfair reflection of the performance, but out of ten good performances you'll get the rewards you deserve.
The ability to react positively and with character to a bad result is always a huge strength in a successful team.
As long as the effort and intention of the players is good, you have to be patient.
As a manager I want the players to focus on the period when they were brilliant, not the brief period where they were struggling.
As the season progressed we learned the need to group together with our backs against the wall, and fight back with the right attitude.
Rightly or wrongly, everyone seems to think that if you win the first game it will set you up for the rest of the season.
You always have to have a bigger picture and see the performance first and then look at the result.
It was also pleasing to realise that whenever players were called upon they were ready to seize the opportunity to impress.
It was as if the fans were turning that disappointment and anxiety into belief. That day made me realise that we had to make the last twenty minutes of every game at the Liberty Stadium the longest in League One football.
As we chatted after the game we agreed that we would never allow ourselves not to be ourselves when we played in any other ground in the League.
Once we added the performance level to a winning mentality we started to dominate the division.
The despair became a turning point, and it drove us on in the league campaign. The defeat was a blessing in disguise.
As a football team you will never win every game so you need to cultivate the ability to cope with defeat, get the positives out of each disappointment and resolve to follow defeat with victory.
What you can control is the spirit in the dressing room to fight back.
We needed to remember that players, fans and staff knew what their roles were and, if we mastered them, then I believed we would achieve what we deserved at the end of the season.
Players are only human and there are times when physically you are desperate to win a game, but not as focused mentally.
In every league campaign when you are trying to achieve something, there is always one game which is as important as a cup final.
Psychologically our position served as a wake up call to remind us that football doesn't respect history.
Despite my mixed emotions, that day taught me how vital it was to have a dressing room where everyone bonded together.
Survival meant so much to thousands of individuals, not just in the Swansea area but in many parts of the world.
We all had to forget about our own personal careers and realise that we had been charged with the task of achieving for Swansea City Football Club, rather than for ourselves.
Looking back on those difficult times, I still believe that if we as a bunch of players had not experienced the therapy of sharing our hopes and our worries at the Spanish restaurant, then we would not have survived.
I had to work very hard, as I understood that I was being nudged out of the team. It would have been a very easy option to walk away and find another club, but I wasn't prepared to do that. I knew that I could still give a lot to the Swans.
Their support was so important, because, although I was facing a tough time, I felt I still had a lot to give. I also resolved that I would try and work my way back into the team for the sake of those wonderful fans.
It was obviously a two-way feeling, as we had joined together to try and save the club. A respect had grown up between us which made me determined to play my way through the difficulties.
We never argued or fell out, but I was just conscious that, to fit his style of play, he wanted a different player in my position.
For some reason, I was made the scapegoat for that defeat, and I found myself pushed onto the sidelines once again.
Rather than him asking me my opinion, I would ask him to explain what was happening in a game.
As far as I am concerned, if you are keen to be a professional, you can never watch enough games, managers or players.
Football is a passion which becomes a way to live. It is all about winning and, when you don't win, you feel miserable.
If you go home after a match that you have lost and you are happy and relaxed because the defeat hasn't affected you, then you won't last long as a professional footballer or manager.
Football is a little like learning to drive a car. You start to understand that certain moves will result in certain consequences.
My dad always put the family's wellbeing in front of his career.
The first is the importance of family life which I still value and believe is important. Secondly, I inherited the wonder of football and the importance of approaching it with total commitment and professionalism.
Despite this sense of wonder before the game, once the whistle blew to start proceedings, it just became another game.
I have always believed that, while you must focus on becoming a better player, it is also important that you study something other than football.
Otherwise, if you coach a player from the age of five, by the time he is fifteen, he will be exactly the same player. He will not have developed naturally or in unexpected ways.
The development of the player's own ability is seen as more important than the result.
In football as in everything else in life, it is important to feel that you are wanted.
He had such an infectious vision; you wanted to be part of it.
In football there is a saying that when the expectations are high you always want more.
It made me aware that at the end of the day one's approach to preparing for football matches is a matter of opinion.
As I thought the situation and the options through it became clear to me that, in football, it is all about the immediate challenge in front of you, rather than trying to go as high as you can in the game.
But in football, continuity is a big thing and was something we didn't have in the dressing room during the close season.
It is a huge challenge to play week in and week out when the storm clouds are gathering over the club and you feel you have little support from upstairs.
The group huddle at the end from the players meant a winning mentality and desire to succeed was starting to grow in the dressing room.
In any campaign you will go through a tough time and I told the boys they mustn't get downhearted.