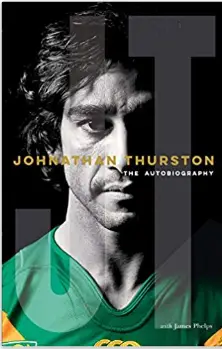 Date Finished: October 2018
Did I Like It? 8/10
The books Amazon Page
Johnathan Thurston is one of the most recognisable faces in Australia. Not only thanks to being involved in so many clutch moments throughout his playing career also his fun public persona (and addictive laugh). This book really is a tell-all. When you look back at his career, everything seems easy, but it certainly wasn't but his passion for rugby league never died. If you're going through a rough patch on your journey, this book will give you some perspective.
Click here to the index of sports autobiographies.
What I Highlighted:
It was all up to me. This was the biggest moment in my career. The day I had dreamed about since I was four. Siren sounded, game on the line, ball in my hands. Was I a champion or a chump? Shut up. Block it out. I had to get rid of those thoughts. I had to tell myself it was just another kick. I had to block out everything and get on with it.
Now it was just me, the ball and the posts. I could hear nothing and I felt nothing. I took my final steps to get into my kicking position: five back, two left, and another back.
I was shattered. I could have ended the game there and then. Won the premiership. It was the moment I had waited a lifetime for. And I failed.
My famous footballing footwork was developed out of necessity. Honed by a privacy screen and practised around a hulking tree as a means of avoiding a belting.
Whether it was cricket, football or the last jellybean in the jar, I had to win. The rough stuff didn't worry me a bit; I could take a beating, but only if I won.
Fair to say Mal was my first idol. Later it was Allan Langer, Darren Lockyer (Locky) and then Andrew Johns (Joey).
So did I dream of becoming a State of Origin star? You betcha. Yep. It started with a dream
Most of the things I do on a football field have been learned through experimentation and persistence.
You don't have the motivation to get better if you think you are already the best.
I started getting really frustrated. I didn't know why I was being overlooked. At no point did I question my ability. I knew I was good enough.
I had dreamed of becoming an NRL player my entire life and now it seemed like an impossible dream.
The mistakes I have made in my life have helped shape me into the person I am today as much as the things I got right.
I was young and I was stupid. And now that I am older, and a role model to some, I hope others won't make my mistakes. And for anyone heading down the wrong path, remember it is never too late to change your life. Work out what you want to be or do and go for it.
It was surreal. Here I was in an NRL dressing room speaking to the captain of the club my father and brother barracked for. Here I was watching the Queensland legend getting a massage.
I thought about all the knock-backs and what it had taken me to get here. I thought about all the people who told me I was too skinny and that I couldn't tackle. And then I smiled.
I wiped away the tears and let it out. 'I feel so alone,' I said. 'I miss my family. This is too hard. I just feel like I have nobody. I'm not sure I can do this. I don't want to let anyone down but I think it would be best if I went home.'
Suddenly all those worries I'd had a couple of weeks before were gone. I was no longer lonely, no longer homesick, and no longer wanting to leave. It is funny what a game of football can do.
At that point I didn't care how tough the pre-season was going be. And nothing could wipe the smile from my face. I had just been accepted into the NRL by way of a locker.
The Bulldogs welcomed me immediately. I was taken into the fold as soon as I got there and included in their weekend plans. That was part of their culture –you were immediately taken in as family.
It all sounded pretty good to me. I didn't really care about the money. I just wanted to be playing NRL for the Bulldogs.
For the first time since moving to Sydney I was without football. And all those voices in my head, the ones that had me crying in tunnels and offices, soon returned. I was hurt and homesick.
Things got better as soon as I was able to train. I once again had purpose and a goal to work towards. Head down bum up, I ripped into my rehabilitation. And that is what I should have done from the get-go.
To cut a long story short, they told me I had a big future with them. They told me how much they wanted me and explained where the club was heading and where I would fit in. While the Bulldogs couldn't even tell me I was wanted, the Cowboys all but promised me a starting spot.
He made me realise what an opportunity I had just been given. I was going to do it for him. I was going to do it for the boys.
Yeah, I ran hard and did all the big things at training to the best of my ability, but I slackened off during things I didn't think were as important, like stretching. And it was wrong.
I believe much of the confidence I have when taking those big plays today can be traced back to that moment. I went back to the NRL and felt like I was a brand-new player. I wanted to dominate instead of just compete.
In one night I had gone from just a player of the future to an NRL star. The day before, I was doing my best –and now I was the best.
Sometimes even the smallest of things –a comment, a story or a rumour –can motivate a team or an individual to perform at their best. It's a strange thing. As a professional athlete you shouldn't need any added motivation. It should be a given. Especially when you are playing for a spot in the NRL grand final. But somehow there is no better motivation than getting pissed off.
This was the first time I felt the full force of the Cowboys fans: what this football team meant to them and how important it was for this team –and for me –to deliver them the title that they craved.
I trained like I had never trained before. I went to bed each night exhausted. I woke up sore. When times got tough, I used the grand final loss as motivation.
Respect was the key to Mal's success; people wanted to play for him and they would do anything he asked. I'm not quite sure how to explain it, but he has an aura about him. I guess that comes from who he is and what he has done in the game.
You don't need a coach telling the game's best players how to play. Everyone who is picked to play State of Origin knows their role and what to do on the footy field. A rep coach has to make sure his players are mentally ready to play. He has to be a master at getting them in the mood and ready to rip.
I didn't sleep heading into the match. I tossed and turned, thinking of failure instead of success. Don't fuck up. Don't fuck this. Don't embarrass Locky. Don't embarrass yourself. I thought I had to be as good as him.
I was in my element as soon as I took to the field. I scored a try and ended up forgetting all about the pressure.
He is the bloke I talk to when things get tough. Fitzy has always had my best interests at heart and tells it to me straight.
Greeny asked us what we would like to be known for. How we would like people outside the club to think of us. We came up with our answers and they became our goals and mission statement.
It was the best moment of my career and a part of rugby league history that can never be erased. I am happy for that game and the match-winning moment to define my career.
I haven't spoken about this but I've copped heaps because of my ears. I was bullied as a child and teased as a teenager.
And then he smiled. It was priceless. I called Madison Sport –one of my oldest sponsors –the next day. 'Hey, do you reckon I would be able to get a few more headgear pieces this year?' I asked. They wanted to know how many.
'One for every game,' I said. Now they wanted to know why…And I have to thank them, because I get a bigger kick out of it than the kids. To see their eyes light up when I put it in their hands, the smiles before they hug their mum or dad, well it means just as much to me as it does for them.
I was struck down by nerves leading into the game –and that is extremely rare for me. In fact, I had only been seriously nervous twice: before I took on Joey in 2006, after beating him to the Dally M the year before; and the game where I stepped in to replace Darren Lockyer as the Australian No. 6 after he retired. It was the weight of expectation that made me so nervous.
Pulling off a match-winning play is the best feeling you can have as a football player. I will never be able to get enough of that feeling. That is what I play for.
Rehab is repetitive and boring. Sometimes you feel like it isn't getting any better and you struggle to see the light at the end of the tunnel. It got to a stage where I felt my moods were rubbing off on them. And that is when I had to stop and take a good hard look at myself. I didn't want to bring them down just because I was in a tough spot. So I decided I would go in acting happy even if I wasn't. It didn't make the rehab any easier.
I left no stone unturned trying to help my team break out of our slump. Personally I wasn't happy with my form, and I trained as hard as I could and remained positive in a bid to lift the team.
Finding a competitive fix will be difficult. I hope to do that by playing golf.