If you've decided to spend a few days in Kuala Lumpur, that's awesome.
If you're here for a short stopover, then you'll be wanting to hit up the most popular attractions before getting back to the airport. But with 3 days in Kuala Lumpur, you can see a wide variety of attractions that show how diverse the city is.
The way this KL itinerary is set up is too give you an outline on how to spend your time in the city. I don't want to put a militant itinerary together that has you stressing if you fall behind. It's a similar theory to my two weeks in Malaysia itinerary.
Each day has a list of activities (in the best order) which you'll be able to see without running around like a headless chicken. Find yourself with too much free time with the itinerary? Go for a walk without a map. There are so many cool streets to explore in Kuala Lumpur (see above).
READ MORE: MY COMPLETE GUIDE ON PLACES TO VISIT IN KUALA LUMPUR
Day 1 Of 3 Days In Kuala Lumpur
Key attractions: Petronas Towers, Bukit Bintang, Times Square & The Botanical Gardens
Let's start off with one of the bucket list items. The Petronas Towers are on every other postcard for good reason. They're gorgeous!
The best vantage point for the towers is from nearby KLCC Park which is worthy of a visit on its own. Start your day with a walk around KLCC Park where there's:
a public swimming pool (with a wicked whale monument)
awesome playground
the bridge that provides a clear view of the Petronas Twin Towers reaching 452 metres into the air
running track
lots of shade
Once you've taken your photos it's time to get up close to the towers and if you like you can spend time in the connected shopping mall, Suria KLCC Shopping Centre. As you can imagine it's a high end mall, but you can get a reasonable deal at the movie theater.
If you'd like to go up the Petronas Tickets, the tour to the observation deck and skybridge takes about 45 minutes and costs 85 RM for adults and 35 RM for children. Opening times are from 9 am to 9 pm but I'd recommend getting in early as it's first come first serve (you can book a time for later in the day).
Time for lunch. There are options for all budgets in and around KLCC. You could go to one of the supermarkets and make an impromptu picnic to enjoy in KLCC Park, dine in one of the fancy restaurants in the shopping malls (Suria or Pavillion), or head towards Bukit Bintang and grab some lunch there.
Eating options in Bukit Bintang include:
Lot 10 Food Court where you can find all sorts of Chinese cuisine
Arab Street (Jalan Berangan) where you can find a couple of places selling Middle Eastern type food and lots more on the surrounding streets
Two of my favourite food courts are close by: Taste of Asia at the bottom of Times Square and the food court on the top floor of Sungei Wang Plaza
Bukit Bintang is the best district for shopping and entertainment in Kuala Lumpur. There are shops where you can find cheap bits and bobs such as Sungei Wang Plaza and high-end clothing in malls like Times Square. Times Square is a part of Bukit Bintang, it's large but handy in that it's a stand-alone building (the maze of some parts of Bukit Bintang bamboozles my mind). If you like you could go to the theme park for a couple hours, otherwise shopping is the name of the game here. There's also the tech mall, Low Yat Plaza, if you need to pick anything up. A quick tip: if you need a universal charger, buy the white ones in 7/11, they've never let me down and are cheaper than in other stores.
Now it's time to head to the Perdana Botanical Gardens which you can get to by foot, Grab or monorail. There Botanical Gardens are a short walk from KL Sentral where you get to chill out after the hustle and bustle of the city centre. There are 200 acres of property to explore, with the lake a prominent feature. Take your time to wander the gardens and you might stumble across the deer park, a bamboo house, the bird park, and/or butterfly park. You can go check the National Monument too. Of course, everything is mapped out on Maps.me, but you don't need it really. There are enough signs to point you in the right direction.
Other attractions near the Botanical Gardens include a few of the popular KL museums (the Royal Malaysian Police, National Museum of Malaysia, Islamic Arts Museum), the Planetarium, and the National Mosque. I would recommend going to the National Mosque, as it's the closest you'll get to doing so on this three-day itinerary for visiting Kuala Lumpur.
By now it can't be too far from evening time and it's time to head back to KLCC Park. If you're getting through the activities with time to spare you could walk back towards KLCC via Jamek Mosque and Merdeka Square.
If it's not dark yet by the time you reach the area, head to the Alor Street Night Food Market for a feast. When it gets dark, it's time to see the Petronas Towers and nighttime when they're all lit up as well as seeing the water show that's on.
Bukit Bintang thrives late into the night throughout the week so you won't have any worries finding a drink if you desire. I'm not a big bar/clubbing person, so I'll point you in the direction of this comprehensive guide.
Woah, big day!
Day 2 in Kuala Lumpur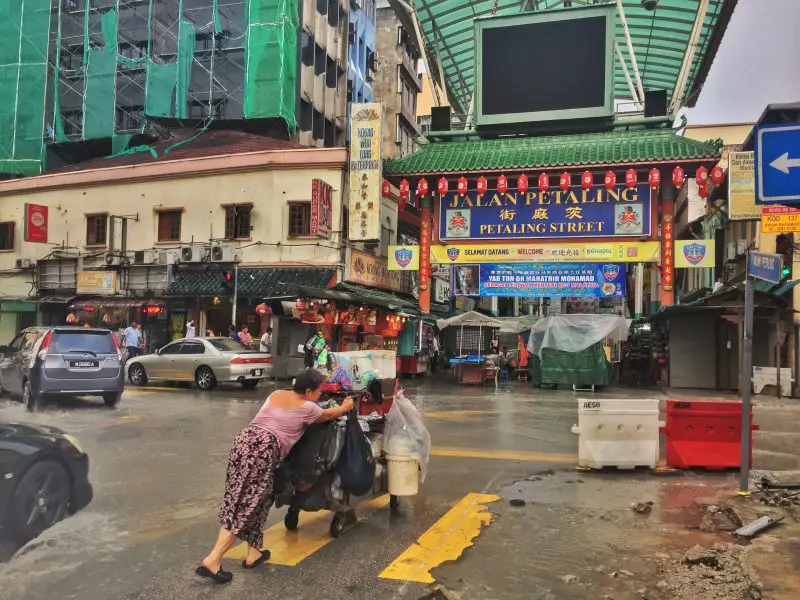 Key Attractions: KL Eco Park & Tower, Chinatown, and Little India
There's no rush to get started today. I find Kuala Lumpur takes a bit longer to wake up and have everything open. If anything, take the opportunity to take a walk without so much traffic.
To start day two's itinerary let's head to the KL Forest Eco Park, a rainforest right alongside KL Tower. The Eco Park is a hidden gem and you won't find many other people here. There are a few trails that wind through the park with a 200-metre long canopy walk that gives you some glimpses of the city. I find it a fun little park to explore before it gets too hot and humid in the middle of the day.
Next up, it's KL Tower. Like the Petronas Towers, I find this a expensive (52 RM for foreign adults) compared to other KL activities, but the view at 276 metres from the observation tower is pretty sweet. There are the Sky Deck and Sky Box experiences too, but you likely did similar activities at the Petronas Towers on day one.
For the rest of the day, we are going to explore two different worlds. Little India and Chinatown. Lunchtime in Little India is hectic with all the office workers flowing out of god knows where for lunch. Take it all in, and you're probably pretty hungry now so grab some of the snacks from the store at this spot. At 1 RM for each medu vada you can't go wrong (a 4 RM coconut from could be a winner too). I recommend you wait until the lunch rush is over to eat a proper meal, way more relaxing that way.
The Brickfields location for Little India, having moved from the city center in 2009 (now it's right by KL Sentral). If you've been to a Little India elsewhere, you'll know exactly what to expect. Music, colours, flowers, clothing, and of course, lots of restaurants.
Definitely make sure you walk along Lorong Chan Ah Tong while exploring the area, it's the best spot to take photos. There's a multi-story bazaar at the end of Jalan Tun Sambanthan but I never noticed it despite walking along there at least half a dozen times. A Thali is one of the iconic Indian based meals and I liked the one at XYZ. You get a couple papadoms, rice, and five vegetarians curries for 6-7 RM. Value!
Depending on how you're going time-wise, you might want to skip this and go straight to Chinatown, but if you can, head to the Thean Hou Temple. It's not a long walk from Little India, but you can always take a Grab too. The temple is perched on a hill and from the top floor you can get some beautiful views over the city while taking in all the intricacies of the temple.
Now it's time to head to Chinatown. You can visit Chinatown all throughout the day to see what's happening, but the crowds flock to Chinatown for the evening, locals and tourists alike. There are stalls set up selling all sorts of bits and pieces, and plenty of food to be had. Like Little India, you can browse each of the streets given the small area of Chinatown.
My favourite spot to eat was at the cart found here. He serves soy-based drinks and tau fu, and whether you're vegan or not, it's mega tasty. The perfect snacks to enjoy while strolling. As someone who isn't a shopper, I'm not sure what is genuine and what's not but be prepared to bargain hard. Nearby will be a shop selling an identical/near identical version of what your bargaining which gives you a lot of bargaining power.
There are quite a few bars in and around Chinatown open late into the night, so you can hang out here for as little as an hour or late into the evening before heading back to your accommodation. You could visit the Central Market and Sri Mahamariamman Temple, but don't be fussed if you miss them.
Something you might want to consider if you want to try out a different accommodation option is to book somewhere in Chinatown. You could head here in the morning and drop off your bags before heading to Batu Caves. Just an idea!
Day 3 Of This Kuala Lumpur Itinerary
Key Attractions: Batu Caves, Museums, and Titiwansa or Bukit Gasing.
The Batu Caves is the last of the big attractions in Kuala Lumpur. You feel sort of obliged to do so, but it's something different and not that difficult to reach via the KTM commuter train (2.60 RM each way).
If the photo from Instagram above looks different to other photos, you'd be right. In late August 2018, the 272 stairs up to the temple of the main cave were painted. It gives the place a more exciting look. Who knows what'll happen when the paint starts to fade…
After the caves, it's time to absorb some culture and learn shit at a museum or two. There are heaps across the city, but there is one I recommend, the Bank Negara Malaysia Museum and Art Gallery. Yes, I'm recommending you to visit a banking related museum (it sounds boring to me). But life's awesome, and I enjoyed the (free) museum. There are three floors with a bunch of different galleries that you could spend two hours or so exploring. I didn't get to them all but liked the Islamic Banking Gallery the most.
After the museum, it's time to get another dose of green for the day (if you're counting Batu Caves as being green). I'll suggest two spots, Bukit Gasing, and Titiwangsa Park.
If you want to go on a hike, Bukit Gasing is a good spot to do so. You can get a couple of reasonable views, but it's more of a casual walk/hike area that locals like, particularly on weekends. As with most of the hiking routes in Malaysia, the signage isn't great but given the size, you should be okay winging it and seeing where you end up though you can download Maps.me that has various sites in the park marked.
Titiwangsa has one of my favourite views of the KLCC skyline (and in the country), reminding me of countless images I've seen of the NYC skyline. This park is much easier to access, and more family friendly so it's the likely going to be the best option for you. Take a stroll around the lake, have a bite to eat and relax for a while.
Depending on how you are going time-wise, walk back to base in KLCC. Kuala Lumpur isn't the greatest city for walking, but it gives you the last chance to take in the city before grabbing dinner and moving onto your next Malaysian destination.
---
And with that, concludes the 3-day itinerary I recommend for you to use in Kuala Lumpur. If you've got any specific questions, do reach out and I'll do my best to help.
READ NEXT: