With 12 teams contesting for the title, the Malaysian Super League is the top domestic competition in the country. If you'd like to attend a match live, the season runs from early-February to late-October.
Your best chance to see a match live is in Kuala Lumpur where three teams are (sorry Selangor I know you're not Kuala Lumpur but for the purposes of this post you are).
After reading this post you'll know the costs of watching a soccer match in Kuala Lumpur. I also make some recommendations and ideas of what you might spend in other scenarios.
Note: This is based on the match below which I went to alone.
Match Details:
⚽ Kuala Lumpur vs. Kelantan
⚽ Kuala Lumpur Football Stadium (Google Maps Links)
⚽ 22nd March 2018
⚽ Kickoff: 10 pm.
Getting To The Stadium
Option 1 – Public Transport:
The LRT station closest to Kuala Lumpur Football Stadium is Salak Selatan. There are various ways to get to Selak Seletan from
KL Sentral
depending on when you leave. You can get to the stadium from the Chinatown area with no transfer required).
I took the monorail from KL Sentral to Hang Tuah and transferred to the LRT train to get to Salak Seletan. There are lots of signs at Hang Tuah so you won't get lost transferring. Make sure you get on the train to Putra Heights and not Ampang.
Once at Salak Seletan I walked to the stadium which took ~30 minutes. It's not an inspiring walk so if you want to take a Grab from there it would be ~6 RM (1.50 USD).
For one person the journey to the stadium cost 4.20 RM ($1.05)
Option 2: Get a Grab to the stadium from your accommodation. I've opened Grab up to see how much it costs to get from KL Central to the stadium , 15 RM. During peak how you can expect to pay 20-30 RM (on grab the stadium is called Stadium Bola Sepak Kuala Lumpur).
Total Transport Costs To The Stadium: 4.20 RM (1.05 USD)
Buying A Ticket
There's no need to buy your tickets online before you go (it's probably not possible to buy the online anyway). The cheapest adult ticket was 15 RM (3.75 USD) which meant I was sitting behind goal (northern end) which I'm fine with. The stadiums are multipurpose, so you're never getting close to the action. Childrens tickets are cheaper, and if you'd like to sit near the halfway line, I believe tickets are 25 RM. These tickets prices are about even across the board.
You can find the ticket office on the eastern side of the stadium. I got to the front of the queue in about 3 minutes (not long before kick off).
Total Ticket Costs: 15 RM
Alcohol At The Stadium
NO DEAL ⛔ No alcohol is available in and/or around the stadium (you can smoke inside the stadium…at least people were). If you've got the skills to get a flask in, that's your best chance as there's security doing a bag check, but it's not thorough.
Note: I don't condone sneaking in alcohol. Don't tell me off or anything, k.
Total Booze Cost: $0 (winning)
Food At The Stadium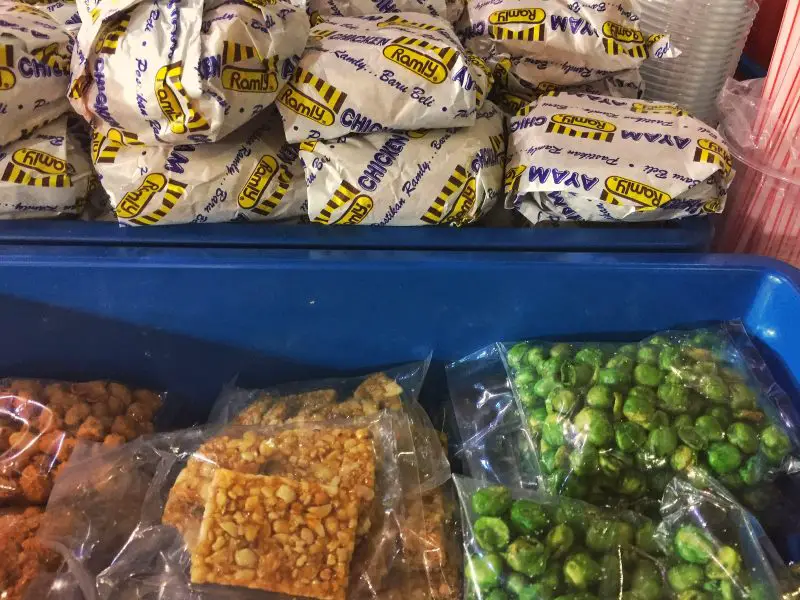 I found this super cool. There's no concourse with food stalls but instead a night market outside the stadium (northern end). There are a bunch of food stalls selling a variety of food and the best part is, you can take most into the stadium to eat. As expected there's not much for vegans so I got a custom burger with cucumber, cabbage, and tomato sauce in a bun for 2 RM. Yummy…
I picked up a can of soy milk for 2RM. Turns out you can't take cans into the stadium, so I sculled it before entering.
I've been too this stadium once before, and there were way more food stalls open (including vegetarian options). The most popular items were chicken-based meals with prices in the 5 – 8 RM. So considering you can get a drink for 2 RM, I'd aim to budget 10 RM per person for food. And yes, you can get Nasi Goreng
⚽ Soy Milk 2 RM
⚽Burger 2RM
Total Food Costs: 4 RM (1.05 USD)
Getting Back From The Stadium
You may have noticed the 10 pm. That wasn't a typo. During the hottest part of the year, they push the kickoff from 9 pm to 10 pm to give the players a little bit more comfort. The biggest problem that caused was with public transport, which stops running between midnight and 1 am.
I had to leave the match at the 75th-minute to catch the last train at 12:17 am from Salak Selatan to Plaza Rakyat (near Chinatown). Why not Hang Tuah? The monorail was closed. I have stayed in a hostel in Chinatown before which I stood outside of to use the wifi and order a Grab. That's confusing. It was a super quick ride, and cost 6 RM.
⚽LRT from Salak Selatan to Plaza Rakyat: 2.40 RM
⚽Grab to NowHere Hostel: 6 RM
Total Cost To Get Home From The Stadium: 8.40 RM (2.10 USD)
RELATED POST: BEST PLACES TO VISIT IN KUALA LUMPUR
Total Cost For A Night At The Soccer⚽ In Kuala Lumpur?
***TOTAL COST: 31.60 RM (7.95 USD)***
⚽ Transport (Return): 12.60 RM
⚽ Tickets: 15 RM
⚽ Alcohol: 0 RM
⚽ Food/drinks: 4 RM
At most you would pay 25 RM for a ticket, 10 RM for food and drinks, and 20 RM each way for a grab. That's 75 RM (19 USD), a cheap night out at the football depending on where your from. If there were four of you splitting transport costs you'd spend a maximum 45 RM (11.30 USD).
What About The Game/Atmosphere Etc.?
Malaysian's love football. But they care about the English Premier League 17.2 times more than domestic football. At this game I got chatting to a guy supporting Kelantan, his home state (he lives in KL). He was saying how the quality just isn't high enough for people to go and watch. The best thing he said:
"Our players need to stop smoking and eating roti canai."
If that's what the local professional's players are eating…it's fair to say the quality of the league is going to be stagnant for a long time to come. In fairness he is likely (hopefully) exaggerating, but you get the point.
Kuala Lumpur doesn't have a strong supporter base like you may think. There's a legit reason for it which you can read about here (super interesting).
I sat at the northern end of the stadium where the Kelantan supporters were. They outnumbered the local KL supporters significantly! Like there you couldn't even tell who the KL supporters were. I recommend sitting at the northern end. In both matches I've been to at this stadium this is where the away team supporters were sitting and they were more interesting to watch than the home team supporters.
The game got off to a goal scoring frenzy, with the scores at 2-1 to Kuala Lumpur inside the first 20 minutes. The Kelantan supporters weren't too angry as they realise their season is dead and they're just trying to avoid relegation this year with a young squad. When I left the score was 3-1 and it ended up being 5-1! KL aren't having a great year either.
There didn't appear to be any hooligans at this match, but I had seen some in the match I saw on April 28th, Negeri Sembilan vs. Selangor. They both had passionate supporter groups, and yea, let's just say there is some violence that occurs between different firms (firms is a term used in Britain and is slang for a criminal gang) from time to time outside the stadiums. You can read about some incidents here.
Is it safe to watch football in Malaysia? Yes. I'm just giving you a heads up about a sub-culture at the games you might come across.
I forgot to mention the other teams who play in KL:
⚽ PKNS who play at Shah Alam Stadium. This is a prick to get too…it's technically outside of KL.
⚽ Selangor who usually play at Shah Alam Stadium too, but for some reason this year they're at Kuala Lumpur Football Stadium.
It's hard to get information about where they play some matches. Double, even triple check to make sure you're going to the right place if you do decide to watch a football match in Malaysia. I try and verify the information on the club websites and from their Facebook pages.
I went to watch a match in Ipoh as well, and everything was similar with food etc. There were food stands outside and the ticket costs were 13 RM.
If you've got any questions, leave a comment or send me an email 🙂