If you're looking to escape the heat and humidity in Kuala Lumpur, visiting one of the museums is the perfect way to do so. A/c wins!
There are lots of museums in Kuala Lumpur (plus art galleries), of which I visited four. This post will give you a few thoughts about the ones I did visit, as well as any other useful information I can recall (check out these facts I learned about Malaysia).
1. Bank Negara Malaysia Museum And Art Gallery
This is the best museum in Kuala Lumpur of those I visited.
A bank museum sounds like a hit or miss kind of place, right? You'll be glad to know that this is a massive hit!
With seven distinct galleries across four floors the museum is super modern, and the information and displays reflect that (I was expecting old and archaic displays like most banking systems).
I visited the three galleries on the first floor and enjoyed two out of the three. The Islamic Finance Gallery was awesome (super interesting). The Bank Negara Malaysia Gallery was mediocre. The Economics Gallery? Solid.
There are things to see in each gallery, but you're mostly reading information laid out in a variety of different formats. There were no interactive activities on the first floor, but there might be in the other galleries. Before you go, you might want to check out the virtual tour online.
Estimated time for a full visit: 1.5 – 3 hours
Price: Free
Website: Click here
2. Royal Malaysian Police Museum
I visited the Royal Malaysian Police Museum on a whim while at the Botanical Gardens. I'd never heard of it mentioned when people are talking about places to visit in KL so expectations were low. Turns out there are three main galleries (A, B, and C) but I didn't really understand the themes. That's okay though as they were interesting and I must say I've never considered how varied the role of a police officer is. Lots of artifacts and displays along with useful information. Check out the Malaysian facts post mentioned earlier for some weird information (tip #7).
This was my second favourite of these Kuala Lumpur museums.
Estimated time for a full visit: 1 – 1.5 hours
Price: Free.
3. National Museum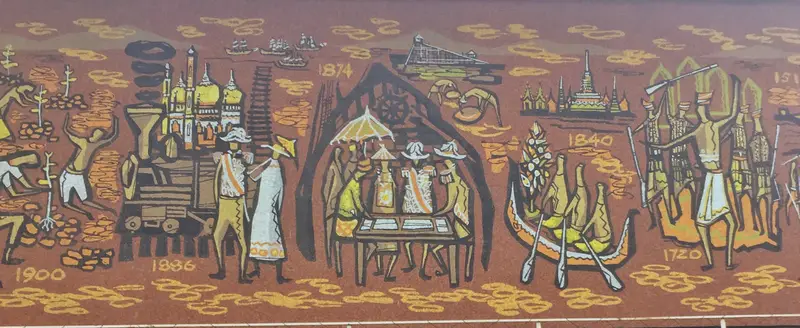 The museum is split into four galleries on two floors.
The two galleries I visited were the Prehistoric and Malaysia Today gallery. Both were interesting with the Malaysia Today gallery mostly based on the events around the Malaysian Emergency. The museum is spacious and even on the weekend it didn't feel overcrowded, yet there was something missing to make the experience awesome. Did it seem to lack atmosphere somehow?
My third favourite museum of the four here.
Estimated time for a full visit: 1.5 hours
Price: Locals 2 RM/Foreigners 5 RM
Website: Click here
4. National Textiles Museum
This was my least favourite of the museums in this post. Why? I'm not someone who appreciates clothing, materials, and the details of design.
There are four galleries and I visited the first two on the ground floor. The first gallery was explaining how some textiles are made, which for those interested in this kind of stuff would be really interesting. The second gallery has a lot of information about the history of textiles and how they influenced the world, which while interesting for some went straight over me.
Note: There are lots of the materials in th museum, so you do get to see what they're talking about!
Estimated time for a full visit: 40 – 60 minutes.
Price: Free
Website: Click here
---
There are lots more KL museums you can visit, but you'll be better off picking one or two to fit into your KL itinerary, leaving you plenty of time to do other things.
My museums rankings once again:
Bank Negara Malaysia Museum And Art Gallery
Royal Malaysian Police Museum
National Museum
National Textiles Museum