Are you coming to Malaysia or Southeast Asia and find yourself trying to decide whether it is worth visiting Kuala Lumpur for a few days or using it as a transit city only?
If the answer is a yes, this article is for you.
Click here to go straight to the TL;DR section.
When I think of Kuala Lumpur and what people mention say about there experiences there, they aren't as polarising as Bangkok which people either love or hate. Kuala Lumpur? People don't seem to get people to be so passionate about their responses when I talk to them about their thoughts on the city. Like and dislike are more likely to be used than hate and love.
When you come to Kuala Lumpur you aren't going to hate your time here, but will you love it? You might like it, but maybe not heads over heels fall in love.
I'm similar. Having spent a couple months here over several visits, it started off being okay, the fact food is available 24/7 and you can get around easily was nice, though I feel like it's such a disjointed city. The areas don't flow, they're always segmented somehow. I'd stay for a night or two and then move on. Now I like staying here for longer periods and feel like there is always something new I want to explore. Do I love the city and could see myself living here? Doubt it, I can't see myself loving the city at any time.
So if you find yourself

You Should Visit Kuala Lumpur Because…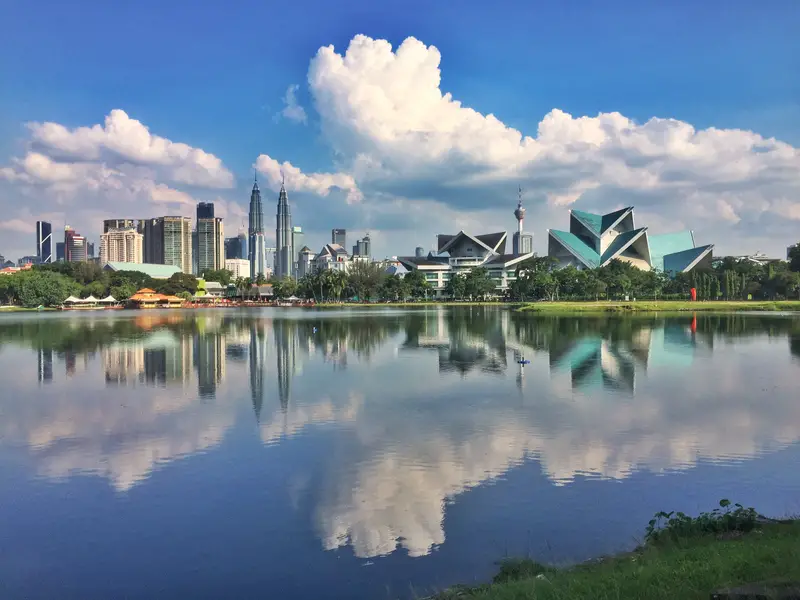 The public transport is great. If you look at a map of Kuala Lumpur, the further you zoon in the more you notice how disjointed things are. If a perfect city is a grid, Kuala Lumpur is a labrynith. Fortunately, the rail systems are efficient, affordable, and comfortable. You can get to pretty much all of the touristy places to visit in KL using the rail network. If not there's likely a bus that will get you the rest of the way. The airport is also connected via rail and bus which is nice as it's quite far from downtown.
Kuala Lumpur has some iconic attractions. There are lots of cities with famous attractions that aren't 100 identifiable (Thailand has a lot of these). If you were to send a post card of Petronas Towers or the Batu Caves, most people will know what they are. There's no confusion. Unlike something like the KL Tower which could be confused with Auckland's SkyTower.
The quality of the nightlife is decent. Guilty. I'm not an expert on the nightlife in KL having only been out to the bars and clubs on two occasions, but people love it. For my fellow backpackers, be prepared to spend a lot of money relative to nights out in other parts of SEA. I'll refer you to this KL nightlife guide rather than pretending I know it all.
Kuala Lumpur caters to all budgets. Accommodation can be found for less than 20 RM/night (several places) or you could pay well over a 1000 RM/night. Looking for something in between? There are 1500+ hotels on Agoda…
For food, you can head to the hawker centers and/or street stalls and pay 4 – 10 RM for a good meal. And of course, there are lots of high roller restaurants and even a few Michelin-Starred restaurants in KL.
The same goes for attractions, you could pay to go up to the Petronas Towers overbridge, or you can go the cheap option and view them at ground level. Many of the best places to visit in Kuala Lumpur are free which is handy.
There are lots of green spaces . If this plays a role in why KL is a disjointed segmented city, then I'm all for it 🙂 A few of the green spaces which are easily accessed are:
Perdana Botanical Gardens
Bukit Gasing
Titiwangsa
KL Eco Park
KLCC Park
Not bad KL, not bad. I like them all!
You Shouldn't Visit Kuala Lumpur Because…
The pollution can be horrible. Some people refer to Kuala Lumpur as a concrete jungle. Well I'm not so sure about that, because of, green spaces! But there can be an awkward fog/layer of pollution sitting over the city from time to time. And when it rains, surface flooding is prominent in many places. In terms of the noise too, with some major roads going through the city, noise pollution in Kuala Lumpur is annoying as.
Alcohol is expensive. I mentioned the alcohol is expensive but that depends where you're from. For Malaysia and pretty much all of Southeast Asia going out for a beer at a bar in Kuala Lumpur will make you cry a little. If you're planning to drink in Malaysia maybe stick to the duty free zones.
It's so humid! In November to January, it cools off a bit otherwise it's hot and humid with 80+ degrees of humidity the norm. I'm reasonably used to it now, but it's never fun when you're in a big city when everything seems exaggerated.
It's not the best city for walking. There are footpaths in most areas in KL, but for a big city that is reasonably modern, there is a lot of issues with the footpaths. Construction can take forever, there are massive holes in portions, people riding motorbikes on the road to save time, and the signage. Another annoying thing is when the sidewalk is wet, the tiles they use make it slippery as fark! /rant
Shopping Malls are taking over. Head to Bukit Bintang and you'll see what I mean. If its not a shopping mall, its a plaza. Granted I like a shopping mall to escape the humidity but it's a funny culture in Malaysia. You can talk to one person who despises all of the malls being built, talk to the next and they're excited
Is Kuala Lumpur Worth Visiting For You?
I want to say yes, but of course, it depends. How long have you got? What are your interests? What kind of holiday do you want? The list goes on.
If you want me to help out with any of your decisions, do let me know in the comments below or email me jub(at)tikitouringkiwidotcom!
FURTHER KUALA LUMPUR RELATED READING: