With the UFC's rapid growth I was surprised to find out the Martial Arts History Museum in Burbank, CA is the only museum in the world dedicated to martial arts.
This post will include:
information about the museum
my experience at the museum
10 things I learned about martial arts
what to know more before you go
About The Martial Arts History Museum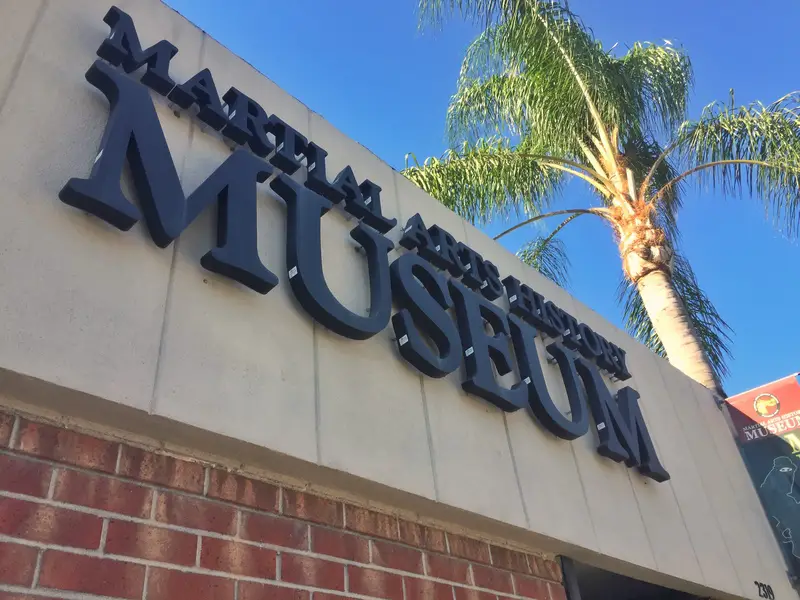 The Martial Arts Museum website say it's not a sports museum but a place to learn about how Asian history arrived, and influenced, American history. I'll disagree and say it's a sports museum that tells the story about how many martial arts arrived in America.
The museum is a non-profit Founded in 1999 by Michael Matsuda who has over 45 years of experience in learning and teaching various martial arts. After starting out as a travelling exhibit the museum found a permanent location in Santa Clarita, CA in 2006 before moving to the current Burbank location in 2011.
The museum has been designed by Michael, with production and design help from his friends at Disney, DreamWorks, The Simpsons, and others who have made the place something people can enjoy and remember.
My Experience Visiting The Martial Arts History Museum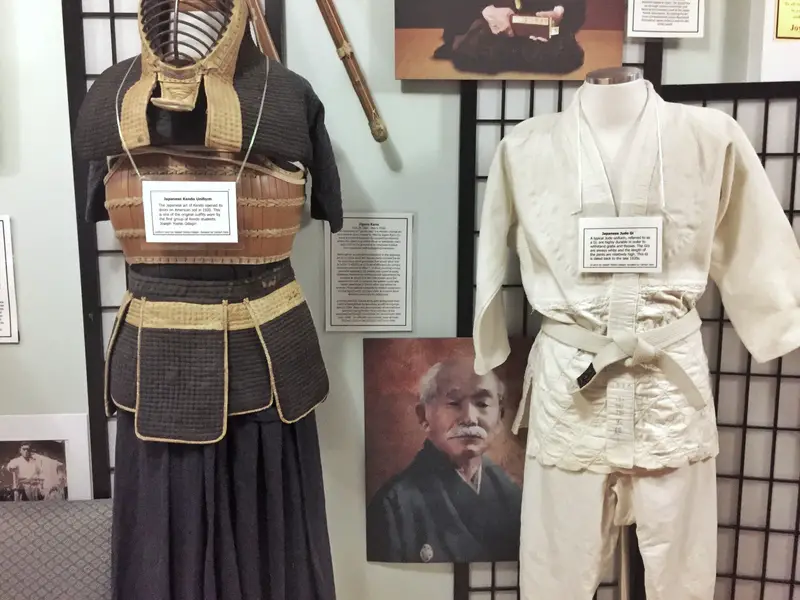 After walking with my luggage from North Hollywood I was gutted to see a sign saying staff will be back in 15 minutes (15 minutes on Thai time?) Anyway, it gave me a chance to sit in the shade and cool off for a bit as I was a sweaty mess. Less than five minutes later a car pulled over and a friendly voice said he'd open up after he finds a park. Win. Even better, he gave me a bottle of water which went down a treat.
Turns out the friendly voice was Michael, the founder. He gave a nice introduction to the museum and was particularly fond of the Elvis Presley uniform displayed in the lobby (my bad, didn't take a photo).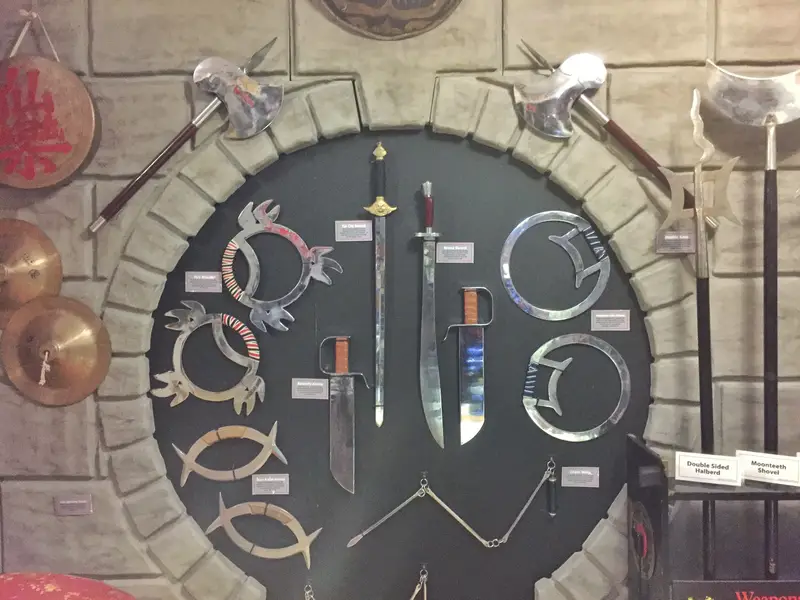 As I was about to begin he let me know a comprehensive viewing takes about 40 – 50 minutes, the right amount of time to spend in a museum.
I launched into learning about martial arts in China with the information boards using nice readable font. There is solid balance between information and artifacts, no doubt this way helped by the companies mentioned above.
The museum is in sections, discussing martial arts in China, Korea, Japan, Hawaii, and more. Then there is the transition into the media sections…how martial arts as a competition has evolved and of course the history of anime. I am not the biggest anime fan, but I am now more intrigued by it all.
There is a bunch of discussion about movies and magazines too, I wrote down a bunch of the movies they mention throughout the museum for future viewing. Maybe.
There's information about various influencers (they'll cry that I called them influencers) in the martial arts scene like Chuck Norris and Bruce Lee. Again, you aren't overwhelmed with information, but what is included is valuable.
I missed this part but there's a Martial Arts Hall of Fame incorporated. Turns out anyone can start a hall of fame so there are over 1000 martial arts halls of fame in America alone! Here they're doing their best to keep their one legit.
By the time I had finished reading more or less everything and going back to take some photos, it was right around 45 minutes on the dot I had been in there. Although I didn't take time to watch the short films on the TV's I felt like this was the perfect amount of time. As I left, I had a quick chat with Michael and he was kind enough to give me a badge and a sticker. It's the small things that count.
At sometime in the future Michael is looking to move the museum to a bigger space to expand. That's exciting, as the world of martial arts is massive and if his friends at Disney, Dreamworks, etc. come to the game again, he'll create something awesome I'm sure.
On top of including more martial arts variations I'd love to see a bookshelf or two of martial arts books and an area to read. Similar to what they have at Shimano Cycling World.
10 Things I Learned About Martial Arts At The Museum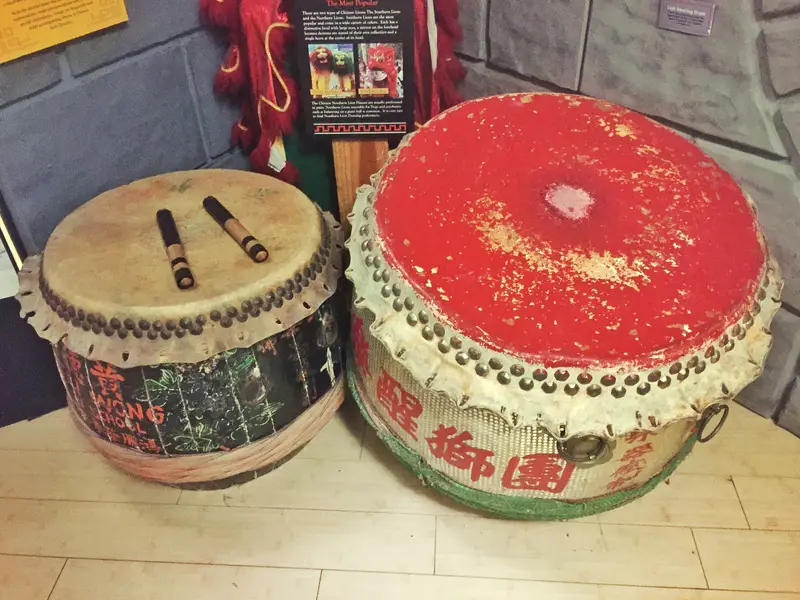 1. The Lion King was inspired by Kimba, the White Lion, starring a white lion (yay logic). This was also Osamu Tezuka's (the "Father of Anime") first colourised film.
2. Chuck Norris was a star during the 'blood and guts' era of the 60's (yea, Chuck Norris is an actual person, not a fictional meme character). From 1965 to 1970 Chuck won most major competitions and in doing so increased his profile around the world. His first major break on the big screen was in Way of the dragon where he appeared alongside Bruce Lee as the first non-Asian star in a martial arts movie. For the next 30 years he played a starring roles in dozens of films and TV programmes which you can see here.
3. If you ever attend a Muay Thai fight, you'll hear rhythmic music in the background played by a small group of musicians to introduce and encourage fighters. Three of the most used instruments are:
Glong Kaek: Similar looking to a drum the Glong Kaek has two different sized heads.
Pee Chawaa: Similar looking to a flute the Pee Chawaa is made of hardwood and ivory with seven holes for the fingers.
Ching: Played vertically the cymbals are less than three-inch thick and are connected by a cord.
4. Founder of the Martial Arts History Museum, Michael Matsuda, launched the Martial Art Magazine in 1983 with the first cover featuring Fariborz Azhakh and Rodney Alo.
5. The origins of Sumo have been lost with some believing it was practiced over 1000 years ago. What is know is that in th 1600's Sumo became an organized sport thanks to regular tournaments to become the most popular sport in Japan. Based on ceremonies and rituals Sumo wrestlers begin a bout by lifting their legs high into the air and stomping them down to scare away demons. The salt they throw into the ring is to purify the ring and if they throw it around their body, it's done so to ward off injury.
6. The ninja is a creator of mystery,featuring in folklore and legend. As seen in pop vulture forms ninjas have the legendary ability to walk on water, control nature, and be invisible.
Considered by many to the first organised assassins for hire group, some believe ninjas were ronin samurai seeking work. Others say that they were former Samurais who didn't commit suicide when disgraced. Either way, they perfected the art of espionage.
Stephen Hayes bought the art of the ninja, ninjitsu, from Japan to America.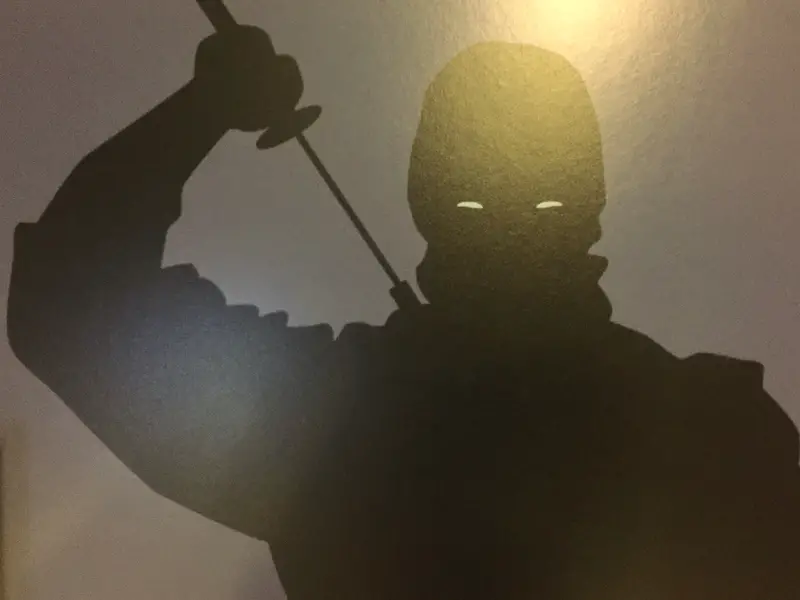 7. Kung Fu goes back thousands of years, but only reached America in 1848 when gold was discovered in California. This discovery saw many Chinese immigrants chasing their dreams at "Gold Mountain". To overcome prejudice, they shared their culture, traditions, and way of life. Interestingly, the Chinese kept to tradition with kung fu and only taught close friends and family as it was forbidden for a Kung Fu Master to teach a non-Chinese student.
When gold became scarce the Gold Mountain chase faded and many Chinese became railroad laborers. It wasn't until kung fu instructor Ark Wuey Wong opened a school in California in 1921 and began accepting non-Chinese students that kung fu developed in America.
8. Dragon Ball was released in 1986 and soon became one of the most popular anime shows in Japan.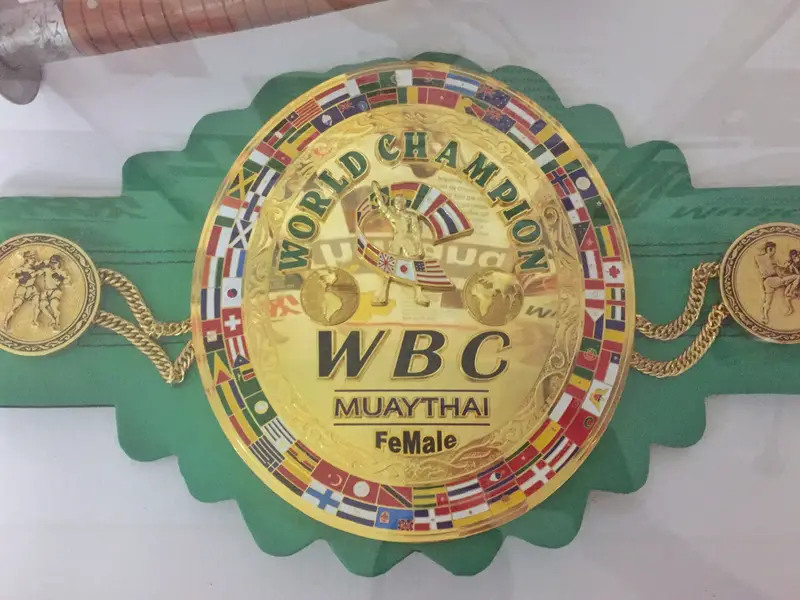 9. In 1965 a women played the protagonist role of a hero/detective/spy for the first time in a TV show. That role was played by Anne Francis, a female Judo/Karate character named Honey West which was also the name of the show. Despite getting excellent reviews, Honey West struggled with stiff competition from other shows like Batman and The Green Hornet as was cancelled after one year.
10. Born in San Francisco, and raised in Hong Kong, Bruce Lee had appeared in 20 films by the time he was 18 thanks to his fathers influence as a famous Cantonese opera star.
What To Know Before You Visit The Martial Arts History Museum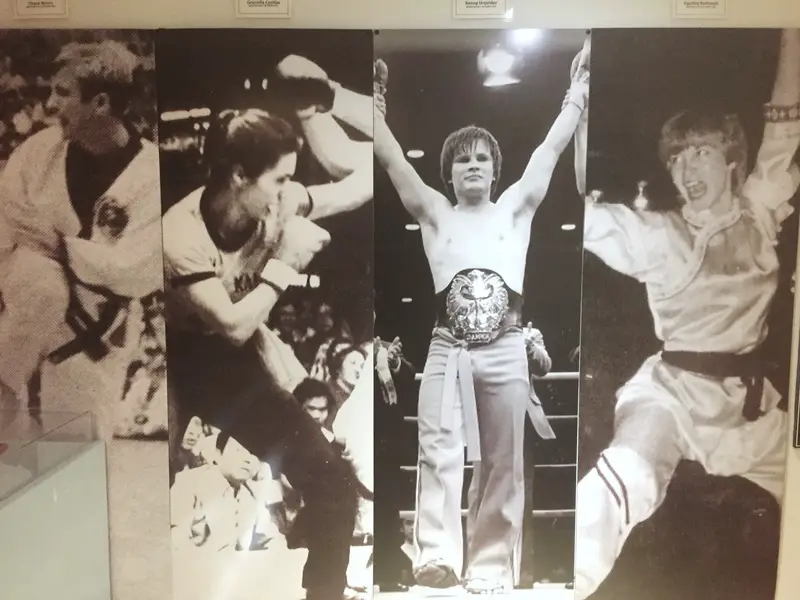 Entrance fee: $10 adults and $5 for children (up to 15 years). If you visit on the first Thursday between 3pm and 6pm, entry is free.
Opening time: Thursday to Sunday (11 am to 6 pm). Check the homepage before you visit for announcements.
Getting there: If you're a tourist, you're likely staying in Downtown LA, Hollywood, or near the beach. If you're taking public transport, you can get the red line metro to North Hollywood Station (terminal), then catch a bus (183 or 154) or walk from there. Use Google Maps once you get off at North Hollywood to track down the next bus.

Lyft or Uber work as well depending on your budget and how many of you there are. It's about 5km from North Holly Station.

---

Is the Martial Arts History Museum worth visiting? It's never going to be on the top 10 list of things to do in Los Angeles (unless you're a massive fan on martial arts), but if you want to check out Burbank/North Hollywood, definitely put it on the list.

READ NEXT: