If you're wondering where to find the various Lakers street art murals in Los Angeles I can't blame you. You might have seen photos on Instagram, but getting the addresses is key. You won't stumble across the murals walking down the Hollywood Walk of Fame.
This post includes a Google Map of all 7 locations of Lakers art in Los Angeles I'm aware of.
But I do need your help. If you know of any Laker related murals and/or street art that aren't on the map, leave a comment or shoot me an email jub(at)tikitouringkiwi.com so I can update the map (same goes if something is removed).
1. Mamba on Melrose #MambaonMelrose
Address: Shoe Palace, 7725 Melrose Ave, Los Angeles | By: JC Ro
The first time I came across some Laker's street art was in the video below, not long before my trip to LA in July 2018. This piece is dubbed Mamba on Melrose (#mambaonmelrose). When the Lakers signed Le Bron James it's fair to say there were lovers and haters and it's obvious to see why this video went viral.
Back to the actual artwork, JC Ro creates art using triangles with this piece containing 413 circles to represent the date 4/13 (or the 13/4 for normal people) when Kobe Bryant played his last game in 2016.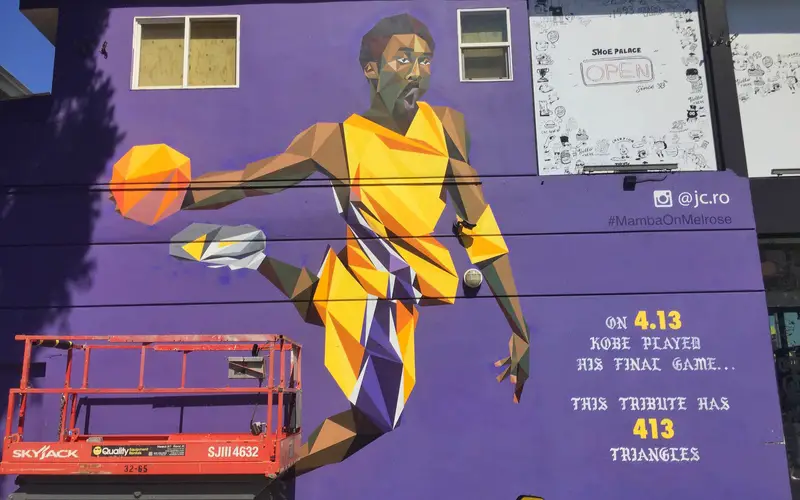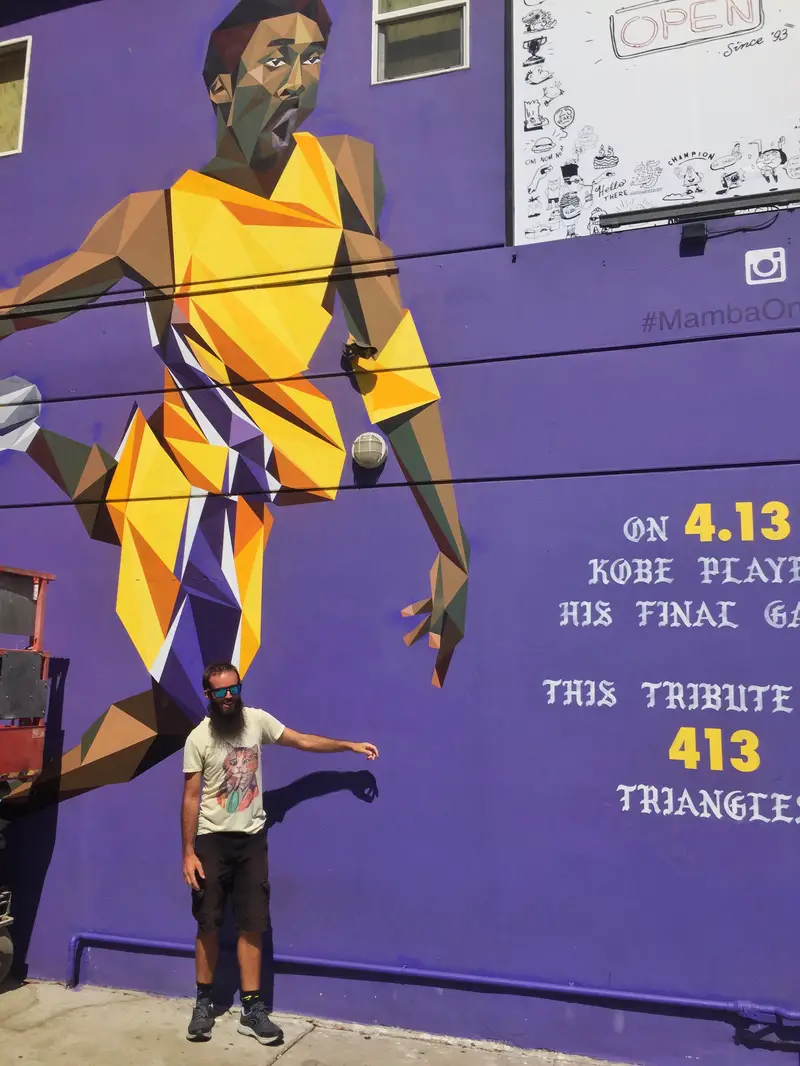 p.s. Check out Kobe's book, Mamba Mentality. You'll get an even deeper insight into what made Kobe legendary. RIP.
2. LA Icons – Kobe Bryant & Fernando Valenzuela
Address: Sportie LA, 7753 Melrose Ave, Los Angeles | By: Gustavo Zermeño Jr.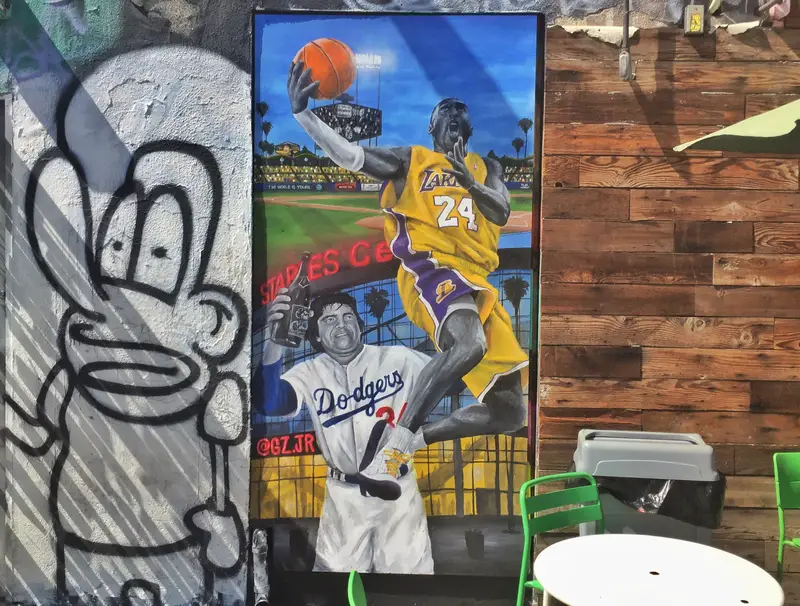 I was lucky enough to spot this piece as I left #MambaonMelrose to head to the welcoming of Le Bron (below). This is on the Melrose Ave side of the Sportie LA building.
Two icons of Los Angeles, Kobe Bryant and Fernando Valenzuela with their second homes, Staples Center and Dodger Stadium respectively, in the background.
3. Welcoming Le Bron to Los Angeles
Address: Sportie LA Carpark, 7753 Melrose Ave, Los Angeles | By: Gustavo Zermeño Jr
To quote the Sportie LA Instagram account:
We initiated this project with the idea of properly welcoming LeBron to LA. He isn't taking over LA, he's joining us. We wanted to convey that message within the context of the Lakers' history, celebrating both tradition and the excitement of the future.
Love it!
4. Celebrating Kobe & His 20 Years Of Service To LA
Address: 1351 Lebanon Street | By: Jonas Never
Initiated to acknowledge Kobe and the 20 years he repped the city this is close to the Los Angeles Convention Center (and Staples Center.
5. Kobe and Lebron Dunking @ Soul On Ice (+ Snoop Dogg)
Address: Soul On Ice, 2491 W. Washington Blvd, Los Angeles | By: Gustavo Zermeño Jr.
Soul on Ice has embraced the mural artist in LA with their Lakers pieces too. Initially, this was just the Kobe Bryant piece but they've since added the LeBron "King" James bit which was cool!
There's a small piece with ole Snoop Dogg too on the shop front.
6. Mamba on Melrose Tribute
Address: 8027 Firestone Blvd, Downey, CA | By: JC Ro
This is a close up of a portion of the Mamba on Melrose art (see #1), again by JC Ro. JC has a vision for this location. He wants the wall of Shoe Palace's Downey store to be covered entirely with murals. That's 280 foot. Epic.
Bonus: 7. A Michael Jordan Tribute In Little Tokyo
Address: 326 E 2nd Street (behind Studio 23), Little Tokyo, Los Angeles | By: JC Ro
Yes, another piece by JC Ro, even if this one is a little bit different with MJ invaded LA? On Instagram, he said this took 100 hours spread out over 10 days to complete, pretty impressive stuff. The mural was completed in time for MJ's 55th birthday on Feb 17, 2018.
---
I hope this makes your problem of where to find the LA Laker Murals (and related pieces) on your mission a little bit easier!
READ MORE: