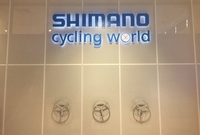 If you haven't heard of Shimano Cycling World before, fair enough, there are hundreds of things to do in Singapore.
Located in the Singapore Sports Hub I visited Shimano Cycling World in mid-2018. It was awesome.
The following are seven reasons why you might like visiting too.
1. The Staff Are Awesome
The staff at Shimano Cycling World (SCW) are awesome (well from my sample size of one…) and are cyclists themselves which is a bonus. They're passionate about cycling so aren't going to bullshit you and it's not like they have anything to sell anyway.
I got chatting with Dicky who was super knowledgeable and an all round good bloke. He was happy to chat on a level I could understand and seemed to answer all my questions without taking a random guess (rookie cyclist here). If you'd rather spend time browsing the exhibits that's your choice (they'll leave you to it), but I can highly recommend going up to say hi and see where the banter leads you (we're all cool tourists who like chatting to locals…right?) Don't forget to check out the exhibits though.
2. It's Free To Enter
Not much more to say here.
p.s. they aren't trying to sell you anything…yay for pure intentions.
3. Welcoming Environment
If I had to categorize Shimano Cycling World (SCW) as something it would be a gallery (more so than a museum). On their about page they call it an experiential center which is accurate given the level of interactions. The mission of SCW is:
"… aims to enrich and develop the local cycling culture and promote cycling as a lifestyle in Singapore."
4. They Have Lots Of Cycling Books
This got me super excited when I saw some of the shelves full of books. I'm on a mission to read lots of sports autobiographies from athletes around the world. There were a bunch of different cycling books available to read. I don't think you can rent them out, but you're more than welcome to sit at the tables and read as you please.
5. It's in the Singapore Sports Hub
If you're going to SCW you might want to visit the Singapore Sports Museum next door too.
There's more than that though as Singapore Sports Hub is a hive of activity (I assume you saw the screenshot above). You can combine a visit to SCW when:
attending an event (they bring in some epic sports events here)
visiting the Singapore Sports Museum
exploring Kallang Wave Mall…you get the idea.
6. Interactive Displays!
Ah yes…the exhibits, I guess I should mention that. It could be easy for the exhibits to be boring. Bikes and bike pieces in frames with boring descriptions on plain information cards. That's not the case here, there was the interaction thing above for example which helped me learn exactly how much we should appreciate bikes.
There was also an area where you can learn all about different bikes, how they evolved to what they are today as well as learning about some other bikes that are used around the world today, like the rattan bicycle above. They don't only tell you about them, but you can see an actual bike that they talk about which was awesome.
The other unique exhibit was the history of Shimano. It's hard to describe how it works, but it was actually insightful as they went beyond the company and included the evolution of the bicycle. The interaction means it really should be on every list of fun Singapore activities!
7. Help For Those Who Want To Cycle In Singapore
This doesn't apply to me as I have no intention to cycle in Singapore, but I learned some things. You can learn about all the specialist cycling routes around Singapore and where bike repair shops are in Singapore. With bike sharing programs Ofo, Obike, and Obike in the city you can get cycling straight after your visit.
From what I gather, they'll help you with basic bike repairs too. Or you could attend one of their free events to learn about bike maintenance yourself.
Shimano Cycling World FAQ
How do I get there? Take the MRT on the circle world to the Stadium Stop. Exit the station via exit A and follow the signs to the Singapore Sports Museum attached to SCW.
The Google Maps Link is here: https://goo.gl/maps/pMzKDxkHN212
What are the opening hours?
Monday – Friday: 10 am to 8 pm

Saturday & Sunday: 10 am to 9 pm
How much does it cost? As mentioned earlier, it's free! Wooo, thanks Shimano.
SCW reflects Singapore. Everything they do is quality, and there's no way you can't not enjoy your visit here. If you go, I'd love to hear about your visit!