People are always telling me they'd come to New Zealand ASAP if the country wasn't so expensive. But, that doesn't have to be the case with an abundance of free things to do in New Zealand.
In short, it's possible to have a great time travelling New Zealand on a budget, as long as you mix in a variety of free activities and attractions in between ticking off your expensive bucket list activities.
To put this list together, I wanted to get a good number of free activities in each of New Zealand's 16 regions. I have done a bunch of the activities here, but certainly not all. I scoured the internet and asked friends to help me come up with this curated list.
I tried to keep the range of activities varied. This easily could've been a list of New Zealand beaches and hikes but that'd be no fun.
The map below has a number associated with each region, and you can click the associated link to jump around the page as you need.
Free Things To Do In The North Island
1. Northland | 2. Auckland | 3. Waikato | 4. Bay of Plenty | 5. Gisborne | 6. Hawkes Bay | 7. Taranaki | 8. Manawatu-Wanganui | 9. Wellington
Free Things To Do In The South Island
10. Tasman | 11. Nelson | 12. Marlborough | 13. West Coast | 14. Canterbury | 15. Otago | 16. Southland
Free Things To Do In New Zealand – North Island
---
Free Things To Do In Northland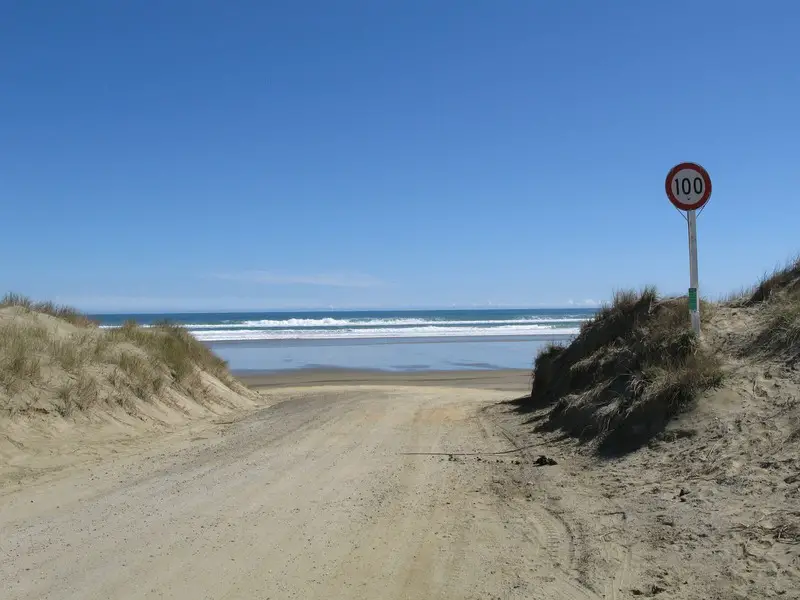 1. Visit where the Treaty of Waitangi was signed. Signed in 1840 the treaty is an agreement which allowed the British settlers and Maori to live together under common laws.
2. Sandsurfing Cape Reinga's dunes. Whether you rent a board or use a bit of cardboard, you can have fun flying down the dunes rising out of nowhere. Watch out, you'll pick up some real speed!
3. Visit New Zealand's most northern point. Climbing the Cape Reinga Lighthouse provides epic views of the Pacific Ocean and the Tasman Sea colliding. It's also New Zealand's most photographed site.
4. Drive along Ninety Mile Beach. Most of the time it's not recommended to drive on the beach, but Ninety Mile Beach is part of the National Highway and regularly sees traffic along the 55 miles of coastline.
5. Visit New Zealand's largest Kauri tree. Tāne Mahuta is massive! Embrace your inner tree hugger and give the beauty a squeeze. The oldest Kauri tree is nearby in Trouson Kauri Park.
6. Wander around Kerikeri. Kerikeri is full of historic buildings including the Stone Store, New Zealand's oldest stone building.
7. Take Whangarei's canopy walk. Head to A H Reed Memorial Park and walk through the canopy of the Kauri trees for two kilometres, 23 metres above the ground.
---
Free Things To Do In Auckland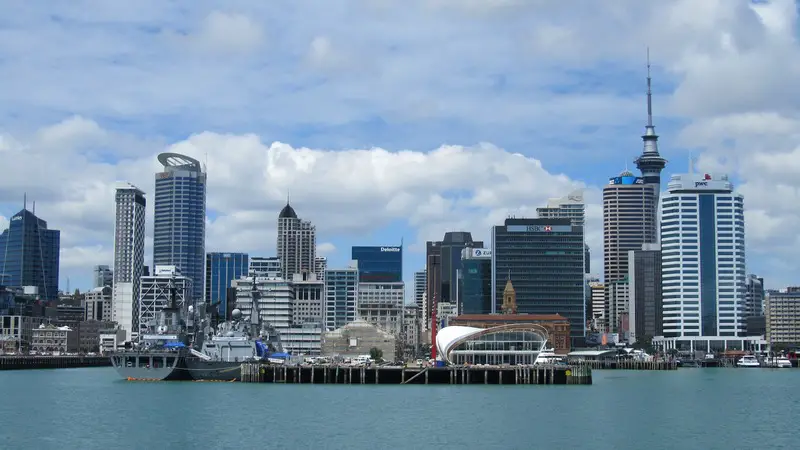 8. Wander Wynyard Quarter. The artistic Wind Tree sculpture is the centerpiece of this part of town. With plenty of boats and seating around, it's a good place to hang out with Daldy Street Park another nice touch.
9. Walk the Coast to Coast Trail. An urban walk starting from downtown Auckland taking you through parks, through quiet suburbs and over volcanoes.
RELATED POST: MYEXPERIENCE ON THE COAST TO COAST.
10. Auckland City Gallery. There are 1000's of artifacts in the Auckland City Gallery and this is one of the must do things to do in Auckland for free. They represent the different cultures in New Zealand and how they shaped the country going forward.
11. Visit Stony Batter Reserve. New Zealand manages to avoid much of world politics but in the 1940s during the WW2 there were things built in NZ to see off the enemy. You can see gun emplacements and other structures at the reserve. It's also worth checking out the tunnels in Davenport.
12. Appreciate Libraries. This might seem silly, but libraries not only serve as a nice place to hang out on a cold, rainy day in Auckland, but the wifi is also top quality and free. There are 50+ libraries in the region.
13. Bird watch at Tawharanui Open Sanctuary. A feel-good story with the region having 14 bird species either returning to breed or re-introduced to the sanctuary since 2002. A great place to see rare birds in New Zealand.
14. Head To Silo Park For A Movie. Every Friday from 9 pm during summer a massive projector plays a movie for all to see. In addition, there are markets and street carts for those with short attention spans.
RELATED POST: BEST THINGS TO DO IN AUCKLAND.
---
Free Things To Do In Waikato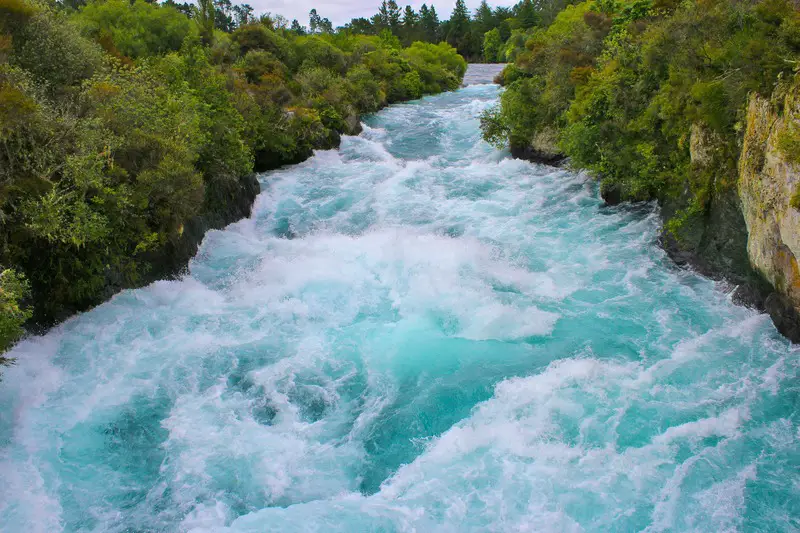 15. Bath at Hot Water Beach. Thermal action underground brings everybody to this beach near high tide to dig their own spa pool in the sand. You can also do this at Kawhia.
16. Mt Te Aroha. Behind the Te Aroha Mineral Spa, is a small fenced area that seems quite unassuming. Wait around for about 45 minutes and this small mound shows its importance as the Mokena Geyser – the world's only hot soda spring geyser springs to life.
17. See The Waitomo Glowworms The Ruakuri Track takes ~45 minutes to complete the forest gorge. If you happen to decide to go for sunset, you should be able to get a look at the glowworms. Perfect for those on a budget travelling New Zealand.
18. Taste Kaimai Cheese I may be vegan but everyone loves cheese so you should probably go and see the award-winning yellowy goodness being made through the viewing windows.
19. Experience Kiwiana. The Sir Ed Hillary Walkway in the centre of Otorohanga (the official "Kiwiana Town") is a stretch of displays allowing you to learn about what makes New Zealand, New Zealand. Think ANZAC, All Blacks, Pavlova, milk bottles etc.
20. Admire Huka Falls. This beast of a waterfall (see photo above) is easily accessed from the road between Taupo and Rotorua. You can't help but stop in at New Zealand's most visited natural site.
21. Enjoy Cathedral Cove. Famous for one of Narnia's Filming locations, the cove is a fun attraction to see with a fun trek down (probably not ideal for most if it's raining).
RELATED POST: IS THE COROMANDEL WORTH VISITING?
---
Free Things To Do In Bay of Plenty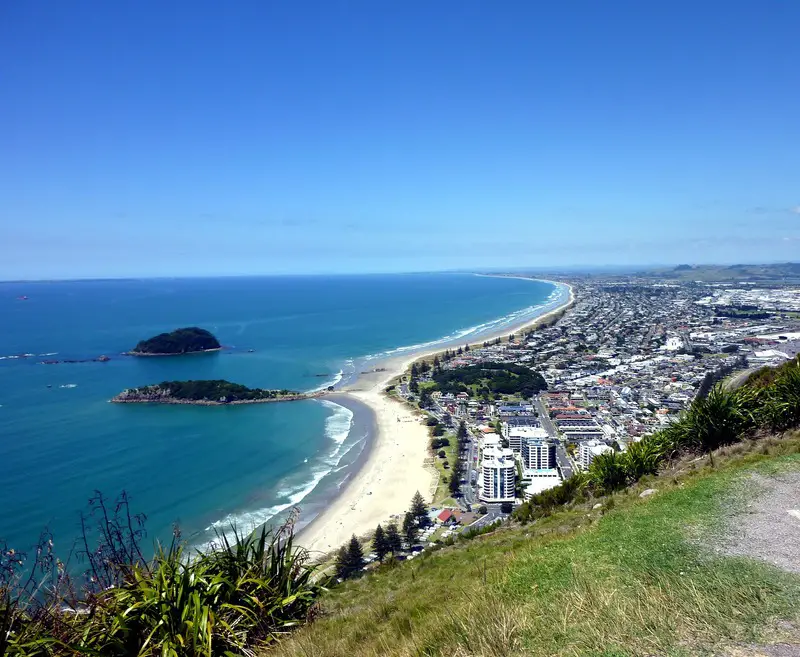 22. Unearth remains at Karangahake Gorge. This walkway follows a defunct railway with stunning scenery with a few bits and pieces to keep your eyes open for from the gold mining era.
23. Climb Mount Maunganui. You can't help but notice the Mount overlooking the town and beach. It's a 30-minute stroll offering epic panoramic views. There are bunch of other outdoorsy activities around the area too (many free).
24. Walk through the Historic Village. The cobbled streets of 17th Avenue is a walk down memory lane with buildings, both real and replicas, from back in the day. A good souvenir spot too.
25. Explore Te Puna Quarry Park. Volunteers have made what was once an eyesore a world-class park. As you wander the park, look out for the pond, cacti garden and butterfly garden.
26. Walk among giants. Not real giants silly. The Whakarewarewa Forest has walkways through massive Californian Coast Redwoods that build the theatre for the rest of your stroll. Impressive.
27. Kerosene Creek. Wai-O-Tapu might be a bit expensive but at least you can drive a short distance and take a dip in this heated river. The turnoff is hidden so most overlook this spot, better for you.
28. See the Blue and Green Lake at the same time. These two lakes are right next to each other, and whereas the green lake is sacred making it good for a stroll, anything goes at the blue lake. Eat your lunch, take a dip and enjoy life. Lunchtime topic: why are the they different colours?
---
Free Things To Do In Gisborne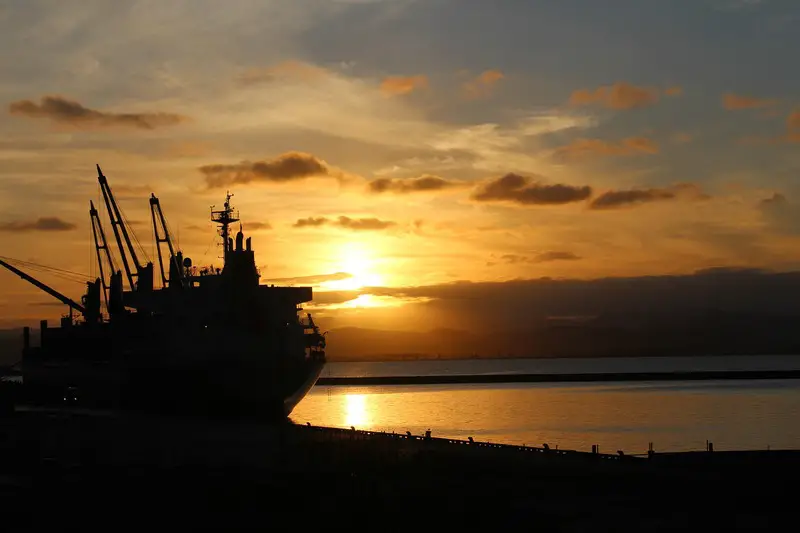 29. Be the first to see the sunrise of the day. This involves an early start to the day to reach the summit of Mount Hikurangi. It's pretty satisfying being one of the first in the world to see the sunrise for the day.
30. Laugh at the James Cook Memorial Statue on Kaiti Hill. There are a few Cook statues in Gisborne where he first stumbled onto New Zealand. The one located on Kaiti Hill is random and is actually a marble statue from Italy. Randomness for the win. Bonus: Sweet views.
31. Tologa Bay Wharf. A deserving winner of New Zealand's longest wharf. You'll have some fun opportunities looking back at the mainland from 600 metres away.
32. Climbing East Cape Lighthouse. The 700 steps leading to the world's most easterly lighthouse will keep you honest.
33. Visit Matawhero Battle Site. At Te Poho-O-Rawiri Marae you get to understand a bit more about Maori history. Matawhero was one of the places Te Kooti raided in 1868, with one building left standing today.
34. Slide down the rocks. A locals favourite with the rocks smooth slope positioned perfectly for a stream running over it. Grab some cardboard or a boogie board and you can easily spend an hour here as your confidence increases on the slope. There's also a waterfall 1km away.
35. Pretend you're in the 1890's. The Morere Hotsprings and surroundings have been used as a way to relax for well over a century. The hot springs cost to use as they're maintained, but the bush is peaceful enough where the population is sparse.
---
Free Things To Do In Hawke's Bay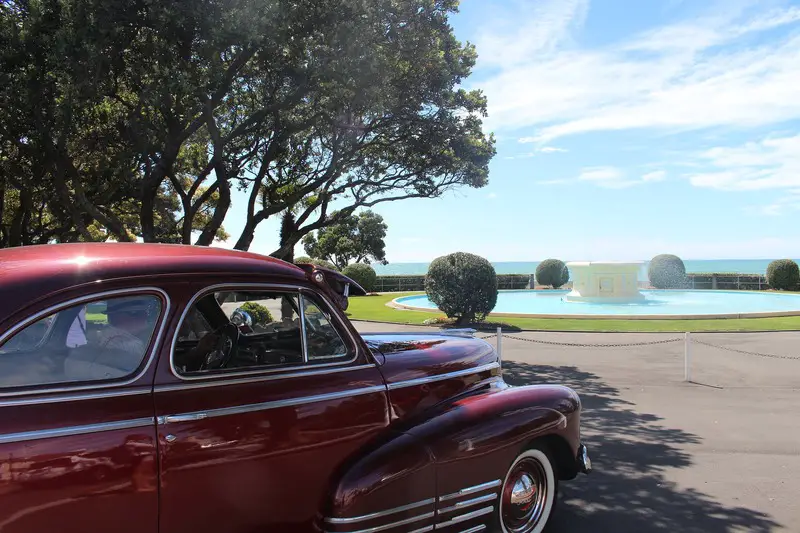 36. Self-guided art deco tour.There are guided tours but with a bit of Googling beforehand, wandering downtown Napier will take on a new twist as you start to understand the art deco architecture Napier is famous for.
37. Hike Te Mata Peak Hiking to the highest point in the Hawkes Bay sounds is grueling. But with such epic nature involving limestone valleys with the cherry on top being epic panoramic views who would say no? There's a cool story about the hill as well.
38. Hawkes Bay Museum and Art Gallery. Located in the heart of Napier, the museum is a great follow on from checking out the art deco of the city.
39. Taumatawhakatangihangakoauauotamateapokaiwhenuakitanatahu. Or Taumata for short. Good luck trying to pronounce the name when someone asks you what to see in New Zealand. This hill has one of the longest place names in the world. Measuring in at 85 characters, give yourself a chance of a photo in front of the sign.
40. Photograph a statue. Yup, a statue. Napier's Pania of the Reef is a bronze statue of Maori beauty Pania who is often compared to the Little Mermaid statue in Copenhagen.
41. Westshore Wildlife Reserve. Birdwatching sounds painful, but with a little bit of patience and conscious watching you'll be surprised at what you see at the stunning coastal lagoon habitat.
42. Visit the gannet colony. At Cape Kidnappers, you can see gannets on the aptly named Gannet beach. Tours are available but if you time the tide right, you can make the 8km walk along the beach yourself. I'd probably make this a must do on your list of things to do in New Zealand in summer, winter can be nasty in that area.
---
Free Things To Do In Taranaki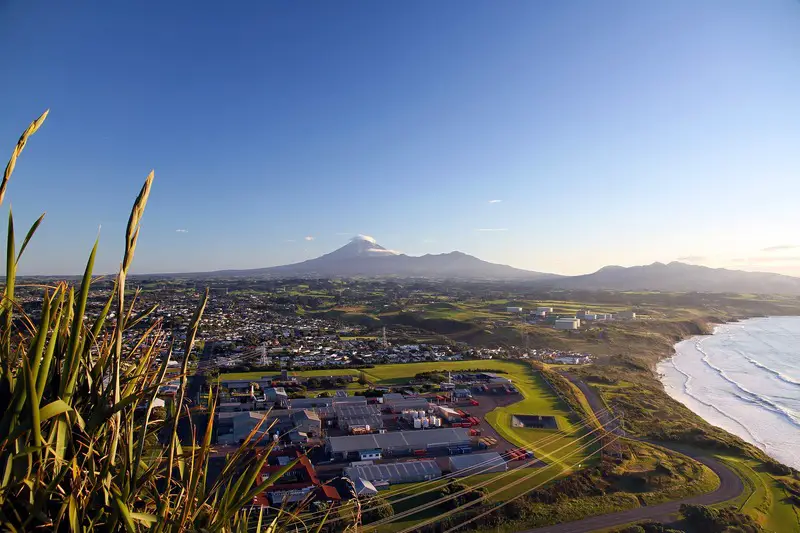 43. Seek radical art. Len Lye said of the Govett-Brewster Art Gallery: 'Visit the swingiest art gallery in the antipodes'. Do you need another reason?
44. Climb Up Paritutu Rock. The large rock on New Plymouth's edge is climbable! It's not quite as nice as climbing 'The Mount' but the views of the Sugar Loaf Islands are wicked as is Mt Taranaki in the distance.
45. Get involved with the New Plymouth art scene. The art scene is thriving in New Plymouth and most months will see an exhibition opening for the public. The 'best' part? There's usually a few free snacks and drinks floating about.
46. Walk The Coastal Walkway.This walk is awesome at sunset as you walk along the 12.7km trail featuring numerous pieces of art..
47. Take a walk with the locals. The coastal walkway gets all the attention but the locals seem to prefer the Te Henui Walkway starting from downtown New Plymouth.
48. Browse Pukekura Park. There's a whole lot of walking in Taranaki right? We haven't even mentioned the trails on Mt Taranaki but here there are themed gardens and beautifully manicured lake areas making for sweet Instagram opportunities at Pukekura Park.
49. Scale Hawera Water Tower. It's a bit different to all the lighthouses, but you get epic views all the same from the top of the 215 stairs.
---
Free Things To Do In Manawatu-Whanganui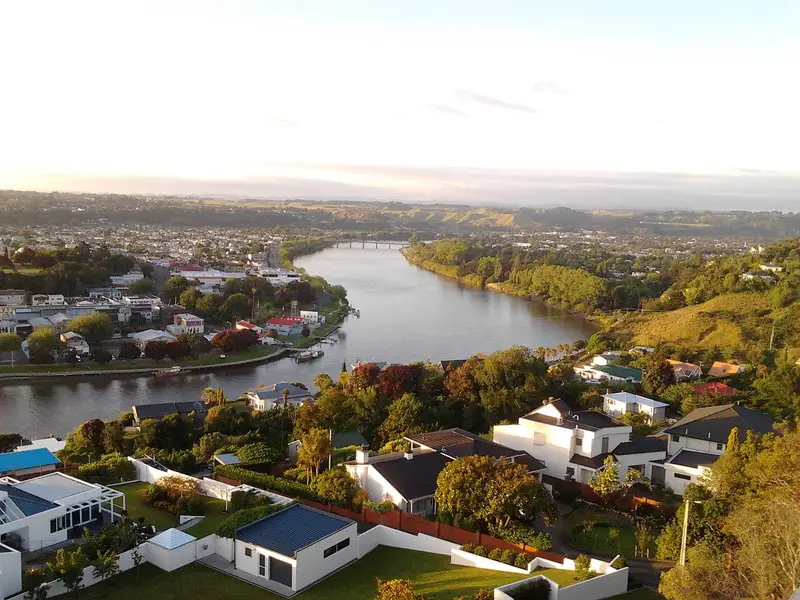 50. Witness dramatic cliff faces. Known as a popular surf beach, Kai Iwi beach also has spectacular photo opportunities with cliffs rising vertically up over the ocean.
51. Enjoy a garden BBQ.BBQ in Palmerston North's Victoria Esplanade Gardens. Easy.
52. Go to the aviary. The Virginia Lake Aviary is the New York of aviaries with 400 birds from 32 different nations in the free flight aviary living together.
53. Watch glassworkers in action. If you've never seen glassworks being made, this will blow you away. The New Zealand Glassworksworkers are passionate, making what seems boring a fun atmosphere.
54. Explore the gorge. Manawatu Gorge is New Zealand bush at its finest. As you meander the different tracks, you'll come across more and more epic views.
55. Learn more about war. The Whanganui War Memorial Centre is an impressive building from the outside (Top 100 Modernistic in the world). When you head in, you'll find some useful information with fun staff in a relaxed atmosphere.
56. Check out Yard Art. If you're guilty of buying too many souvenirs, you'll want to skip this but the owners are passionate about what they make and are happy to chat about their processes.
---
Free Things To Do In Wellington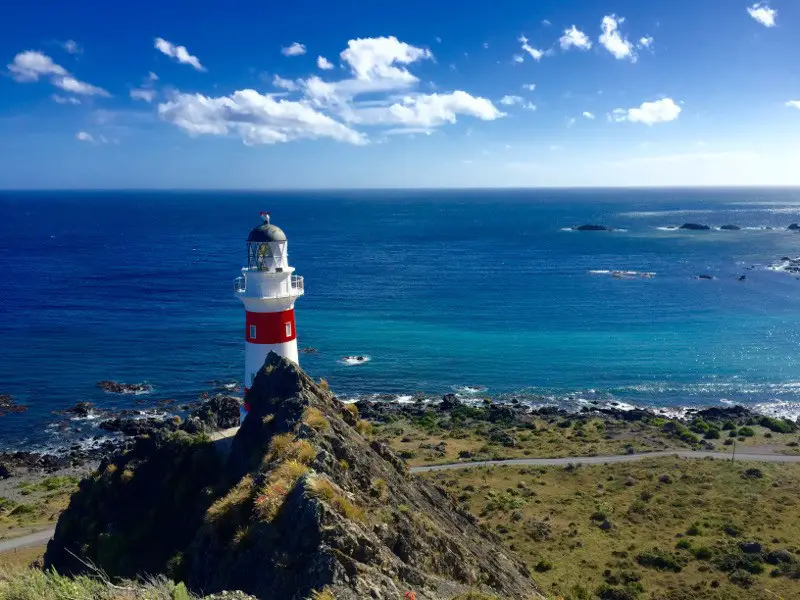 57. Get Panoramic Views From Mt. Victoria. Right on the edge of downtown Wellington, take a walk up the hill and you'll be presented with epic views to help you get your bearings in the city.
58. Te Papa. Te Papa is the huge National Museum and is rated #1 in the list of top things to do in New Zealand. There are several permanent exhibitions but the most impressive are the temporary exhibitions which change every year or two. The earthquake room is always fun too.
59. Head to Cape Palliser Lighthouse. As we're seemingly reaching all the extremes, Cape Palliser Lighthouse is the southern tip of the North Island. If there's a southerly wind, maybe skip this. The Cook Strait doesn't like making friends when a southerly is about.
60. Mmmmm, free chocolate. Head to Schoc Chocolates in Greytown where nice people get to sample free chocolate. Try the lemongrass or wasabi for something a little different
61. Visit a LOTR filming location. Whether you like Lord of the Rings or not, check out the Putangirua Pinnacles. This is home to the scene of Dimholt Road in The Lord of the Rings: The Return of the King. There are plenty of LOTR filming locations in Wellington, but this is so different and one of my most recommend places to visit in New Zealand.
62. The almost collapsed house. By the time you're reading this, don't be surprised to find the house has collapsed. Right on the beach near the entrance to the Pinnacles above, wild weather has eroded the coastline leaving these two houses on the verge of collapse.
63. Another lighthouse! Castle Point Light House Because I think they're awesome. The Castle Point Light House is remote but you can easily walk there. Apparently, the former keeper house is haunted as a ghost when he died in 1922. Now that the keeper house has been demolished, the ghost may be after you.
RELATED POST:
Free Things To Do In The South Island
Woah, one island down, one to go. Before we get started on the South Island, I thought I'd break it up with a quick tip on how to do cheap things in New Zealand. Simply jump on Groupon, BookMe, GrabOne or TreatMe and look up experiences nearby. If you happen to get a little bit lucky, you might find you get to experience some cool things to do see in New Zealand for a fraction of the cost.
---
Free Things To Do In Tasman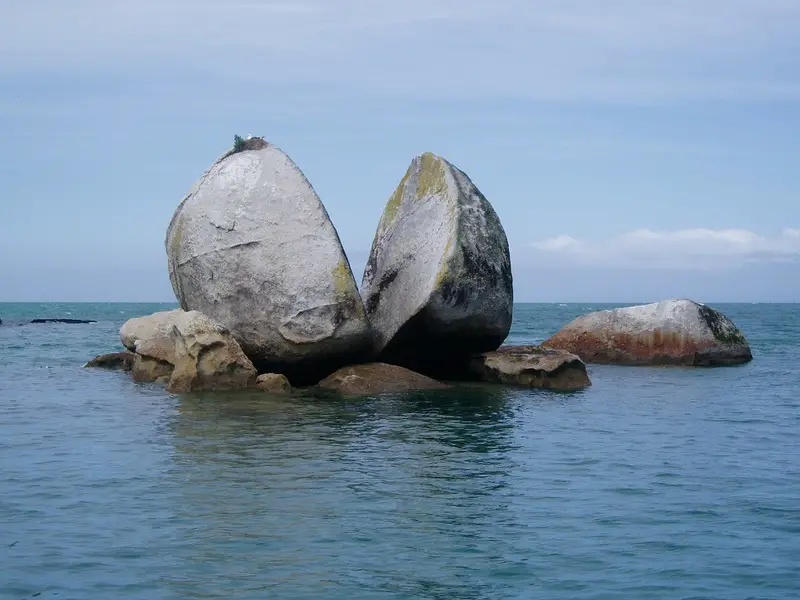 64. Wine tasting. The top of the South Island is jammed full of wineries. Why not combine a free wine tasting with epic views over Tasman Bay at Rimu Grove Winery.
65. Te Waikoropupu Springs. Unfortunately, the springs are a sacred site, so you can't swim in them. But located in Golden Bay they are NZ's largest freshwater springs with some of the clearest water in the world. You can also see these as part of a tour like I did.
66. Visit the Kiyosato Gardens. Motueka has a sister town in Japan, Kiyosato. The gardens named after their sister are stunning with a cool tea house for the epic Instagram shots.
67. Saltwater Baths When the tide comes in at Motueka, baths are formed. It's quite simple really, but a nice way to enjoy the ocean without the chaos of the surf.
68. Candle appreciation. The Living Light Candle outlet is one of the best smelling places you'll ever visit. For a dirty traveller, that's just what the doctor ordered. The candles themselves are hand poured using natural ingredients including NZ beeswax.
69. Peanut Butter Factory tour! Yeap, this is real life. Come tour the factory and see how this good stuff is really made, with a complimentary tasting of course.
70. Explore Labyrinth Rocks. The Labyrinth Rocks are a funky little spot where you'll find some crazy structures and tight squeezes amongst the limestone.
---
Free Things To Do In Nelson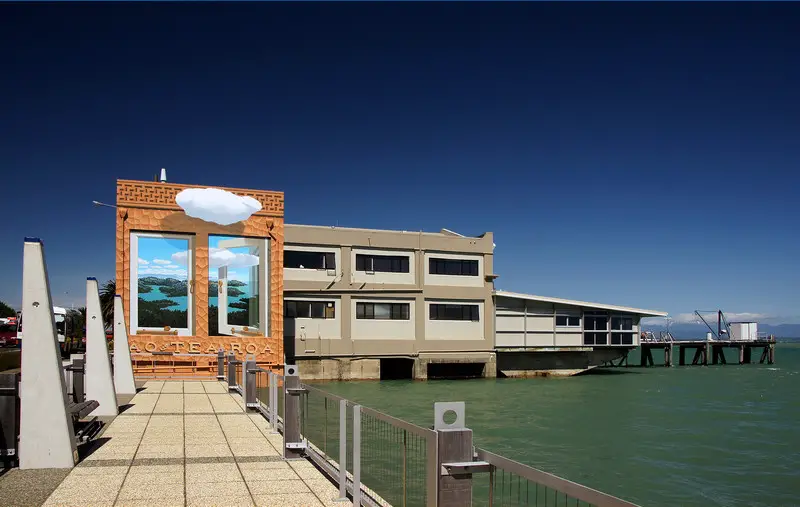 71. Get centered. Right next to Nelson city, Botanic Hill is what most regard as the center of NZ. The walk to the center will take 30 – 45 minutes where you can then ponder which direction to head in next.
72. Work on that tan. Nelson is famous for all the sunshine it gets so when in the city, pop down to the inner city Tahunanui Beach.
73. Visit the Saturday Market. If you can't afford to buy many souvenirs, at worst you'll get to see some unique knick-knacks and hear some sweet tunes from the buskers. There are some nice food stalls too with creative menus.
74. Suter Art Gallery. Entrance is free on Saturdays allowing you to visit the 3rd oldest art museum in NZ.
75. Inner city rock pools. Take a trip past Haven Road and you'll find them calling out to you.
76. Meow. Woof. Let's be honest, we all could do a little bit more volunteering when we travel. The animal shelter in Nelson will happily help you fill a few hours either walking the dogs or hanging in the presence of cats.
77. Cable Bay Walkway. This is a popular walk with the locals for all the right reasons. The coastal views are so good and you wouldn't know the city is just down the road. Perfect.
---
Free Things To Do In Marlborough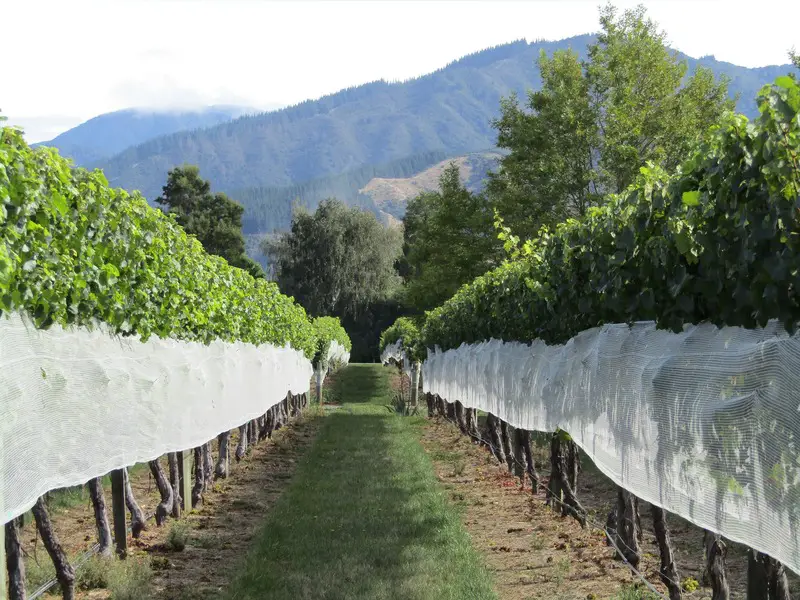 78. Appreciate Cloudy Bay.If you've ever gone to buy wine in NZ, you'll recognize Cloudy Bay. The winery is beautiful (and massive) and the tasting room even more so. Annnnd the five free wine tastings never hurt.
79. Beavertown! At Brayshaw Museum Park you'll find a pretend colonial village built from the ground up replicating the original Blenheim.
80. Scale Mt Vernon. The 422-metre summit isn't exactly fun when it's hot, but with epic views of Cook Strait and Wellington in the distance, wake up early or take an evening stroll.
81. Grab a feed on the beach. The Marlborough Sounds have heaps of beaches with epic shellfish available for you to 'catch'. Ask a few locals for their best spot and you might end up with a gourmet bbq for dinner.
82. Get your dose of sheep. Molesworth Station is New Zealand's largest farm with plenty of places you can explore freely. Don't hassle the sheep, too much.
83. Pelorus Bridge Scenic Reserve. The surroundings of Pelorus Reserve have something for everyone with the gorge providing opportunities for hiking, snorkeling, sunbathing and swimming.
84. Take a sniff of lavender. On the outskirts of Twizel, you'll find fields of lavender have been planted making for pretty pictures and that smooth lavender smell.
---
Free Things To Do In West Coast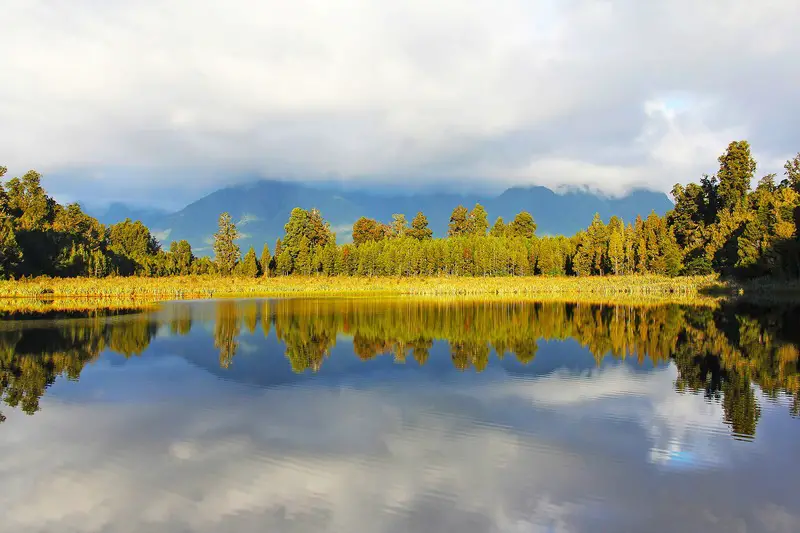 85. Mirror photos are fun. Lake Matheson doesn't get as many visitors as it should. The location is magical and on reasonably calm days, you won't see a better mirror image of the landscape on a lake anywhere in the world.
86. Glacier Valley Walk. Franz Josef Glacier doesn't need any introduction, but you don't always have to do a paid tour. Though you'll learn a lot with a guide you can also DIY the 12km Glacier Valley Walk.
87. Mount Aspiring Trails. The diversity of the trails in Mount Aspiring National Park ensure everyone can get a taste of the mountain with walks from as little as 30 minutes to full day tramps.
88. Oparara Arches. While you probably wouldn't host a wedding under these arches, taking a stroll through them is exhilarating for the pure size. God knows how they were formed, but limestone is awesome. The park is also home to the extinct moa.
89. Visit the Tauranga Bay fur seal colony. This is an easy walk, with epic views of the ocean, rocks and at the end you're guaranteed to see some fur seals with the colony hanging out year round.
90. Pancakes! The natural attraction at Punakaiki is insane with rocks that'll make the hungry hangry. They are shaped like pancakes. They're in complete contrast to the boulder rocks in Otago, but just as confusing as to how they were created.
91. Hokitika Gorge. Many of the locals don't know what is on their doorstep. The water in the gorge is that epic blue colour that reminds you of the Swiss Alps as you navigate the rocks.
---
Free Things To Do In Canterbury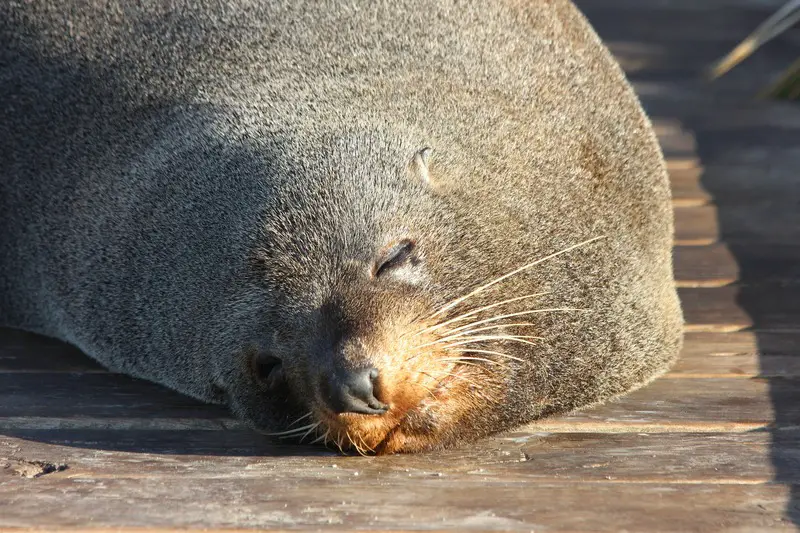 92. Explore the CBD red zone. It's not exactly pretty but it'll help you understand just how devastating the 2011 earthquake was as you begin to explore region.
93. New Zealand's most famous seals. The 2016 earthquake didn't affect the famous seal colony too much, was the falls they hang out at miraculously unscathed.
94. Hang out in shipping containers. Christchurch is still on the rebuild with the Re:Start Mall a new appearance. In the various shipping containers, you'll find drinks, food, bookstores and random boutique shops.
95. Climb Avalanche Peak. The name is ruthless and it's not for the faint-hearted. If you back yourself you can climb the 1833m peak (starting ~700m above sea level) in a day picking your jaw off the ground with the views you're rewarded with.
96. It's the Garden City because… That's the nickname for Christchurch and the best place to see that is in their Botanical Gardens featuring a wicked peacock fountain. This is another attraction that rates as one of the best things to do in New Zealand.
97. Walk into the sea.Not the actual sea, you'll be on a pier. New Brighton is a fun spot to hang out at the beach with a walk along the pier inevitable.
98. Watch the planes take off. At Christchurch airport, you can get pretty close to where the planes go straight over the top of you. It's an amazing activity if you've never done it before.
---
Free Things To Do In Otago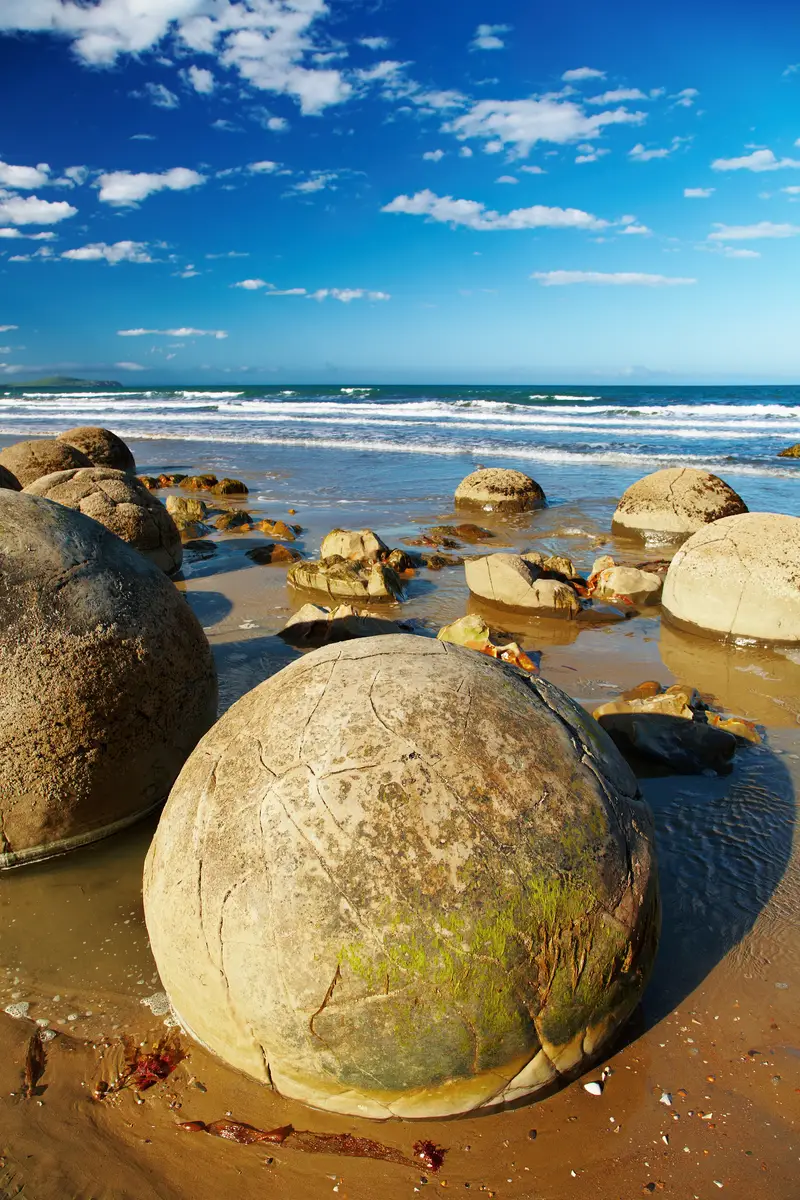 99. Hangout at Sandfly Bay. Sandflies are a pain in NZ, but this name refers to the sand flying on a windy day. Take the trek to the beach and see if you can spot sea lions and penguins catching the last of the sun.
100. Get Rid Of Your Bras. As you enter Cardrona Valley you'll surely notice all of the bras hanging on a fence. A random bizarre fence that got started in 1998. They look a bit rough, feel free to add yours, ladies. One of the more interesting things to do in New Zealand.
101. Go Victorian in Oamaru. Oamaru's Victorian Precinct features cobbled pathways with stone buildings and shops reflecting the period they're recreating. The locals dressing up in costume finishes off the experience nicely.
102. Take in Dunedin's Street Art. New Zealand's street art scene isn't well known, but there are 28 walls of street art scattered around the city featuring artists from around the world.
103. Royal Albatross Colony. We had the gannets, now it's the turn of the albatross. At Taiaroa Head, you can walk along piers between massive cliffs where the albatross live when they aren't spreading their 9-11.5 foot wingspan across the sky.
104. The Bendigo Goldfields. New Zealand, like plenty of nations, experienced a gold mining boom way back, with Bendigo proving very rich. The walking tracks here lead to a number of remains including mine shafts, batteries and pipelines.
105. Moeraki Boulders. New Zealand is bizarre sometimes and these practically round boulders are worth a look. Have some banter about how they turned up on the beach and see where the stories lead too.
---
Free Things To Do In Southland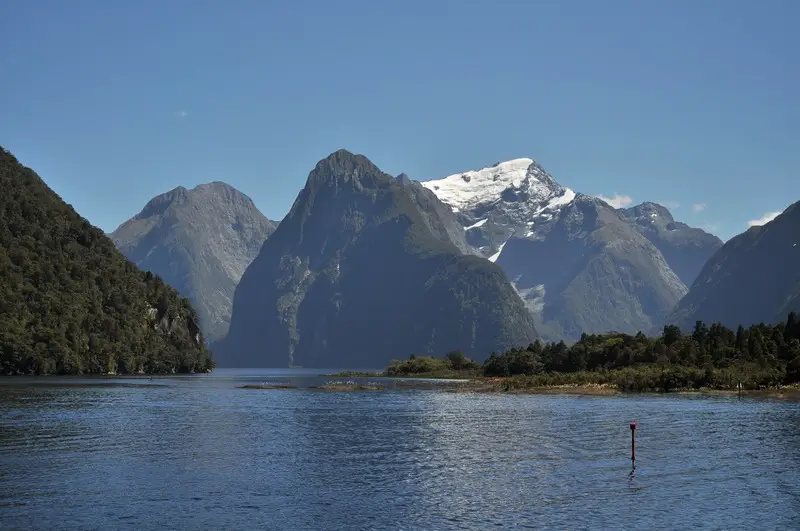 106. Wander about Demo World Village. Full disclosure: this does involve a gold coin 'donation' but you get to wander around a 'village' built entirely from scraps. The chickens running about just make it that much more awesome.
107. See airplanes from the 1930's. The Croydon Aircraft Compan are heavily vintage focused and in their museum you can see biplanes from the 30's as well as an understanding of how we ended up where we are today with thousands of planes taking to the skies every day.
108. Learn about making moonshine. Prohibition laws were around New Zealand for 50+ years. The Gore locals took matters into their own hands making their own moonshine whiskey. Now they celebrate it with a museum! Kiwi as, bro.
109. Go birdwatching in Bluff. If you can't get your hands on the expensive Bluff Oysters, get all zen at Waituna Lagoon and see what inspires you next.
110. Milford Sounds and Mitre Peak. Not a whole lot needs to be said here. There are plenty of tours you can go on, but you are free to visit the Milford Sounds yourself and admire all of the beauty by swimming and hiking in the area.
111. See the inland fjords. Southland is renown for its fjords and Lake Te Anau is framed by three massive fiords (the only three inland in NZ). In the summer (and winter if you're loopy), enjoy the second largest lake in New Zealand in the presence of the fiords.
112. Kiwi-spotting on Stewart Island. If you happen to end up on Stewart Island, you'll be friends with ~20,000 odd kiwis the island. If you ask the right people, they can point you in the right direction for a possible semi-urban night encounter (*cough* an Oban sports field *cough*).
113. Visit Slope Point. The furthermost south one can go on the South Island is Slope Point, which is a must-visit part of a Catlins road trip. If there's a bit of wind in the area, you'll definitely know when you arrive here as it's exposed. VERY exposed.
---
General Things To See And Do In New Zealand For Free
114. Watch Local Sports. If you'd love to see a game of rugby in New Zealand, head to the local park on a Saturday or Sunday around midday between the months of June and September and you should be in luck. This way you aren't forced to fork out for tickets (though that isn't a bad idea). If you're visiting in the summer months, the games of rugby will be replaced with cricket in most places around the country.
115. Walk Some Stretches Of The Te Araroa Trail. Not that you should ever run out of ideas of what to do in New Zealand, the Te Araroa Trail offer 3,000km of trails from the top to the bottom of New Zealand. There are some super awesome stretches like the section near Pukerua Bay just north of Wellington offering million dollar views. Check the website out to find the trails you can do as part of a short day walk in New Zealand
116. Hitchhiking. The hitching culture in New Zealand is known worldwide as being filled with good experiences. This is a great way to save on bus fares to some of the more off the beaten places in this list. I'll never recommend hitchhiking to anyone who hasn't been before though, so only try hitching if you're confident and be sure to read my experiences of hitchhiking in New Zealand.
117. Follow The Winery Route. If you're looking to try out a variety of New Zealand wine and can only afford goon, consider stopping at some of the wineries along the winery routes in New Zealand. It's just up to you to decide if you feel good about tasting amazing wine without purchasing a bottle 🙂
---
Mission complete! That's a lot of activities that'll ensure you stay somewhat close to your your budget while you're travelling in New Zealand, whether that be by road or otherwise. Regardless of your travel budget, some of these free things to do in NZ will already be on your must-do list.
READ MORE: ALL NEW ZEALAND POSTS HERE
Frequently Asked Questions
What is there to do on lower North Island?
The highlights include visiting Te Papa museum in Wellington, the Rugby Museum in Palmerston North, making a day trip to Kapiti Island and visiting wineries in Martinborough.
What is good to buy in New Zealand?
Combine your tourism with buying gifts and grab lots of NZ snacks, paua shell jewelry, an All Blacks jersey, and take home some fair trade coffee.
What is the best city to visit in New Zealand?
Any answer will be speculative, but Wellington is a worthy candidate. There's the great food and beverage scene, artwork, attractions, and day trips nearby to keep you busy.
Is New Zealand expensive?
In a nutshell, yes. Hence this post of free activities designed to help keep your costs in control.