This New Zealand bucket list has 30 activities and attractions you must consider adding to your New Zealand itinerary. Of course, many of these items are expensive (some are free), so for most of you it'll be a case of picking and choosing what to and not to do while in the country.

How did I decide what to and/or not to include in this list? Each activity had to fit at least one of the following criteria:
be unique to New Zealand
be a part of the Kiwi culture
be an activity people regular mention in their top highlights of New Zealand
be something NZ is known as the best in the world at
Of course, this bucket list for New Zealand is up for debate. If you think something should be on here, drop a note in the comments. We can all use a little more inspiration.
You can click on the categories below to jump around to plan your bucket list tour of NZ.
Adventurous | Sporting | Cultural | The Rest
Adventurous
1. Heli Hiking To Explore Ice Caves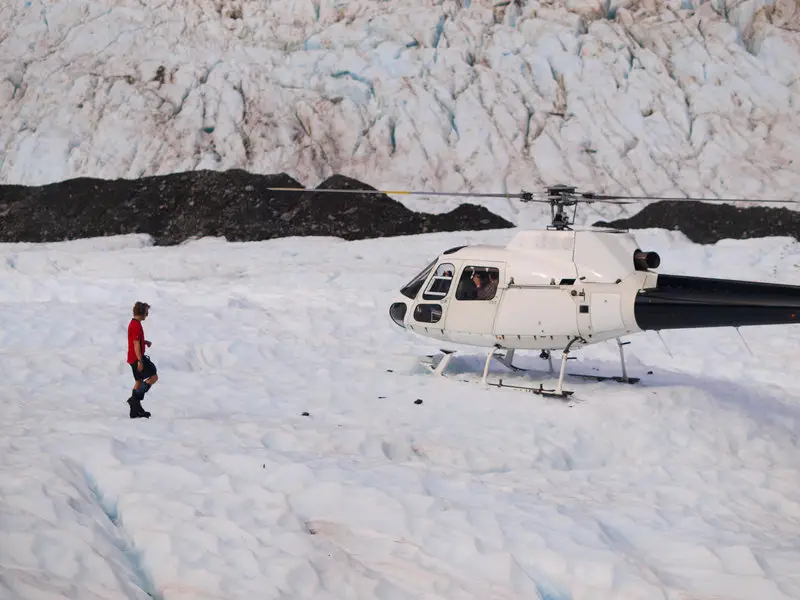 Hiking (or tramping as it's known in New Zealand) is epic all over New Zealand. But why not just add another level of craziness and take a helicopter to your starting point? The Fox Glacier has some spots that are unreachable by foot, therefore, a helicopter is the only way to get to the 'trailhead' for some of the hikes.
Getting off the beaten track and exploring some ice caves and ice tunnels? Yea, why not.
Two popular glaciers for this are Franz Joser and Tasman Glacier (NZ's highest mountain).
2. Take A Jet Boat Ride With A Difference
A jet boat on the ocean is cool, but a jet boat hooning through shallow river water, alongside waterfalls and skirting canyon walls while stopping to spin on a sixpence is EPIC! Jet boating isn't unique to NZ experience, but jetboating is always associated with New Zealand since the 1950's thanks to Bill Hamilton
There are over a dozen places you can go jet boating in New Zealand with Queenstown and Huka Falls near Taupo two of the most popular spots.
Fun fact: jet boating is a leisure sport for some as I found out when hitchhiking in New Zealand.
3. JUMP! Sky Dive And Watch The World Spin Below
Not a whole lot to say here. Jumping out of a plane could well be the craziest thing you'll do in your lifetime. The adrenaline rush must be crazy (I haven't done this yet). You can skydive all over New Zealand so when you see a nice weather pattern coming up, hunt out the nearest spot and JUMP, JUMP, JUMP!
Stephen love his skydive in Taupo (trip report here), or you can go ahead an book a Skydive in Auckland and make it your first bucket list activity in New Zealand.
4. Bungy Jumping
Much like Sky Diving, the chance to jump off a bridge is pretty crazy. New Zealand is the home of bungy jumping, thanks to AJ Hackett. There are several bungy jumps around New Zealand, but you can't go past Queenstown. It's not called the adventure capital of the world for nothing.
Interestingly, many people are happy to Skydive but will never bungy jump. Amanda's trip report mentions it was the scariest thing she's done.
If you're ready to jump, you can book a bungy jump in Taupo, Queenstown, or Auckland, or decide on the day (you'll likely have a long wait if so).
5. Roll Down A Hill In A Giant Clear Ball
The definition of Zorbing is: "the activity of travelling downhill inside a large air-cushioned hollow ball" – (source).
And that sums up what you'll be doing in Rotorua where zorbing as a commercial venture originated in the mid-'90s. It's hectic but a great laugh all the same.
Safety is a high priority for the Rotorua location, and as they're the company who build the zorbs too, they know exactly what goes into the process. They're upfront about everything on their website (prices included) which is amazing.
---
Sporting Activities For The Bucket List
6. Go Surfing In Raglan
New Zealand isn't a global surfing hotspot, but everyone I speak to who spends a few days in Raglan has a blast. It's New Zealand's best-known surf destination with a few different waves that cater to people of all abilities. Manu Bay holds the countries richest surf event each May…if you happen to be in the area.
What else makes Raglan so good? With a population of less than 5,000, it offers a taste of a sleepy beachside town.
7. Watch An All Blacks Match
It feels like everyone in the world knows of the All Blacks, a truly global sporting brand. If you're in New Zealand during the winter, check out the All Blacks website and buy a ticket to a match. Don't forget to wear your black clothing to fit in!
If you can't make it to a game live, head on down to the nearest pub to soak in the local atmosphere during a match.
8. Watch A Test Match (Cricket) At The Basin
Rugby Union is the national sport, but cricket is New Zealand's summer sport of choice. The Basin Reserve in Wellington is a traditional cricket ground where you can watch cricket while hanging out on the embankment (fingers crossed it's a sunny/wind-free day).
The atmosphere is pleasant and time cruises throughout the day. I like to compare test match cricket to baseball, you're there to hang out with friends and family in a relaxed environment with the sport a nice supplement.
There's not many test matches at the Basin, but have a look at the Black Caps schedule.
9. Ski, Golf and Surf All In A Day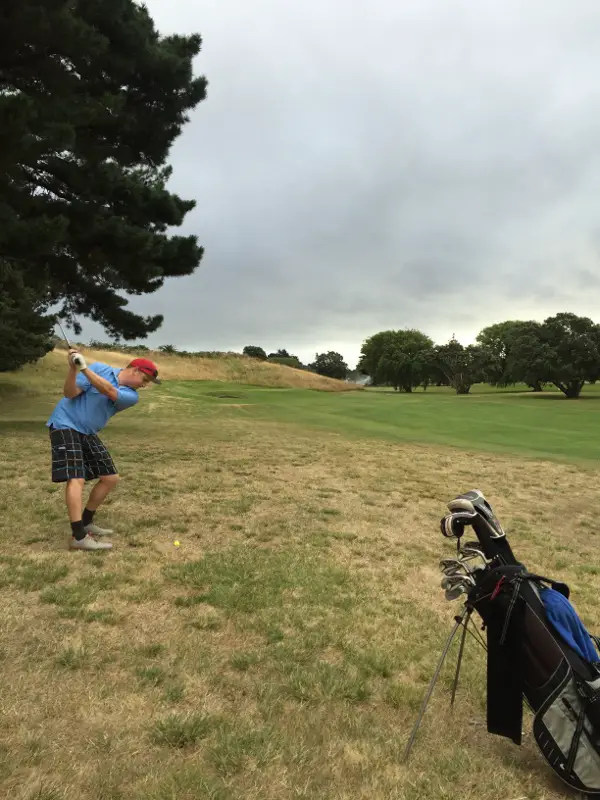 This is most likely going to be one for the lads, but ladies, get amongst it! The idea of being able to ski and surf in the same day is crazy, but New Zealand is an exception to most rules. Including this ultimate bucket list item.
See this post for ideas on where it is practical to get both snow and surf action in on the same day. NZ has lots of golf courses, so the real hustlers won't have an issue fitting in a quick nine holes.
---
10. Visit Hobbiton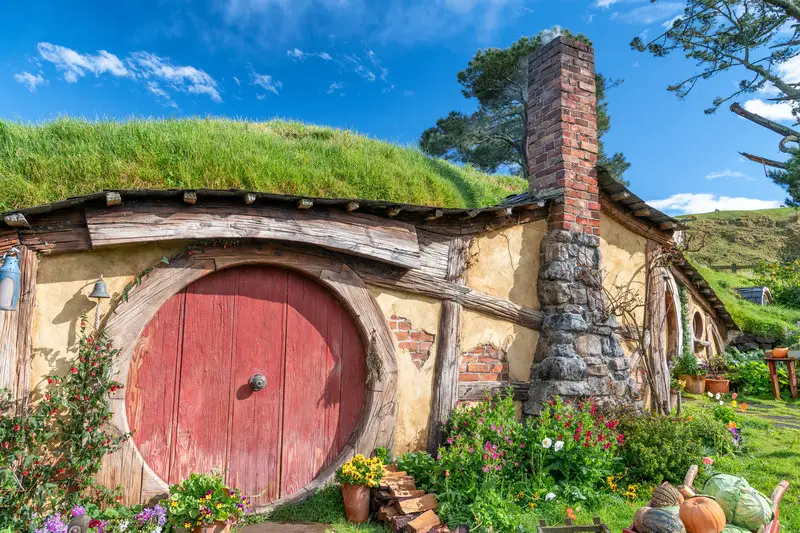 Everyone knows the Hobbit and you can visit the Hobbiton Movie Experience yourself. This is one of the most visited places in New Zealand, with everyone seemingly ready to mention they want to visit Hobbiton on their future trip to NZ. You'll need to book a guided tour in advance, but there are lots of options you can book to get as little or as much experience of the set as you desire
11. Come Face to Face With The Haka
KA MATE! Whenever the All Blacks are mentioned, it doesn't take long for the word 'haka' to be mentioned afterward (I really need to learn the Haka). The traditional Maori war challenge is an impressive site on TV, and even more so face to face in real life. To get the hairs on your neck standing, head to a marae (the Mitai Marae in Rotorua is popular), learn a bit about the Maori culture and see a haka performance.
You could also make a day of it with an online tour go the cultural center.
12. Cook A Hangi
When you're a kid, eating dirt is a norm…a tradition for children you might say. When you're in New Zealand, a rite of passage is too eat food cooked in the dirt. It's not as it sounds! A hangi is a traditional way Maoris cook food below ground, and it's so tasty!
Rather than me try and explain, Violette and Antoine share their experience.
You can combine a hangi experience with many of the haka experiences mentioned above for a true New Zealand bucket list cultural experience.
13. See A Kiwi (the bird)
If you think you're a good chance to stumble across a kiwi (again, the bird, not a person) while hiking randomly in New Zealand, you're out of luck.
Why? Kiwi's don't fare well in the wild for a few reasons:
They have several predators, including domesticate cats.
They are nocturnal.
Kiwi's are flightless.
But that doesn't mean you can't see a kiwi experience while you're in the country. New Zealand is amazing with dozens of conservation programs protecting wildlife throughout the country meaning you can see kiwis in sanctuaries, and now even in the wild. For a full list of spots, read this post.
14. Visit All The Lord of the Rings Filming Locations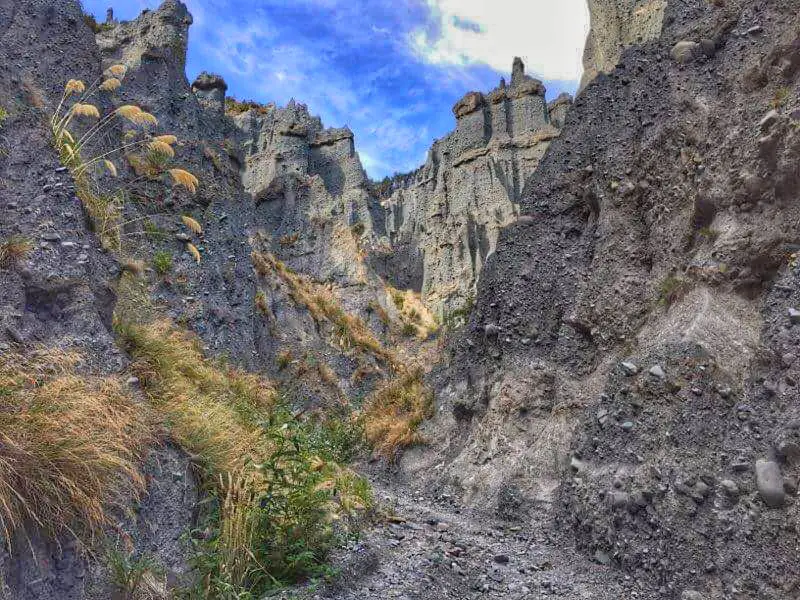 Lord of the Rings is one of the greatest trilogies the world has seen. Filmed all New Zealand, there are plenty of filming locations you can visit (most for free) and have fun reenacting the movie (if that's your thing).
One of the easiest to reach is Mount Victoria in Wellington, a.k.a. the Hobbiton Woods or you can visit nine locations around Wellington in one day by booking this tour.
You can find out where lots of other easy to reach locations are here. The photo above is the Pinnacles near Martinborough.
15. Be A Tree Hugger
Trees are awesome. New Zealand has lots of them including several native species that are more awesome than the rest. The Kauri is one of these and if you head to Waipoua Forest, you'll find the "Lord of the Forest", Tane Mahuta.
Take a read of Sheri's tree hugging experience (a very useful post!). And of course, there's a tour you can book to see them.
---
16. See Glow Worms
"Let's go find worms!"
That sounds cool as a six-year-old, but definitely not bucket list worthy as an adult. But these are gorgeous glow worms, not the yucky ones we're accustomed too. The most famous spot to see glowworms are at the Waitomo Caves, but there's a whole bunch of spots (some free) around the country you can find them. Pop by the visitor centres when you're passing through towns, and you'll find them in unexpected places like Nichols Falls.
READY? BOOK YOUR 45-MINUE WAITOMO CAVES TOUR HERE
17. Whale Watching
Kaikoura is the number one place to go on a whale watching tour in the country. With tour companies reporting 95% success rates of seeing whales, it's one of the premier whale watching spots worldwide. You can choose to take a tour on a boat or see them from the air.
It doesn't matter when you're in NZ as you'll be able to see Giant Sperm Whales and possibly another species or two in action. Planning to see the whales in summer? You may need to book weeks in advance to get your exact date.
18. Hiking Tongariro Crossing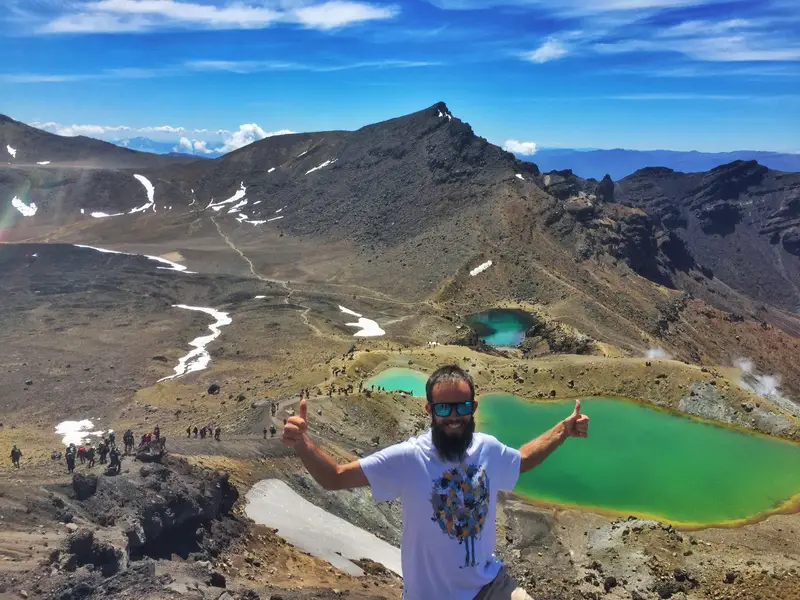 Mount Doooooooom. You probably have this on your NZ bucket list, it's one the most referred to memories people reminisce about from their time in NZ. Given it's a free activity, that helps. For a one day hike, it's pretty grueling but well worth the journey with the emerald lakes the highlight for most.
The weather is volatile in the area so if you're tight on time look at the National Park weather forecast in advance and reroute your trip if need be.
I finally hiked the Tongariro Crossing in 2018 and loved it. Here are some us tips to consider before you go.
19. Walk The Length Of New Zealand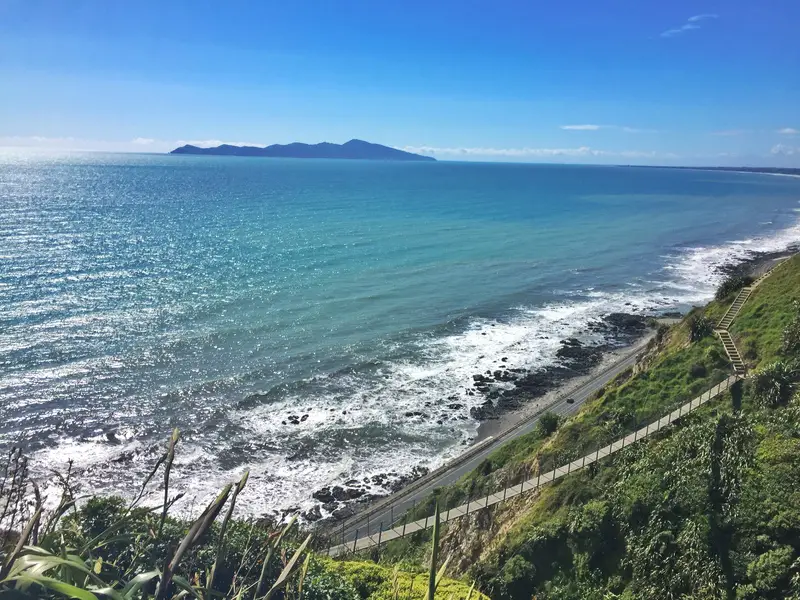 Long walks seem to be a worldwide trend at the moment. The Te Araroa Trail was completed in early 2016, taking you from Cape Reinga to Bluff. Obviously, this is going to take you at least a few months to complete, but thankfully there are many sections that are easily accessible right along the route such as the Paekakariki Escarpment Track.
20. Walk From The Tasman to the Pacific Ocean In A Few Hours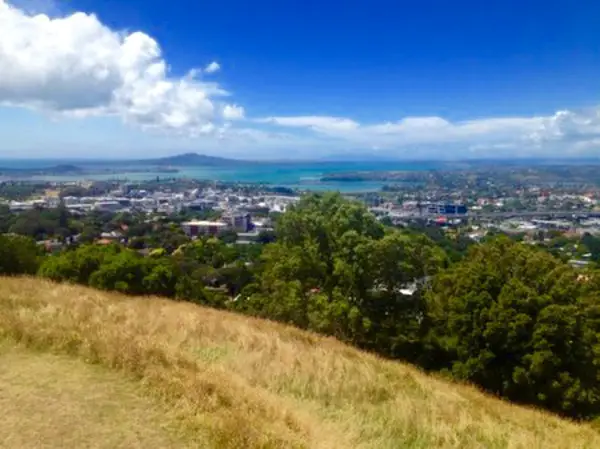 Auckland city gets its fair share of haters, but the Coast to Coast walk is pretty awesome (it's also part of the Te Araroa. You start right on the city's waterfront, walk through parks, the burbs and dormant volcanoes to the west coast. All up it's an 18km fun walk through Auckland that makes it not feel like you're in the city. Winning!
You can read my Coast to Coast trip report with photo here.
21. Visit A Glacier
Heli hiking may not be within reach of everyone (pesky NZ, so expensive!), but you've got to at least visit one of the famous glaciers in New Zealand.
At Franz Josef you can get close to the terminal face, but as it's not considered safe to pass through, you can't go up over the face. Fox Glacier is close by (not as touristy) and while there are no strict policies preventing people from scaling the terminal face to hike up on the glacier, it's still not the safest thing to do. Follow the rules of the signs, and everyone will be better off.
You can see the rest of the glaciers in NZ here.
22. Dig You Own Hot Spa On The Beach
After a long hot day, jumping into a ready-made spa is heaven. Sometimes life isn't easy though. That's the deal at Hot Water Beach in the Coromandel. On arrival (low tide), there will be a bunch of people digging out a pool. Get your spade and start manicuring your dream spa…it's definitely unique. Despite the number of tourists, I enjoyed the experience a lot as did Lucas and Lisa.
23. Visit The Mangatainoka Brewery
I was so satisfied visiting the Mangatainoka Brewery, home of Tui (beer). Tui is the kiwi beer I'm loyal too, and their ads are something I'll remember until I die. Take a glimpse at the video above, makes you want to visit the brewery doesn't it?
They host events throughout the year, in addition to offering brewery tours, tastings, and a shop with their merch.
24. Watch Shooting Stars All Night Long
Wow, the night sky in New Zealand is sensational. I'm not sure why we get it so good, but being able to see the milky way on a clear night is unforgettable. There are actually dates when the stars align and shooting stars are going to be more prominent in the skies. You can see these dates of the Star Date website. For those fascinated by the universe beyond planet earth, seek somewhere special to be on these dates.
Rhonda's night at Auckland's Stardome Observatory is definitely another option for the star gazers out there.
25. Walk Up The World's Steepest Residential Street
For some of you, this may not sound too appealing after too many pies and beer but hey, at least you can see the finish line when you start. Sometimes you've just got to hussle! Don't worry, there will be others also on Struggle Street as you make your way on up.
A few Baldwin Street Facts:
350 metres in length.
At the end, there's a cul-de-sac (pedestrians can pass through via a footpath)
Controversy surrounds the title, with many other streets around the world claiming they're steeper
26. Be The First In The World To See The Sunrise
Time zones baffle you? When you're in New Zealand, it's pretty easy as the rest of the world is always going to be X hours behind. This also means during the kiwi summer, you can be the first to see the sunrise in the world from Mount Hikurangi. This isn't going to be a bucket list item for all of you, but there's something special about it in my eyes. I'd love to be up there early on New Year's Day at some point.
27. See The Southern Lights Dance
The Northern lights in Iceland and Canada get all the attention, but you can see Aurora Australis, the Southern Lights in New Zealand! Definitely keep the Northern Lights on your bucket list, but with a bit of luck you'll get to see the Southern version dance the night away.
If you happen to be in Wanaka, keep a sneaky eye on the night sky. You can see them from lots of places in the South Island if the conditions are right. Something to keep in mind!
28. Visiting Abel Tasman
Abel Tasman continues to wow the world and New Zealander's understand how beautiful it is.
There are several ways you can experience Abel Tasman National Park. Some of you will want to take a boat tour to see some of the main sights before exploring a couple of beaches. There's a two/three-day hiking trail you can do (self-guided) with several accommodation options along the way. Or kayaking is a popular option, one that everyone I've spoken to spoke highly of there experience.
I spent a day hiking to a few of the beaches and following that up with a day tour that allowed me to see highlights of Abel Tasman and Golden Bay.
29. Cruise Milford Sound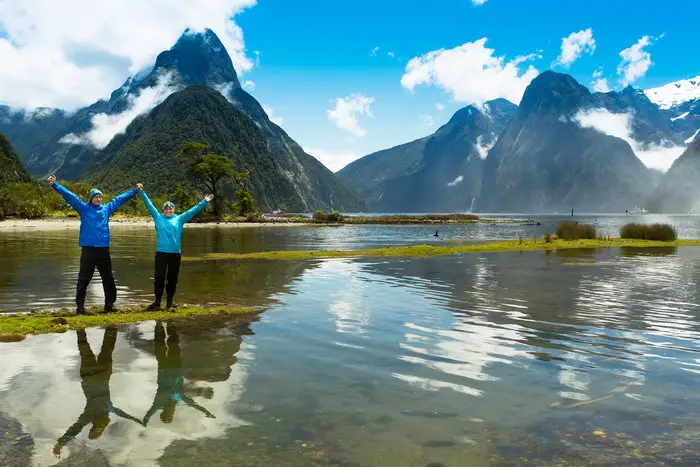 Milford Sound wasn't on this originally, but it's so popular. That doesn't mean it's great, and something you should put on your bucket list for New Zealand though. But I asked a stack of people on Instagram "Is Milford Sound worth visiting?" And as you can see from the results in this post, the answer is most definitely yes.
Take a read of that post, and consider some of the tips included from those who have been and you'll be able to work out the best way to experience the Sound for yourself.
30. Drink Wine On An Island
So yes, you can drink wine all over the world and there are plenty of islands that have lots of wineries on them, but Waiheke Island is simply something to add to your Auckland itinerary.
You can tour the island on your own (ferry timetable here), but this is a good idea to book a tour so you don't have to think about anything.
---
Boom! 30 attractions and experiences you can't miss in New Zealand.
Now, what have I missed on the list? If you're looking too cut costs,read my free things to do in New Zealand post.
Here's a couple of pins to help you get started.