THIS POST MAY CONTAIN AFFILIATE LINKS. PLEASE READ THE DISCLOSURE FOR MORE INFO.
Staying fit is hard enough, let alone while travelling. I've always had the theory that I don't need any portable exercise equipment while travelling.
Because running around new cities sounds awesome in theory, yet I make excuses. In Southeast Asia the footpaths are too broken, back in New Zealand, it's too cold and now in Barcelona, there are too many traffic lights. Excuses, excuses.
We don't like these excuses, so here is best travel workout equipment that I've decided could be added to my bag.
Short on time? I vote for this skipping rope as the best equipment for a travelling workout.
Hand Grip Strengthener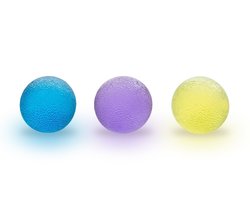 Hand grip can make you feel weak. You hold things throughout the day yet you'd be surprised how little pressure we use to do regular things. It's a great travel exercise as you can multitask this exercise without sweating much.
3 Benefits of hand strengtheners:
Increased dexterity in your fingers #lifeskills
It'll be easier to carry your luggage!
Improved forearm strength for Popeye like arms
A good hand strengthener for travel? Check prices on Amazon.
Speed Ladder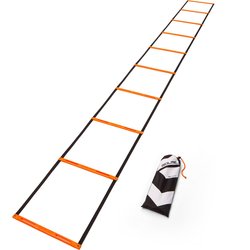 The speed ladder is a pretty simple concept (you could even draw one with chalk), but you can get creative with it. The speed ladder is light and while it's a bit more spacious than some of the other transportable workout gear here, it's no drama for most. You can add more obstacles from the hotel room to increase difficulty.
3 Benefits of speed ladders:
Just need any flat surface to be used
Increase footwork, speed and agility
Improves overall mind and body awareness
A good speed ladder for travel? This one is solid.
Hulahoops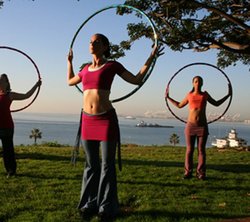 The hula hoop is something I'm sneaky fond of. I'm uncoordinated at a lot of things but hula hoop. You don't need to have the full sized hula hoop, that'd be crazy. You can get hula hoops that fold down into a smaller size making them easy to clip either on the outside or inside of your luggage (without being bulky).
3 benefits of hula hooping:
A great full core workout
It's good for your spine strength
Your hand-eye coordination improves. Mine always needs improvement.
A good hula hoop for travel? Buy this one
Resistance Bands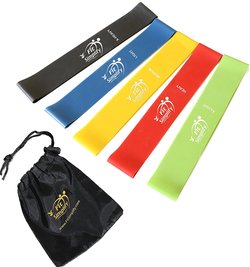 I remember my first time using a resistance band. It was confusing as I quite simply was pulling and flexing randomly, trying to generate my own 'workout'. If you haven't used resistance bands before, definitely make sure to have an instructor show you how to use them or watch some online videos.
What makes resistance bands the best travel exercise equipment:
Can be used for general exercise, stretching & strength training
No need to go outside to get your workout complete
Take up very little room (And weight nothing) in the bag
Want small portable exercise equipment in the form of resistance bands? These bands on Amazon are solid.
Skipping Rope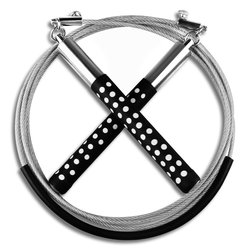 I love skipping and this is the form of portable exercise I've used the most. Especially when slow travelling, you can go to your usual spot and skip away without crossing roads. It was fun how quick I improved as well. The skipping rope also doubles as a tool to tie things, which can happen at the weirdest times when you travel.
What makes a skipping rope a great piece of workout equipment for travel?
Great workout for the lower legs
Burns more calaories than running
You're balance improves
A good skipping rope for travel? Buy this one
Yoga Mat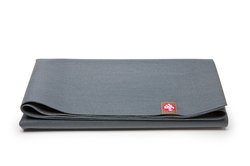 Travelling with a yoga mat can be a long conversation but they certainly aren't uncommon to see attached to someones luggage these days. The yoga craze is real! Yoga is a routine for many, and as it provides a full workout for the mind or body, it's the only thing that keeps some people from going crazy on the road.
3 benefits of travelling with a yoga mat:
Can double as a mattress/pillow/picnic mat if you really need it
Creates a sense of home
Id haul it around, the motivation is there to use it
A good yoga mat for travel? Buy this one
Good Training Shoes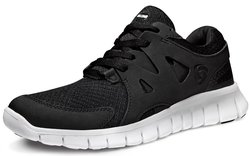 Yea, I mentioned running above isn't really working for me 100%, but whether you workout or not, you'll probably be doing some sort of activity on your trip so it's convenient. Some people swear by running around a new city, you get to see a different side to the city.
3 benefits of good training shoes:
If you bring them, you'll feel like you hhave to use them
Running in the morning gets you active before a day of siteseeing
We can all benefit from the most basic form of fitness
The best training shoes for travel? Check Amazon for running shoes
.
RELATED POST: I RAN A MARATHON WHEN TRAVELLING TURKEY
Swimming Goggles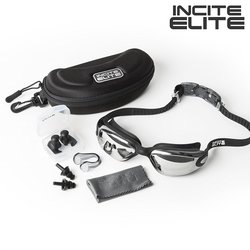 The number of times I've been hanging at the beach or the swimming pool for an hour or two and ended up with really red eyes is incredible. Having not been able to swim, I finally can now, yet the red eyes still exist. If you know you'll be staying places with a swimming pool or a suitable swimming beach anytime, goggles will help you feel in reasonable shape post swim.
3 benefits of swimming goggles (it's more so what swimming does for you):
You don't lose track of what direction you're swimming (my big fail)
Swimming is a good low impact exercise
Yo get a whole body workout, toning those muscles
A good pair of goggles for travel? Buy this one
Pull Up Bar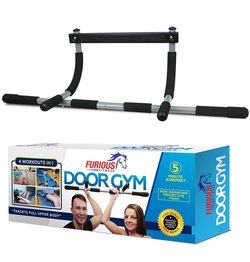 The closest I can barely do one pull up so this definitely isn't my goto idea of good portable travel equipment, but for some it is. Pull ups don't take any preparation to get started so as long as you know how to get the pull-up bar in working order in 30 seconds or less, you don't have to be inconvenienced.
Once it's set up on the door, you can use the pull-up bar throughout the day. Personally, I do sometimes hang from a bar at the playground, it helps open up the back muscles after being hunched over the laptop.
3 benefits of a pull up bar in your luggage:
Pull ups workout various muscles in your back, shoulders, chest and arms.
You start of doing just one or two, so can improve quickly by doing them throughout the day
You can make adjustments with your hand positions to alter muscles worked
A good pull up bar for travel? Buy this one
Portable Kettlebell/Dry Bag With Water Fillers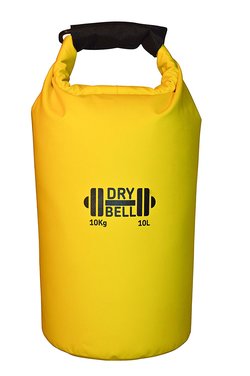 Travel kettlebells are quite the rage these days. They are able to be used in a variety of ways to workout different areas of the body. With these portable dry bags, you fill them with water or sand which is convenient. Ultimately they aren't the real deal
3 benefits of a kettlebell travel bag:
If you use a drybag form, you have a waterproof bag for your valuables
You can mixup the workout thanks to the variety of movements you can do with a kettlebell
Creates complete functional movement
A good portable kettlebell for travel? Buy this one
Foam Roller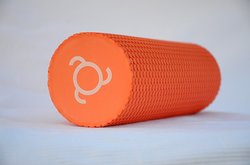 I've never used a foam roller as they are similar to a massage apparently, which I'm not a fan of (true fact). Although I do suffer from lactic acid fairly often and my flexibility needs to be improved so there are obvious benefits for me. Other than doubling as a pillow though, they won't fit so well in the luggage!
3 benefits of a foam roller:
Useful for revcovery after a long day of siteseeing
Cheaper than a massage
Once you've used them, it's hard not to use it on a daily basis
Need a foam roller for travel? Buy this one
Apps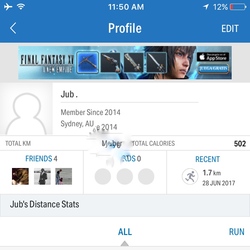 Apps can work like a charm! I've had minimal success with them purely because I have zero self-discipline and end up browsing Facebook or Snapchat etc. What is awesome is that there are literally thousands to choose from, both free and paid.
Why apps make the best fitness accessories for travelling:
Free
Zero extra luggage, obviously
Most workout apps can be done from your room thanks to using your bodyweight
A good app for a travel workout? For running, I'm currently using Strava (free) – Google Play, Apple, it helps that I have a few friends on their so notification they've completed a run is a not so gentle reminder. And the other one I've had a bit of success with is the 7-minute workout app (free) – Google Play, Apple.
Feel free to add me 🙂
Free Traveling Workout Equipment Is Available Everywhere!
I remember visiting my Seoul, South Korea on a long layover in 2013 (ish). As I was walking through a park, I saw a bunch of elder ladies working out with fixed gym equipment. The kind of equipment you now see in parks around the world. They aren't always the fanciest pieces of equipment but they are functional and you'll normally find 6-10 'machines' available. Plenty to get a good workout in!
---
The Best Portable Exercise Equipment For Travel (IMO)
I'm going to go with the skipping rope as mentioned earlier.
It ticks off the key components of the best travel fitness equipment:
lightweight
affordable
portable fitness equipment doesn't take up much space
In terms of use, skipping is high intensity and you can notice the improvements quickly which is always a bonus for motivation.
THere's no app that I'm aware of that lists where this equipment is available in parks (great idea though). So this works better if you're travelling slowly and can scout out where equipment is available first. You don't always need the fancy portable gym equipment, sometimes the best things in life are free!
What are your thoughts?
---
If you enjoyed this post, save the pin to read it again later.