Fuck yeah! I ran 42 km without stopping and finished my first marathon.
(shh…the 20 second pee break doesn't count)
Being able to say the above on December 3rd, 2017 was 10/10 satisfying.
Rewinding back to October 1st, if you told me I'd be running a marathon in two months, I'd have laughed. There's always been the thought of getting into running, but the thought never translated into action.
CLICK HERE TO FAST FORWARD TO RACEDAY
For example in Europe this year alone:
There was a chance to get into running in Barcelona (June). Tried and failed.
Spent most of August in Riga where running never crossed the mind.
In early September I bought some running shoes in Timisoara that I hoped would motivate. Nope.
For some reason that all changed in Sarajevo. On September 30th a friend said she was contemplating going for a run in a couple hours. To which I casually responded along the lines of If you go, I'll go tomorrow.
Later that evening I received a picture from her run. Shit. So the next day I went for a run along the river in Sarajevo for a bit over 30 minutes. That was my longest run in a long time.

Weirdly, I followed that up with more regular runs for October. I always used travel as an excuse, but I was using a bunch of different influences that motivated me as I ran around Bosnia & Herzegovina, Montenegro, and Albania. A few of the influences were:
my buddy Garrett who ran around some cities earlier this year
friends using Map My Run
seeing Casey Neistat always running in his videos
and the idea it wasn't actually so tough if I didn't run full speed everytime
Fast forward to October 25th and I found myself putting myself out there in a private FB group my buddy Megan started a few days earlier.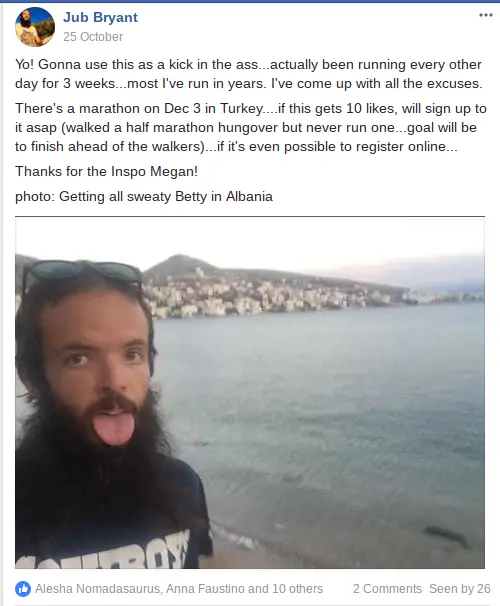 I'd accepted to volunteer at the Turkish Airlines Open and randomly decided to see if there were any marathons in Turkey. Somehow I uncovered the Mersin Marathon and just needed a little push to commit to doing it. As you can see, the group vote would now be holding me accountable.
PPPPRRRRREEEESSSSSSUUUURRRREEEE
A couple days later my knee went kaput. I was in agony after a run in Thessaloniki, Greece on October 27th. I didn't run while in Istanbul, and I'd barely be able to bend my leg at the end of the day due to the swelling after a couple hours walking.
The Turkish Airlines Open from November 2nd – 5th so I decided to delay running until after that, and hopefully, it would hold up okay.
On November 8th I decided to test it out and see what happens. Boom! There wasn't much pain at all, and it didn't swell up much. I guess the marathon was on. That pretty sealed fate, I'd hang out in Antalya for the rest of the month.
From my Googling I had less than an ideal preparation time with most marathon training plans requiring at least 10 weeks of planning. I had less than a month. So with minimal goals, other than to finish, I didn't follow a plan. I committed to running most days with the goal to get used to running longer distances and trust my stubbornness to get there on the day in a reasonable time.
RELATED POST: THE ONE EXERCISE HACK THAT EVERY TRAVELLER MUST KNOW
Establishing Goals For The Mersin Marathon – My First Marathon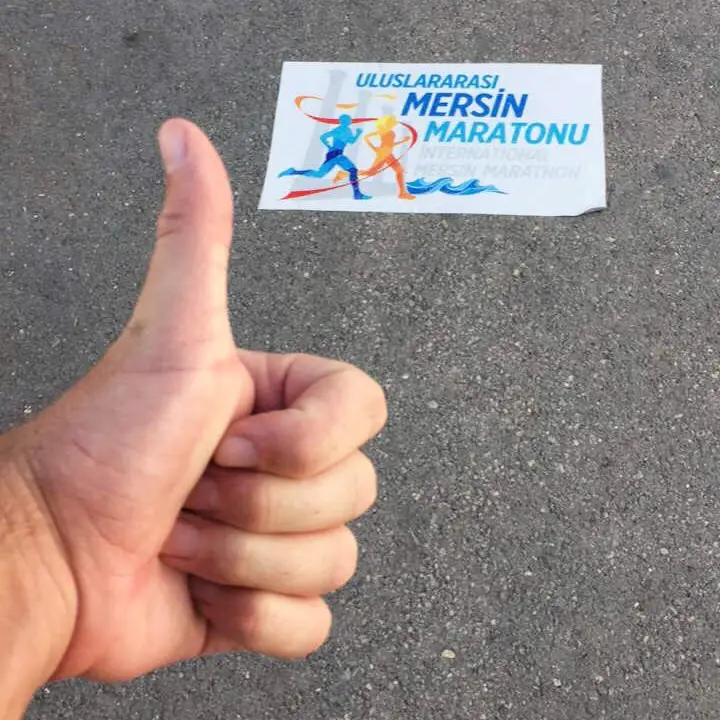 I've read a tonne about goal setting, but honestly, I didn't really know what my potential was. By mid-November, my subconscious pace settled in at a 6.30 – 6.40 minute/km pace.
I figured 5 hours would be my 'at worst' time. This would be a 7 minute 06 seconds/km average pace. If walking was required, this time would come into play.
The goal I vaguely thought I could achieve was 4 hours 30 minutes. That required a pace of 6 minutes 24 seconds. With a shot of adrenaline, I figured this was doable as long as I didn't step on the throttle too early in the race.
I managed to increase my distances and even ran 33km the week before the race. Knowing I could run 33km without suffering from wobbly knees gave me confidence that 4 hours 40 minutes was possible.
---
Before I continue here's a few clips I took during the run
Luckily the airbnb I stayed in was less than 1km to the start line which was a complete fluke. With a 9am start time, I left just after 8am which was too early. I had no pre-race routine so after finding the exact start line I wandered around. Everyone seemed to be jogging and stuff before the race, but I was all about conservving the energy so only did a tiny bit (I was never going to be perfect with preparation).
I went to the start line at about 8.50am, where I realised how few (less than 200) of us were running doing the marathon. Registration the day before was chaotic. I guess they were lazy and did the shorter distances.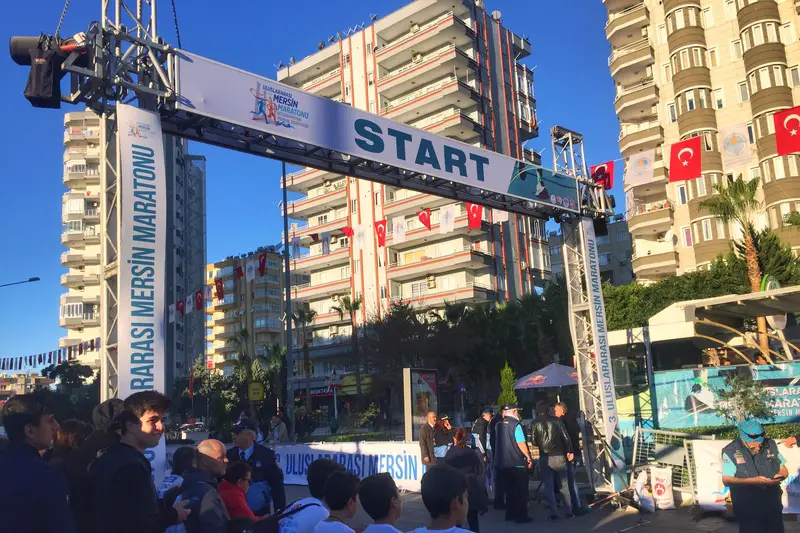 As the race started (was it a gun, hooter or a person…I can't remember) I felt a rush of something through the body. If you've run a marathon before, I'm guessing it was something similar to what you experienced.
Something like the satisfaction that you made it to the start line, and you were willing to give it ago? Pretty sure that's it.
I was stoked I didn't get carried away and start running full speed ahead, but I went out faster than the plan. Perhaps the field of less than 200 people put me off, seeing few people was a bit scary (didn't want to finish last). And there was no pace runners to give me an idea on my pace without looking at my phone regularly.
I'd been in Mersin less than 24 hours which was kind of weird. Other than walking from the train station to the Forum Mall, I knew nothing of the city. Thankfully the waterfront area where we ran the majority of the time was flat.
My calves were tight to start with…maybe I should have warmed up more. Or perhaps it was the cooler temperatures with everyone wearing warm clothes until race time (never even thought about it). I was not My three mandarins and granny smith apple went down a treat prerace though – that was the key to my preparation.
Everyone seemed to be spaced out fairly quick and I ran solo past the red bull truck blasting music in the underpass. I struggled to slow down the pace, was my GPS playing up perhaps?
I caught up too one lad who was already walking but he then passed me a few minutes later. I was the tortoise in this mini battle. The tortoise won in the third round and never saw hare again.
There weren't watching and cheering on. Reminders of the (a href="https://www.tikitouringkiwi.com/grobari-partizan/" target="_blank">Partizen football match in Serbia came to mind as there was likely more police and security than spectators. I made sure to thank all of the officials directing us where to go and found myself yelling go New Zealand anytime a phone was pointed towards me.
The latter it's fair to say was not a good use of energy.
10km in I latched on to the back of two people going at a pace I could keep up with at a stretch. Shortly after Another three joined us who seemed to know the other two. They were going faster than I'd like at about a 6.10 pace, but it wasn't overly strenuous and I decided to stick with them (fuck the plan).
Like most Sundays around the world, the morning was quiet and not knowing anything about Mersin itself, I had no idea what we were running past. Monumental sites? Dodgy areas? Nightlife distrcits? No idea. All I knew is we were near the sea most of the time.
At about the 15km mark, I decided to put my headphones in and listen to a podcast. It's not like I could understand what anyone was saying anyway. I continued to yell at phones.
What did I listen to? I had listened to this episode of the Rich Roll Podcast already but figured if Samantha, all 4 foot 11 of her could run a marathon day after day in the desert heat of India, I could do this marathon in temperatues maxing out at 23 degrees mid afternoon.
In this episode I also liked how she broke down one of her overall race goals into thirds. Body, mind, heart.
After the 14km mark (first third) body was feeling okay after the first third with the calves loosening up. Now it was all about keeping up the pace, not letting the mind wander.
The biggest thing on the mind was do I need to really pee or would it sort of dissappear the more I sweat? The night before I'd read how Charlie from The Running Bean pee'd her pants as seconds were precious in her attempt to reach her goals (worked a treat). This did cross my mind but with my pinkish togs (swim shorts a.k.a. running shorts) would there be an awkward outline where it was obvious I'd pissed my pants (purposefully for once)?
Thankfully once we got near the marina, the five guys I was running with broke up and start peeing in various bushes. I joined them.
I wanted to keep up with these lads, but they were slightly scattered now and couldn't work out their plan – because langauge. I was back to being on my own again (make a sad face please).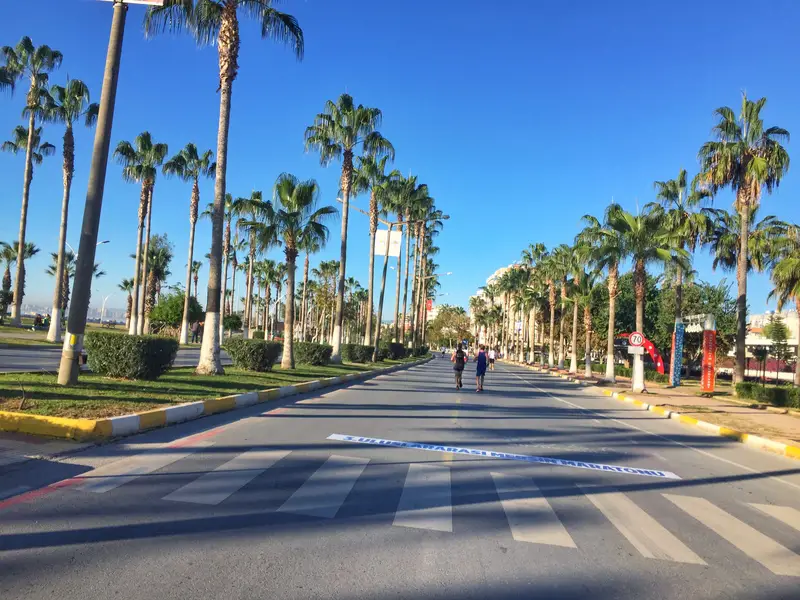 By the 20km, the MapMyRun app was about 500 metres ahead of the offical distance markers. I grabbed another 330ml bottle of water, making sure to guzzle it down quickly enough to not expand the clean up area. Never one who has been great at moving and drinking at any speed, this was quite the accomplishment.
The next five kilometres were insane. I was flying (by my standard and without Red Bull). I'm not sure what triggered me to increase my pace suddenly, but as the app was relaying my average pace back to me it kept on coming down. At one point I was running at a 6.04 average pace after several sub-six-minute kilometres.
Could this really be happening? Could I break the four hour mark? A bunch of scenarios started going through my head (MIND THIRD JUB, MIND). Maybe that's what everyone is like when they're running. It's not like you are meditating. But this was the mind third so as I closed in on the 25km mark I consciously decided to slow the pace back down, tempering expectations.
This burst had almost assured I'd be able to finish inside the goal of 4 hours 30 minutes as long as I kept running (great success).
I managed to snag a few slices of lemon at both the 25km and 30km aide stations, the sourness not even a consideration.
As I passed the 30km mark I was well and truly into what Samantha would say is the 'heart' section. I'm not so much a heart person, more of a stubborn person, but there was also a few quotes running through my mind which I would say out loud to myself throughout the race.
"Well, we knocked the bastard off" – Sir Edmund Hillary
"Fuck Mondays, achieve greatness" – Inspired by Lewis Howes and Gary Vaynerchuk
"Never limit yourself, never be satisfied, and smile… It's free!" – Jenny Finch
Quick Note: When I was training in Antalya, one of my goals was to be the happiest runner anyone has ever seen. It's not easy, but a fun thing to do. You get weird reactions.
Then there was the need to be able to say I completed the race without stopping here on the blog and social media. Yup, that played a role in my motivation. #NoShame
The last 10km were brutal. Before leaving the house, I'd put a 10 Turkish Lira note in my pocket as I wasn't sure what the food situation would be in the race. The idea of getting a banana and chocolate didn't seem so appealing now though as I'd be running with change in my pocket (I want all my change)
I hadn't read too much about people running their first marathon, but had heard people mentioning 'the wall'. I think I may have hit this right towarsd the end but I was definitely battling from the 30km-ish mark onwards. For some reason, I even felt the need to listen to music for the first time in forever.
To get food or not. I decided not, but then a fairy god runner was there handing out mandarins to fellow runners! No idea where he came from, but when he gave me half an origin I was over the moon. How much it helped? No idea, but I was certainly grateful.
My speed was slowing. I thought I was gonna push hard for the last couple kilometres but when I saw a few people half walking/half running I decided to keep going at the easy pace. Must not start walking.
The finishing line was exactly where the start line was (running into a stadium would be 8x better). Unfortunately, the atmosphere was shit at the finish line with only 30 or so of us left on the course.
Bearing the last couple of beeps as my tracker thing crossed the line? Priceless.
Receiving the medal and a small bottle of water, I went and sat down for the next 20 minutes. Half dazed, I don't think I quite realised how buggered I was after my first marathon experience.
BUT FUCK YEA, ran an entire marathon bitches.
In 4 hour 27 minutes 02 seconds.