THIS POST MAY CONTAIN AFFILIATE LINKS. PLEASE READ THE DISCLOSURE FOR MORE INFO.
Everyone knows of George Town & Penang but Ipoh? Not so much, even though it's Malaysia's third largest city. Located in the province Perak, Ipoh isn't a popular international tourist destination (yet) but gets a lot of domestic tourists thanks to its location a couple of hours from Kuala Lumpur.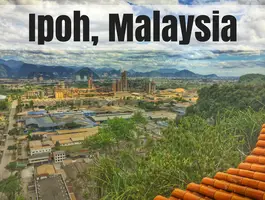 I spent 37 days in the city. In this post, I'll cover:
reasons you should and should not visit
things to do in Ipoh
give you my opinion on whether Ipoh is for you
It's not a short article. Check the table of contents if you want an overview of what to do in Ipoh then jump to sections of interest. Note I was in Ipoh three times in 2016, but updated this article in 2017 to mention the new MAPS Theme Park which I'm yet to visit.
Why You Should Visit Ipoh
---
You Can Say You've Been To The Secret Food Capital Of Malaysia
Ipoh was described in the Lonely Planet list as the 'lesser known food-capital' of Malaysia. That's quite true, with two of the signature dishes being their white coffee (Ipoh is where the Old Town White Coffee Franchise was born) and chicken with bean sprouts.
In the hostel I stayed at, there were mixed reports between who does food better between Ipoh & Penang. It was roughly 50/50 in my sample size of ~10 people. I was happy in both places having discovered the epic lentil donut, vadai widely available.
If anything, I'll say Ipoh has the higher potential to serve up a 'bad' dish. Still a rare occasion.
RELATED POST: WHERE TO VISIT IN MALAYSIA
---
Ipoh Made The Lonely Planet's "Best of Asia 2016" List
Like it or not, Lonely Planet is a travel authority. When they publish an article it will influence the travel plans of thousands. In May 2016 Ipoh the 'Best of Asia' – Our pick of where to go in Asia in the next 12 months' list. Thousands of people wouldn't have heard of Ipoh before reading this list, possibly you.
It's fair to say since Ipoh made the list it has gained some sort of status as a cool place to visit in 2016 and 2017 before a bunch of new places get peoples attention. First I'll help you with where to go in Ipoh.
---
You Can Relax While Browsing The Street Art In Ipoh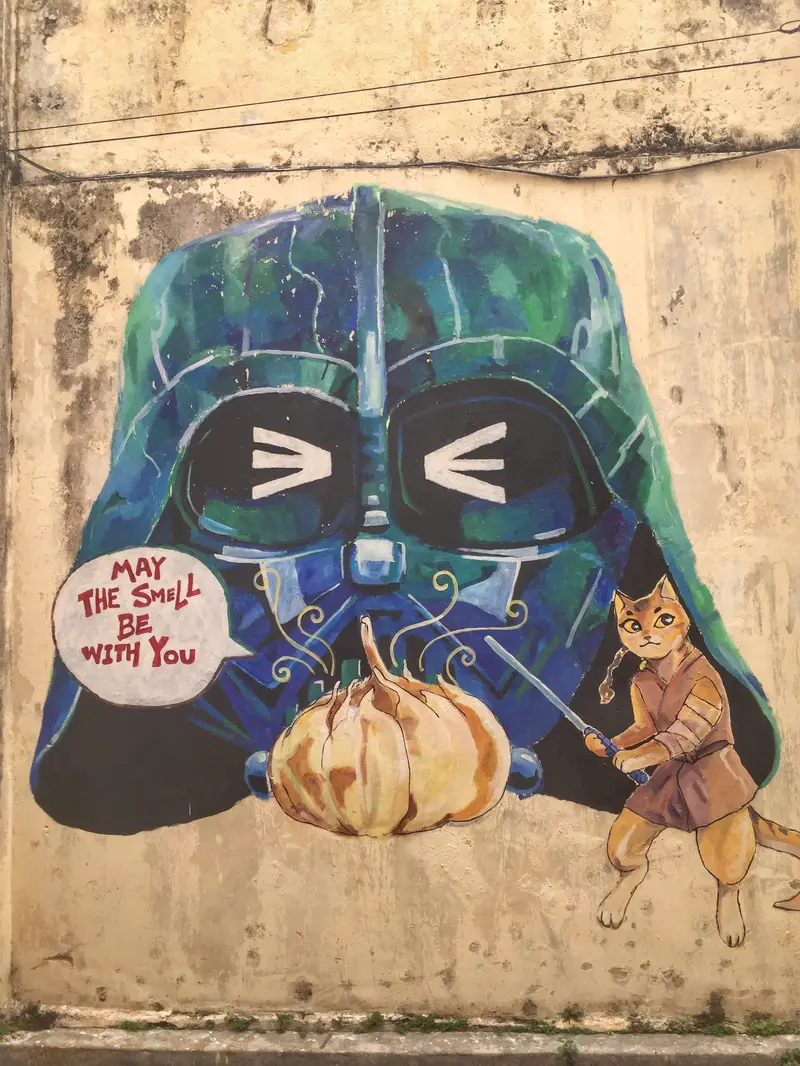 *Some street art pics are further down the post
The Penang street art scene is awesome. Yet trying to get a photo of yourself interacting with the art? Good luck with that. There's always someone around waiting in line, or trying to get their pose perfect with no consideration for you patiently waiting.
Ipoh on the other hand is easy, you usually get all the art to yourself. Taking photos in your own time makes the street art experience 10x more relaxing and enjoyable. The art is just as good too.
---
Chat To The Locals (or the painted cats)
English is spoken well in Malaysia across the board is impressive. Which kind of sucks as I don't know more than five Malay words (my fault).
Anyhow, the locals will happily chat with you and will go out of their way to help you.
However, I found it tricky to get 'in' with them on a social level. They aren't be so likely to invite you to hang out unless you ask. Why? I'm not entirely sure, but it was different to say the Thai culture where they'll ask you to come to their home.
---
All Of The Things To Do In Ipoh
---
Visit The Cave Temples With Some Cool Views
The cave temples are what Ipoh is known for. There are three cave temples you'll want to visit if you have time. If you're short on time, my ranking is:
Perak Tong
Kek Lok Tong
Sam Poh Tong
Perak Tong: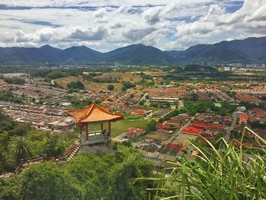 The most visited cave in Ipoh. When you enter the cave, you'll find lots of murals on the wall with the usual suspects. The large Buddha (photo to the right) was my favourite. Heading past the massive golden Buddha you'll find the stairway taking you up through the cave. There's 400 – 500 stairs or so total which will get you sweating (if the sauna like cave doesn't have you sweating yet).
In my opinion the views are well worth it making this probably the best place in Ipoh in my opinion. The gazebos are cool to look at (plus make sweet photos) as you look out over the outskirts of Ipoh with the limestone caves surrounding the city.
How To Get There: Bus no.35 from Medan Kidd Station. Let them know you're going to the temple and they'll drop you off outside. To get back to Ipoh, turn left out of the entrance. Walk along the highway (plenty of space, no need to worry) until you reach the discrete blue bus station. You'll need to actively wave down the bus to pick you up.
Kek Lok Tong: As you arrive at Kek Lok Tong the big wide opening to the cave is immediately recognisable. There are no touts hounding you and with various staircases heading in different directions theres enough Buddhas and cave paintings to keep you entertained for 10 minutes. When you head out the back of the cave you first see greenery and a lake, nice. Once I got a full view out the rear of the cave there was massive scarring on the mountain side thanks to an active quarry and a massive electricity tower, the ones that look like the Eiffel Tower. The view must have been so nice back in the day.
How to get there: there are no bus routes so you can walk a few kilometres from the bus stop at Megoplex or Uber (less than 10 RM from city centre).
Sam Poh Tong: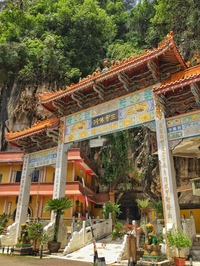 This is the one the locals tend to like the most. When you first walk into the cave, you'll have a lady offering you tomatoes to feed the ~100 turtles that are overflowing from the pond out the back. It's not exactly pleasant.
Climbing the stairs is adventurous and it gets close to pitch black near the top. The view is nice, but it doesn't compare to Perak Tong given the trees blocking the way. There's simply no WOW factor to it.
Sam Poh Tong & Kek Lok Tong are in the same vicinity so can be visited together.
How to get there: Uber for less around 10 RM from downtown, or head to the bus station and ask one of the attendants which bus takes you to Sam Poh Tong. The bus driver will stop at the turn off to the temple and it's only 200 metres from there.
Random Note: Tong translates to 'barrel' in English. Definitely assumed 'cave'.
---
Explore The Street Art
Malaysian street art has become a 'thing' and Ipoh has its fair share of awesome pieces as mentioned above. If you drop into the Ipoh tourist centre, you'll find the brochure of the Ipoh Mural Art Trail featuring seven pieces of artist Ernest Zacharevic.
Zacharevic of course is famous for street art in Penang but there are a few other people who have splashed the walls of Ipoh with their brilliance.
If you search around the old town of Ipoh, you'll find most of the popular pieces in addition to random bits around other parts of town.
My favourite section of Ipoh street art is on Jalan Masjid. The mural was started by art teacher Erik Lai and with a number of students they've decorated the entire laneway.
The cool part about the street art here is that most of the pieces are relevant to either Ipoh, Malaysia or even something iconic worldwide.
RELATED POST: IF YOU VISIT KOTA BHARU, MAKE SURE TO SEE THIS MURAL ART THERE
---
Eat & Drink The Famous Things
Penang is a well-known food destination, but Ipoh definitely has its fair share of unique eats you won't find anywhere else.
Personally, I'm not too adventurous with food but you can get rather creative.
White coffee: White coffee in Ipoh is made with coffee beans marinated in margarine. If you've seen the 'Old Town White Coffee' franchises around the world, you can trace them back to Ipoh. It's not clear which store exactly started the franchise in Ipoh, but the majority of locals believe it to be one of the two coffee shops on this intersection.
Sit down and have a white coffee in one of these spots, you'll be surrounded by locals who have been drinking their coffee catching up with friends since they were children.
Chicken and bean sprouts: I don't really know what's going on here, but apparently it's famous and everyone seemed to visit Lou Wong's. It's simply chicken with bean sprouts dressed with soy soy sauce and sometimes seasame oil. It definitely was one of the best places in Ipoh if you want a classic Ipoh meal.
Hipster cafes: If you want to find a cool cafe, head to the Plan B area. There's a few cafes around there that'll keep you entertained. If that's not enough, checkout these 81 cafes my friend KJ has compiled here. And yup, she visited them all (over a long period).
---
Get Some Henna & Learn Everything Local In A Cafe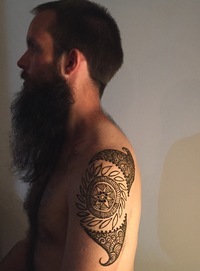 This may seem random & it is, but Ipoh was the first place I'd got a henna tattoo. It was fun, and my friend Fay gave me a cool design which I found myself showing off for the next couple weeks.
If you're feeling inspired, make a booking with her on Watsapp (details on her Instagram page). She's born and bred in Ipoh so you can also get all your Ipoh questions answered while getting your temporary tattoo (she knows all of the best food to eat. period).
---
Play At The New Movie Animation Park Studios (MAPS) Theme Park
This new theme park opened in mid-2017 in what is basically a beta version. The most hyped section of the park 'Dream Zone' hasn't been opened due to a legal battle with Dream Studios. There are still five other sections open (as of December 2017) but they might not exhilarate teenagers and adults. If you're a family looking for a great day out, this would be perfect. Really though, I wouldn't go to this until Dream Zone is open as the tickets are reasonably expensive by Malaysian standards. By all accounts, however, the staff are friendly and make sure no one is in dangers. If you want to have some high adrenaline activities in Ipoh, this is about as close as you could get. You can buy tickets from the parks website.
---
Take Fun Photos At Funtasy House
Forget the cheesy name (Fun + Fantasy = Funtasy), these art houses are actually loads of fun for kids and adults. The artists paint rooms in such a way so that you can pretend you are doing crazy things…like standing upside down, getting eaten by a shark, surfing, walking on the moon and the like. It's definitely good value for money with adult tickets less than 20 RM and children under four years old are free. The staff will help you with photos as well, telling you where to stand etc. to get the best of the best photos.
---
Visit The Markets
UTC:If you're looking for fruit, meat and random other things during the day explore the massive UTC building from 7 am – 1 pm. It's not easy to figure out where everything is, but the deeper you explore into the building the more you'll uncover. The avocados are delicious (and edible the same day).
The Night Market (every night): Along Jalan Dato Tahwil Azar. It isn't your traditional market in Southeast Asia. You'll find more practical things such as USB cables, clothing and shoes rather than random assortments of trinkets and souvenirs. To find food, you'll need to skirt around the edges of the market to find the stools.
Memory Lane Flea Market: On Sunday mornings, head to Memory Lane in the new town to experience the flea market. I never actually made it, the one time I attempted to, it was finished and people were sweeping up the massive amounts of leftover rubbish.
---
Evening Kinta River Walk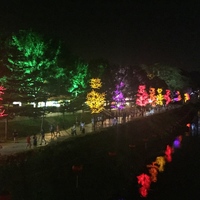 The Kinta River used to be a gold tin mining haven back in the 60's providing the foundation on which Ipoh was built. The tin mining has long since expired, but the Kinta River still flows through town with walking tracks alongside.
I enjoyed going for a walk shortly before the sunset, chilling out at the park then heading along the stretch where the trees were lit up in an array of colours and a few stalls set up for you to munch away at.
---
Feel The History Of Old Town
The Heritage Trail is a self-guided tour through the Old Town where you can check out the architecture of buildings around the place. The map isn't too well designed, but you should be able to figure out where most of the buildings are starting from the train station.
---
Chill Out At Gunung Lang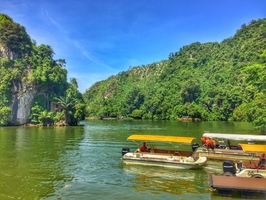 Gunung Lang attracts visitors thanks to the boat rides that take you across the lake to the pleasant park region where you can access a couple waterfalls & a boardwalk with a backdrop of limestone cliffs. It's very nice to look at and is a fairly serene environment but it's primarily a recreation park rather than a must visit tourist attraction.
Pro tip: if the boat isn't running, you can drive around the back to the section where the boat drops you off.
---
Cultural Village
This isn't on the radar for many. I only knew of it when zooming in and out on Maps.me I stumbled across it. The entrance fee is 6 RM, but once you're in you can grab a bike and meander around the lake. There's some art to look at, traditional Chinese nick-nacks, goats, Aboriginal house and all sorts. It's hard to describe, I didn't feel like I was in China, but the cheesiness of it all was awesome as I donned a traditional village hat and photobombed selfies on a bicycle.
Not a must visit, but if you wanna have a laugh for a 30 – 45 minutes after Kek Look Tong (2.8km walk), give it a whirl.
---
Visit Ipoh's Museums
There are a few museums in Ipoh. If you're a museum buff you can do them all in a day but there's no need to stress about visiting any. Honestly, they aren't overly special.
Tea Museum: this was my favourite of the museums in Ipoh. You walk through at your own pace reading about the late Ho Kai Cheong, local entrepreneurial tea maker. What a champion! I did feel inspired learning about his story. There's a nice touch at the end where you get to sample the tea.
Jasmin at Kong Heng: I heard about this museum from a hostel guest who came to Ipoh solely for the museum having read an Air Asia article on the lady. More impressively, they crowdfunded over $19,000 to get the Museum up and running last year. The 3 RM is no harm, every little bit helps & I believe they will continue to improve the museum over time.
Unless you're really into commercials you'll be back out in 20 minutes or so.
Recommended if you have time or your friend is spending too much time in and around Plan B cafes, check it out.
Han Chin Pet Soo (Tin Museum): From what I could tell, this is the most popular of the museums. Describing the history of the town, which was developed, during the tin mining boom. You'll need to book your tour online before you arrive. Yes, that means it is a guided tour. I can understand why as many of the pieces are old, but the tour didn't feel personal and didn't cover the info in a great way. I barely learned a thing, not the best place in Ipoh for me. Not recommended.
Darul Ridzuan Museum: Wow. This was a weird experience. I'm not going to look up anything about this museum having visited…it was a shocker, all about former Prime Minister Abdul Razak.
Cool, he seems like a great person but the museum was literally photos of him in various situations throughout his career with a caption a five year could write. There was no storytelling. For someone who didn't know of him before stepping into the museum, you don't get to understand his importance to the country and his lasting influence on Malaysia. It's like a big 'look how cool I am' museum commissioned by Razak himself.
The one staff member there? Barely said a weird.
At least it was free? Do not visit.
Geological Museum: Unfortunately I turned up on a public holiday & it was closed…it's kind of out of the way, no need to visit unless you have a car.
---
The Rest Of The Things To Do In Ipoh
The train station area comes alive in the evenings, particularly on weekends. Once the night falls, the water fountains light up and put on a show. You may find some street performers nearby too.
The Birch Memorial (right) is worth a visit while in the old town. Take a look at the painting of the people on the tower, can you guess who has been blanked out?
Wander Little India and see what snacks you can discover. I really liked the food at Sri Anada Bahwan
The haunted Kellie's Castle is a bit further out of town. From those I talked to, it definitely has that 'haunted feel about it'.
If you need to get some shopping done, your best bet is to visit Ipoh Parade. Three floors and a tonne of shops with a good variety.
Concumbine Lane is a quirky little street which lots of people meander along shoulder to shoulder. It appeared to be where all the domestic tourists flooded, the ultimate tourist spot in Ipoh.
For a great view walk up Bukit Keledang. I was gutted not to get up here (my fault). EDIT: I made it up here on my return trip to Ipoh. totally one of the best places to visit in Ipoh for sunset with lots of locals (use Uber if you don't have a car).
The hidden cave paints of Gua Tambun are not the easiest to find (these directions worked) but it's a nice little discovery mission that you likely will have to your own.
The Lost World of Tambun is one of the popular theme parks in Malaysia, yet it didn't interest me enough to check it out. Here's the official website, if you go, let me know in the comments below!
---
Why You Shouldn't Visit Ipoh
No Places To Go In Ipoh For Nightlife
Malaysia is conservative in regards to alcohol. While you can find heaps of places to enjoy a drink in Langkawi, Penang, and KL, I had no such luck find a regular pub in Ipoh…let alone one open past 10pm. All most convenience stores, you could find beers that were 12% & 16%…they'll put you on your bum fast. For 8 RM each.
EDIT: Check the comment at the bottom of the post by El for some Ipoh night activity ideas.
Tourist infrastructure Is Lacking
There are two tourist offices in Ipoh. What confuses me is they don't appear to work together at all. Anyhow, there is so much they could do to make Ipoh friendlier for tourists.
An example as pointed out to me by my buddy Vanessa was the lack of mentioning Ernest on the mural trail. Unless you're familiar with his work you'd have no clue it's his. Give the man some credit!
They actively promote the heritage trail with a brochure but the steps you are supposed to follow just stop randomly.
The Heritage Trail & Street Art brochures are two of the most popular they hand out yet both brochures are poorly designed. It's not clear where you are supposed to go exactly to find the associated numbers, there's no new information on the brochures and it's overall just really uninspiring.
Otherwise it's a bunch small things that are inconvenient adding up to making things a bit more annoying. Like the museums aren't always clear, information on openings and closing times isn't always followed and other silly pet peeves that annoy (me)!
Rather than making way too many signs to promote Perak 2017, maybe they should focus on the tourist experience immediately. As we all know, word of mouth is rather powerful when it comes to destinations looking to market themselves. I wonder if the promotion started as a result of Lonely Planets recognition?
Minimal Tourism = What To See In Ipoh To Stay Busy
Sandwiched two hours from KL, Penang and Cameron Highlands, the time to travel between these three popular destinations is not long enough where people want to break up their trip into 2x two hour trips so most overlook Ipoh (it's similar to Battambang, Cambodia in that way). Those who do stop by tend to only stay for a night or two or are Malays coming up for a weekend from Kuala Lumpur.
While it's cool to be off the beaten track, most people like to be around other tourists. Everything seems to be more comfortable, easier and FOMO is real.
The Heat Is Crazy Hot
I know, I know, it's Southeast Asia and "you'll get used to the heat". My time from late August to early October though, crikey, what a battle. It's just that extra couple degrees hotter than ideal. Prepare to utilize the mornings and early afternoons for activities while eating and sleeping away the afternoon.
For someone who is a late riser, that didn't really work for me too well. I'm not disciplined enough to wake up before 7 am three days in a row.
---
How To Get Around Ipoh
Walking: You won't see many locals walking but if you're sticking to the old town and the north part of new town you'll survive.
Public Bus: The public bus system is decent in Ipoh and can get you to the caves reasonable efficiently. The main bus station in town is Medan Kidd and unlike the reputation, bus stations have as not being nice places, the staff are really friendly and will get you on the right bus right away.
Uber:
Wow as an Uber noob Ipoh made me realise how cool the service is. If there's two of you, Uber will make sense a lot of the time. If you're three or four people I'd say it's always a better choice than the public bus and walking for any distance over 2km.
---
Arriving In Ipoh
By Bus: You'll arrive at Amanjaya Bus Station on the outskirts of the city. To get downtown you can:
catch the 116 public bus which goes right through town via Medan Kidd Bus Station (2.70 RM).
catch an Uber for 10-15 RM depending on where you are going in town (wifi can be accessed on the bottom floor of the bus station)
taxi, I've heard they can demand up to 30 RM one way…UBER
By Train: The train is on the edge of the old city. Depending on where you are in town, your best options will be to either walk (Old Town) or Uber.
By Plane: There is an international flight from Singapore to Ipoh, as well as a number of domestic routes. Once at the city, Uber for less than 10 RM to most places in the city.
Where To Stay In Ipoh
As always airbnb is a good option to consider. That link will get you a discount on your first book.
Budget Accommodation In Ipoh
Less than $10
Le'Bug & Boat Backpackers
The location is great within walking distance from Ipoh Train Station & Medan Kidd Bus Station. The hostel is on the edge of the old city giving you easy access to some of the best restaurants and street art in Ipoh. Nearby are a mini supermarket and convenience store less than 5 minutes walk away.
Container Hotel
The Container Hotel is right in the heart of the old city surrounding by the street art, museums, cafes, and restaurant. You'll appreciate the building itself, with the beds set up so you have a little cubby hole to yourself. Ipoh isn't a bustling city at night, so the noise from the street is a non-issue.
Hotel Station 18
This hotel is located outside of the city, so it's best if you have a car or plan on using Uber a lot. The hotel is nice, with 24-hour reception and a coffee bar ready to use. If you like to stay outside of city centers, you'll appreciate Hotel Station 18 isn't in no-mans land.
Mid-Range Accommodation In Ipoh
$10 – $25
Brick Box Hotel
Another place in the Old City, Brick Box Hotel has a variety of rooms with different sizes. All rooms are equipped with a/c, perfect for those scorching hot Ipoh days. The free bikes are a nice touch as the city is easy to cycle around, letting you get to attractions around the city.
Hotel Pi Ipoh
Located in the old city, rather in the 'new' part of town still less than a 10-minute walk to the hotel city. The hotel has a gym and a bar, essential items for some people in a hotel. You are also a short walk away from the Ipoh Parade mall and the large fruit market at UTC.
Ecotel Hotel Ipoh
***THIS PLACE HAS NOW CLOSED DOWN***
Nice Accommodation In Ipoh
$25+
MU Hotel
If you want a modern hotel with facilities including babysitting this is the spot for you. MU Hotel has laundry service which something precious in Ipoh (minimal places have machines). There are lots of restaurants within a 15-minute walk, but if you prefer to dine in you can.
Ipoh Downtown Hotel
There's no denying Ipoh cuisine is awesome, but if you prefer making something of your own sometimes, you'll appreciate the kitchenette in a downtown hotel. Located right in the middle of the city, you have easy access to everything in Ipoh including the daily night market.
Ipoh Bali Hotel
If you've been to Bali, the romance of the hotel will bring back memories. The hotel differentiates itself with the rooftop terrace and car rentals available on site. The hotel is a boutique spot with just 12 rooms, giving you that precious quiet atmosphere you need when in staying inner city.
---
Is It Worth Visiting Ipoh?
Yes.
If you love coffee and/or street art you should definitely visit, same with those who appreciate caves. It's also worth a visit if you aren't on a tight schedule and want to check out something off the tourist trail. At worst, go have an awesome caving adventure at Gua Tempurung.
No.
You're on a tight schedule and want to tick off the popular destinations. You like things easy and tours and the like booked for you each day.
Final Thoughts From This Ipoh Travel Blog Post
Spending over a month in Ipoh is something I never expected.
Overall, I liked the city but couldn't see myself spending more than three weeks at a time in Ipoh. I made some friends which is cool & there are things to do in Ipoh I need to tick off still & make lots of trips to the cool attractions around Perak. But it won't be a home base (never say never).
Click here for more Malaysia related posts.
Ready for Ipoh? Pin away for easy referencing.