THIS POST CONTAINS AFFILIATE LINKS. PLEASE READ THE DISCLOSURE FOR MORE INFO.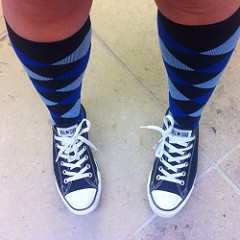 I love everything about flying. From arriving at the airport to getting off the plane. I look forward to getting into my comfiest clothes, ready to pass out for most of the flight while hopefully not dribbling on my seat neighbour.
Short on time? These are the best socks for travel.
When flying, I wear my sandals on to the plane and put socks on when I sit down (slightly less foot odour for your new friend!). Recently a friend recommended looking into the best travel compression socks and said I should consider getting some.
So I did and documented my research. The result?
This article. I worked out what the perfect compression socks are for me. In doing so, hopefully, it saves you time if you need some compression socks for travel too.
If you haven't got much time, use this table as a quick guide. Otherwise, continue below the table.
What Are Compression Socks?
Also known as flight socks, compression socks are tight high socks (usually to the knee) with pressure increasing further down the leg. This is known as gradual progression and is a standard feature in most of the best flight socks.
Why Do I Need Compression Socks?
In short, no you don't need socks. But the best compression socks are designed to reduce swelling and inflammation in your feet and ankles reducing the risk of blood clots and deep vein thrombosis (DVT). When you're travelling for more than four hours on a plane without leaving your seat, the possibility of developing DVT increases by four times (Source: National Institutes of Health).
Crucially, DVT doesn't discriminate based on age, weight and/or lifestyle. Everyone is at risk, especially given the increased likelihood of being dehydrated from flying.
So while it's tough to declare you 'need' compression socks when travelling, they can be helpful when you're preparing your travels for 2017.
At worst, you can feel like Nene Leakes, Serena Williams and Hillary Clinton who regularly wear them.
How Do They Work?
The vast majority of compression socks have gradual compression with the sock being tighter in the sock and getting slightly looser as you go up the leg. This encourages the blood via increased circulation to move up your leg rather than sit pooling in your leg when you sit for prolonged periods.
From what I gather, ice baths are like compression socks. If you use them they're awesome, otherwise not so much. However numerous reports do show that there are likely some benefits as a result of using compression socks.
Benefits Of Compression Socks For Travel
No more 'economy class syndrome'. When you fly in economy, you often feel achy in your legs due to sitting in a cramped space for long periods of time.
While you are huddled away in your seat, travel compression socks work away to ensure your blood circulation continues allowing you to get your shoes on without the embarrassment of swollen feet and overall ensure your legs don't feel too weary post flight.
Negatives Of Compression Socks For Travel
You can look like a muppet when wearing them
Another thing to think about when getting ready to travel/pack
You become reliant on them and sad when you don't have them
They can smell quickly if you wear them door to door
They are thick so sometimes are tough to get your shoes on when wearing them, they better work!
Where Else Can I Buy Travel Compression Socks
Other than online, you can find compression socks at most pharmacists and big box retail stores. If you cannot afford to purchase these socks, other alternatives which can help reduce the onset of DVT are your regular everyday panty-hose and/or firm woolen socks.
What Are The Best Travel Compression Socks?
The answer is going to vary from person to person of course but after reading these views I think the quote we mentioned earlier is spot on. If you think your compression socks are the best thing since sliced bread you are going to be a raving fan, if you aren't you might silently judge everyone you see wearing them.
I reveal what I believe the best travel compression socks are at the bottom of this post.
What do you think about compression socks? If you have some, do you think they are awesome?
TripAdvisor User, jangk from Australia is a GP (her words) and stated "as a GP I would recommend them to almost everyone… especially if ur on the contraceptive pill. They prevent swelling too. You will be more dorky if you get a DVT and end up in hospital…" – 24 August 2013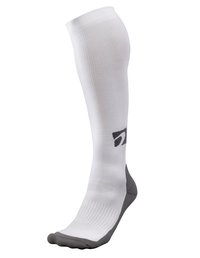 The Acel Compressions socks are the best travel compression socks for those who like authority as they're made out of medical grade material, meaning built to last.
They also have a cushioned sole making them nice for those who get saw feet when travelling for an extended period of time.
The company, Acel work solely on providing compression socks so you can be sure you will be treated well if you have any issues, backed up by 80% of all reviews (500+) being 5 stars.
With such a high quality of reviews, most top reviewers are speaking about the noticeable benefits during and after use. For those who aren't fans, they are not too harsh about Acel All Season Compression Socks.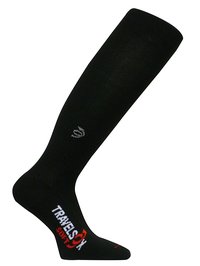 Travelsox are differentiated thanks to their patented design which has the graduated compression starting from the middle of the foot rather than near the ankle like many of its competitors. This design ensures there is no blood pooling in the arch of your foot, one of the goals of wearing compression socks.
The material they use (75% polypropylene) is sourced from Italy and is known as Silver DryStat, allowing the material to dry fast and prevents bacteria and fungi growing with the sock designed to sit immediately below the knee.
They have 68% of satisfied customers and are a popular brand with over 500 reviews. The major downfall of the TravelSox Compression Sox is the embroidery which seems to be a design flaw and can cause havoc with itchiness.
People also mention they are not very compressed when you wear them which is different to most complaints of compressions socks being too tight, so read into that what you will.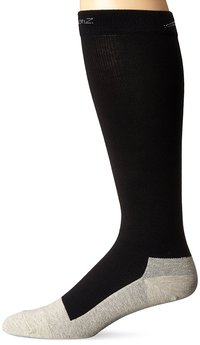 The CompressionZ branded compression socks focus on their ability to retain their shape after regular use in addition to the anti-itch and anti-bacterial material they are made of.
The silver yarn is designed with gradual compression with the skill of keeping you warm when cold and cool when it's hot, fancy. The sizing like with most compression socks is an issue, though they understand this and recommend those with wide feet get to go up a size based on the chart provided.
The CompressionZ socks get decent 5-star ratings with a total of over 500 reviews, not too shabby. The main concern is the holes gathering in the heel.
If you tend to get holes in regular socks consistently, it's a good idea to get a different pair, otherwise, these could become very expensive socks.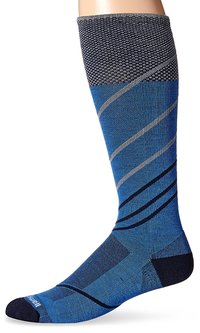 Sockwell is a well-known brand who have created a mixed material blend of graduated compression socks (20 – 30 mmHg). The socks are made in the US with the material makeup: 32% Mylon, 32% Merino Wool, 31% Bamboo Rayon & 5% Spandex.
The accu-fit technology in the spandex helps the socks stay in shape as they're designed for long stints of sitting and even have arch support.
I really like how this company is trying to lead the way using environmentally friendly materials along with the fun designs on the stockings rather than the plain designs of their competitors.
What else can they do to try and enhance the flying experience?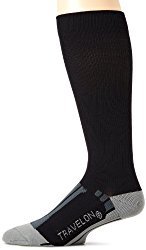 Travelon is an established travel brand that started with bags but now supplies a range of travel accessories. The socks are made entirely of nylon and while they aren't made of the most attractive material it helps they're unisex if you don't mind sharing.
These aren't the best travel compressions socks for people who are on the shorter or taller end as numerous reviewers stated the socks didn't fit them at all despite the sizing chart recommendations.
These compression socks will be okay if you are of a regular height it would appear as there are plenty of raving fans for a total of 73% claiming they reduced cramps on flights and made the travel process easier regardless of flight length.
Overall, I would consider the Travelon Compression Socks if I wasn't on the shorter side and had experience with the brand previously.
How To Choose Compression Socks For Travel
By now you've probably decided to get some for of support socks for flying so anything with 20 – 30 mmHg is a good start. Then you'll need to choose your compression socks for flying based on the colour, price and material with a bit of gut instinct to boot. If you plan on standing up in the plane a lot, 15 – 20 mmHg is okay to choose.
First photo credit to AngryJulieMonday via Flickr.
How To Measure For Flight Socks Before Buying (For Knee High Socks)
As you'll see when you're looking at the different flight and compression socks, the sizes are often different. To prepare to buy the best socks for flying, you need a tape measure to measure your ankles, calves, and the length of your calf.
Ankle: Take the circumference of the narrowest point which is usually an inch or two above the ankle bone.
Calves: Measure the circumference at the widest point of your calf.
Calf length: When seating with your legs at a 90-degree angle, measure the distance from the floor to one finger below the bend of the knee.
Use these measurements to help ensure you buy the best flight compression socks for you.
How To Reduce The Chance Of DVT When Travelling
Although the cases of DVT are rare (1 in 6000 flights), the symptons are deadly enough that everyone, especially athletes, needs to be aware of the risks.
In addition to using good compression socks, you can reduce the risk of DVT in the following ways:
Move your calf and foot muscles every 30 minutes or so when flying.
Take a walk up the aisle when possible
Give yourself as much space in front of your feet as you can
Reclining your seat can help (don't be stupid about it of course)
Stay hydrated, ideally avoiding alcohol
Think twice before taking sleeping pills as they'll leave you immobile
What Are The Best Travel Compression Socks For Flying?
If you are still reading thus far, you'll see that compression socks are a very individual choice. Many of the issues with support stockings (sizing) happens in all the options. Personally I like the Acel All Season Compression Socks
. A full review will be coming in due course.
Note: The Amazon links are affiliate links, if you do purchase any socks through some of these links I receive a small commission at no charge to you, the buyer.
More Travel Product Reviews From Jub