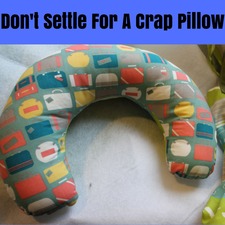 At the airport, if you take a look into any retail shop there's a good chance you'll see travel pillows for sale. Most people, in a case of bad planning, buy travel pillows at the airport. Aa bad idea.
Well it's not bad in that the pillow may make your flight slightly better. But there's a few reasons why it's not great.
There's usually only one kind of neck pillow offered (the regular U-shaped one)
They're overpriced, as is everything at the airport (excl. duty free)
You haven't had a chance to 'wear it in' and choose the features best for you
The line between getting some decent sleep on the plane and getting zero sleep on a plane could be influenced by the travel pillow you use. No one likes jet lag!
If you want to choose the best travel pillow for you then continue reading below. By the time you finish reading all of the travel pillow reviews here, you'll be ready to buy one for either you, or you could even get one as a gift for the traveller in your life.
Before we get started, here's the best travel pillow review of all the products you'll see here in table format.
Choosing The Best Travel Neck Pillow Based On Your Favourite Seat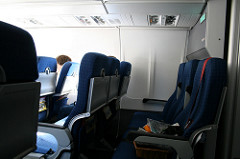 Whether you like the aisle or window seat better will influence what kind of travel pillow for long haul flights is best for you.
With the window seat you can lean against the side of the plane. If you've flown plenty, you'll understand what I mean by 'the gap' between the seat and the side of the plane. It's just a little bit awkward most of the time to lean against the window. With a travel pillow however 'the gap' gets filled in which is awesome.
Either way, the most popular form of pillow for long haul flights is the traditional neck pillow.
Storing Your Pillow Matters
Once you're off the plane, you'll be using your pillow sporadically after this. When considering these reviews consider the amount of actual travel you'll be doing. Will you use the pillow once or twice a month or everyday? Space matters.
The kind of travel you are likely to be doing will matter too. If you're going to be outdoors, a waterproof inflatable travel pillow is going to be much more suitable for you, even if it means sacrificing a little bit of comfort.
---
The Best Neck Pillows For Travel Reviewed
---
It looks like a fairly standard neck pillow, but it's not inflatable nor filled with beads.
The Cabeau travel pillow is slightly heavier than most options due to being of polyurethane and therefore acts as a memory pillow. Simply find the position you're comfortable in the pillow and tighten the drawstring to ensure it stays in position.
The clasp is another nice addition which enables you to lean forward without the pillow slipping off instantly as you listen to your latest tunes thanks to the attached media case.
The memory foam is encased in a soft velvet like material that's easily washable and comes in a variety of colours.
Con's:
If you're smaller, the one size fits all approach may mean the pillow gets uncomfortable around your ears.
Overear headphones can be annoying to use with constant contact with the pillow.
The bulkiness of the pillow can make you heat up…if you heat up easily that's going to be a downside.
Click through to see all the reviews and latest prices.
---

From a distance you'd think this travel pillow review could be copy and pasted from the Travelmate pillow above. That wouldn't be wise though.
You can't remove sections of the foam from this pillow, but they have conquered to weaknesses seen in other travel pillow.
The Aeris pillow comes with ventilation holes. They know that memory foam products get warm, so they've taken action to eliminate this.
The other nuisance with memory foam travel products is the need to air them out when they arrive. Aeris have got your back and aerate every pillow for seven days before they are prepped for packing (this doesn't mean you wait seven days before your pillow is sent).
Additional bonuses when you buy this travel pillow:
Lifetime guarantee
Sleep mask
Ear plugs
Carry case
Con's:
Annoying tag is on the outside of the pillow
The wrap around the neck can be a little to tight for some
Click through to see all the reviews and latest prices.
---
The Classic Travel Pillow (With A Difference) From Travelmate

Out of all the pillows we review on this page, this is the most familiar to you all.
The Travelmate pillow differs with it patent pending design allowing segments of the memory foam core removable for the pillow. This goes a very long way to solving the issue of one size fits all neck pillows.
The core is genuine memory foam, so not only does it mold into your neck/head when in use, you can squish it upinto your bag if the elastic band on the outside isn't for you.
If you're a stickler for germs on planes, trains and buses (cant blame you), simply remove the velour cover and give it a wash.
With users loving the durability of the pillow with daily use over 6+ months, this is the best value neck pillow for travel reviewed here today.
Con's:
Only comes in navy blue.
Needs to be aired out when first delivered to get rid of musty smell (normal for foam products)
Material isn't waterproof therefore needs to be washed regularly
Click through to see all the reviews and latest prices.
---

It doesn't take a rocket scientist to work out how the J-Pillow got its name. A 2013 British Invention of the Year Winner solves the biggest weakness of the traditional neck pillows. Everyone is familiar with the head nod when you're sleeping up right but the J which fits under your chin is designed to solve this.
Made of polyester fiber material the shape holds itself together, so it isn't for the space conscious but with over 9,000 reviews on Amazon, it's certainly popular.
Cons:
once you don't have a window seat the pillow will always slip off when you move
if you need to adjust your position while sleeping, you generally need to wake up to do so. Especially if you want to lean the other way.
The pillow doesn't fold up so can be bulky to carry
Is a bit awkward if you decided to use it in your regular bed/camping
Click through to see all the reviews and latest prices.
---

Everyone appreciates there fleece blanket for it's warmth and comfort. The Trtl pillow is that fleece transitioned into a pillow for your neck by wrapping around your neck and fitting it in place with velcro.
While it's lightweight I struggle to understand what they mean by the Trtl being scientifically proven to hold your head in an ergonomically better position. The insert is a plastic H shaped framed, that sits against either your shoulder or chest.
A sarong is a must have for woman in their travel luggage for its multi purpose skills. The Trtl could almost be the equivalent for hand luggage. The primary purpose is of course to help you sleep while travelling, but you can also wrap things up in it and in cold days it will double as a hand warmer!
Bonus: the customer support they have is tremendous. Make sure to check out their website FAQ's before heading over to buy your Trtl pillow.
Con's:
One size fits all. Those with longer necks may find it slightly uncomfortable. The solution is to tweak it with an extra blanket or jersey so it fits as desired.
A minority of reviewers found the plastic insert to flexible and the lack of support
Click through to see all the reviews and latest prices.
---

The Skysiesta looks great, with two foam pillars essenatially locking your house in place. The classic U shaped neck pillows don't have quite enough head support which the foam bolsters do, the essentially lock your head in.
It locks you in with the foam core pillars (removable) sitting on your shoulders, the broader shoulders you have the better this is going to work for you. Connecting the pillars is a wedge which goes behind your neck but isn't bulky and won't push your neck forward.
Adjustable straps allowing the foam pillars to tighten.
At first glance the pillow looks awkward, especially to carry. Thankfully they provide a nylon bag for it to compact into which you can attach to your backpack or suitcase.
Bonus: free eye mask
Cons:
If you use over ear headphones, the Skysiesta pillow is impractical – though it naturally blocks out noise without earphones
Head can get very hot squished between the two foam pillars
Click through to see all the reviews and latest prices.
---
Best Inflatable Travel Pillow Reviews
Inflatable pillows come in all shapes and sizes. They're perfect for the minimalist traveller, when they're deflated they take up very little room and weight.
---
The Travelrest, It's Like A Seatbelt But Better

HiGear design specialise in innovative travel accessories and have hit the mark with the Travelrest Pillow. They've come up with a design providing full support of the body, just like a messenger bag.
The inflatable device helps hold your head and neck in a better posture which in turn reduces the number of head nods you'll experience.
The #1 neck pillow for flights as rated by the Wall Street Journal is one size fits all and is suitable for all forms of transport.
For an extra classy touch, you can get a fitted cover as well.
Click through to see all the reviews and latest prices.
---

Purefly make all sorts of travel accessories and their inflatable pillow isn't 'just another travel pillow'…it was made with a purpose to give more neck and head support than similar inflatable pillows.
There isn't going to be any luxurious velvet on this pillow, rather it's made of PVC material with a thin fabric cover due to the ease of the material inflating. The best way to describe the pillow is comfortable, but cozy and snuggly, not so much.
The PVC material is also waterproof making this the best pillow for adventure travel where you might be sleeping outside, or exploring in the wilderness where the space versus comfort level of the pillow will be worthwhile.
The inflatable pillow is never going to be the most comfortable thing ever but there's no harm in giving it a whirl.
Pro tip: check out the promo codes on the product page.
Con's:
It only takes a few breaths, but you still need to inflate it everytime
Not machine washable
Simply not comfortable
Click through to see all the reviews and latest prices.
---
Kickstarter Travel Pillows
In August 2016, the Kickstarter campaign for the FaceCradle Travel Pillow went viral and is tipped to end up raising over $1,000,000.
There have been a couple of other successful Kickstarter campaigns on Kick Starter with the WOOLLIP Travel Pillow and the Ultimate Travel Sleep Solution both raising well over $200,000.
---
Neck pillows for travel. A pretty boring topic really, but given they can help you sleep they matter. If none of these were quite the winner, take a look at all the listings on Amazon, you'll find something to satisfy your need for the best neck travel pillow.
---
1st image courtesy of Dana K via Flickr Creative Commons. I added the text to the picture.
Image of place seats courtesy of Lindsay Turner via Flicker Creative Commons.
This article contains Amazon affiliate links. If you purchase an item through these links I may receive a small commission – at no extra charge to you. Cheers and happy travels!