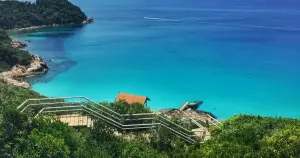 If you haven't heard of the Perhentian Islands off the east coast of Peninsular Malaysia, it's time to get them on your radar.
This post focuses on the small island, Pulau Perhentian Kecil Island, the backpacker and budget-friendly island.
The two main islands in the Perhentians (a group of islands) are Pulau Perhentian Besar (big) and Perhentian Kecil (small). Most consider the big island to be the place to go for couples, honeymoons, family, and resort style vacations. The small island is where backpackers go, those who like to have a boogie, and are on a lower budget.
I spent five days on the small island in June 2018.
Why Visit | Things To Do | How To Get There
Where To Stay | Best Time To Go | Other Tips
1. Affordable Scuba Diving Certifications: Koh Tao is considered by many to be the cheapest place to get certified in Thailand. For Malaysia, the Perhentian Islands takes the title. Which is cheapest? I can't say for sure, as there was a mix of answers from those I asked (me no diver). Scuba is the primary attraction here and you can get a variety of certificates on the island depending on which instructors are around. While I was there, it was possible to get certified in night diving and free diving for example.
2. Ease of Snorkeling: I talk about this further below, but to go snorkeling in the Perhentian Islands it is as simple as renting snorkel gear (if you haven't got your own), and walking straight into the waters. There are snorkeling tours which are another popular option.
3. Quiet Beaches: Long Beach and Coral beach are lined with restaurants, dive shops, and accommodation outlets and are where people base themselves from. But there are plenty of smaller beaches you can hike to that most people don't bother visiting.
4. Lack of Internet: A lot of the accommodation options provide wifi, but don't expect the connection to be strong (some places won't have electricity during the day). If you've got a sim card, you'll get reception in some parts of the island, but again, it won't be a strong connection. It's a great chance to disconnect.
5. Somewhat Off The Beaten Path: Malaysians know all about the Perhentian Islands and flock to the islands during holidays and weekends. For foreign visitors, it's a known destination, but the majority of international visitors stick to the west coast of the peninsular. That's a good thing of course.
The speedboat to Perhentian Kecil departs from Kuala Besut Ferry Terminal. To get to Kuala Besut you can get a bus from most major cities in Malaysia or fly into Kota Bharu(closest)/Kuala Terengganu and take a taxi/local bus from there.
The boats run throughout the day and while they say there is a timetable, don't expect them to be running on time. You can buy your ticket at the jetty for 70 RM return (open-ended) which is the standard price (as of June 2018). After paying the Marine Fee (mentioned shortly) you go to the jetty and someone will ask which beach/resort you want to be dropped off on which is nice. There's no guarantee on how long it takes to get to the island due to weather and how many beaches they need to stop at but it took the speedboat I was on ~45 minutes to reach Long Beach.
The 70 RM return ticket is open-ended. When you want to leave the island, you present your ticket at the ferry pier and they'll get you on a boat. It's a bit chaotic, but the people running the boats seem to know what they're doing. Let's call it organised chaos. Enquire with your accommodation provider when the ferries leave the island, as there are fewer departure times compared to boats coming to the island.
Marine Park Fees: I was caught off guard by this, but there is a 30 RM Marine Park Fee foreign adults need to pay before being able to get on to the jetty. For children and senior citizens it's 15 RM. Locals pay 5 RM (adult) and 2 RM (child). This was introducted in 2016 and isn't a scam. If you catch the first ferry in the morning, the collection office might not be open allowing you to avoid paying the fee (with no repercussions).
RELATED POST: A TWO WEEK MALAYSIAN ITINERARY
1. Watch The Sunrise & Sunset
Alright, I admit it. I never woke up to see any Perhentian sunrises. You can see the sunrise from the Long Beach (east) side of the island. For sunset, you'll want to head to Coral Beach or one of the other beaches on the west side of the island. Unfortunately, we did get any stunners while I was there with a blanket of cloud parked up on the horizon.
2. Hike To THe Remote Beaches
One the Northern end of the island, there are a few beaches which don't have accommodation on them. They're left to be as they are. The only one I walked to was Adam & Eve Beach which is about a 45 minutes walk at a solid pace up and over the island from Long Beach. There was no one there, so that worked out perfectly! If you're doing this, it's a great way to combine the Old Pier and Snorkelling for a big afternoon of activities.
3. Embrace The Old Pier Views
The Old Pier is a must visit on Perhentian Kecil. It's not too far north from Long Beach, but you need to hike inland to the windmill on top of the hill to reach the top of the pier (20 minutes). When you get there you'll be instantly rewarded with some insane views with that blue water you can only dream of. You can walk all the way down the pier, but as in the photo above a lot of the planks start to be missing making it a fun adventure. It's doable though, don't go blaming me if you fall though. Once you get to the bottom, take a well-deserved dip.
4. Join A Snorkelling Tour (or DIY)
With such clear waters, snorkeling off Perhentian Kecil is incredible. If you walk along Long Beach you'll see lots of places offering snorkeling tours, more or less along the same lines. For ~40 RM you get a half day snorkeling tour that will take you to 3-4 snorkeling spots. For ~50 RM you can get a full day snorkeling tour to all of the popular spots. Snorkeling gear is provided by the tour companies.
While the full day tour might seem like great value, I spoke to a couple people and they said the half day was more than enough as you're in the sun all day. You can use the 10 RM you save by taking the half day tours to rent an umbrella on the beach and used that as a base for the other half of the day. Winning.
A friend took a snorkelling tour and was horrified at what was happening all around her. I chose the DIY option so didn't see this happening, but it might be worth asking the companies about there tours closely.
I joined a couple of friends and we snorkeled from the Old Pier to D'Lagoon Beach and back. We managed to see a turtle, baby shark, and a bunch of fish. I enjoyed it and was knackered by the end of it. Don't do what I did and got lazy with regards to sunscreen.
5. Go Diving In The Perhentian Islands
I didn't go Scuba Diving in the islands, so the following information is what I learned from talking to friends who were diving:
There are lots of dive shops on Long Beach. If you walk along there when you arrive, you can shop around and choose the best option from there.
Many dive shops will have dorm rooms available only to scuba divers. In many cases, the accommodation will be nearly free.
If you like to have your places arranged beforehand, you can do so by booking accomdation on airbnb that comes with diving included. The prices tend to be a bit more expensive than if you do it in person, but it's a good option during busier times.
6. Watch The Nightly Fire Shows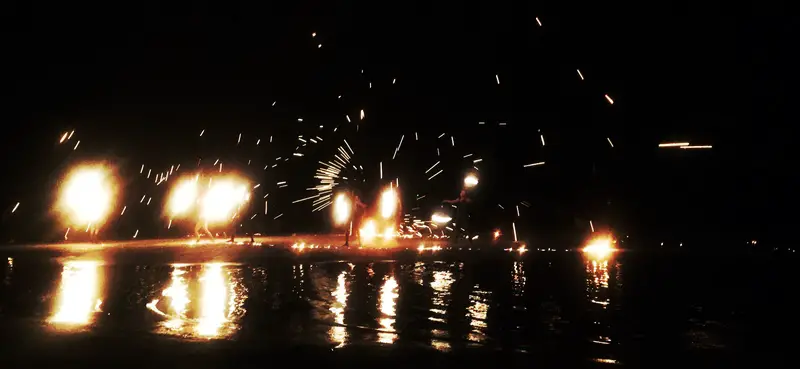 For a small island, there are lots of fire shows happening during the peak tourist season. The most popular one is on Long Beach close to the beach bars. While I was there, they were performing throughout the night after dark with the official start time at ~10 pm. It's worth staying up to watch the thing at least one night all the way through as at the end they had a finale in the shallows which was cool.
7. Have A Good Night Out Partying On The Beach
There aren't any clubs on the island, but Long Beach has a couple of beach bars in the area around where the fire shows are. Once the fire show finishes up, some people will head off to sleep, but others will kick on and have a big night. There's a bit of a dance floor in one part of the beach which is essentially a section of sand sectioned off. It's super easy to meet people in this environment compared to a nightclub. In June 2018, a can of beer was 7 RM and a small bottle of rum was ~40 RM.
8. Island Hopping
If you want to get a taste of the big island, you can rent a private boat taxi to take you to the spot of your choice. The cost is usually per person, with signage indicating prices. Don't take these as fact though, if there's a group of you, you can negotiate. I met two friends who were staying on the small island but went to spend the afternoons on Perhentian Besar's Turtle Beach as they liked the sand and the waters there the best. It cost the two of them 20 RM each way.
9. Head Over To The Local Village
There is one local village on Perhentian Kecil. It's about a 50-minute walk from Long Beach on an overgrown trail (taking the inland route) to get there. The local village has a gorgeous silver Mosque built over water, otherwise, it's pretty standard, there's a school, a few restaurants, and even a place selling fruit (didn't ask about prices). There's not too much too see but it was a nice contrast to the tourist hotbed on the rest of the island. You can walk through the village and make your way along the pathed coastline trail (west side of the island) to Coral Beach. The round trip took about two hours total.
10. Be Beached As
You're on an island with some of the best beaches in Malaysia so don't feel bad for parking up on the beach all day, taking a dip as you please. Along Long Beach there are lots of umbrellas set up you can base yourself from. Most of them charge 10 RM for the day, which is good value when it's so hot in the middle of the day. I struggle to keep still, but did enjoy hanging out on Long Beach for hours at a time.
The monsoon season hits the east coast of peninsular Malaysia from late-October/November and runs through until the end of February approximately. So you'll want to visit the Perhentian Islands is from March to October.
If you can, avoid travelling to the Perhentians on a weekend and public/school holidays as the island will be a lot calmer. Remember, in the state of Terengganu, the weekend is on Friday and Saturday.
Visiting during Hari Raya (the end of Ramadan)? Plan carefully, the speedboats won't run for a few days meaning you can't really get off or on the island. I visited there a few days after Hari Raya to avoid this drama. There were a lot of rumours flying around about what was and wasn't happening during Hari Raya, so if you do try and visit, be prepared to alter plans.
Many places on the Perhentian's aren't available to be booked on the usual sites like Booking.com/Agoda etc. As mentioned earlier, you can book both accommodation and diving in one booking on airbnb for a few places. If you're looking for the best price, your best option is to walk around and ask once you arrive. Especially if you're staying on Long Beach or Coral Beach. Note, many places won't advertise their dorm rooms (sometimes only available to those diving), but
Long Beach: The most popular place, with the cheapest prices on the island. It's important to note, this is where the majority of backpackers stay and so you'll notice a younger crowd that can kick on late into the night. I stayed at Mohsin Chalet dorm room (16 beds) for 35 RM/night. It was a nice stay, but if I was to return I would stay at Tropicana Inn which is further back from the beach but does have wifi and power throughout the day. They don't seem to have the dorm option online, but my friend paid 35 RM/night for two nights…cheaper rates are available for a lower rate. The cheapest place I heard of was 25 RM for Seahorse Divers.
Coral Beach: This is a 10-minute walk to the other side of the island from Long Beach. You can find a cheap spot here, but the majority of the accommodation options are more upmarket and where you'll find a resort at Perhentian Kecil.
Other Beaches: I can't speak for these places having only walked past them, but the accommodation at other places like D'Lagoon are for the more independent travellers given their location away from Long Beach.
Bring fruit: There's no shortage of fruit shakes on the island, but fresh fruit itself? Not so much. Bring some from the mainland.
Download Maps.Me: If you're planning on walking to the beaches further away there isn't much in the way of signs. All the trails on the island are on Maps.me
Bring Booze: You can buy beer, spirits, and wine on the island but they aren't the cheapest. If you're in a duty-free zone before coming, stock up.
Bring Snacks: There are convenience stores on the island, but you'll pay 50-100% more for most snacks compared to the mainland. 1.5L of Coca-Cola is 7 RM compared to 3.30 RM at the supermarket on the mainland.
Water: Most places charge 4 RM for a 1.5L bottle but there are several places providing filtered water to refill your bottle (some free, some charge 1 RM).
No ATM: There are no ATM's on the island so bring plenty of cash. There are a couple of places on Long Beach that provide a cash advance, but as you'd expect, the rates are not friendly.

---

I hope this has helped you know what to expect when you visit Perhentian Kecil. Given the lack of information online, it felt like going to the Wild West a little bit. Would there be accommodation available? How much do things cost? You get the idea.

Afterwards you have lots of choices of where to visit in Malaysia. There are overnight buses that go to Penang and KL, or you could head to one of the bigger cities nearby like Kuala Terengganu (awesome Heritage Park) or Kota Bharu (awesome street murals).

If you've got any questions, drop them in a comment below or email me jubattikitouringkiwi.com and I'll get back to you ASAP. Have the best trip ever.

---