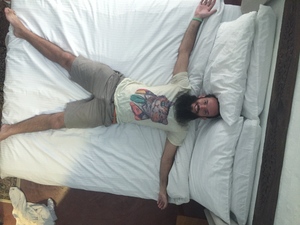 Penang is one of the food capitals of the world.
But is it enough to come to Penang solely for the food?
When you're in Southeast Asia, good food can be found anywhere. So really, why Penang?
I haven't fallen in love with Penang, but I like it and will return when I'm in the area in the future.
Penang has plenty of attractions and activities ensuring everyone will be happy enough here.
But I've also figured out who Penang isn't for.
I've now visited Penang three times. This time I spent the first two nights at Sweet Cili Boutique Homestay, the perfect spot to stay after a month volunteering in a Ipoh hostel. Hostels are cool, but a nice private room in a cool spot is always going to win out.
Sweet Cili Home Stay (pronounced 'chili', but that's the spelling in Malay) is in a different area of Georgetown than I'd stayed previously.
The hotel is located on a quiet side street with a few food vendors on the nearby intersection in the evening.
Pro's Of Penang
Awesome food
Awesome street art
Tourist infrastructure
Friendly people
Hiking galore
Con's Of Penang
'Too touristy'
Traffic be crazy
No great beaches
Alcohol isn't cheap (as a whole)
Few green spaces in Georgetown
Is It Worth Visiting Penang On A Short Trip? Yes! Because…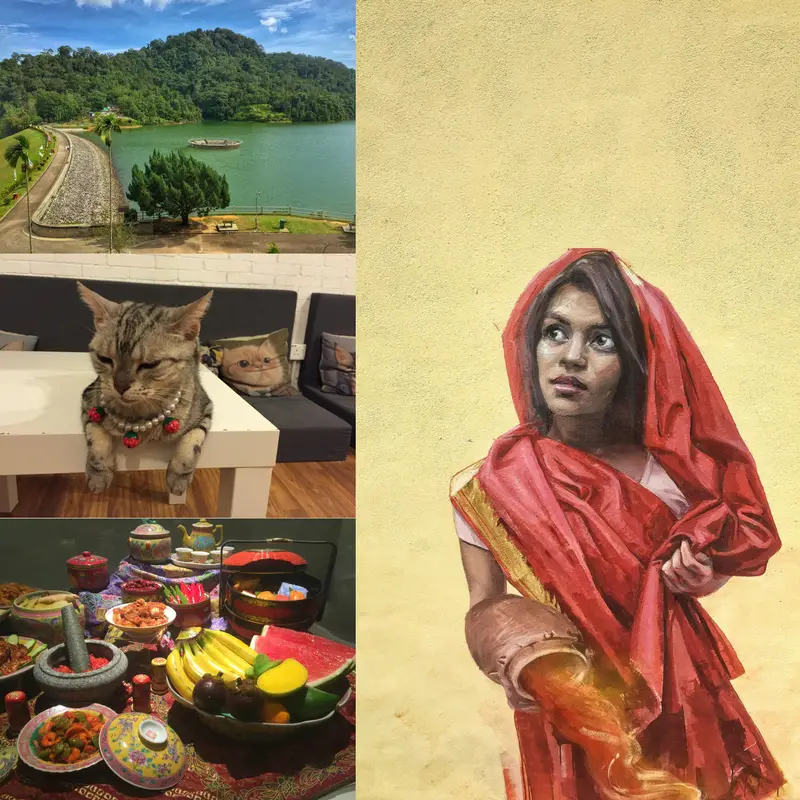 …food. If you like all things food related to Chinese, Indian and Malay, Penang is a winner for you. Not only are there a tonne of options, they're all done well at cheap prices and plenty of options can be found 24/7.
…street art. Street art has become a phenomenon around the world and Penang does it as well as any. The art doesn't have the graffiti style of places you might find in Melbourne but the fact they bring artists in from around the world such as Volchkova and Zacharevic gives the place instant credibility.
READ MORE: ABOUT THE STREET ART IN PENANG
…Penang is ready made for tourists. When a place becomes a tourist hot spot, there needs to be a range of restaurants, accommodations, activities, transport, bars and clubs to fit all types of travellers. If you come to Penang nothing is 'hard', always a bonus…unless that means it is too touristy for you of course.
…the people are still friendly. Despite spending four months in Malaysia this year, my Malay is horrific (bad Jub). Everyone speaks English to some degree here, many perfectly fluent making everything easy in Penang. And personally, I found everyone genuine for the most part. If they're helping, they're not asking for anything in return.
Why You Shouldn't Visit Penang
You like lots of greenery. Penang National Park and Penang Hill are both awesome nature spots for hiking not too far from Georgetown. Georgetown itself? Green space is lacking. There are a couple spots, Armenian Park and the Esplande near Fort Cornwall but nothing right in the heart of the city where you can just hang out.
You need always need a nice beach nearby. Penang is an island, of course there are beaches. Silly Jub. If that's what you're thinking it's true, there are beaches. Having gone to Batu Ferringhi I wasn't impressed and the other beaches weren't set up to spend entire afternoons at. You'd be better off in Langkawi if beaches mean everything to you.
The traffic is too crazy. If you want to explore the island, be prepared to sit in traffic. As I work in the co-working space in Penang, you hear tooting throughout the day. The smaller streets struggle to flow with limited parking creating nightmares (maybe they need to create more walking only zones in the Old Town) and casual foot traffic not helping the cause. You'll be walking around Georgetown mostly, but soon as you start going beyond the town, frustrations can set in.
It's not the same as it once was. Of course it isn't and the locals aren't afraid to say that. Thanks to Georgetown becoming a UNESCO Heritage Site, lots of effort has gone into preserving the buildings and helping the original locals stay in these buildings.
RELATED POST: KUALA LUMPUR TO PENANG BY CAR – A TRIP REPORT
Penang Alternatives That Are Same Same But Different
Ipoh: Penangs biggest draw cards are street art and good. Ipoh delivers both of these with more chilled vibes and cheaper prices (~20% cheaper overall from my experience). The atmosphere isn't as exciting however and the tourist infrastructure still needs a bit of work.
Malacca: I haven't been here myself, but have heard it's both great for the food and street art scene. A common thread all over Malaysia perhaps? Kuching too?
Sweet Cili Boutique Homestay – My Time Here

Walking into Sweet Cili I felt right at home kicking off my shoes inside the door noticing the swinging chair right away. The lone staff member was relaxed behind a simple desk to check me in.
All the rooms are named after a spice mine Sayanna, the first room on the right as you enter upstairs.
There are eight rooms at Sweet Cili keeping it truly boutique (part of the Spices Collection). I stayed in a standard room. The room was comfy and the a/c was turned on right away after hauling the backpack all day from Ipoh via hitchhiking.
This really is a boutique homestay, nothing misleading here.
I took a look at their sister property, Spices Hotel. The set up was very much the same inside the rooms. The rooftop would be a choice spot to spend an evening with friends and the tree built into the wall. Also on the right, that street art, how cool is that!
After each day exploring, I would make a cup of tea in the kitchen next to the lobby hoping people would pop by for a chat. Unfortunately, my timing didn't work out but it was nice to have a little kitchen area to hang out and meet other guests. There's even a swinging chair when you walk in 🙂
I really did feel like at 'home' here, not that I have a home but you know what I mean.
If nothing is quite right (no 'do not disturb' signs), they'll ensure you are sorted, otherwise they leave you to be independent, perfect.
Overall, Is Penang Worth It For You?
It's never going to be a bad mistake to go to Penang. Those who shouldn't go are:
100% beach bums
people who like a big party scene
people who like to stay off the beaten track
Not in this group? Visit Penang!
Still undecided? Pin this post for later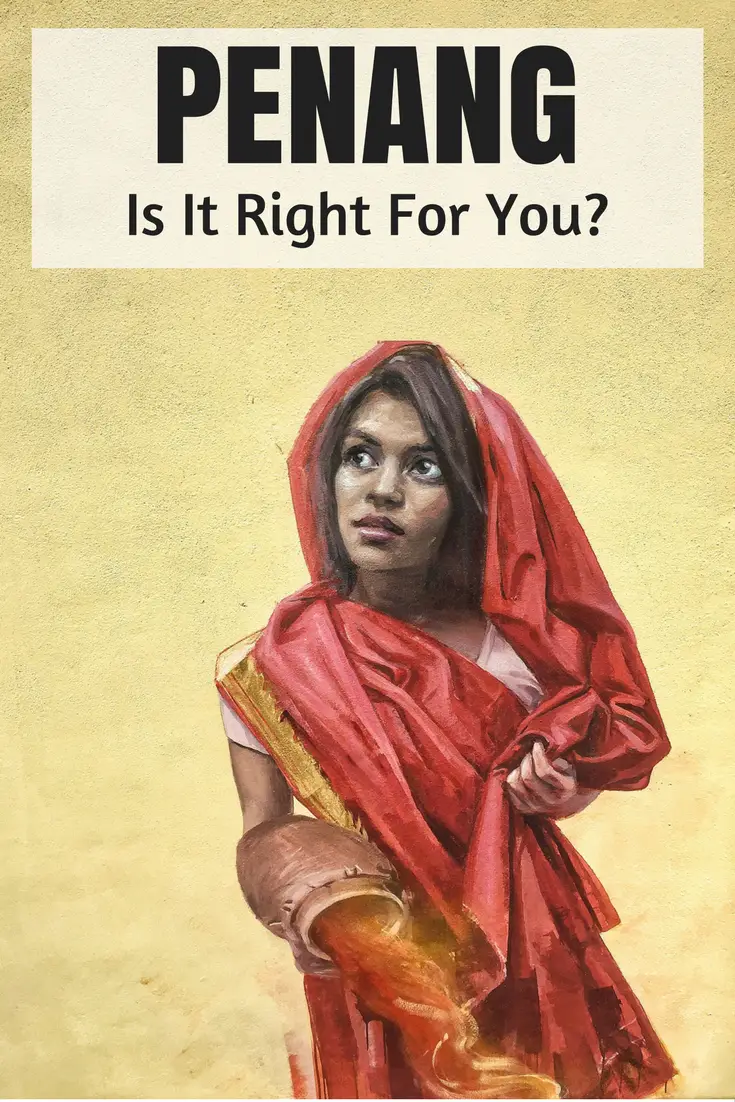 Disclaimer: My two nights at Sweet Cili Boutique Hotel were complimentary. I have full control over this piece with all my opinions and thoughts. Prices at Sweet Cili start at 32USD for a single room.
RELATED POST: IS KL WORTH VISITING?