Cappadocia and hot-air balloons. If you search for photos of Turkey's Cappadocia, you will see hot air balloons.
Ballooning wasn't quite in my budget. Well honestly, I was also nervous I wouldn't wake up at whatever nasty hour you need to if I booked a sunrise flight.
Luckily, the hiking in Cappadocia, a UNESCO World Heritage Site is awesome. If Cappadocia isn't on your bucket list yet, you'll be making an update shortly.
There are hundreds of caves to explore, photos to take, phallic rocks to touch and lovely locals waiting to serve you tea in their humble abodes among the fairy castles.
MORE CAPPADOCIA INSPIRATION: SONAL FROM DRIFTER PLANET LOVES CAPPADOCIA
The Cappadocia region is massive, but the touristy areas are Nevsehir, Kayseri, Aksaray and Nigde. It's the main area where volcanic ash solidified and has since eroded over millions of years to form the fairy houses you see today.
Over the years, the people residing in the area dug caves from the soft rocks and resided in them for decades at a time. Considering the region is approximately 1000m above the caves keep reasonably stable in terms of temperature year round.
You can get an idea of how soft the rock is when climbing around the caves. It would still take a long time to make a proper cave with separate rooms though!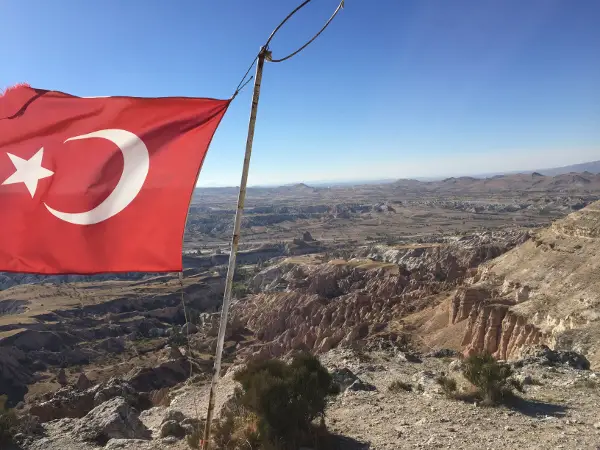 Note: I visited Cappadocia in early October 2015. Cappadocia in October is great as the huge hoards of summer tourists are gone yet it isn't dead like when I was in Lake Baikal before peak season. The temperatures weren't sweltering (still cried about the heat) so I highly recommend October as a great time to visit.
Cappadocia Facts: Cappadocia (spelt Kapadokya in Turkish) is thought to be translated from 'land of beautiful horses'.
Pigeon Valley, Where Are The Pigeons?
Pigeon Valley is an ideal place to start your Cappadocia hiking adventure. You can get a feel for the valleys and how they work. I hiked around the outside of the valley, finding myself in a couple of precarious positions where an imminent fall to death was possible with a few beersies in me.
It was surprising actually, there were a few spots where I wouldn't blame them if their was wire fencing for safety reasons.
Unfortunately as I didn't have a lay of the land I never ended up in the actual Pigeon valley itself having gone around the majority of the perimeter.
What was bizarre was there was no pigeons…they are in every city around the world…yet not in Pigeon Valley?
Uchisar Castle, A Very Unique Castle
Uchisar Castle can be spotted from all over Pigeon Valley towering above its surroundings in a Sigiraya like fashion. The town of Uchisar is beautiful and less developed than Goreme due to its location.
Most people head straight to the top of Uchisar Castle which was my plan until two separate groups told me to not bother. They mentioned the views weren't all that much better, and there are less people hunting off the trails around the base of the castle. Perfect!
Following their advice I got some awesome views from the bottom of the castle and had a blast exploring the caves. An hour or so later it was time to head to Love Valley (via White Valley) along the main Goreme-Uchisar road.
White Valley, So So White
Having walked roadside for ~800 metres from Uchisar it was back onto trails next to Ozler Centre Artisanal (GPS 38.634851,34.8104).
Initially the walk was flat, pretty uninteresting following the trail as per maps.me. Eventually (~38.641193,34.813078) you drop back down into the valley. The path is pretty clear and as long as you are going in the right direction you're sweet as there are few ways out of the valley once you enter.
The path sometimes split and there were a couple cool places where I crawled through rocks popping back out onto the track on the other side. If you're claustrophobic, stick to the paths.
The White Valley is confusing as it doesn't officially start anywhere….the valley walls gradually turn white and before you know it the whole valley is a distinct white beaming back at you. It was something unique that is for sure yet I found myself quickly moving through to Love Valley.
No Loving At Love Valley
Approaching Love Valley I had no idea what to expect.
On arrival, everything was clear. It's not hard to spot the reason for the name 'Love Valley'.
Now I understand history and time takes a long time to erode away at the rocks etc. but the physics of it all is hilarious. Memorable to say the least.
It was great to see both White Valley and Love Valley living up to their names after not finding any pigeons in Pigeon Valley. p.s. I hate pigeons so not finding them was awesome.
Having taken some snaps and giggling away to Snapchat I popped into a small café.
The older couple who lived there were great to talk to (and they had kittens!). Despite the relative remoteness of their humble abode they enjoyed the space having previously been living in Goreme and watching the place change as more and more tourists came to the area.
They said the town had changed, not necessarily for the worst as they still love Cappadocia but enjoy the peace and quiet more. Two Turkish teas later it was time to move on with hydration levels replenished.
Pro Tip: Take plenty of water!
Getting out of Love Valley was easy enough, just keep heading in the same direction and once you hit the road follow the signs back to Goreme a few kilometres away.
Rose Valley, So Good Looking
Cappadocia's Rose Valley is the most popular valley in Cappadocia. Every morning hoards of Hot air Balloons take off at dawn, and tourists flock back to see the rocks fire up at sunset.
Rose Valley was my first destination of the day two. While the White and Love Valleys the day before were quite defined, for the whole day I struggled to differentiate when I was in Red Valley and Rose Valley. Thankfully I found signs pointing me in the direction and Rose Valley is actually massive.
There are plenty of 'churches' you can pop into along the trails not only here but all over Goreme National Park. Despite being 'churched out' in Europe, a church was a good sign in Cappadocia as it meant you climb all over the show.
Eventually I decided to head to a view point, stunned by how few people I'd seen up until this point. The viewing point was pretty darn good I must say, giving you an awesome view and it turns out you can get a great view simply by driving there.
There are also a couple small cafes here, I hadn't learnt my water lesson from the day before.
I saw some higher peaks and spent an hour going further away from Goreme getting the above view. It's amazing how lazy humans are, keep going a little bit more, the rewards are awesome!
Red Valley
After exploring Rose Valley I decided to head back via Red Valley now that I'd got my bearings sorted and kind of knew the difference between the colour rose and red.
Red Valley was a good choice to walk back via as it's a lot more shaded and narrow yet you can still jump off the track to explore caves in depth. To be honest after a massive day exploring Rose Valley I was pretty knackered so other than stopping for a quick beer at a random café run by some fun Syrians I was moving fast to get back to Goreme before sunset.
Off The Beaten Path Hiking In Cappadocia
I was scouring Maps.me for hiking trails on my last day and found a couple churches, Karabukut (38.621426,34.825967) and Cistern (38.622559,34.827499). It was a 3.5km walk or so along the top of a ridge line on a easy to follow trail from Goreme. No one else was in the area and to be honest, I had my hopes up a lot but was disappointed with the 'cave entrances', they didn't lead to any large caves. There was some cool artwork it's easy to see why no one else was around. On the way back I decided to head down into the valley and see where I ended up.
With no one around, I started freaking out when I'd managed to scale up four stories of one large cave (!38.624462,34.833401). To get to the top involved getting up the last few metres with no stairs. Getting up was okay but coming down was a vertical drop.
I was a bit of a drama queen up there, the heart was racing eventually making it down with all bones in tact. And clean undies.
The valley was the toughest valley to navigate on the trip with the heart rate finally dropping back to normal when I found a dirt path taking me to Goreme.
If you happen to be in Cappadocia for four days or more it's worth checking out otherwise give it a miss. Ideally go with someone else….it was a bit scary not knowing how long it would be if I got injured with no SIM card in the phone.
What Is The Best Valley For Hiking In Cappadocia?
If you insist…
 Rose Valley
 Love Valley
 Red Valley
 White Valley
The Rest
For hiking alone, you can't go past Rose Valley. The colours are constantly changing with the sun, the elevation change is great, the caves are large and there are multiple routes taking you to stunning 360 degree view points.
Why I Didn't Visit The Open Air Museums
The Goreme Open Air Museum is the most popular attraction in Goreme but at no point was I tempted to visit it. Some people were saying it's well worth it, others said you are better off exploring on your own.
Of course the latter sounded awesome to me. In hindsight it would've been nice to go to the museum first thing in the morning on the first day to get a bit more information and history for the rest of my time hiking in Cappadocia.
Best Spots For The Cappadocia Sunset
There are four popular spots for watching the sunset in Cappadocia which are easy to get to and want be an issue to navigate in the dark.
Goreme Viewpoint (38.641532,34.832042)
Rose Valley View Point (38.653319,34.863242)
Uchisar Castle (38.630591,34.805405)
Uchisar – Goreme Viewpoint (38.641899,34.81935)
Where To Stay In Cappadocia
Goreme is the best town to stay in while visiting Cappadocia. It has plenty of tour agents who will help you organize any tours you want to do.
I stayed at the Whisper Cave Guest House as my base for all my hiking in Cappadocia. The owner is great and was able to check me in early as there was a bed ready which was great. The cost included a buffet breakfast upstairs with an epic viewpoint & the staff are awesome.I highly recommend staying here
How To Get To Cappadocia From Istanbul
I caught a overnight bus from Istanbul to Cappadocia. I simply went to an agent for the bus company and brought a ticket in the afternoon. They issued a ticket and let me know what time to return with my gear where a mini bus picked me up and took me to the bus station.
The bus was pretty comfortable, the best part was the line of single seats on one side of the bus. Very ideal for a solo traveller. I believe the bus ride was 11 hours as expected and Goreme is small enough so you can walk to every hostel/hotel in the town from the bus stop.
You can also fly from Istanbul for a reasonable price. The cheapest airlines to look up are, Pegasus and Turkish Airlines. When I took a look the prices were about the same as if you used SkyScanner.
The flights were quite reasonably priced too even if you book just a couple days in advance. The only issue is the two airports closest to Goreme are quite a way from the city.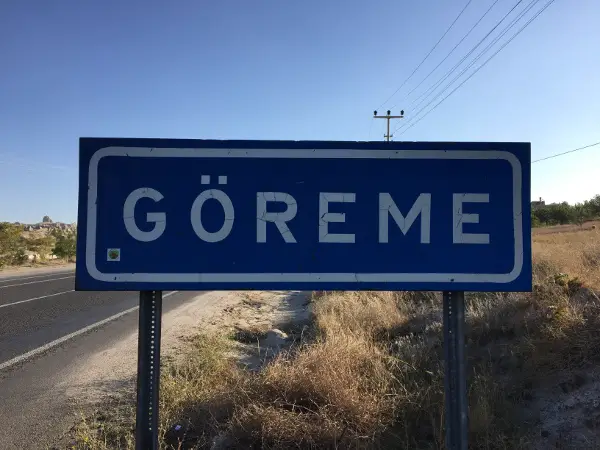 If you're in other Turkish cities, it's much the same. Bussing is easy but you might also be able to get flights.
Next time you're in Cappadocia, trekking through the various valleys will be one of the best things you do all year.
Clearly I love hiking, for example it's the main thing I did in Zakopane and I also got plenty of days hikes in Europe completed too.
PIN THE IMAGE BELOW FOR TRAVEL PLANNING INSPIRATION