As the European winter comes to a close, the best hiking trails in Europe start to get traffic from locals and tourists.
A good day trekking is one of my favourite activities when travelling (it helps they're usually free).
As you start to plan your Euro summer adventure, consider popping a few of these hikes the to-do list.
These 10 hiking destinations in Europe are compiled by a few bloggers and myself. I'll speak for them all and say we all had a blast on these trails.
---
1. Montserrat National Park Leaves You Surprised, Exhilarated & Proud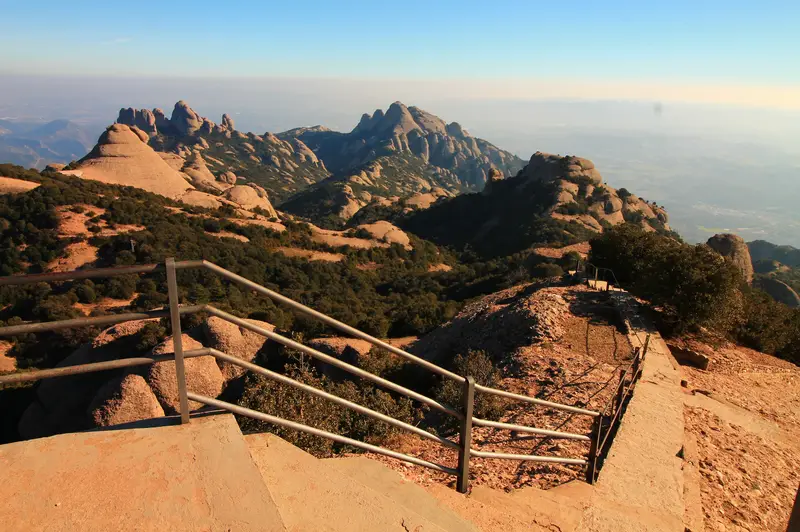 Natasha from World Inside My Pocket shares her Montserrat National Park experience:
If you find yourself in the Catalonian capital of Barcelona, make sure Montserrat National Park makes your bucket list. The hike from Montserrat monastery to the peak of Sant Jeroni takes about an hour and a half on average, maybe two hours if you're slow.
We set off on the hike originally only intending to hike maybe a quarter to see the incredible infamous rock formations but once we set off we knew we couldn't turn back before we'd reached the top.
The further you get into the National Park, the stranger and more beautiful the mountains become; some describe them as teeth, some as a serrated knife- to me they looked like fingers protruding from the landscape, strangely round and bulbous in shape and nothing like I'd ever seen before.
Reaching the peak of Sant Jeroni was exhilarating, to say the least, especially since we hadn't even intended to finish the hike. The summit graces you with a perfect panoramic view over the mountain range that reaches all the way to the snowy tips of the Pyrenees on the horizon.
RELATED POST: I WENT HIKING IN MONTSERRAT AND LOVED IT!
---
2. Hiking In The Evergreen Forest Of The Black Forest, Germany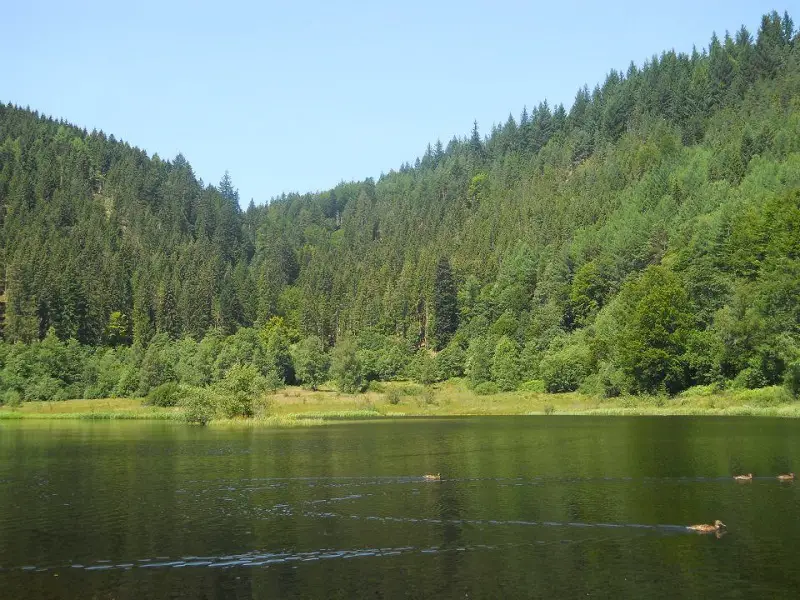 The Black Forest is somewhere I was supposed to visit in 2015. Shannon of Sole Seeking enjoyed the spot and has me penciling it in for 2017:
Covering 160km in length, the Black Forest in southwest Germany is an evergreen kingdom home to picturesque trails, pretty villages, Germany's highest waterfall, cuckoo clocks, and of course, a delicious cake.
Editors Note: Pretty much all the ingredients to make it one of the best hiking destinations in Europe.
I began my discovery of this mysterious forest in the market town of Freudenstadt. From the market square I joined Talstrasse which led me past the river Forbach and onto a forest trail. I carried no map with me and instead followed the signs along the easy gravel-pathed/forest trail, making a random choice when there was more than one option.
As I began descending downwards past a waterfall, I began to wonder where I was. Then a glistening light in the distance caught my eye. Following the trail further, I emerged from the forest to find a dazzling lake in front of me.
Its name was Sankenbachsee (as seen above) and it welcomed dogs, sunbathers and plenty of ducks. Bathed in the afternoon sunlight, the whole area had an aroma of tranquility to it.
Upon finding this lake, I felt surprised, lucky, and fulfilled. The experience showed that you can find something amazing by following your feet instead of a map. It's roughly 8km to get to the lake from Freudenstadt, so bring a book, a picnic and your swimsuit and make a day of it!
---
Will part of your European trip be in winter when hiking isn't realistic? These are some awesome winter destinations to visit
---
3. Norway's Hike to Trolltunga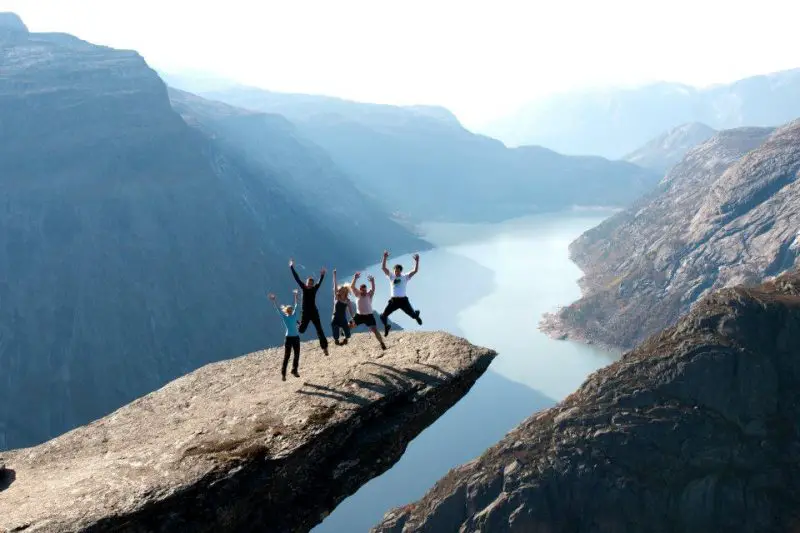 I took this from Sabrina's blog, Backpacking Like A Boss (sensational blog name too). This is one of the places you've probably seen in countless Instagram photos (p.s. she let me use her photo):
It really does look like you're on the edge of a cliff! Turns out the photos of Trolltunga are a result of some tricky camera work. The cliff isn't quite as crazy as it appears, but not going to lie, but it looks sketchy to me still.
Something else I didn't expect? It's a 30km hike round trip! That's definitely at the upper end of day hike distances, and depending on where you sleep overnight, you could be in for a very long day. Totally looks worth it though, right?
If you're considering Trolltunga, make sure to experience these two awesome hikes in Norway while you're at it.
---
4. Exhausted, Accomplished & Thirsty At Bulgaria's Seven Lakes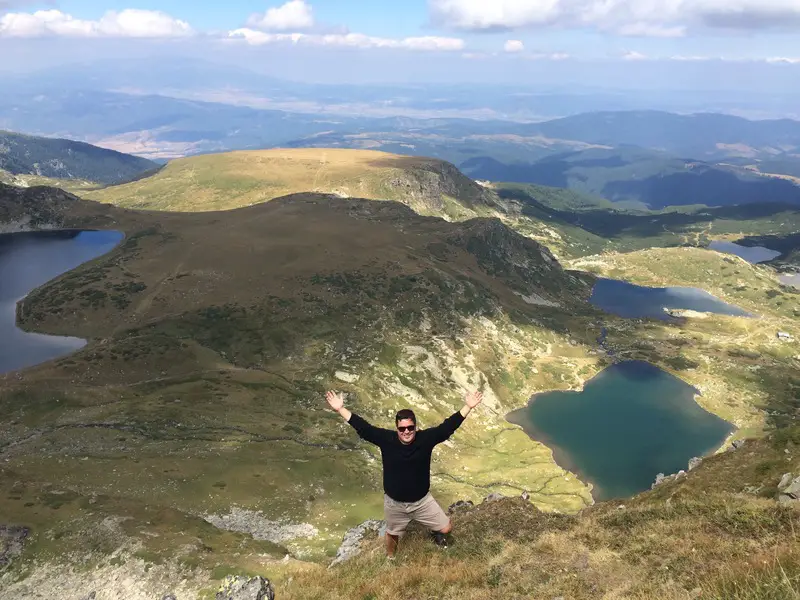 Foodie Flashpacker Nathan rates the Seven Lakes Hike of Rila, Bulgaria as his favourite best one day hikes in Europe:
Spending a day hiking in Rila, Bulgaria is amazing, because as the title suggests, the hike takes you through an area with seven different lakes.
The scenery is stunning – lakes of deep blue with rolling fields of green peppered with bright flowers.
Hikers take midday breaks to make picnics next to lakes and rest up for the remainder of the hike, chatting with other hikers as you lounge next to some of the best natural scenery in Bulgaria.
Although the hike is only medium difficulty it will take the better part of a day.
---
5. Is Andorra One Of The Best Walking Destinations In Europe?
Gabor takes us to the small nation of Andorra, where she has pretty much convinced me this could be the best day hiking spot in Europe:
Andorra is a tiny country just a couple of hundred kilometers from Barcelona, and it's an excellent destination for hikers.
There are many trails in Andorra, but one of the most amazing experiences is hiking the glacial circuit of Pessons.
This route has a moderate difficulty and it takes about 6 hours to hike the whole circuit. The total elevation gain is about 800 meters, but it's quite gradual, so no more than moderate physical form is necessary.
The scenery is picture perfect during the whole hike, since you will visit many different lakes, which all have something particular, different shape or color.
The final part of the trail is the climb up to the Collado de Pessons (Pessons Mountain Pass) from where you will have a simply spectacular panoramic view of the Pessons lakes on one side and the Arinsal Lakes on the other. Standing there and being amazed by this vast landscape, I felt really small.
---
6. Awesome Times Exploring Montenegro's Durmitor National Park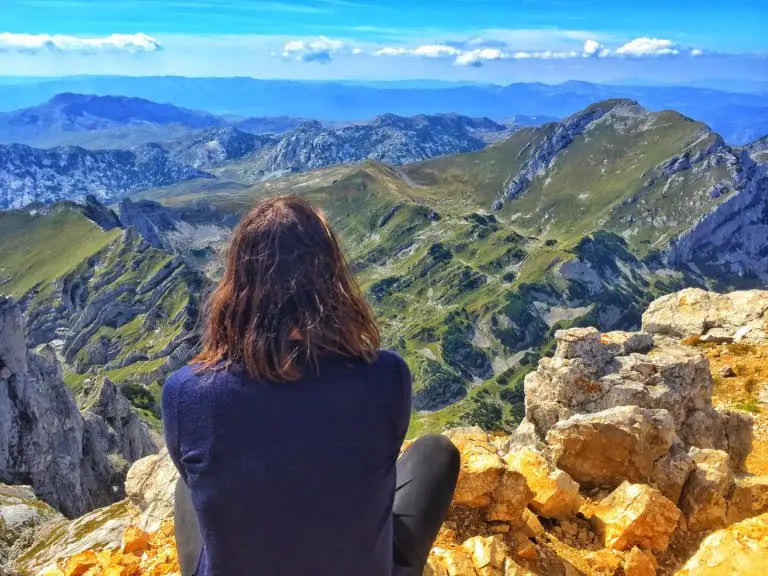 Allison rates Durmitor National Park as one of the best places for hiking in Europe:
Durmitor National Park in the northeastern corner of Montenegro is one of the most spectacular places I've ever seen. Ages ago, glaciers melted and left behind gorgeously carved limestone rocks in its place.
There are tons of hiking paths you can try – the Black Lake (Crno Jezero) is an easy one for beginners. For more advanced hikers, you can't miss Bobotov Kuk – at just over 2,500 meters, this mountain is the highest in Durmitor and a perfect day hike. It takes about three to four hours to summit, another three to go back and is of moderate difficulty.
Near the top, you can see an emerald blue glacial lake, a reward for being almost there. When you get to the top, you can see three countries from the peak: Montenegro, of course, as well as Serbia and Bosnia. (sidenote from Jub: Does this make these three the best contries for hiking in Europe?)
At the summit, I was exhausted, awestruck, and inspired. It was worth every minute of the climb.
---
7. An Easy Hike To See The Whole Country Of Liechtenstein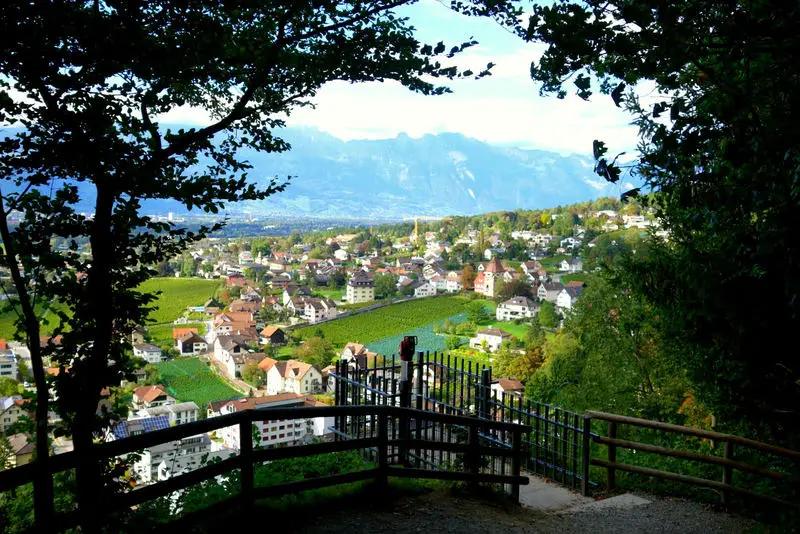 Barbara makes it easy with a short hike close to Vaduz as she recounts her experience:
Liechtenstein is one of the smallest countries in the world. It's capital, Vaduz, a very cute little town has a population of about 5100 people.
There is a steep hiking route to the top of the mountain in Vaduz. On the mountain, hikers can see the Vaduz Castle. From up there hikers can see the entire country. The hike is not very difficult and a fit person can reach the top in about half an hour. The view is spectacular.
---
8. Kotor Bay, More Awesome Hiking In Montenegro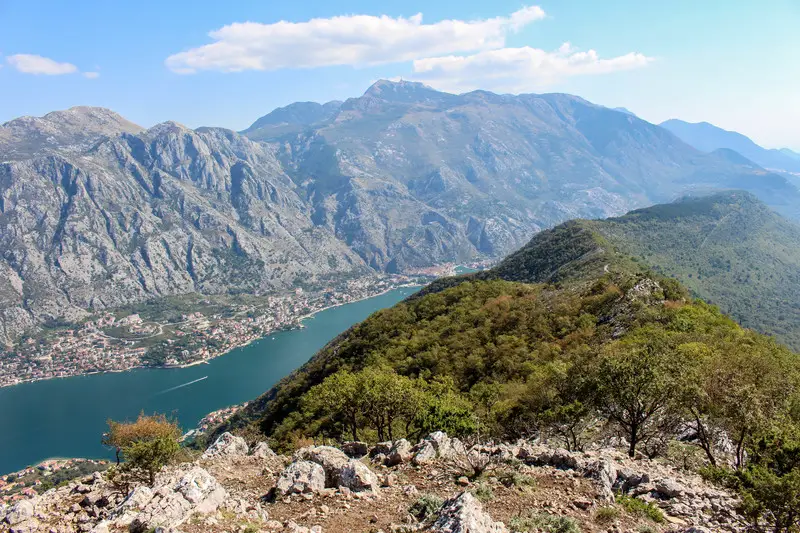 Maria shares her Kotor Bay experience:
Kotor Bay is a coastal area in Montenegro, nestled between the hills and the Adriatic Sea. The hilly terrain makes it the perfect base for day hikes. I went on a 10km guided hike through the country's wild beauty, which was without a doubt one of the most scenic hikes I've ever done.
The barely used trail starts in Lower Stoliv and takes you through the most charming chestnut forest, an abandoned village and rocky terrain before reaching the top of the hills.
After a few more hours with stunning views of Boka Bay you reach the highest point in the area. This former Soviet base certainly is an unusual lunch spot where you can take in the natural scenery while having a picnic on top of what looks like an old bunker. Follow the trail through the ever-changing landscape all the way back into Kotor.
Although the hike took me 9 hours to complete with breaks and (a lot of) photo stops, the level of difficulty would be suitable for beginners with good fitness levels.
Edit From Jub: I've since been to Kotor and holy, this is just one example of why some people say the Balkans have the best hikes in Europe (I wish I go to the Albanian Alps before they snowed).
---
9. Hiking The Circular Route In Meteora, Greece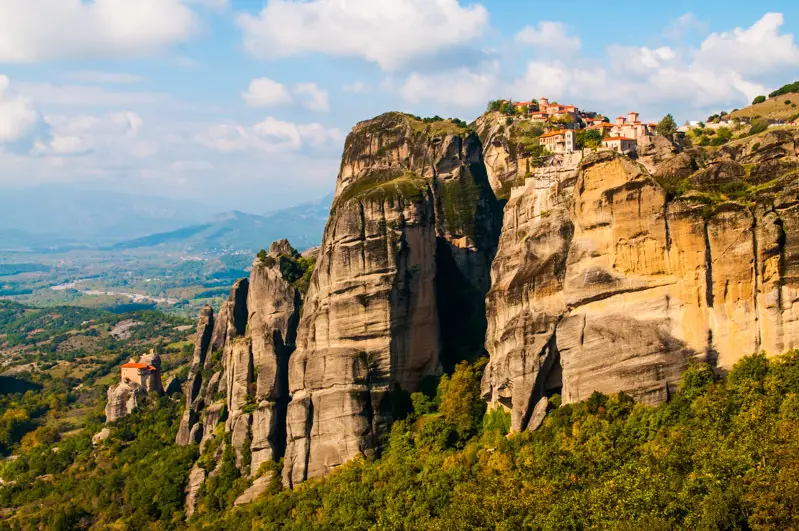 Sarah from Live Dream Discover tells us about Meteora:
One of our favorite hikes in Europe is in Meteora, Greece. As healthy life balance seekers, we look for hikes that challenge us a little physically but that also provide immersion into nature and some sort of reward in the form of an epic vista or cool touristic sights. This way we can combine fitness and sightseeing into one awesome package. Hiking in Meteora ticks all of our boxes and more!
The hike we did was a 9 km circular route which took us through pine and deciduous tree covered mountains and valleys and up to the top of the rock towers where the famous Greek Orthodox monasteries are perched. The full circuit took just over 6 hours but this included breaks to visit the awe-inspiring monasteries themselves.
---
10. Hiking All Around Interlaken, Switzerland For The Views
Hiking in Interlaken, one of the adventure capitals of Europe was incredible. I went on three separate hikes, none of which were over three hours total. If you want to see the crazy nuclear like water from above with minimal effort, head to the Schibflue viewpoint for a fairly flat walk.
Kleiner Rugen is a hill close to the city center yet with a labyrinth of trails I had fun hiking up and town trying to find as many angles of the city and lake as possible. A few good picnic spots could be found here too.
The last hike to Harder Kulm took a bit more effort but if you can't convince your friends to join you, suggest to them the tram that'll meet you at the viewpoint. Really though, bar a couple of steep stretches, anyone can manage this walk.
This could well be the city with the best day hikes in Europe on a city doorstep, literally.
---
Bonus From Me: 11. The Tatra Mountains Is The Best European Hiking Destination (imo)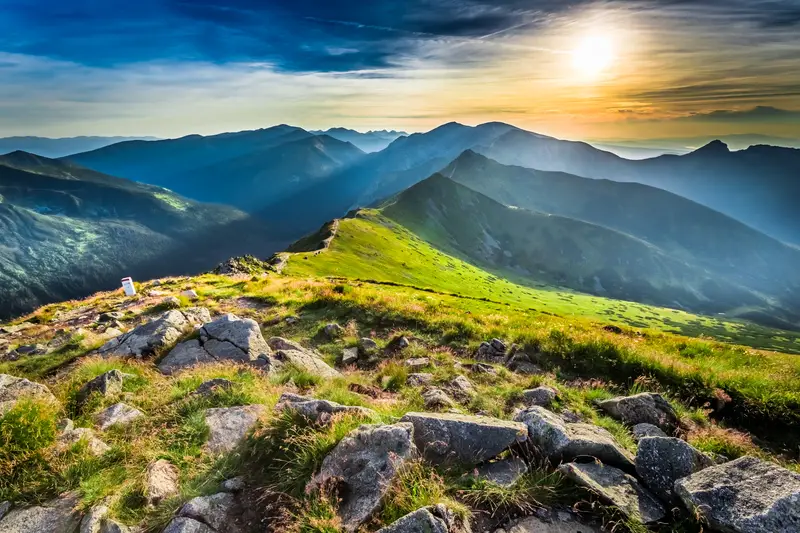 Zakopane! I went here on a recommendation from a Polish friend I met in Latvia. I simply asked, "where do the Polish go on holiday domestically if they want to hike?"
She immediately replied "Zakopane for the Tatra Mountains".
I spent a few days running the trails and had a blast, despite the weather not always corporating. The trails never get too far away from your starting point if you choose the left and rights strategically so you can hike for as little as an hour up to 12 hours a day for a week (and everything in between).
---
There we go, these are definitely some of the best hikes to do in Europe.
I wanna thank the bloggers who helped me out here. I'm looking forward to making my way to a few of these hikes in the 2017 European summer (Andorra in June will be the first one).
If you enjoyed this post containing some of the best short hikes in Europe, pin away!