THIS POST MAY CONTAIN AFFILIATE LINKS. PLEASE READ THE DISCLOSURE FOR MORE INFO.
Does your bag look nicely packed before you start travelling?
After a few days of travel, does your bag resemble a war zone?
If so, you aren't alone (totally guilty myself). Luckily for us, someone created packing cubes! In this post I review the best packing cubes for travel available on Amazon.
They're such a simple concept, but once you use packing cubes, you never go without.
---
*Note most brands have a variety of sets available beyond the set listed in each review.
---
Packing Cubes Aren't A Gimmick. Use Them Once And You'll Become A Lifelong Fan –said every person who uses packing cubes
---
---
This is a 4 piece set. 1x extra large, 1x large, 1x medium, 1x small.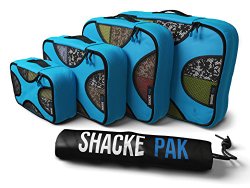 ShackePak Packing Cubes are one of several accessories under the Shacke brand. The California based company creates innovative travel products based on customer feedback. Their packing cubes are designed for shorter trips from 1- 10 days regardless of the trips purpose. Interestingly, they have been adopted by long term travellers too thanks to the lightweight material.
The extra large cubes aren't very practical for backpacks, but fit nicely in the majority of suitcases.
The nylon ShackePak uses is high quality, although some users have noticed it becomes worn after a few machine washes. To counter this stick to hand washing for maximum utility.
The YYK zippers ensure the zips don't get caught when you close the cubes even when there is slack in the cubes when they aren't fully packed.
They also include a free laundry bag as many people use packing cubes as a laundry bag. This is asking for disaster as clean clothes end up getting mixed with the dirty.
When you receive your Shacke Pak packing cubes, register your product online right away so the lifetime warranty applies (and you may also be eligible for a free gift). If packing has always been a struggle for you, watch the Shacke Pak tutorials online (I've put a YouTube video towards the bottom of the article) and you may pick up a tip or two.
Colours available: black/blue, gentleman's blue, aqua teal, precious pink, orchid purple, mandarin orange
Click to read more about and buy ShackePak Packing Cubes
---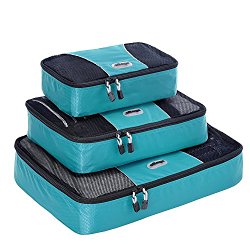 This is a 3 piece set. 1x large, 1x medium, 1x small.
This set of packing cubes is from the mammoth online bag retailer, eBags. Since 1998 they've sold millions of baggage related travel items from well known retailers all over the world. In addition to selling products of leading retailers, they manufacturer a number of their own branded items, including you guessed it, packing cubes. eBags actually describe as a packing aid.
eBags have gone all out with their 3 piece packing cube set. The Chinese made packing cubes are made from Techlite Diamond nylon, proven to hold up with heavy use. The bags are designed with double meshing enabling you too see what's in the bag which can be hung thanks to the attached hoop (anyone who wears a lot of dark colours will appreciate this). The double meshing is a nice touch, as a single layer can rip if you get a bit lazy.
The bags are offered in 10 colours, and with well known zipper brand YYK on the case, you can zip the bags up easily without them getting jammed on the corners or catching the stitching.
Some say the eBags packing cubes are flimsy making it hard to pack but this isn't a sign of low quality. They bags are lightweight and fold down to a small tidy product that comes with a 100% lifetime warranty. As long as you place the cube on a flat surface when you start packing, you'll have a sturdy cube in no time.
If you have a backpack, the large eBags packing cube isn't the best for travel. If you have a suitcase, the large cube fits fine. Great for heavy clothes in colder destinations.
Colours available: black, grasshopper, aquamarine, denim, raspberry, eggplant, titanium, peony, canary, tangerine
Click to read more about and buy the eBags packing cubes
---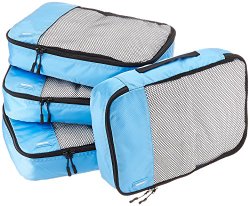 This is the set of 4 medium cubes.
Amazon has jumped into manufacturing cheap packing cubes for travel. They are cheaper than most choices in this list, with the main difference being the polyester material rather than nylon.
One benefit of polyester is that the four pieces can be put into a machine wash (they aren't suitable for a machine dryer).
The branded Amazon packing cubes include the standard meshing on one side to enable you to see inside the packing cube.
The products are made in China and have a handle with a lower quality zip which gets jammed when zipping around the corners. Not ideal if you tend to be a bit rough with your property (or are in a rush, same same).
Your local supermarket likely has it's own brand of food, usually the cheapest option. This is essentially what with the packing cubes, Amazon have created solid no frills products. While the product quality isn't like that of nylon, they're a solid set of luggage cubes.
Colours available: Black, blue, grey, green, red, sky blue.
Click to read more about and buy the AmazonBasics packing cubes
---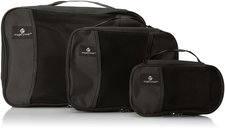 This is a 3 piece set: 1x large, 1x medium, 1x small.
Eagle Creek entered the travel packing game in 1996. One of their popular offerings is the three piece packing cubes to help create organisation for those who like to keep moving. Interestingly, they also started their company in California.
Made in Vietnam with 300D Poly Micro-Weave material, the Eagle Creek packing cubes are smaller than other options, therefore are suitable for backpacks rather than suitcases.
Zippers, they are not the best such as TTK but get the job done.
With a return rate of less than 1%, they are happy offering their lifetime warranty to all customers.
Colours available: black, blue sea, red fire, fern green.
Click to read more about and buy the Eagle Creek packing cubes
---
This is a 6 piece set: 2x large, 2x medium, 2x slim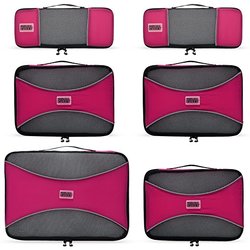 Pro Packing Cubes bring the hype, stating they're the most technologically advanced Travel Cubes on the market. They've tested their cubes with a variety of people in the adventure travel space, some of the fussiest packers.
Their packing cubes are made of UNIQUE ultra light and durable tip-stop nylon, with double YYK zippers. If you take it just from this previous sentence, the product is very high quality.
When people put too much stuff in packing cubes, the stitching tends to break first, so the reinforced seams are double stitched on the inside. They're pretty much indestructible and are therefore what I think are the best packing cubes on Amazon.
They offer a different set of cubes to the standard packing cubes for travel. With 1x large, 3x medium and 2x slim. The slim is not the usual small squares but more of an oblong suitable for shoes.
The products are made in China, but as you've seen the products are all about strength and convenience with the mesh tops double stitched.
The only gripe buyers seem to have is the rubber label, which adds unnecessary weight. Unless you're looking to scale Everest the difference of less than an ounce isn't worth mentioning. If you weren't too like these packing cubes, you can always utilize their 100% lifetime warranty.
p.s. check out the Amazon listing for discount codes for bulk buys.
Colours available: hot pink, aqua blue, graphite, silver, sunset orange
Click to read more about and buy the Pro packing cubes
---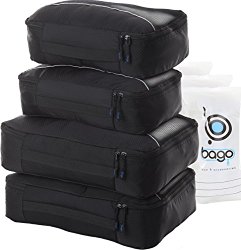 This set 4 piece set contains: 2x large, 2x medium
The Bago Travel Bags brand strives to enhance the experience of each traveller with their lightweight, high tech baggage options.
They also understand a travellers needs, so when your four packing cubes arrive the added bonus of a plastic document holder is a nice touch (I could benefit from one of these).
The nylon bags are made with some segments of polyester which previous buyers appreciate as it helps the material stand up more when packing, yet folds down to pretty much nothing when not is use.
p.s. Keep an eye out for special discounts on packing cubes they have on their Amazon page.
p.p.s Make sure to register your products on their website, where you can get a free e-guide and are able to claim your 100% satisfaction guarantee if needed.
Colours available: Black, yellow, blue, orange, deep blue
Click to read more about Bago packing cubes
---
Rusoji – No Frills Isn't Always Bad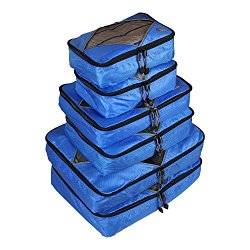 This set contains 6 pieces: 2x large, 2x medium, 2x small.
Rusoji, haven't got a strong presence like many of the other brands featured here but many like their packing organisers for low key travel with no bright colour choices.
The 6 piece set can be suitable for two people which is a bonus.
They don't state the name of the material it is made out of which irrates people, but they do say it is a 'durable fabric'. This likely means it is polyester and doesn't have as long a life span as nylon.
If you do buy the packing cubes from Rusoji, make sure you hand wash them to have them last as long as possible. Especially the zipper, which without branding can break at a moments notice.
A nice feature is the handle is sewn into the seam for extra sturdiness with the heavier fabric not likely to rip.
Colours available: Blue, black, purple.
Click to see the Rusoji packing cubes product page
---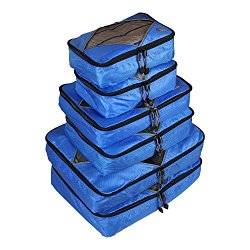 This set contains 5 pieces: 1x extra large, 1x large, 1x medium, 1x small, 1x shoe bag.
Gonex offers 3 different sets (3 piece, 5 piece, 9 piece) meaning everyone can organise all their possessions regardless of how much stuff you to travel with. Had you considered using travel packing cubes for home? That's actually a really good idea now that I write it. The undies draw is always overflowing.
You'll notice a shoe bag in this set, which could be used as a laundry bag too.
Gonex packing cubes are made from a Honeycomb RipStop water resistant fabric (nylon) designed to resist general wear and tear. The zip branding is specified, but users have mentioned they jammed the cubes full of clothes and the zips were up for the test.
The breathable mesh-top panels allow ventilation nad for you to quickly flance at what's inside each cube without damaging your delicates.
Colours available: Black, Red, Orange, Light Green and Deep Blue
Click to see more about Gonex travel packing cubes
---
Packing Envelopes – They Are Not Packing Cubes (or Packing Cells)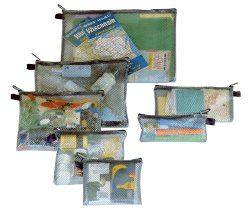 Note: These are not packing cubes and so shouldn't really be featuring in these best packing cubes reviews post. But I added them as they were listed under packing cubes and can be a good addition to your travel gear but shouldn't be used as cheap travel cubes.
These 7 packing envelopes from Travelon are made of 100% polyvinyl chloride, in basic terms, plastic. While they are water resistant, they aren't very malleable making them great for documents and small toiletries but once bigger items go in, they lose their shape right away.
Best suited for documents, although zip lock bags are just as effective.
---
Buyers Guide: Common Questions And Benefits Of Packing Cubes
---
Packing Cubes Are Not Compression Cubes
Packing cubes will save the majority of people space in their bag. But you can't get all of the air out of them so they still require some packing skills in order to use them properly. You can always level up your packing skills with a quick search on YouTube.
If you want compression cubes, you will need to search for something that is vacuumed sealed which can be a lot more of a pain when you're travelling.
Biggest Packing Cube Benefit: Organising
The main reason for travelling with packing cubes is to keep your luggage organised. You might think you can keep your luggage organised while travelling having packed your bag perfectly before you leave. The reality? It takes a lot of effort to maintain a tidy backpack or suitcase.
The best packing cubes will ensure you can pack everything (at least the majority) of your gear into them. They all have a mesh panel to help you look into what you have in each case.
Bonus Benefit Of The Best Packing Cubes For Travel: They Fit In Draws
When you get to your hotel or dorm room (assuming it has draws) simply take your packing cell from your luggage and pop it into the draws in seconds. Having a tidy space around where you sleep whether you're on holiday, business, or a long term trip, is a great way to keep the mind at ease.
Packing Cubes Collapse To Nothing
It doesn't matter which brand you buy, packing cubes pretty much never have any wire or plastic in them. This means they'll fold down flat when there is nothing in them. When you aren't using them they are going to take up valuable storage, bonus. Just don't forget where you left them!
RELATED TRAVEL PRODUCT REVIEW: THE BEST TRAVEL COMPRESSION SOCKS
Cruise Through Customs
While TSA gets a bad wrap, the truth is you can get stopped by customs anywhere in the world. Rather than having to hastily get everything out of your bag then attempt to stuff it back in (and expose your dirty washing to all), packing cubes allow you to elegantly let customs officials sort through your baggage.
Packing Cubes For Suitcases Vs. Backpacks
All travel packing cubes can be used for both purposes, but the large ones can often be too large to fit comfortably into backpacks. This varies with every situation of course, but in general those travel with backpacks should look to use small and medium packing cubes. For suitcase travelers, whichever you think you'll find the most useful is best.
If you really can't decide, a lot of people buy two different sets. When they arrive, choose the best travel packing cubes for you and repurpose the other set as a travel gift for a loved one. They might not be wow'ed at the present, but they will use them.
Like to bring lots of shoes on your travels? Slim packing cubes are for you.
Do Packing Cubes Equal Wrinkle Free Clothing?
This is a bit of a myth. The packing cubes don't suddenly make your clothes wrinkle free. However if you pack the cubes tightly with your clothes either folded or rolled the more wrinkle free they will have less creases than otherwise. Alternatively, you can always just buy some wrinkle free spray (apparently it exists).
What Are The Best Packing Cubes For Backpacks?
As mentioned a few times in the article, packing cubes for suitcases are a different concept compared to backpacks. If you're looking for the best packing cubes for backpacking, then you will probably prefer having several packing cubes that are one size (not large). When you're packing a backpack you don't want items to move around so much when you're moving. This means you don't want small cubes sneaking down to the bottom of the bag. The best solution? The brand of packing cubes doesn't matter so much, it's the size of the pieces in the set.
What To Consider When Comparing Packing Cubes Side By Side?
Whether your trying to decide between ebags vs Eagle Creek, or Pro Packing Cubes vs Ebags, there are a list of things to consider.
Colour: because you'll use them more if they're a colour you actually like.
Material: if you're going to be using them a lot, consider getting high quality nylon bags.
No. of Pieces: With sets ranging from 3 to 9 pieces, what is your personality? Do you want everything packed in cubes or just a few items?
Zips: This is a factor for me as I always seem to break zips.
Warranties? You'll notice most of the brands offer a lifetime guarantee here anyway.

---

A Video On How To Use Packing Cubes For Travel

---

Conclusion

At a glance, cheap packing cubes and expensive packing cubes look similar. And really, there isn't much of a difference. They are roughly the same size, offer a selection of colours and have a mesh panel on top. If you think yuou'll be using them sporadically, the cheapest cubes should be fine.

On the other hand, if you travel frequently, it's likely worth spending a few dollars more to buy premium cells like the Pro ones that are made from a high quality nylon. They'll last longer, and with a 100% lifetime guarantee, at worst you can get a new set for free when you return home.

They're a sweet, one time only investment, in your travel gear.

More Travel Product Review From Jub