THIS POST MAY CONTAIN AFFILIATE LINKS. PLEASE READ THE DISCLOSURE FOR MORE INFO.
Decided you want to make your sporting experiences better than ever? Well this article about sports binoculars is for you.
Because, beyond the awesome atmosphere of watching sport live, the best binoculars for sporting events lets you see so much more.
Short on time? These are the best valued binoculars.
You can choose which part of the game you want to look closely at, and when your possibly 100+ yards away from the actions, a convenient pair of binoculars can help you see what is exactly happening. Because let's be honest, the binoculars hiding in the glove box are cheap and dirty.
Below we'll describe a variety of the most popular binoculars for travel and sports.
If you haven't got much time, use this table as a quick guide. Otherwise, continue below the table.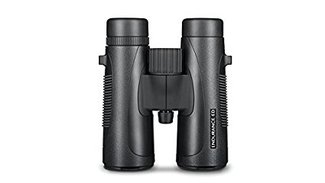 Previous users have described the first time removing their new Hawke Endurance ED Binoculars from the hardcover like being a kid with a new toy.
They have a few different power models, with the 8×42 a good balance between power and price.
These binoculars do not do anything at an A++ level, but importantly, nothing is a major weakness. They're a great all-around set of binoculars. You'll be able to see who scored the goal at the other end of the pitch without feeling embarrassed to ask the person next to you.
They're great for sports viewing in humid regions as they are fog proof, making things that much easier to see as they sit over your shoulder with the included neck strap.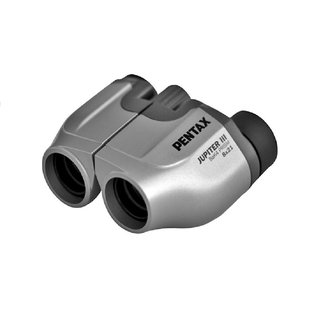 If you plan to spend a lot of time watching watersports, these won't be great for you as they are only water resistant, not waterproof. That doesn't mean the Pentax Jupiter III isn't the best lightweight binoculars for travel and sports. They are so light!
The body of the binoculars is made of plastic, which makes them somewhat vulnerable to damage if you tend to be rough with your gear at sports events. Though the case does provide some protection and comfortably fits in your pocket.
They have a great vision but those with glasses might not get a full field of view as there's a 10mm eye relief.
Adjusting the binoculars can be frustrating as each one is changed independently. The silver binoculars also have a Bak-4 Prisms helping show clear sharp images and they come with a worry-free warranty.
There does seem to be several downsides to this pair of binoculars, but for the price and a little bit of inconvenience, you can use these binoculars for years if you have a good vision.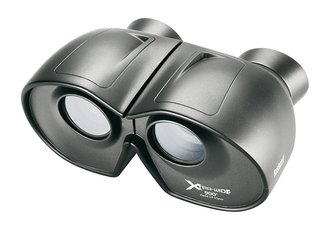 These are the best compact binoculars for sports viewing overall (imo). Their unique design creates an extra wide field, perfect for watching most sports without compromising power. Small powerful binoculars indeed!
The interesting part about these binoculars is the focus-free feature. This means some users who wear glasses or don't have perfect struggled at some distances as their eyes didn't adjust despite the marvelous lighting they provide.
They aren't perfect of course, they do fog up but nothing a soft cloth can't fix in a humid environment.
These binoculars have been to various NFL states around the country and are getting more popular.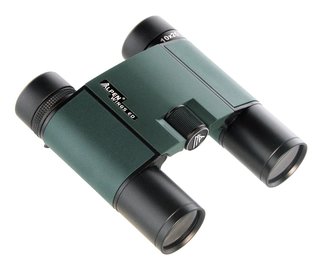 The Alpen Winds ED binoculars have Bak-4 glass helping enhance the image you see, with the lenses featuring multiple coats to enhance brightness further. One noticeable difference from more expensive options is the narrower field of vision.
Though they don't work so well in low light (not a worry for most sports), they are waterproof (and fog proof) so you can take them out to sea without having to be over cautious (don't throw them overboard!).
Further, the rubber armour, backed up with shock protection confirms their durability. And they have a no-problem lifetime warranty.
They aren't the cheapest option, but are superior to the cheaper options and are the perfect binoculars for watching golf. If you wear glasses, they have convenient rubber eyepieces that twist so you can reduce the eye relief, and hen for non-glasses wearers, you can increase it again to avoid dirtying the lens. User-friendly indeed.
Related Post: Volunteer At A Golf Tournament On Your Next Vacation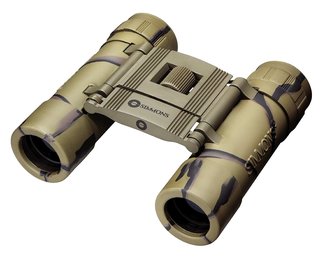 Simmons is a quality company so if you need a throwaway pair of budget-friendly binoculars, these are for you. They don't have the nouse of other products here, but give their sturdiness you don't have to be precious with these.
They're good value and the perfect set to leave in the car for random sports events and concerts you stumble upon. If you haven't used binoculars before they aren't going to break the bank and you'll get a quick idea if spending a bit more money on a better set of binoculars is going to be worth the cost for you.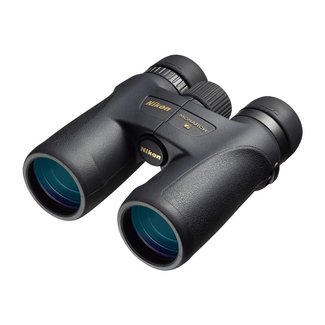 These are the ultimate binoculars for watching sporting events. They are also the highest priced binoculars on the list. The features are endless and everything is high-quality including the prism coatings, the rubber armor and durable body.
They set themselves apart in every way including being the best binoculars for long distance. So rather than tell you about why these are good here are a few features.
The enhance brightness because of the extremely-low dispersion glass
The details are so clear because of the phase correcting roof prisms
You don't need to worry about to much light because of the anti-reflective lens system
They are both water and fog proof because of the nitrogen-filled housing
A massive field of view preserved with lens covers
As long as you don't mind paying upfront for a set that will last you for life (they come with the Nikon lifetime warranty), this is a must buy pair of binoculars.
---
If you regularly attend sports events, buying a quality pair of binoculars will definitely enhance your viewing experience. Finally,
remember the best binoculars for football games are going to be different for golf etc.
PIN THE BEST BINOCULARS FOR SPORTING EVENTS ON PINTEREST