Yes, I really did earn $300 with Airmule. This is kind of like travel hacking, but instead of saving money before when you book your flights you're earning money for catching your flight.
In this post I talk about:
my experience flying with Airmule including what I carried and how it works (is it legit?)
how to plan being an air courier with Airmule
the FAQ that comes with a post like this
alternatives to Airmule
Note if you sign up to fly with Airmule via my refer a friend link I do get $50 if you travel with Airmule in the future. This doesn't effect your potential earnings in any way.
My Experience: An Airmule Review & How It Works
This is how I introduced friends to Airmule before I flew to the USA in July 2018.
"I'm trying out this service called Airmule, it'll help pay for my flights to the US. You're basically transporting things for people between America and China. Don't worry, it's all legit so I won't end up in jail for carrying illegal substances *touch wood*."
What would you say to this?
This is the short and sweet version, It may sound sketchy, but I was excited about using Airmule when booking my flights from Thailand to the US (via Shanghai) having learned about Airmule on the Extra Pack of Peanuts podcast.
The concept behind Airmule makes so much sense. Wondering about the name? You'll learn about that later in the FAQ.
So why Airmule? Well, carry on luggage only is a 'cool' way to travel these days with many low-cost airlines charge extra for checked luggage. No checked luggage? Cheaper flights!
But not every airline is low-cost, particularly those flying between continents. But it turns out that regardless if you have checked luggage or not most airlines include a free checked bag (or two) in the base ticket price. If you're flying with these airlines with carry-on only you're paying for a service (the transportation of your checked luggage) you aren't using.
And even if you do have checked luggage, you can usually check two bags…you might only have one bag to check in. That's a lot of potential luggage the airline could be carrying on every flight.
Simple economics shows this is an inefficient use of resources (the fewer bags on the plane, the lower costs are for the airline) and that's where Airmule steps in.
Airmule aren't adding a service on top of an existing service but making an existing service more efficient (granted, airlines probably calculate an average amount of baggage per person they can expect and factor that into their pricing).
So, you aren't going to take an extra bag on your next flight just because you have the option, right? I'd hope not. It's more drama than it's worth.
But you can take things for people who need to get (insert all sorts of things) to the destination you're flying to (if you trust them). And Airmule is stepping up by pairing up flyers with those who need to get packages from A to B.
But why wouldn't people just pay for regular overseas shipping?
Turns out there are lots of reasons. For example:
people need to get documents from A to B ASAP. If they get stuck in customs via airmail, delivery times can soar.
people want to buy things that they can't buy in their own country or get things shipped overseas when buying online.
While they can use regular cargo companies, they are expensive, especially if you're shipping at the last minute. In this case, AirMule can help the people who need goods delivered quickly at a relatively cost-efficient price by matching packages with people who have already purchased flights to the destination the package needs to get to.
I didn't tell many friends about Airmule in advance, I wanted to experience the service first as I understood the concerns most people would have.
Now I can fully trust them and am confident in recommending signing up with Airmule.
How can you trust them? What if they have dodgy stuff hidden in the goods? What happens if you need to pay customs taxes? etc etc (yeap, I watched the TV shows like Border Control).
Airmule is an LA startup and is as legitimate as anything can be.
While I've failed at travel hacking in the past (I'm bad at remembering to pay credit card bills) this is similar to travel hacking but different. Same same but different as they say. You're (not 100% guaranteed) earning money for flying rather saving money before you buy your flights. You can earn up to $150/bag for a one-way flight!
When Airmule launched, their service was only available for flights between China and the USA. But when I got an email saying they were expanding the service to flights between Thailand and the USA (via China), this was the push I needed to get back to the USA. I had planned to go in 2018 but I committed when I knew I might be able to earn some money to make the trip more affordable.
If you could earn money for catching a flight you've already booked you're essentially discounting the cost of flights.
Of course, there's no guarantee Airmule would need to use my 'spare luggage space'. So while I could have earned up to $500 for my round-trip flights between Bangkok and California ($100 x 2 bags from China to the USA and $150 x 2 bags from USA to China). It's also possible I could earn $0.
I signed up for an Airmule account (you do need a mobile number to register) and started playing around on the site. It's pretty simple, you simply book a flight and as long as it meets the criteria they have laid out you can be an Airmule air courier between Thailand and the USA.
I booked my flights on Skyscanner and the cost came to £656.20 which was about US$866 based on the GBP/USD exchange rate at the time (July 15th). There were cheaper flights available but I was aiming for three weeks in total, and flying into Los Angeles and out of San Francisco was ideal for me.

I booked my flights with China Eastern Airlines who give you two pieces of checked luggage up to 23kg. There's no way to get a cheaper ticket with China Eastern for those who have carry-on only.
I was one of those flying with carryon luggage only so in theory could earn between $0 and $500. That's potentially most of my plane tickets covered. Or I could be paying the full price which wasn't too bad given I was buying flights less than a week in advance.
Once I booked flights it was time to jump over to Airmule and list my flight details so luggage could be potentially be assigned to me.
They recommend listing your flights as soon as possible (preferably 5+ days in advance) to give them time to match bags with your flight. I wasn't hopeful about my flights from Shanghai to Los Angeles as demand (what they call a matching rate) on their routes page from China to the US is listed as medium. And I was correct, with an email confirming my luggage had not been purchased.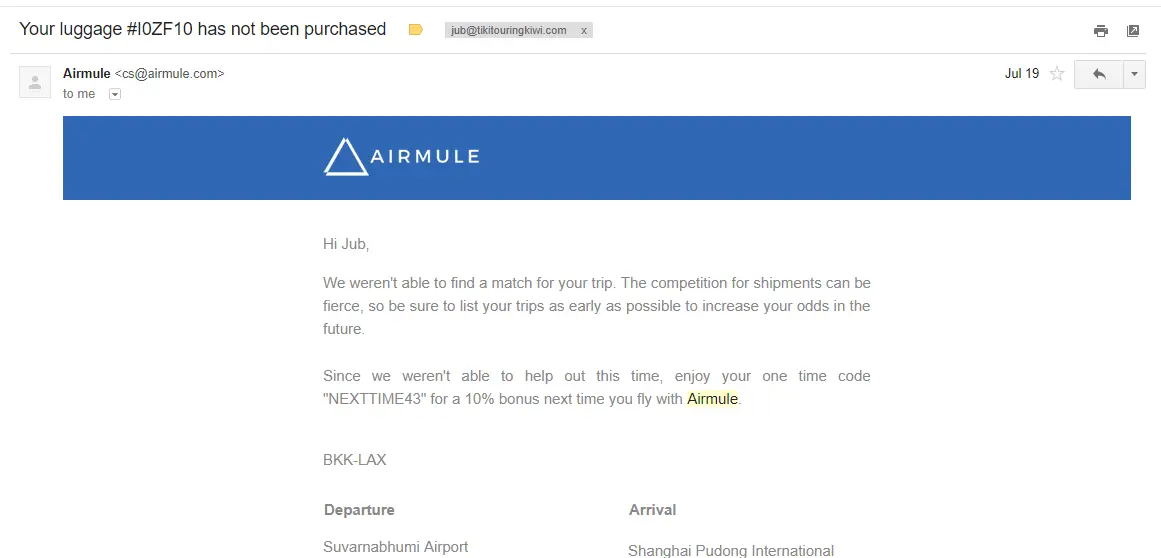 The process of entering your flight details is straightforward. I could see how you might be nervous about providing your ticket confirmation code, but that's no issue in my opinion. You could call it blind trust, but for reassurance, I did have a call with Winston from Airmule leading up to booking my flights. He reinforced all my confidence in Airmule.
After an epic time in California (exploring the Sunken City, seeing some Laker art etc) I was excited to get a message in Wechat letting me know I'd be carrying bags from San Francisco to Shanghai on behalf of Airmule.
Logging into my Airmule account I got to see items I'd be taking.
Note: Normally there would be an email telling you your luggage had been matched, but as Winston explains below, I had a unique circumstance:
"The containers that you couriered were originally matched to a traveler who was supposed to leave earlier than you. However, he had a personal emergency and had to cancel the flight. That's why we allocated his containers to you, the next earliest traveler, so we can ensure our delivery time. Our matching process doesn't automatically handle incidents like this. That's the reason you didn't receive an email notification. Normally, a traveler will receive an email notification when their container is matched."
That's totally understandable and shows how awesome they are at looking after their customers on both sides of the marketplace.
The night before my flight I got a message asking what time I'd be at the San Francisco Airport. Rather than me going through the boring details let me just say it was easy to arrange this. You can see the WeChat conversations I had to arrange luggage collection/drop off in this video if you must.
I arrived right on 9 am at SFO door 1 as arranged, and was met by Di. She was lovely and asked if I wanted to take a look in the suitcases before she sealed them with tape. I decided to 100% trust Airmule and didn't look. Does that make me silly? I'd like to think my self-awareness levels are decent after several years abroad.
Once she sealed the suitcases I signed two documents (one for each suitcase) that confirmed Airmule takes full responsibility for the bags as long as the seal hasn't been tampered with (you can read the full doc below and admire my Paint skills).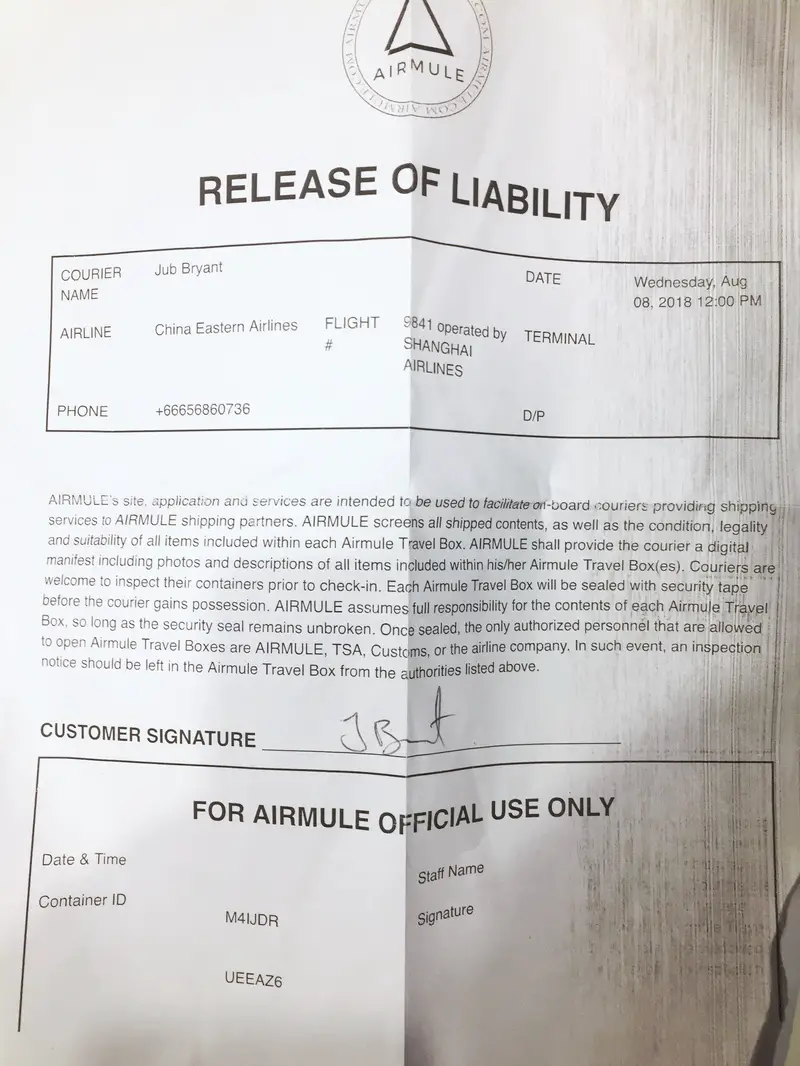 Then we took a quick photo of me with the bags sealed up and off I went. All of the relevant photos were sent to me in the Wechat conversation as you can see in the video to ensure everything is documented.
Checking in was straightforward, no questions asked. The 12-ish hour flight to Shanghai with China Eastern with great. Not gonna lie, I was super impressed with the vegan meals on China Eastern! I passed out for most of the flight but did watch a couple movies, Rampage and something else that I can't remember.
I hadn't heard from the person I was due to meet in Shanghai before leaving San Francisco so was glad to see a message when I landed (from the 36-second mark in the video above). The process of getting a 72-hour free transit visa in China when you land is easy (if you meet the criteria), but it's not very efficient so it took a 30 minutes or so to get from 7th inline to the front of the immigration queue.
I was stoked to see my bags on the carousel and have them back in my possession before passing through customs with zero issues (I did have to put the bags through the x-ray machine thingy majiggy). Finding the Airmule rep was easy despite the busy terminal thanks to the photo in the Wechat convo. There was a language barrier but the bag transfer was complete in less than a minute (with more documents signed) and off he went leaving me with 36 hours to explore Shanghai.
As soon as the transaction has been completed, the payment processing begins and you can expect to see the funds in your account within 1-3 business days. I was slack and didn't add my details for my US bank account (via Payoneer) before my flight. Then I forgot my Payoneer password which led to me not being able to access my account for a couple weeks (email support with Payoneer takes time). As soon as I got my bank account details entered into the Airmulesystem, however, the payment was processed within 24 hours.
I talk about payment methods in the FAQ below.
The easiest $300 I'll ever earn. Well until I use Airmule again. With my flights costing $866, my onboard courier earnings paid for 34% of my flights. Win!
FAQ About Airmule
How likely is it I will be carrying things for Airmule?
On the routes page they have various matching rates. At the moment everything is either a "medium" or "very high" rate but if you're a numbers man like myself, you'd probably want to see the percentages rather than vague words. If you had a number for what medium and very high means you could calculate your expected earnings.
No doubt the matching rate is dynamic, perhaps they could provide a percentage of successful matches over the previous 30 days? Anyway, the way I see it don't expect to be matched flying from China to the USA, but you can be very confident (90+%) of getting matched when flying from the USA to China (as of August 2018).
I won't have a local sim card, is Wifi okay?
I didn't have a sim card for China or the USA, and got by fine using free WiFi in the Shanghai, San Francisco, and Los Angeles airports. I didn't have any troubles with the connections here (you do need to register an account in China), so while I can't speak for other airports, I'm sure you'll work it out. You don't need a VPN for WeChat, so that's not an issue either.
Will they be expanding the flight routes they offer?
Yeap! I like what they are doing. They focused on generating a customer base between China and the USA to start with. Growing two sides of a marketplace isn't easy. They are now establishing more options for both sides by allowing couriers flying between Bangkok, India, and Korea and who have long layovers in certain cities in China. Sign up to their email newsletter and you'll get a heads up when they add new routes.
And on the website, they've got flights from US to Iceland, France, Dubai, and London listed as "coming soon" with the potential to possibly earn $280/piece of luggage (USA to France)!
How does payment work?
When you're creating an account you can enter your details for payment, with the current options being a US bank account or WeChat Pay (more options coming soon).
If you don't have access to either of these options there are two alternatives to getting a US bank account:
You can open up a free account with Payoneer which gives you a US bank account which you can link to your home countries bank account. The exchange rates for Payoneer are better than Paypals.
Another option is too set up a free TransferWise Borderless Account. Unfortunately for me, New Zealand is one of the few countries that cannot open a Borderless account, but I have plenty of friends who rave about the ease and low fees that come with theirs. I have used TranferWise to transfer money from AUD to NZD in the past as it gave me the most bang for my buck and was happy with the service.
What happens if their is a flight delay?
I asked Winston, Head of User Acquisition, of Airmule via email:
Flights delay. If that is the case, the traveler needs to inform us in the WeChat group with the updated flight information. Our concierge will reschedule the pick-up time at your destination airport."
What happens if the bags get lost?
Again from Winston:
There is a liability form for the traveler. It says Airmule takes full responsibility for traveler's luggage including lost of the luggage. However, we still need full cooperations from the traveler to get the luggage back. Here are two scenarios of luggage lost.

Lost Temporarily (Airline mishandles your luggage. You will eventually get your luggage.):

The traveler needs to inform us in the WeChat group immediately.
File a report/claim with the airline counter. The airline will need your local address when you file the claim. Airmule staffs in the WeChat group will provide that information to you. (The information is mostly in Chinese. You can ask the staff at the counter to help you with the paperwork.)
Take a clear picture of the paperwork when you finish. And upload it to the WeChat group. Keep all the paperwork intact.
Keep us updated if you have any news from the airline.
We will issue the payment once we receive the luggage.

Lost Permanently (We haven't met this case yet. Most of the time is just mishandled by the airline company.):

Repeat the process above.
If the airline doesn't have any news about the luggage within 14 days, please file a claim to support@airmule.com. Describe your issue and upload all the documents. We will issue the payment to our traveler immediately after the review. (We will eventually issue the payment to the traveler. The traveler has done his job. We understand it is not traveler's fault.)
You can read more about dealing with lost luggage with this article over at ThePointsGuy.com.
Why include the world mule in the company name?
The screenshot taken from the Consumerist explains it all: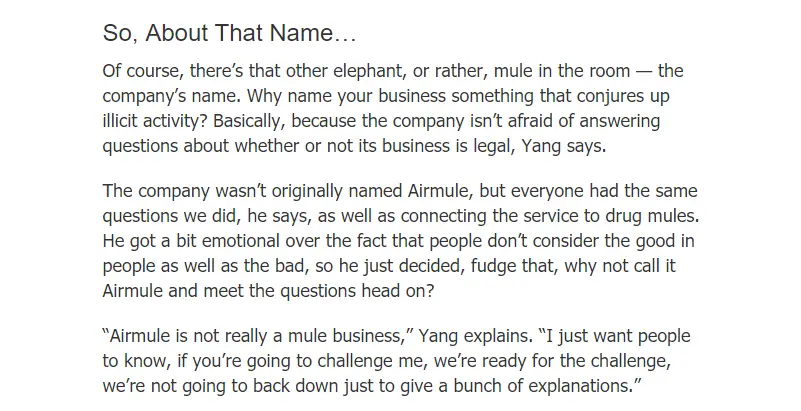 ---
Alternatives To Airmule (Grabr)
There is only one I've heard of in the past, called Grabr. It's same same but different.
I had totally forgotten about Grabr after hearing about a couple years ago. I decided to sign up with them before heading to China and it really didn't seem to be worth it. It's more for smaller goods and services, you have to do more work and don't earn as much.
Like if someone in Los Angeles wants a certain chocolate from Sweden (you're flying from Sweden to LA). You have to go and buy the chocolate, and meet up to deliver the chocolate in person in Los Angeles. You have to fork over your own money to start out, then hope the person shows up on time when you get to LA to deliver the goods.
I can see the positives in that it's more for the spirit of travelling and the person you deliver the goods too MIGHT want to hang out with you. But when you're earning $10-$30 for most deliveries, it doesn't seem like a great deal.
From Shanghai to Los Angeles there was this persons request, then I noticed the it was listed in 2017. Does the person want the things still? Where on earth do I buy them? Meh…to hard for $10, I'll pass. They did raise $8 million in early 2018….
---
Would I use Airmule again? 10/10 hell yeah. I hope they expand to NZ or Aussie sooner rather than later! In the meantime, I'll use them wherever and whenever I can.
If you have any questions at all
about using Airmule you can email jub(at) tikitouringkiwi (dot) com, or leave a comment below.
p.s. Of course, in the week after I arrived back in Bangkok I've seen some epic deals on flights. If you're strategic you could earn more money as an air courier with Airmule than what you spend on flights!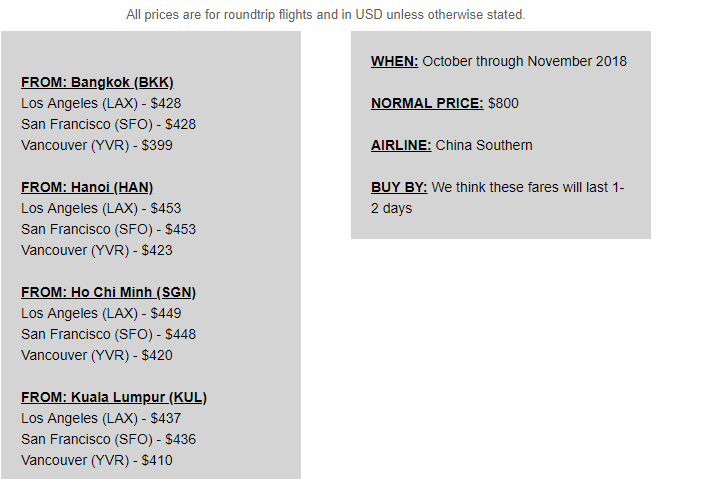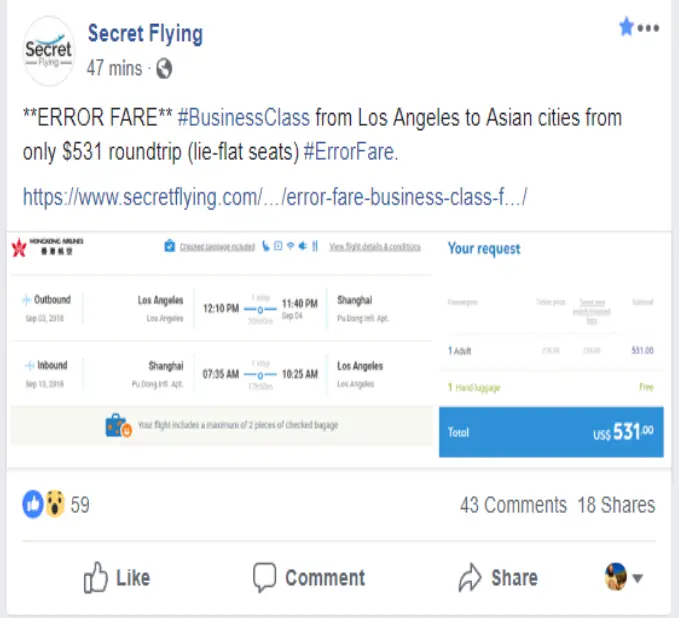 I hope this Airmule review makes some sense, and safe travels!