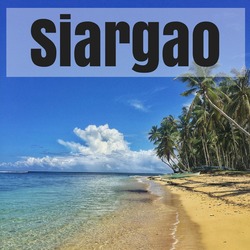 After a hectic time with TBEX it was time to explore more of the Philippines.
With thousands of islands, choices are endless but in the end I took up an offer to hang out in Siargao for the week, an island I couldn't have pointed out on a map before arriving.
Siargao is one of those islands that hasn't been over run by tourists like Boracay. Everyone's friendly and seems to know each other. Technology isn't at the forefront of everyone's minds (unless it's to check surf reports).
Yup, Siargao is the surfing capital of the Philippines with the famous Cloud 9 break in the southeast corner of the island.
Let's try give this post some order yea:
First hours on the island
Siargao tourist spots
What makes Siargao Island a paradise
How to get to Siargao
The First Few Hours In The Surf Capital Of The Philippines
After finally arriving in Dapa I found a ride on a motorbike to Pacifico, home for the next week. The 40km ride cost me 300 peso. No one ripped me off, first impressions of Siargao, one of the most recommended places to visit in the Southern Philippines, are awesome.
After a catch up with the awesome Franzi from Coconut Sports we suddenly found ourselves getting ready to hit the waves. We had to head 15km or so north to catch some waves suitable for our amateur surfing skills.
I've ridden plenty of scooters, but not many semi-automatics and was slightly caught off guard when I found myself riding a brand new semi-automatic motorbike with a passenger and two surfboards on the side to get to the surf spot. At least it provided a mini distraction for my nerves.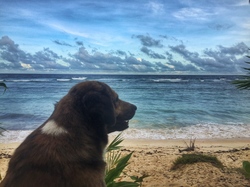 I hadn't let on I'm not the greatest swimmer (which means no scuba diving in the Philippines for me) and given I hadn't surfed since my early teens in Waikanae was feeling pretty nervous about getting out there.
Nervous enough that I forgot to put sunscreen on the back and evolved into a lobster out on the open ocean as I floundered around on the surfboard for two hours.
What surfing ability I had abandoned me on my comeback surf. It was awesome fun! There was no one else watching laughing or hanging around waiting for stealing a wave.
The waves were small enough, clean and current was minimal making for the perfect intro back into the game. After a quick dip in a waterfall up the road, the rest of the day was cruisey.
Unfortunately I only surfed once more in Siargao. Luckily Bamboo Garden in Pacifico was a sweet spot to hang out. (Quick FYI: The peak Siargao surf season is from August to November)
The second surf was out the front of Bamboo Garden. The current was pretty strong so I spent most of the time paddling my heart out just to stay in the same spot. Though I did catch one good wave!
That one damn good wave will bring me back for more.
---
The Highlights: Ideas For What To Do In Siargao When You Go
Hooning Around On The Scooter: The Bestest!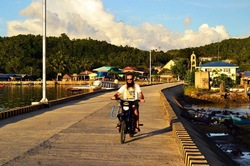 One of the many things that keeps bringing me back to Chiang Mai is the scooter missions. It's so satisfying! And driving around Siargao is even better. 95% of the vehicles on the island are fellow motorbikers and they probably have never experienced a traffic jam, awesome.
I saw no traffic lights on the island so they simply use the courtesy 'toot' to make sure others know you're present.
I did feel a bit uneasy about them not giving helmets out, but meh 'island life'. Embrace!
Magpupungko Rock Pool & Tidal Flats: Natural Beauty Wins
When the tide is coming in, you'll find a bunch of people heading to the tidal flats. It's basically a massive pool with a natural reef sealing you off the the ocean. We got lucky and low tide was an hour or so before sunset so as we headed down we got to relax in the pool as the sky showed off all it's glory.
Santa Monica Pier: One Of Them Epic Sunset Spots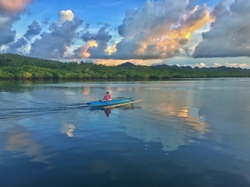 There are awesome sunsets everywhere but finding Santa Monica in Siargao was a real treat. I'd noticed to get an awesome sunset we'd need to head to the other side of the island and then zooming in on Maps.me I saw a bit of a pier like structure. To the pier!
When we got there, we knew we were onto a winner. There was mangroves, houses on the water, boats coming and going and the sun setting directly over the water. All the ingredients for some good snaps.
The Mangrove Village: Random Finds Win
This isn't one of main tourist spots in Siargao Island but as we crossed the bridge it's hard not to stop. Young fellas were fishing off the bridge, others were jumping in the water while the girls were chilling out in the shade. That's something about the things to do in Siargao, you don't need to look for things, they just sort of happen It's hard to explain!
Looking Out At Cloud 9
My surfing knowledge isn't great, but the waves of Cloud 9 definitely rang a bell from vagualy following surf competitions. I even messaged my crazy surfing buddy letting him know I was heading there. I didn't surf the wave yet it was fun hanging out on the lookout hut for a bit watching others giving it a go.
A Hint Of Chiang Mai With The Food
Vegan in the Philippines was hard, luckily I was spoon fed most of the time! The lovely manager at Bamboo is vegan and had created alternatives for most meals. Winning! I had burgers, paninis, shakes and lots of other goodies. It reminded me of the vegan-friendly Chiang Mai!
---
What Makes Siargao An Island Paradise
Corporations Haven't Invaded. Yet.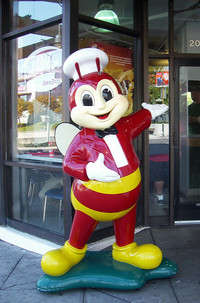 Filipinos love Jollibee's, the fast food chain with the friendly looking bee that's more popular than McDonalds. When I was waiting for the ferry to Surigao I got chatting to a local who had a massive bag full of Jollibee's.
"Oh, it's for all my friends on the island".
There's no Jollibee's or other fast food chain on the island! Unfortunately I think she had to throw it away as we weren't able to get to the island that day.
There are a few resorts on the island, but there's no massive 20 story restaurants, McDonalds, KFC and all the other shops that pop up when somewhere gets remotely inhabited.
Side note: I really wish they had Oreo's on the island. Siargao, you snack situation was poor.
*Jollibee photo by Todd Lappin via Flickr.
Technology Takes A Backseat. Internet Exists, But It's Slow
Your in the Philippines, bad internet is a norm
If you need to check emails/post on FB, you'll be able to
Remember, you're on an awesome island paradise
Don't make plans with people to Skype/call while on Siargao Island
The Locals. They're Awesome
Because:
They're smiley
They have no shame about karaoke
Time is just a concept
Their English is good as gold
The Roads Kind Of Just Stop And Start
Coming back from the Magpupungko Rock Pools the sun had well and truly set. That left a ride back to base in the dark. Turns out there's street lights on much of the island. Not going to lie, it was pretty daunting driving back home and I wouldn't want to drive across the island in the dark.
Especially given that some people ride bikes with zero lights and up north you'll be on a two way road when the road your on suddenly turns to dirt at times, no warning no nothing.
Sometimes You Just Don't Need A Company Name
On the last full day in Siargao, we popped down the road for breakfast on a recommendation. Turns out a fellow kiwi and her partner had just taken over the place. It was an empty plot of land with a couple of buildings on it when they took over. Now they had a restaurant running and people were renting the apartment like bungalows. All this and they still hadn't named the place. Word of mouth at its finest.
---
How To Get To Siargao From Manila
There's no direct flights from Manila but there's plenty of ways to get there. I was booking things less than 24 hours before departing so went with Manila to Surigao via Cebu with Cebu Pacific (direct flights to Siargao are expensive). From Surigao I got the ferry which takes ~3 hours to get to Siargao.
From Manila
By Plane:
Fly to Siargao via Cebu with Cebu Pacific
Fly to Surigao from Manila direct with Philippine Airlines then catch a ferry
Fly to Surigao from Manila via Cebu with Cebu then catch a ferry
By Ferry: There is a ferry to Siargao from Manila that takes ~30 hours. Sounds rather brutal.
From Cebu:
By Plane: As above. Fly direct to Siargao with Cebu Pacific or to Surigao with Cebu Pacific or Philippine Airlines.
By Ferry: There is an overnight ferry from Cebu to Surigao. You'll then catch another ferry to Siargao.
How To Get Off Siargao Island
Boat or Plane of course. Warning: if you're planning to get a connection at another island, be aware that planes leaving Siargao are regularly delayed and the ferry schedules will change based on weather with cancellations no surprise.
I got the ferry back to Cebu from Surigao and didn't find it all that bad. You get a bed and while the facilities aren't flash and there isn't much in the way of food options it wasn't as bad as I'd prepared myself for.
---
Island Growth Is Happening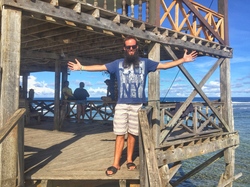 While hanging out at the hut watching the cloud 9 surfers, I got chatting to an Aussie couple who had returned to Siargao for the fourth time. They still love the place but did mention they have noticed development happening, especially in and around General Luna.
I believe the main reason Siargao hasn't faced the development like Boracay or even Palawan has is due to the difficulty of reaching the place.
I like the idea of no direct flights from Manila being available. This eliminates so many people right away!
As you can probably tell, this isn't exactly the ultimate Siargao travel guide but I do 10/10 recommend you travel to Siargao. A massive thumbs up from me!