Note from Jub: This is a guest post from Shannon from Lives Abroad. I met Shannon towards the end of my most recent stay in Chiang Mai. She was so bright, bubbly and inquisitive and we soon found out we were both vegan. Shannon is a great gal and I look forward to catching up in a cat cafe in Chiang Mai later in the year.
Being accustomed to the struggle that is finding a vegan restaurant in most cities and towns, living in Chiang Mai is like a herbivore heaven. With more than twenty vegan establishments that I am even aware of, finding food that is not only vegan but also creative is easier than I have ever experienced before. If you are a vegan and are heading to Chiang Mai, get ready for a
foodie adventure as you eat your way around this vegan friendly city.
1. Ice Love You
OK, so it's actually an ice cream shop and not a restaurant, but it definitely deserves to make it on to the list. This super hero themed ice cream oasis typically has more than 20 flavors available at once and each of them is crafted with coconut milk. Flavors range from green tea, durian, mint chocolate chip and double chocolate cookie to strawberry banana, mango sorbet, mangosteen sorbet and cookies and cream. Want an ice cream sundae? The toppings as well as the rotti are vegan too. At 25 Baht per scoop (less than one dollar USD) you can get a sampling of flavors without busting your budget.
Address: Srivichai Soi 1, Mueang Chiang Mai District, Chiang Mai 50200
2. Vegetarian Society
Although open during limited hours, this restaurant looks more similar to a second hand market inside of a barn. The vegan buffet is set up to the side of the room and you can pile as much as you care for on your plate and into your bowl. My lunch of brown rice, curry, stewed vegetables and protein meats cost me 15 Baht ( 50 cents USD) and I bought a freshly brewed lemon grass iced tea for 8 Baht (about 20 cents USD.) The eating area is cafeteria style and the place is mostly quiet except for the tiny television playing the speeches of Buddhist monks. It is required that every patron wash their dishes at the washing station when they finish their meal.
Address: 42 Mahidol Rd T Haiya
3. Amrita's Garden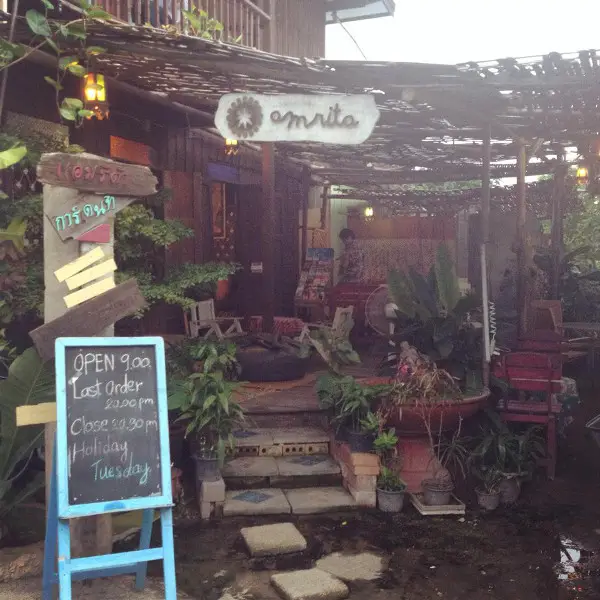 Tucked away on a side street of the old city, this all vegan hideaway looks like a tiny wooden house, covered in jungle and haphazard garden decorations. Both peaceful and inspiring for anyone that loves nature and an organic feel, the restaurant is the perfect place to sit back with a hot tea, chat with friends and read some of their books on yoga. The menu is extremely detailed in its efforts to explain the health benefits of all of the meals on offer and the cuisine ranges from Thai and Japanese to Italian. Try the vegan Bolognese and a bowl of soba noodle soup before ordering some raw chocolates and vegan cookies for dessert. The restaurant also hosts a small shop that sells second hand clothing, natural beauty products and vegan snacks. It won't break the budget either.
Address: 2/1 Soi 5. Samlan Rd., T prasing, Amphoe Mueang, Chiang Mai 50200
4. Organic Vegetables
This place is something of a legend around the city as it has extremely delicious food, options for vegans, an English menu and is extremely cheap. It looks like a bit of a hole in the wall, but the restaurant fills up during lunch and dinner. If you want to experience a real Thai style place without the secret fish sauce and shrimp paste in your dinner, check it out. The yellow curry with tofu and vegetables will cost you 40 Baht (about $1.50 US) and vegan Pad Thai will cost the same.
Address: Across from the 7-Eleven on Nimman soi 13
5. Food4Thought
This little gem is pretty tucked away from the main tourist areas which gives it more of an appeal since it remains quiet and relaxing. The restaurant itself looks like something off of a Pinterest do-it-yourself with its organic looking furniture and decorations. Although it has meat options, the menu is distinctly marked for vegetarian options and most meat items can be
altered to become vegan. Try the tea leaf salad wrap or the avocado salad and make sure to get yourself a piece of vegan cake or mini key lime pie for dessert. It is also quite well known for its café that serves up fantastic coffee, chai tea and kombucha. They make everything on the menu from scratch, have plenty of space to lounge around and allow their 6 cats (who love belly rubs) to roam around the property. The prices here range from 90 Baht to over 200 (about $3-$6 USD) for a meal but the quality and atmosphere is certainly worth it.
Address: 15/5 Moo 1, Soi Sudjai, Tanon Khlong Chonlapratarn, Tambon Chang Phuak, Amphoe Mueang Chiang Mai, Chiang Mai 50300
Vegans coming to Chiang Mai, bring your appetite because the food is plentiful and the prices are low. Chances are, you are going to want to stick around for a while to try them all.
———–
(Jub here) Thanks Shannon, I have only been to number four in the list. Crazy. Here are my top five places to get my favourite vegan dishes:
Burmese on Nimman
Pa's Fruit Shakes
Salad Concept
Organic Vegetables
Any place with a coconut green curry!
. Thanks for your list Shannon.