THIS POST MAY CONTAIN AFFILIATE LINKS. PLEASE READ THE DISCLOSURE FOR MORE INFO.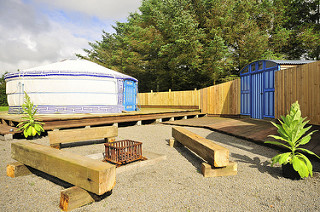 Glamping: A combination of glamour and camping.
We like to think we are all epic campers able to rough and tumble with all of natures insects, smells and scary sounds in the middle of the night as we lay flat on the ground.
But let's face it, that's not for everyone.
Glamping enables you to experience camping with all the luxuries of home.
The glamping trend is getting popular with many airbnb properties and campsites promoting themselves as glamping accommdation.
What if you don't want to stay in a commercialized property? DIY Glamping tents are fun and allow you to add your own creativity to your sleeping quarters such as luxurious accessories and experiences.
There are two ways to go about this. You can buy a unique tent but they are expensive which you can customise and we will take a look at a few here.
Alternatively, if you're glamping on a budget, buy a large tent and use cool glamping accessories to create your perfect glamping environment.
Best Luxury Glamping Tents To Buy
If you take a look at glamping accommodation, tree houses and yurts are a popular. Now that I think about it, when travelling in Mongolia, we were pretty much glamping! The yurts were all very cozy with a fire (granted, poo was the fuel used) and cooking facilities.
What To Look For When Buying A Glamping Tent
Luxury of course. The tents below are all out of range for me, but when I buy an island, there will definitely be one of these tents (multiple) on there right away.
NOTE: if these tents are out of your budget range, look for six man tents, basic tees and gazebos. They'll do the trick.
---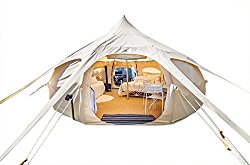 The Lotus Belle tent looks like a pumpkin (in a good way) reminding me of Cinderella.
The lotus belle is made from a thick heavy duty 380 gsm canvas material with a high cotton ratio to avoid the natural gases you experience with some polyester tents.
Breath-ability is generous, with the double doors, large roof vents and mesh windows and groundsheets ensuring bugs don't come to visit you.
With a decagon design held up with 10x supporting poles, 10x wall guy lines and 10x roof guy lines you'll have no issues with space thanks to the tardis design offering 60% more space than regular bell tents.
For those wondering about weather issues, the tents it designed to withstand rain, wind, and winds up to 75 mph.
There's no nylon involved and they have made construction really easy as you transport the tent to your new glamping destination in a duffle bag.
The customer service at the company is great and if need be you have a lifetime of support in addition to one year manufactures warranty with them.
See More Details And Prices On Amazon
---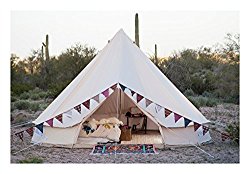 The shape of this tent is almost a combination of a yurt and a teepee right?
The Stout Bell Tent comes in two sizes, 4 or 5 meters with the latter able to sleep six adults on three Queen sized mattresses to give you an idea about the size.
The tent is made 100% from cotton canvas with the high tech engineering allowing it to stay cool in the warmer weather. If you are glamping in cold areas, the tent comes with a hole in the top (can be covered when not in use), 5 inches wide for a stove pipe.
The heavy duty floor is able to handle small embers but their super helpful customer service said so themselves, the larger embers may melt the floor. If you plan on using a stove, get a fire retardnent sheet. The floor is also removable thanks to the zippers around the base.
Waterproof? Of course it goes without saying when you're making an investment of this size. That doesn't mean you shouldn't take care, follow the proper instructions and this tent will last for dozens, if not hundreds of glamping excursions.
See More Details And Price On Amazon
---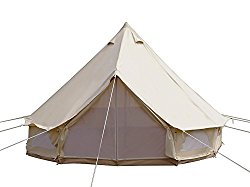 The dream house is blah blag blah
Built with a heavy-duty waterproof cotton canvas, the seams (double sewn) are taped to be waterproof and mold resistant so you can ensure the beige 4m or 5m diameter tent stays warm and romantic.
Wandering about the rain and cotton mix? The cotton shrinks when its wet making it waterproof. Cool huh!
Don't forget to put the velcro flap over the chimney pipe hole when it rains!
Feeling a bit hot? The PVC zippable groundsheet can be unzipped allowing you to roll the sides up to increase ventilation.
The meshing and zips continues for the door and the four windows keeping those mozzies out.
Transport is reasonably easy as it packs down to a bag that'll fit in most trunks.
All up, you've 12 ropes and 24 pegs if you choose the 4m option, 14 and 28 with the 5m option with a support team happy to help you with any questions you have.
Check Out Amazon For More Details And Prices
---
How To Glamp Your Tent
It's all about you. Get out a piece of paper and write down all the amenities you'd love to add to your tent.
It's unrealistic to have all of them, but this will be a good starting point. I've gone through a few things you'll want to consider when writing down your must have glamping accessories.
It's all in the detail, the more you write down the better your DIY glamping experience is going to be.
Does this 'glamping out' list you've got seem intimidating? Do these two things:
List everything you own already that you'll take glamping. You may have everything already!
If not, buy one glamping decoration you'll use for glamping ASAP. Momentum is key.
Bonus:Check out the photo below for some glamping inspiration.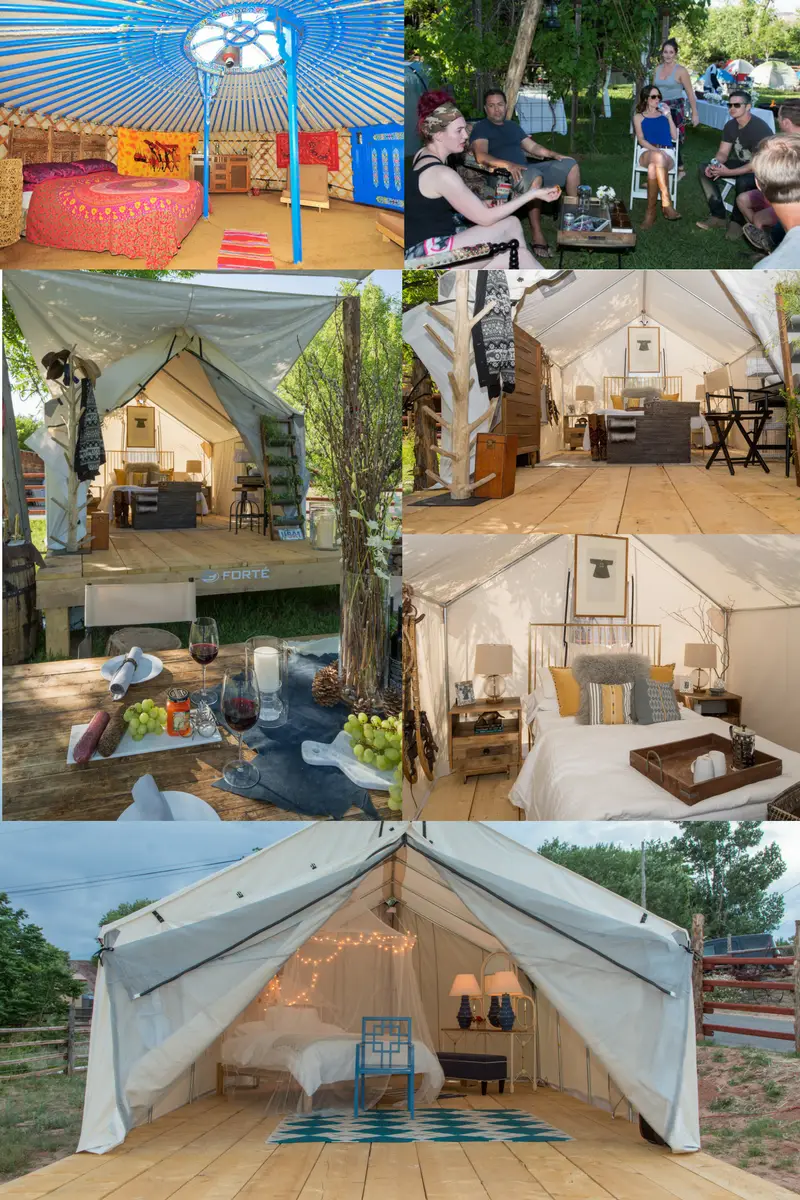 ---
DIY Glamping Lights
Camping lights are usually confined to lanterns and torches. Glamping allows you to add to the ambience with creative lighting choices both inside and outside the tent. If you really wanted, you could make a chandelier work but more practical choices are softly scented candles, fairy lights and garden lights.
Further light resources for inspiration:
Bedding For Glamping
In theory, you could bring a mattress with you for the ultimate camping experience. In 99% of cases? A good quality (go queen!) air bed will do the trick.
The real fun comes in the bedding. You'll want to get the most luxurious feeling pillows, soft sheets, warm duvets and possibly other bedding items like cushions and toppers.
<
If you've got most of the above covered, you'll be ready to sleep. Top of it off with a luxury eye mask from your toiletry bag.
Some further bedding inspirations:
Toiletries For Glamping
Luckily the idea of brushing your teeth with a head torch with questionable water is an unlikely scenario when you're glamping.
When you've got a nice toiletry bag with your favourite toiletries
inside, you'll be looking your best while camping. Who would have thought!
Glamping Food & Drink
This is going to vary a lot between glampers depending on the kitchen facilities you have at your disposal. It doesn't really matter what you eat, as long as it's presented nicely, you'll look fancy! If you have a barbecue, you've got no excuses not to make an epic meal that can be eaten as leftovers for the following meals.
What about your drinks section? Will you be serving up cocktails or cups of coffee? both?
Glamping Decorations
Go crazy! Do you want to make your place homely with photos of family and all that, or you could go crazy with your favourite theme such as Morocco or whatever your ultimate bucket list destination is. Or keep everything simple and have no decorations, up to you!
---
Glamorous camping is the flash packing for backpacking. It's getting trendy and makes for a nice way to have a fancy holiday at a portion of the cost with a sense of adventure tied in. You can even glamp in your backyard, pretty cool I say.