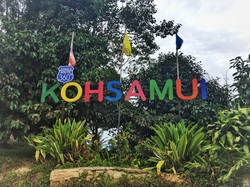 Update: I visited Koh Samui again in April 2018 and have added a few thoughts at the bottom of the post.
I'd managed to avoid visiting the Thai Island for years.
It wasn't until a good friend living in Koh Samui popped out a baby that I could justify a visit in my head.
Thinking back to why I'd avoided them for so long, I came up with these two reasons (beyond being insanely comfortable in Chiang Mai):
I'm not the greatest athlete in the water. Can barely swim.
You always hear so many negative things ("it was so much better here 20 years ago") about the islands mixed in with a few good things. Negative bias much?
Anyway, it was hard not to have any expectations before arriving in Koh Samui having heard so much about them over the years.
Would reality live up to the expectations? Let's find out.
Expectation #1: The Food Is Expensive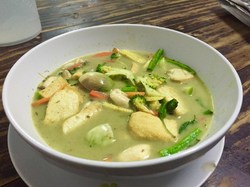 My Reality: Expensive is relative of course. I did struggle to find a vegetarian meal at a restaurant for less than 100 baht, even in what I'm pretty sure were 'non-touristy areas'. In Chiang Mai I rarely pay more than 100 baht for an awesome meal.
In a couple of the small local markets I stumbled around there was cheap food to be had, but I didn't actually eat from these so won't go around making up numbers.
Final Verdict: Expectation confirmed.
Expectation #2: It's Too Touristy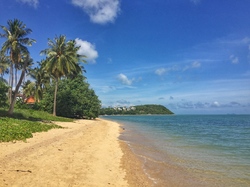 Ah the classic 'too touristy' comment. Koh Samui and all the islands get lots of tourists for a reason! Anyways, I'm not even sure how to describe what I mean for this expectation.
My Reality: I stayed in the Fisherman's Village area. This sounded like a touristy area, turns out it isn't at all. The Fisherman's Village Market is held on a Friday so no doubt it gets way crowded then but while I was there there weren't many people floating about at all.
The next morning, I went for a stroll to the Big Buddha. Popping onto the beach on the way I found myself all alone! I was getting confused at this point, having expected the beaches to be packed.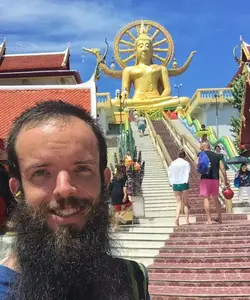 I saw a few people wandering around Big Buddha but it wasn't until I went for a ride to the Chaweng region did the 'touristy' side uncover itself. That's the Thailand people get wrapped up in a bubble with I think. It's easy to stay close to all the conveniences and jump on tours organised right there where other tourists go. In which case it would be 'too touristy', the whole place is built around tourists. Supply and demand folks!
The last morning I went on a classic tiki tour, following a random road up and up the middle of the island. It got sketchy at points with no one around on the broken road, but it was stunning, I found a durian farm, sweet viewpoints and eventually a cool little restaurant at the summi with a dozen people or so hanging out.
Final Verdict: Yea, nah, maybe. It's easy to get away from the crowds around Chaweng (there are so many awesome places to visit in Thailand) but that leads me to my next expectation.
Expectation #3: The Island Is Overdeveloped
This is a topic of so much interpretation. It confuses the fuck out of me.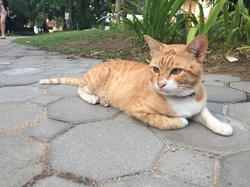 My Reality: My hostel at Fisherman's Village seemed to be in reasonable condition until I went to have a shower. There was no water was running. Um, what? After 15+ hours in transit that wasn't exactly what I was looking for. It turns out there's a severe water shortage on Koh Samui. I'm no rocket science but surely that is a sign of a place becoming too developed.
In the Chaweng area there was people everywhere but also shops everywhere to keep people busy. Is a place over developed when there's enough supply to meet demand?
Like I mentioned earlier, outside of Chaweng, open pastures and durian farms are waiting to be explored.
Now, when you talk to the older generations is where it gets interesting. They always say 'Thailand isn't what it was like 20 years ago'. It was hard to picture exactly what this exactly meant, but after visiting Siargao Island in the Philippines (after Koh Samui) I can somewhat relate to what they mean.
Has Koh Samui crossed the line into being overdeveloped? I have no idea.
Development is real! Blah, I'm so confused on this subject. The supply keeps up with demand but there's so many different factors at play. Culture, economy, history, future, who knows! People far smarter than myself will figure this out hopefully.
Final Verdict: I'm split on this one and overall I would lean towards yes, it is overdeveloped.
Especially when I discovered they were cutting off the water supply in areas due to a shortage.
Expectation #4: The Islands Are Easy To Get Too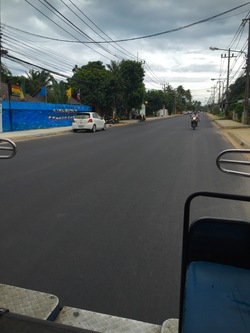 When a place is a tourist haven, it makes sense that it's easily reachable. (Silly humans, so lazy.)
My reality: I was on a mission from Ipoh to Koh Samui. I figured things would be easy once in Surat Thani. Approaching Surat Thani l started to reasearch getting to the island. All the information online was confusing and nothing seemed concrete. That's understandable I guess as schedules always change and companies come and go. 'This is Thailand'.
I figured out what I felt was the best way eventually but it definitely wasn't cut an dry.
Final Verdict: Nope. Well not as easy as I'd have thought. Of course, you can fly straight to the island but I'd say there are lots of people getting ripped off on the way to the islands everyday going overland.
---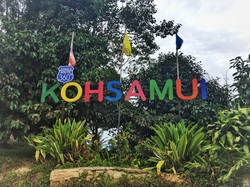 Seatran is the company I believe is best and from asking my friend living on the island, she agreed.
You can buy Seatran tickets from either Surat Thani Airport, Surat Thani town or Donsak.
From Surat Thani town the journey takes three hours and costs 230 baht which was very reasonable in my opinion to be on a large ferry.
When you arrive in Koh Samui, the taxi drivers will be waiting to pounce. Walk straight past them until you reach the ring road. Catch a songthaew with the locals for a much better price. The Seatran ferry terminal isn't in the 'touristy' area so it's likely 30-50 minutes to get to your accommodation still…something to keep in mind.
---
Overall I liked Koh Samui a lot more than I expected. Maybe it was simply seeing a friend for the first time in 10 months, or being back on a scooter. Who knows! But I'll definitely be back to a Thai island in the future.
UPDATED THOUGHTS FROM A SECOND VISIT TO KOH SAMUI
The food is expensive? We managed to find some affordable food this time around. I'd suggest going to Tropical Spice (at the bottom of the restaurant in the link) for a really good quality meal at reasonable prices. And the Scandic restaurant had happy hour lunches from 11 a.m. to 5 p.m. (half price meals).
Too touristy?Again, Chaweng was by far the busiest area. It doesn't take too long to get away from everyone though. The beach at the end of the road leading to Samui Orchid is incredible! And we (this trip was with a friend) were the only ones there in the middle of the day.
Is the island over developed? I refrained from answering last time, but am going to lean towards no. Just a gut feeling.
The island is easy to get too? Yup, easy peezy. I went with SeaTran ferries again. The price increased 10 baht to 240 baht, but that was totally fine. No change on this front with ferries leaving every hour.
Is Koh Samui Worth Visiting?
I think Koh Samui is the perfect introduction to the Thai Island experiences. There are all the facilities you require to exist comfortably and can get off the beaten path if you like before exploring the smaller, less touristy islands.