It's an awesome feeling knowing you will have boredom, excitement, close calls, weird interactions and genuine unknowns all happening in a day. This day was starting out with a bus from Chiang Mai to Mae Sai. Me being me a 6am bus can only be caught by pulling an all nighter. Usually no problem, a minor scooter crash that night made staying awake a lil' trickier – bout time I got a farang tattoo.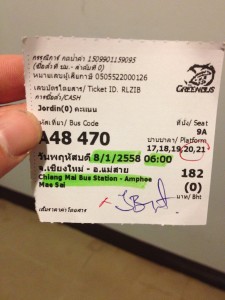 Got to thank the papaya leaf juice (YUCK) I'd bought earlier for keeping me awake!
Anyways, the bus turned up on Thai time and 32 mins after ETD we hit the road. The ride was smooth, the usual police checkpoints saw a few people booted off but we managed to get to Mae Sai bus station at 11.24. Having only lost 9 minutes from ETA confidence was high to catch the midday bus from Tachileik to Kengtung.
Pro Tip? You should book the bus to Mae Sai at least a day in advance (Green Bus from Arcade Bus Station).
After being a tinned sardine in the red truck ride from the bus station to the border it was a quick exit out of Thailand through to Myanmar immigration who knew how to process me as soon as I showed them my visa I got online.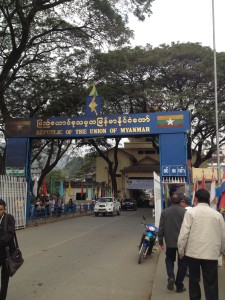 It was about 11:50 by now, thankfully Myanmar time is 30 minutes behind Thai time so there was 40 mins to get the bus. A quick negotiation saw me get a 150 baht ride (you have to overpay when it's a close call right?) to Tachileik Bus Station.
Cue the slowest tuk tuk ever.
Once at the bus station (more like seats next to the road) it got interesting. The ticket lady said the midday bus (last of the day) was full. Have heard this plenty of times in Asia, most people eventually get squeezed in somewhere, I started to plead:
Will sit on the floor

Will stand
Can ride in the baggage compartment
She didn't want a bar of it so I took a seat to suss out a plan. Nek minnet some lad who had chewed on way too many betel leaves in his 20-something years grabbed my pack and started walking. No words were spoken but we crossed the road to ANOTHER 'BUS STATION'! This was more of a minivan but I now had a ticket to Kengtung departing at midday for same price, 10,000 Kyat (they took my 10USD). Winning.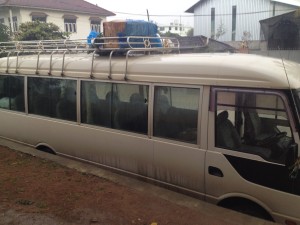 The bus ride was sweet with a couple of checkpoints & toll roads. At the first one they took my passport maybe just laughed at it but probably wanted to trace me entering the somewhat 'sketchy' Shan State.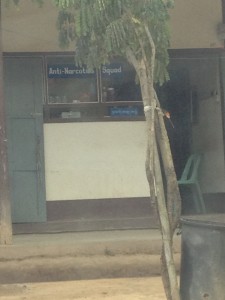 There was a moment where I was a bit gutted. Some circus had packed up and all the trucks went passed us at a checkpoint. We could see a tiger, a couple lions and bears in cages. They did not look adequately built for their wellbeing ☹.
The 164km drive from Tachileik to Kengtung reminded me a lot of Chiang Mai to Pai. Green, green, green, corners, corners, corners.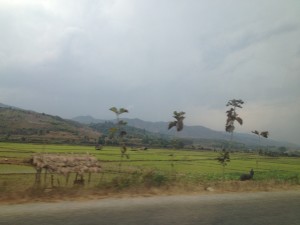 I dozed, read and stared at the window from seat 13 as rain set in. Soon enough, we arrived in Kengtung. After some language barrier confusion, the bus station wardens and me agreed I was going to Nuang Tong Hotel. A 1,000 Kyat (1USD) ride later I arrived around 5pm-ish. Great success!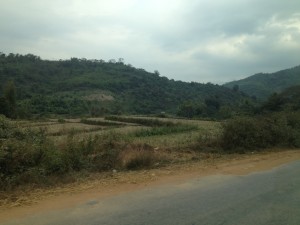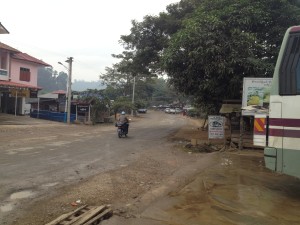 There was no back up plan, so all in all it went as well as expected. Never a need to panic in Asia, someway, somehow shit sorts itself out.
Total costs from Chiang Mai to Kengtung
(excluding Burmese visa application)
0 baht: Home to Arcade Bus Station (thanks Neil)
182 baht: Green Bus from Chiang Mai to Mae Sai
15 baht: Tuk tuk from Mae Sai Bus Station to Friendship Bridge
150 baht: Tuk Tuk from Tachileik Immigration to 'one' Tachileik Bus Station
10 USD: Bus from Tachileik Bus Station to Kengtung
1000 Kyat: Moto-taxi from Kengtung Bus Station to Nuang Tong Hotel
If you want to do this trip in one day, you really need to get the 6am (earliest) bus from Chiang Mai. I did met two Russians who arrived in Tachiliek at 12:30pm but made it to Kengtung via a private minivan going that way anyway (15USD each). There appears to be a few Tachileik Bus Stations but given Kengtung is the only town you can go to next the tuk tuk drivers know what's up.
Note: As of 9th January 2014 you still cannot travel from Kengtung to Inle Lake via land.