The Polish truck driver pulled over, I jumped out and was back on my own looking for things to do in Poznan. He'd picked me up two hours earlier when I was hitchhiking at a truck stop on the Poland-Germany border.
My reason for visiting Poznan? It was the first big city we'd passed through having hitchhiked from Dusseldorf the night before.
Note: There's a Google Map with all locations mentioned at the bottom of the post.
First impressions? This city is dead!
It was a Sunday morning, everything was shut and nobody was about. After finding a juice shop and injecting (drinking) some health into me (hard to stay healthy when hitchhiking) I was told to head a few km east, where the old city is.
I found the cheapest hostel where the old city was a hive of activity.
This is a list of activities from my adventures in Poznan.
Wander About Citadel Park
Citadel Park is an 89-hectare haven of greenery. It has a lot of history, including the remains of some forts. While most people go for recreation purposes, you can find a war museum and war cemetery inside the park grounds.
What I found interesting was the headless and armless sculptures. The art is exactly like the Agora display in Chicago. Both pieces were designed by Polish artist Magdalena Abakanowicz. Definitely something a bit different!
You could easily spend three hours or so at the park, wandering around, reading, chilling & exercising. All of the awesome park activities you normally do.
Attend A Speedway Meet
If you're expecting to see massive monster trucks, you've got the wrong sport as Speedway involves two wheels (yup, news to me). Poland is one of the leading countries in the sport internationally and the fans are equally as passionate.
There won't be a speedway event on all the time but check out this website. It's in Polish and isn't the easiest to work out, so you could always ask the info center too.
Related Post: My full trip report from the Poznan speedway can be read here.
Get Amongst The Activities At Malta Lake
Poznan has a few impressive lakes in and around the city. The man-made Lake Malta is the most popular yet didn't feel crowded given its size. It's placed a couple of kilometres east of the Old City and you could easily spend a full day exploring the lake and its surroundings.
At 2.2 km long it's a good 5 km or so to walk around with lots of places to stop along the way such as a luge, high ropes course, various monuments, artificial ski slope, water sports and more. For all activities and where they are on the lake click here.
People Watch In The Old Town Square
A.k.a. Stary Rynek. A great place to sit, get you bearings, have a bite to eat, and a beer. The square is busy, but the service was quick enough in my experience. There are plenty of cafes and restaurants lining the square, just take your pick.
The information center is in the square too, so time it with the goats at 12 (see below) and you'll be good to go explore further away from the center.
Another idea, head here before joining one of the free walking tours. I didn't get a chance with the timing unfortunately.
Explore The Ruins Of A Stadium
Stadion Edmunda Szyca was once a massive stadium with a capacity of 60,000. I had no idea what this was beforehand, I just saw a stadium icon on the map and headed there. It's in a run-down area of the city, you'll probably feel a bit on edge with some of the people around here.
There's no formal entrance, but I found a walking track that ended up giving me access to the stadium 'pitch'. Everything is overgrown with no shortage of broken glass. Given Poland usually keeps its parks in marvelous shape, this feels very out of place (you cn see the skyscrapers in the photo). Only go if you like random, somewhat pointless adventures.
Visit The Home Ground Of Lech Poznan (ideally, see a game)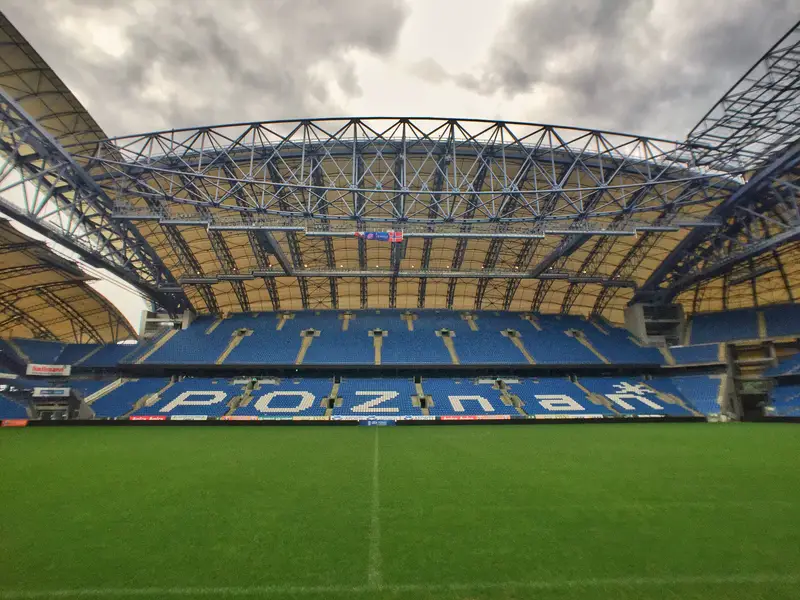 As a big fan of stadium tours I had to go here. If you're a football fan, it's a good way to spend two hours (including transport there and back from the Old City). A couple of the interesting things about the stadium:
they are home to largest football changing rooms in Europe
they have the biggest screens in Poland.
Of course, nothing beats a live match. Lech Poznan is one of the best teams consistently in the top domestic league. You can check out the schedule here.
Related Post: Review of the Lech Poznan stadium tour.
Look Out For All The Goats
Some of the goat related things I saw around the city were:
My hostels name (Frolic Goats)
Lech Poznan FC soft toys
Two massive goats as street art
The goats butting heads at the top of the clock tower (below)
The reason for the goats all over Poznan? It goes back to an old legend you can read more about here (quick read).
I couldn't help but laugh when I got to Gdansk and saw a street performer dressed up as a goat. He must have been a little lost. They really are one of the weird attractions that made me like the city.
Watch The Goats Butt Heads At The Top Of The Town Hall
Just before midday in the large market square, you'll find a large group of people gathering in front of the town hall. It's alright, they're not going to ask you to join a cult. They're there to watch two goats butt heads.
Not real goats, sorry. At the top of the clock tower, rather than a bird, two goats come out and butt heads 12 times. It's pretty random but directly relates to the legend mentioned above.
Do As Locals Do & Picnic Riverside In The Evening
This is one of the activities you won't see in any guide book. I was heading down towards Malta Lake for the sunset and crossing the Warta river, noticed a few people having a picnic. Looked nice. On my return the whole place was packed.
Lots of locals hanging out in their groups by the river having fun. Some were cooking food on a portable device,s otherwise with epic spreads. There were beers nearby of course. This would have been awesome to get amongst. If I had friends.
If you want a cheap picnic, the cheapest supermarket in Poland is Biedronka. They're the one with the ladybug logo and are found in pretty much all cities.
Go Church Hopping
Poland is a religious country, yet they don't jam it in your faces like some parts of the world. Winning! The Poznan Cathedral (above) is the oldest Cathedral in Poland…not that I knew that until I started writing this. Tick.
I couldn't give two hoots about churches if I'm really honest, but some of them are impressive due to their size and architecture. And when in Europe you can't help but visit some, just don't get churched out.
Food Museums. Nom!
There is a lot of must-try foods in Poland, thankfully some are vegan and delicious. So while I didn't go to either of these I had to include them because I know a lot of people reading this will be interested:
---
Is Poznan Worth Visiting?
That depends on how much time you give Poland. Forever an underrated country I guess you've got to put Warsaw and Krakow at the top of the must-see cities in Poland. But, if you'd like something less well known yet has all the facilities, give Poznan ago. Two days is enough to get a good feel for the city for sure. Three would be ideal.
If you go, I can't think of anyone who won't like it.
Getting Around Poznan
I like to walk around new cities (all cities actually) and Poznan is very walkable with minimal hills. Trams and buses are the main way to get around Poznan.
The only tram I caught was from the old city to Inea Stadium which took 15 minutes or so. I'd say you're best to ask for public transit advice at the info centre or read the official transport site (make sure you validate your ticket when you board).
Where Did I Stay?
A quick search led me to Frolic Goats, the cheapest hostel available. It was about 7 USD if I remember correctly. The hostel was actually quite good for the price. There was a communal kitchen with lots of plates and cutlery (would be nice if people cleaned up after themselves), the beds are comfortable, good wi-fi and bathrooms are cleaned thoroughly once a day.
The only downside was it's right by a club. If you're a light sleeper, bring along some ear plugs. You can't beat the location that's for sure.
A couple of options close to Frolic Goats in different price ranges are Mandala Hostel/Apartments and Cocorico Apartment.
Map Of The Best Things To Do In Poznan
---
In hindsight I should have stayed in Poznan for a couple extra days. Trying to be sneaky I went to Gdansk where it was raining most of the time making it a bit of a wasted trip. Oh well, live and learn. There are a few things to do in Poznan I'll just have to do next time (like the lake activities)!
Pin This For Later, Yea?