"We've done everything there is to do in Istanbul." – fellow hostel guest.
I was talking to a couple at a hostel in Istanbul when they said that after being in the city for a week.
Statements like that are the worst.
If someone thinks they've covered all the things to do in Istanbul in a week, one of two things is happening:
They're narrow minded, or
The 20,000,000 people in Istanbul have a boring life
It's definitely not number two. And they're not narrow-minded, that would be mean. But you get what I mean.
When I was out at the Belgrad Forest (in Istanbul, not Serbia) I met three locals coming to the end of their walk. Two of them had forced their friend to visit the forest as he hadn't been after living in the city for 10 years. He was gutted he hadn't made the effort earlier! He wasn't a recluse or anything, he said he was always busy in such a happening city.
How could that couple from the hostel have possibly seen everything. If you've ever caught yourself saying this, you probably need to go deeper in your travels (maybe you want to spend 6 months in Turkey alone instead of 6 months in 18 countries) rather than going wide and skimming over everything. Maybe try six months exploring Turkey instead of six months in 18 countries.
Alright, /rant.
Here are a few ideas for Istanbul to keep you interested during your visit. Some of them will be logical (bazaars), but a few of them are different from the typical lists you see on Istanbul.
1. Visit Besiktas Museum And Stadium
I realise not everyone likes sports but Istanbul is a sports-loving city. Football is the most popular but there are all sorts of sports available.
There won't always be a footy game on when you visit. What you can do though is visit the Besiktas Museum and take the Besiktas Stadium tour. At the museum, you'll learn how football influenced Turkey, Besiktas and a lot more (there's even a cool virtual reality experience).
Afterwards, you can head to Dolmabahce Palace down the road for a tour.
RELATED POSTS:
2. Volunteering To Help Feed The Homeless
gotta wear those hi vis vests!
We'd all like to think we're saints. In 2017, I planned on volunteering for 200 hours. I didn't even come close. But there is an easy spot to volunteer in Istanbul to help prepare and deliver food to those sleeping rough in the city. Every night, a small organisation work with a few local companies and take time out of there day to ensure a few dozen of homeless get to eat that night.
On most nights they could do with extra helpers, so send them a message on Facebook and they'll let you know which evenings they could do with your help.
3. Cross Over To The Asian Istanbul
The majority of accommodation options in Istanbul are on the European side of the city. Of course, this only applies to those staying on the European side but thanks to public transport you can get to each side easily via ferry. The ferries run every 10 – 20 minutes and go late into the night.
Of course, make a trip out of it. Most of the activities on this list are on the European Side of the country. If you're going to the Asian side:
Stroll around Kadikoy, the 'cool' neighbourhood
Visit the Fenerbahce Museum
Watch the sunset from Kalamis Ataturk Park (check out the fancy cat houses made out of chili bins here)
4. Eat Cig Kofte At The Restaurant, Ali Usta's
This might seem like a random section that should be under 'what to eat in Istanbul', but it's so much more than that. If you search for A'li Usta durum' on YouTube you'll see lots of videos with millions of views with Ali serving cig kofte.
Why? He's crazy. In a good way.
When you arrive at his store, you'll find a line up of people. All I'll say is, join in with the queue, get ready to take a couple videos, follow the lead of everyone else and enjoy the spectacle. It's hilarious!
Cig Kofte is made from fine bulgur wheat, pepper, and sometimes tomato paste.
To keep it simple, order a durum for 4 TL. It's massive!
5. Embrace Two Popular Markets: The Grand Bazaar & The Spice Bazaar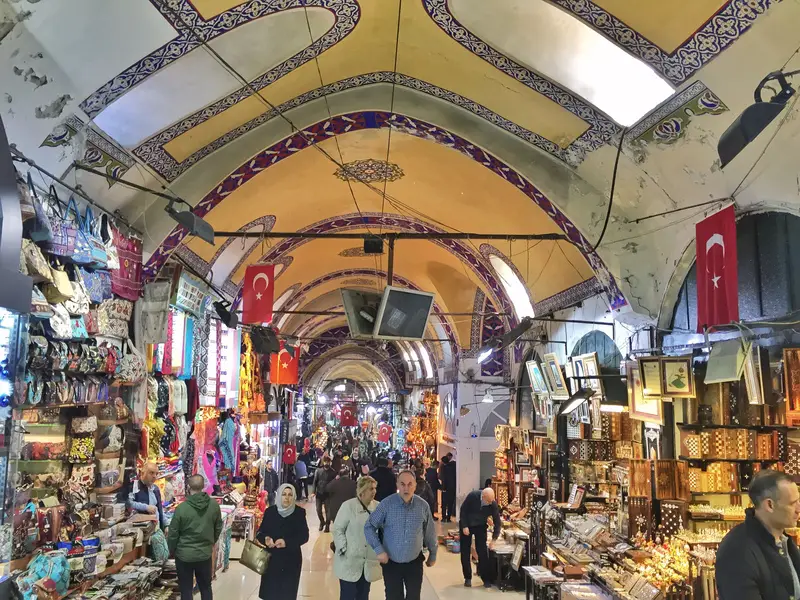 A visit to Istanbul isn't complete without strolling through two of the famous bazaars, the Spice Bazaar and the Grand Bazaar. If you don't visit them on a crazy day of foot traffic (Sunday's and summertime), you can visit both of these within an hour. If you plan to buy some Istanbul souvenirs, spend a day wandering the stalls, chatting to the salesmen, drinking tea, and picking up things along the way.
P.s. if you're trying to learn the art of saying no, here's what to do. Accept all the Turkish Delight you're offered then practice saying no as they invite you into their shop (for the sale).
P.p.s. Don't blame me if you walk out of a shop with bags full of Turkish Delight.
6. Appreciate The Significance Of Hagia Sophia & The Blue Mosque
Like the markets, you're obliged to visit both the Blue Mosque and the Hagia Sophia. I don't find them that spectacular, but some rate the Hagia Sophia as the most beautiful building in the world.
The fountain in between the two has some nice seating which I enjoy for people watching purposes. I'm not one for history, so it's all a bit lost on me. Don't let my lack of enthusiasm stop you.
If you happen to be in the area on a Tuesday, head to the eastern side of the Hagia Sophia and you will see the filming of a TV show. It appears to be set in the 1960's, random.
If you'd prefer a guide to take you to the popular sites, so you can get a better context of how it all shapes the city, you can book a full day tour here.
7. View Bosphorus Bridge & Ortakoy
If you plan on walking across the bridge, you're out of luck. The only time the Bosphorus Bridge is open to foot traffic is for the Istanbul Marathon, usually held in October.
I'd still recommend heading down towards the area though. The Ortakoy Mosque on the waterfront is a very good looking mosque and the view of the bridge and the Bosphorus is impressive. Chris of Amateur Traveler mentioned this is favourite view in Istanbul. You can also see Oratakoy Mosque if you book a river cruise.
8. Snack At All The Food Stalls
As a vegan, I thought Turkey wasn't vegan-friendly. That turned out to not be the case at all once I started asking what things were made from. For example, rather than using butter in their baklava, many shops will use oil thus making it vegan. Fuck yea.
On every other corner in Istanbul, you'll see people selling various foods from their carts. You could eat from these all day if you wanted without spending more than 5 euro. Definitely look to eat a variety of things from these stalls, you never know what you might uncover. I can't get past the simmets, so simple yet so good.
Or for one of the more alternatives things to do in Istanbul, you could book a tour to enjoy a home cooked meal with a local family.
9. Head Out To The Belgrad Forest
When I posted about this on Facebook, I said that it's only worth going out here if you have a car, unless you re in the city for more than five days or so.
That's probably not fair to say. Why?
I didn't visit the arboretum which is a popular activity close by. So tackle two birds with one stone and visit the Belgrad Forest AND arboretum.
The Belgrad Forest is on the edge of the city (catch the 42T bus from Taksim) and is a great way to get into nature, and see the relaxed local life away from the chaos of downtown Istanbul. I'd recommend blocking out the whole day to visit, but you can do it in half a day (many locals spend the evening there). Great picnic spot.
10. Explore Different Neighbourhoods And Feed The Cats
Jaryd & Alesha have said Istanbul is the greatest city in the world. They're extremely well travelled, so if you hear of people saying they don't like Istanbul, ask for the details why they don't.
I was one of those who didn't enjoy Istanbul at first. That was for one reason. I was trying to cover too many places in a day. Istanbul is massive. The best way to enjoy Istanbul is to stick to one or two neighbourhoods per day.
While the public transport in Istanbul is great, those who try and bounce around to six places a day won't enjoy themselves so much. It's an easy trap to fall into.
If you're a cat lover, the thousands all over the city are well fed but I love buying a bag of cat food and making new friends everywhere.
---
I hope that gave you some inspiration to do a couple slightly different things when you visit Istanbul. If you've got any questions, drop a comment or send me a message.