I love taking friends to unique places in Chiang Mai and the Bua Thong Sticky Waterfall might top them all.
I first visited in January 2014, and have visited a half dozen times since with the most recent trip in January 2017, taking two friends along for their first trip.
Both loved it. One of them declared it as one of her top five waterfalls in Southeast Asia (11 months travelling SEA).
Word of the sticky waterfall is spreading but for now, it is still off the tourist trail.
What To Expect At The Sticky Waterfall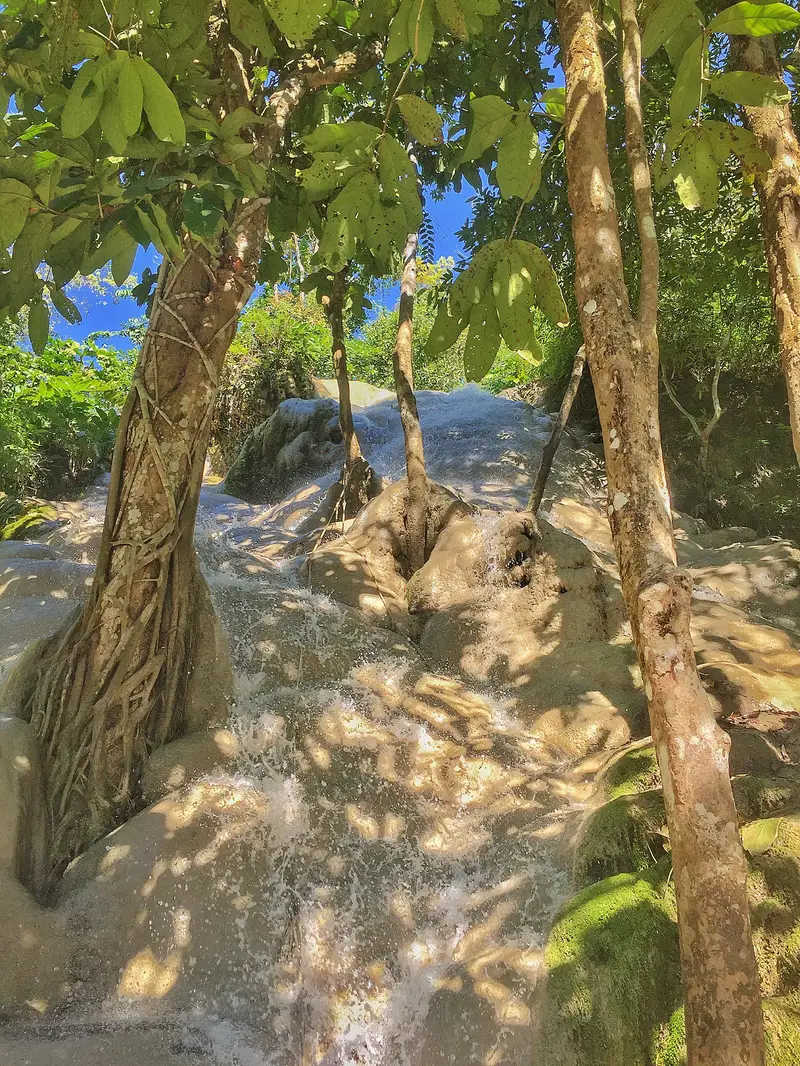 Don't expect to see water free falling metres off a cliff into the shallows below.
What you will see is lightly coloured rocks with crystal clear water flowing over them straight from the spring (I probably wouldn't advise drinking the water still).
You'll be tentative on your first few steps. Walking on a waterfall goes against all your instincts. Luckily the calcium deposits on the rocks will look after you (not sure what the exact science is).
The rocks aren't spongy like I expected, but they're solid with a smidgen of a sandpaper feel to them. If you try really hard, you can break the rock down which is evident in the footholds at the top of the water in the most heavily trafficked area.
Soon enough you'll be frolicking up and down the three main levels in the warm waters trying your best to fall over as you push the boundaries further. If you're competitive it's the perfect spot for a race.
If you see green algae (where the water isn't flowing), you will slip on it.
There are ropes to support you in some of the steeper sections. If you start going down from the top, you might find yourself using them but you really don't need to. It really is sticky.
Best Time And Day To Visit The Bua Thong Sticky Waterfalls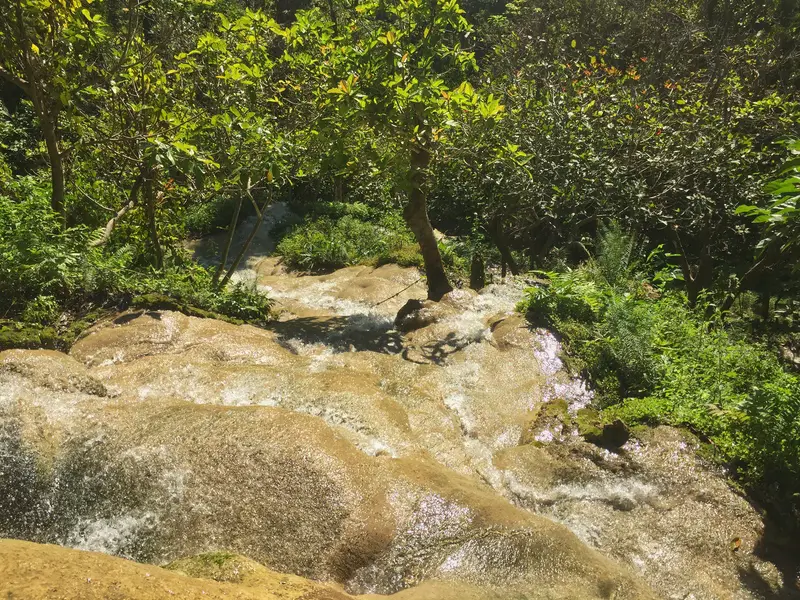 I've been to the Sticky Waterfalls on weekdays, weekends and public holidays.
Avoid visiting on public holidays as there will be lots of Thai's camping nearby. It's not a spot for crowds.
During the week visit at any time of the day. Unless you get unlucky there won't be more than 15 – 20 people to share the waterfall with (you'll be spread out on the different levels so it isn't crowded).
On the weekends, I'd aim to get there before midday as it gets lots of expats (And Thai's) visiting on the weekend.
Directions To The Chiang Mai Sticky Waterfall
The best way to get there is via scooter. You are heading north on the 1001 and just need to keep following the road for ~55km when you see the sign on the right hand side (the new sign makes it easy to spot).
Turn right and keep following the road for 3km until you arrive.
(Download http://www.maps.me, you can find the location there to use offline)
The scooter ride can be hectic for the first 30km or so as you stop and start at the different lights. It's not a difficult ride as you follow one road for the majority of the route, but given the speeds and the odd pothole, make sure you have some experience driving on Thai roads first.
Plenty of petrol stations on the way, no need to stress out about that. Ideally fill up when you first turn onto the 1001 and grab some snacks. A full tank should get you there and back comfortably.
Other alternatives I guess would be to rent a songthaew or Uber for the day or rent a car. There's no public transport going to the area from Chiang Mai.
What To Bring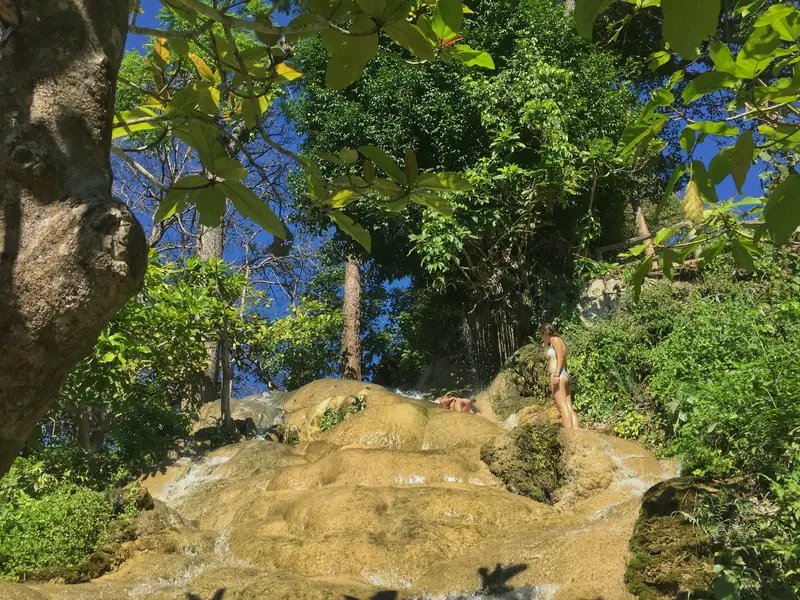 You will get wet. If you have fast drying clothes you can get away with no spare change of clothes.
Bring a towel, swimming gear, sunscreen, water and food. There are a couple of small restaurants likely open in the parking area of the waterfalls otherwise there is the small roadside village a few hundred meters before you turn right on the sticky waterfall road to sort you out.
Tips & Tricks For Visiting
You won't need a whole day here. If you leave by 1 p.m. at the latest, you can still make it back to Chiang Mai before dark without having to rush.

There are a couple of staircases in and around the parking area. Take a stroll and see what you find, one has a nifty little cave with a Buddha inside.

Photography isn't easy there as lots of trees creating shadows everywhere. I'm no photography pro but would assume when the sun is at its 'highest' for the day is the best time to take photos.

Leave most of your things besides your camera (ideally waterproof) in the scooter.

You can't take food or drink to the waterfall itself (the place is clean!), enjoy a picnic area in the grassy areas at the top near the parking lot.

If you'd like to stay out there, there are some campsites as well as airbnb properties. When searching for places on airbnb near the sticky waterfalls, search for 'mae taeng district'.

RELATED POST: WHERE TO STAY IN CHIANG MAI
A Must Visit In Chiang Mai
A visit to the sticky waterfall won't let you down. I've written lots of posts about Chiang Mai, feel free to email me or leave a comment with any questions.
Sounds cool right? Pin this post for later.