Are you preparing to travel solo for the first time?
Solo travel is scary, intriguing, liberating, and inspiring to give a few adjectives.
Being able to relate to solo travellers who have 'been there, done that' is an awesome way to help prepare yourself for your epic adventure.
In this post you'll get a variety of information in relation to solo travel that will build your excitement and confidence before hitting the road.
Pro Tip: Make sure you choose the best backpack ever. It'll be your most reliable companion.
Random Stories About Fears From Solo Travellers
Whether it's your first time travelling or not, arriving on your own in a new destination is intimidating. Here are a few stories from travellers who in hindsight had nothing to really be scared about.
Rats Attack!
Growing up in New Zealand, I never had to worry much about rats. There were a few mice (more than a few at my first flat in Dunedin), but Southeast Asia promised to be a huge step up in the rodent department.
I saw so many rats while travelling in Southeast Asia – they were running wild through the streets of Bangkok, the restaurants of Saigon and Phnom Penh and the markets of Kota Kinabalu. I saw one in a hotel lobby in the Philippines and I lay awake one night as rat was clawing at the wall of my cheap hostel in Saigon, trying desperately to get in and eat me.
If you're planning on travelling to Southeast Asia and you're scared of rats, I do have some good news. I spent over 6 weeks in Laos and a month in Myanmar and I didn't see any rats, so head to those countries if you want to avoid them.
Otherwise, don't look down while walking in Bangkok, don't keep any food in your room and remember that each rat you see will make you fear them a little less.
Jon decided it was to move on from Asia in 2015 and headed to South America where he continues to document his journey at Jon Is Travelling & checkout his Instagram.
Inma's India Experience
Looking back, I wasn't fearing anything in particular before embarking on a solo 3 week trip from Goa to Delhi, in India. I had already been traveling around the highly educated state of Kerala for two weeks as part of a blogger's campaign and that had already served as a smooth intro to the country.
If something, insanely crowded places (what made me skip Mumbai as I thought it was too messy for me the day I arrived and, therefore, departed 5 hours later continuing my journey to the Northern part of the country) and food poisoning (that I had already experienced both in Morocco and Mexico in a truly devastating manner that took me out of the game for a few days in a row) could be my biggest fears at the time.
Luckily, those three weeks passed without any major incident, and I could also enjoy some solitude and quietness far from the crowds in stunning places like the desert, a large region in the Northwestern part of the Indian subcontinent that forms a natural boundary between India and Pakistan.
Inma runs A World to Travel, a site focused in unique experiences around the world, photography, music festivals and the great outdoors, with epic photos on Instagram.
Kach Loses Control Of Life On The Road
I've always been confident in myself, but I will admit to not knowing how I would adapt to a lifestyle of complete freedom and no structure after I lifetime of the opposite.
My life has always been so controlled and ordered before, with clear goals and objectives, so I wasn't even sure if I could enjoy travelling the way that everyone talked about!
But I learned to relax, let go and see where the road took me.
Two years later, I've met the love of my life and we're travelling together, deciding our own structure and routine in complete freedom!
You can follow the Kach & Johnathan at the Two Monkeys around the world or over on Instagram.
Meh, I'll Just Go Hungry
I still remember my first night as a solo traveller in SEA was in Chiang Mai's old city. I arrived at the hostel early in the evening and it was dark by the time I got sorted. I knew 7/11 was the goto snack stop in Thailand but I decided against the 500-metre walk.
Would I get eaten by street dogs? Would I get lost? How do I buy things? Will I get ripped off?
These were all fears I had that first night. While I still fear street dogs will choose a dose of Jub for a late night snack from time to time I have adjusted slowly and am far more comfortable walking around SEA at night than America, that's for sure.
Fears are unique. You aren't alone, someone will usually be able to at least relate to your fear if you make yourself vulnerable.
Don't let fears prevent you from travelling, as you know they are usually an irrational behaviour.
Inspirational Solo Travellers
I've been lucky to meet a few solo travellers who also blog. They're all pretty awesome, and one way or another you should be able to relate to a few of them.
Ryan from Pause The Moment
Ryan was the first travel blogger I met in real life, before even knowing it was 'a thing'. If you are looking for him, your best bets are on the beaches in and around Mexico and Greece and adventures in general.
Chris from Aussie On The Road
Despite hailing from Australia he has plenty of great banter and for some reason keeps finding himself in China and Africa. He'll need to keep moving to complete his epic bucket list that's for sure.
Dave from Jones Around The World
Dave is has the honour of being a red head and American. A combo that turned into a top bloke who isn't afraid of a selfie or a rave. Check out his Instagram account, he took some epic photos from when we travelled as a group through Indonesia.
Scott from Travelstache
Scott doesn't hesitate to make a hard decision. I only met him properly toward the end of his stay in Chiang Mai but his recent post of his photos from hitchhiking in Iraq is pretty darn epic. And he has a 'stache!
Justin from True Nomads
Justin has been living abroad for the last five years and is your goto person for epic diving information world wide. With 80 countries under his belt so far, he is on a mission to dive in the top 100 dive spots in the world.
Liz from Moxie and Poxy
Liz pretty much has sea legs, although at the time of writing this those legs are being trained in self defense in China. An outgoing girl with lots to offer and isn't afraid of some hard work.
Alice from Tea Cake Travels
Alice puts herself out there and doesn't give two hoots about what people think about her (in a positive way!). Bangladesh is in all liklihood my next 'new' country and she recently visited and made me more excited.
Kate from Adventurous Kate
Kate is well known for motivating hundreds, possibly thousands of females to travel solo abroad. Her post about getting shipwrecked in Indonesia stuck with me back when I read it and was definitely in my mind when going to Komodo Island myself in 2015.
Pam from Saviour Faire Abroad
Pam is one of the nicest people you can ever meet, always making sure those around her are ok. Not afraid to put herself out there, I really enjoyed talking to her about experiencing Elephant Nature Park in depth.
Andy from Andy Wanders The World
We haven't worked out who stalks who yet, but I've met up with Andy in Thailand, Cambodia, Germany, Poland and Turkey. His writing is unique and we've shared many a Chang together.
Jodi from Legal Nomads
Most people associate Jodi with food, and you can't blame them. Listening to her knowledge about food is fascinating, as was her writing about Ms. Pa, who I've had 100's of fruit shakes from since.
Niall from Disrupting the Rabblement
I finally got to meet Niall in his now 'hometown' Amsterdam having followed his journey around the world without flying over a few years.
Linda from Linda and the People
Linda has recently returned home to finish her qualifications but we hung out a few times in Chiang Mai. An ever inquisitive person, she is really great at getting to know what makes people tick as you'll soon see.
Matt from ExpertVagabond
When I first saw Matt, I thought 'who is this guy in these crazy sandals exercising'. Turns out they are epic sandals and they take him on many an epic adventure.
Even if you just check out a couple of these bloggers, I hope they motivate you to start travelling the world!
---
Where To Travel Solo For The First Time
Some countries are perfectly suited for first-time solo travellers. Others are better suited for 2+ people and/or those experienced at travelling alone. Having visited four continents at time of writing, I'm going to list the number one country for solo travel that I've visited on each continent.
Key Criteria: Tourist infrastructure, ease of getting around, food, language an culture.
North America: Canada
The US was what came straight to my head, but Canada gets the edge over America purely for public transport. While some cities have great transport within cities, America doesn't make it easy to get from city to city. Canada does it reasonably well from what I've experienced.
Tourist infrastructure goes to Canada, for solo travellers who prefer hostels not every major American city has a hostel yet….then if they do, there aren't many options.
Everything else is fairly equal such as hiking, food gets a slight edge in America for the variety, language and culture is similar…though Canada would have to be friendlier overall.
One Must Do: Hike the Grouse Grind and take the Gondola back down in North Vancouver.
Asia: Thailand
This was the easiest of all the choices. Thailand's known as the place most people enter Southeast Asia to start their adventure. It's still not easy, but you can get from point A to B with ease. You don't need to do any research on getting from place to place as travel agencies are located everywhere (pro tip: not always the cheapest option).
Assuming you are sticking to Bangkok, Chiang Mai and the popular islands you will have no issues with English. Food? Everyone loves food in Thailand…
Singapore and Malaysia are definitely solid candidates but I'm bias towards Thailand and it's still best.
One Must Do: Chill out for an after at Huay Tung Tao.
Australasia: New Zealand
Like Canada, New Zealand instantly wins over it's Australia on size and ease of getting between cities. It's also my homeland. Tiki touring around New Zealand is a lot more practical as well because of its shape. New Zealand is surprisingly long, but not very wide therefore as you embark on a New Zealand trip from north to south or south to north you won't find yourself sacrificing any towns unlike you would in Australia.
One Must Do: Something a bit different, visit my home town Waikanae
Europe: Latvia
This one was very tough! It's tough as so many of the cities and countries in Eastern Europe, for the lack of a better term are 'same, same'. Latvia gets the edge as it's starting to become more popular and therefore being more catered to tourism. Surprisingly everyone under 40 is either fluent or very close to fluent in English!
Latvia is cheap, Riga is walkable and given it's a small country most locations in the country can be visited in 2-3 days. Success!
One Must Do: Take a walk around the Art Nouveau District.
First Time Solo Travellers Should Visit: New Zealand, Latvia, Thailand and Canada for a guaranteed good time
---
How To Have Fun Travelling Alone
Travelling alone isn't always fun. There will be hard days. There will be lonely days. Travelling alone will push you to new dimensions beyond your wildest dreams and for most of you, the best time of your life.
Follow Your Passions
Following the traditional tourist trail in each country is the stock standard option. It's the stock standard option as it's nearly always guaranteed you'll have a good time and you get to see the popular sites in each city. Sometime you just won't feel satisfied. With a little Googling your whole travel plans may change.
Enjoy wine? Google: "wineries in (insert destination)"
Enjoy comedy? Google: "stand up comedy in (insert destination)"
Google is your friend! You never know what you may find. I suddenly had a change of plans and ended up in Georgia last year. I decided I wanted to explore wine as I knew it was vaguely made there. That resulted in me attending a Georgian wine festival and checking out a couple wineries in a area not often visited. It was awesome.
Also, personal recommendations can be a gold mine if you ask the right questions. Asking someone 'what should I do in Thailand?" is going to give you generic answers. Hopefully as a human, you have a couple of traits that make you up as an individual. When I was heading to Poland, I asked a new Polish friend in Latvia about Poland, specifically:
"In Poland, I would like to go hiking, ideally there would be lots of day hikes rather than multi day hikes, any recommendations?"
A few seconds later she mentioned Zakopane as the best place to suit my needs. I'd never heard of the place but after a quick follow up on the Google Machine Zakopane looked awesome, and you should definitely go hiking in Zakopane if you're nearby!
Bad questions get mediocre results at best, good questions get epic answers!
Try Something New
Travel is going to be full of new things everyday. But you still may get bored of site seeing day in day out. Rather than site seeing, get active to mix things up. Ever considered going out
Create A Daily Bucket List
Losing motivation to travel to a new city or even get out and explore the city you are in at the moment? Create a bucket list for the day, essentially a 'to do' list. It's like being at work. You aren't satisfied until you start ticking off a few things, even the basics. A few things on the list could be: 'saying hello to a local in the local language' or 'going to the walking tour meeting point'. It won't take much effort until you are satisfied with your day to day behaviour.
Meet New People
Humans are supposed to interact. It's not always something you will want to do, especially if you are an introvert. You won't always find 'your people' either, but there's no harm in trying. 99.9% of people are good natured humans and everyone has an interesting story. Be curious when people speak, conversations can get deep and meaningful (not in 'that way') fast.
Learn A New Skill
Ever been jealous of that person who seems to have a wide range of skills? You can get a few different tricks up your sleeve while travelling. Whether that's learning a language, massage in Thailand, mastering Pho in Vietnam, making wine in France, gaining beer knowledge in Germany, Tai Chi in China….the possibilities are endless. Spending a few weeks – months focusing on one skills can be rewarding.
Personal Development
As humans our brains are powerful. For the majority of us, we will continue to evolve personally. On the road, all your senses are altered but that is a challenge. You may want to develop your listening skills, your concentration, fitness, maybe you want to be a more considerate individual. Overall achieving these personal development goals will be tough in the short run but overall they should be a fun learning experience.
Fun comes in all shapes and sizes. You will notice I didn't mention anything related to drinking and partying here, cause of course that is an easy way to have fun. But for many it is not 'real fun', it's a shallow way to have fun thanks to the influence of alcohol. I'm guilty of using alcohol for fun, but there are plenty of other ways to have fun travelling alone.
---
Takeaways From Meeting Locals Abroad
Solo travel, couple travel, group travel, organised travel…. so many kinds of travel. There's no right or wrong way, you may love everything organised from the alarm going off in the morning to going to bed at recommended times.
For myself, a combo of solo travel and group travel with a handful of friends. Finding the balance is an ongoing battle, you probably have the same thoughts too. The, 'I just wanna chill out & read' vs. 'FOMO'. When travelling solo it is just a matter of time before you find some comrades or find some interesting people to spin a yarn with.
Thinking back over 2014, here were the 5 interesting encounters that got me thinking while tarvelling solo:
1. The Bar Owner in Lopburi
I mentioned the booked out trains in Lopburi. Lopburi is a small town and on this night only one bar was open which I took a seat at and had a couple of beers. No one else was in the bar and eventually, the owner (Bob for the purpose of this post) came over. We had a yarn, he had been in Thailand all his life. Earlier in the day, I saw Bob embrace a backpacker who was deaf and couldn't find a place to stay in his budget. Asking Bob about this, he said he just wants to be nice to everyone and hopefully when he gets the opportunity to travel people will treat him just as well. Asking where Bob wanted to travel, he said Vietnam but does not want to go as they cannot speak Thai or understand his English.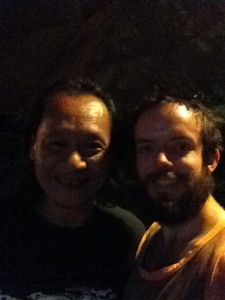 My Takeaway: Limited beliefs prevent travel, in my eyes his English is awesome. If you are a native English speaker, you are incredibly lucky to be ahead in life right away.
2. Amy & Bella, Two Friday Night Laundry Girls
This happened last Friday night. Around 9pm I decided to go do laundry and read a book while I wait. 10 minutes into my reading, two Thai girls put their washing on, we exchanged pleasantries,they rode off. A few minutes later they were back – with wine. Offering me a bottle the next hour was awesome. Amy and Bella had decent English and tried to teach me Thai. I also got some advice about Doi Inthanon.
What caught me off guard was, it was their first time ever using the washing machines. Normally hand washing all their clothes. Amy said perople from their village (about 100km away), they would never consider using a washing machine.
My Takeaway: We can see so much glitz and glamour, yet around the corner people are still living as they were 50+ years ago. Do we really want technology to continue improving across the board?
Getting drunk while doing laundry is sweet to.
3. The Van Lads to Sandakan Airport
I should have spent more time in Borneo. It resulted in me being on one wicked ass van ride from Sandakan to Sandakan Airport to get the next plane back to Kota Kinabalu. I couldn't find the scheduled taxis to the airport but 4 local lads said to jump in their van (meh, unofficial strangers, it cannot go wrong). If this was in New Zealand they were the kinda of people you probably would not normally get into a car with. We did not really talk much but you could tell these guys knew everyone in town and were keen to show off their new clan member.
This was the ultimate win-win in negotiation. They got some cash they did not expect, and had some fun (gained some street cred ?) and I got to the airport ASAP with music blaring on full volume and a bit of dancing was done by the other guys.
My Takeaway: To many travellers in South East Asia try to take all of the benefits in of a haggle. If you can find the win-win zone in any haggling/negotiation for you and the artisan the world will be a nicer place and you will have more fun in haggling.
4. Present Kids in Bali
I love going for scooter rides in South East Asia, Bali was no exception. I decided to get as lost as possible one afternoon, you know when you aren't checking Google Maps every 19th second. Eventually I decided to turn back after following a dirt track into the jungle and coming across a pack of cows, they didn't like this guy just rocking up on his 115cc scooter. When coming back there were some kids throwing rocks at me at a tree. Upon further inspection, they were trying to get rambutan from a tree. Nek minnet (lol kiwis) I was throwing rocks at trees with em, to no avail. Spotting my phone, it was now photo time with them eagerly checking the results of each snap. We did not speak each others language but the 5 or so minutes of charades was epic.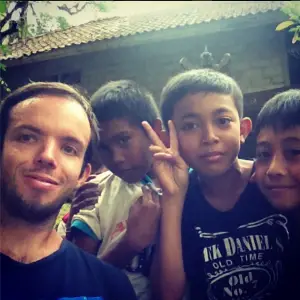 My Takeaway: They were not angry when they didn't get their rambutan, they acknowledged it was too difficult and moved on right away. Talk about living in the present, no need to get caught up with the small things.
5. Motortaxi Driver in Cambodia
Living in Siem Reap required me to usually get a moto-taxi home. It soon became apparent my goto driver was waiting on the same corner each night (no not a prostitute). In the hour or so of total banter time we had, he was fascinated by New Zealand. He was born and bred in Siem Reap. Given what my fare was each time it is hard to see how he will ever leave Cambodia.
My Takeaway: If you have the chance to travel overseas, or even within your country take every opportunity you can. You never know when financial situations may prevent you from doing so.
---