This was done on Feb 27th, 2014
Thanks to Qantas Frequent Flyer Points I ended up in Singapore last week. I then nabbed an epic deal from KL to Chiang Mai with Air Asia a couple days later. Leaving me needing to get from Singapore to KL where some site-seeing could be done. The easy option would have been to take the hour flight, but doing things the easy way isn't my styles. Overlanding Singapore to KL was a way better idea.
I haven't seen much of mainland Malaysia outside KL (update: checkout my Asia page as I've now spent more time in Malaysia) so it would be a good chance to see some of the scenery too.
The option to get from Singapore to KL by bus is the popular option. Meh, too easy. I planned to walk over the border and ideally hitchhike to KL.
Step by step instructions with a map are at the bottom
Here's How We Went (crossing made Feb 27th 2015):
Starting from Singapore Airport the MRT sky train is easy to get to Marsiling Station, the closest station to the border (I stopped in at Bukit Timah Nature Reserve) but you can get a ticket straight there for less than three SGD. It will take roughly an hour 20, with 2 train changes (Singapore's Sky train is piss easy to understand).
Getting off the Sky Train I walked 15 mins to the border area before border roads started going in all sorts of directions so plenty of backtracking was going on. According to Wiki Travel you cannot cross walk across the Singapore/Malaysia border at all.
Eventually I started getting pretty close until two roads merged on me. I had run out of footpath. There were some pretty purple flowers though.
I could see a copper who was looking at the trucks passing through wbho had seen me. He didn't seem angry and eventually he asked what I was doing. It was hard to hear over the trucks but eventually he stopped them,allowing me run across the road and shuffled me closer to the border.
I was now hugging the road with my life possessions on me.
This happened a couple more times, the officers were yapping on their walkie talkies for sure. As they saw me coming they'd smile as they yapped back into their walkie talkies confirming I was no villain.
Eventually I hit customs/immigration. Flew through there no questions asked.
Now to navigate the Singapore to Malaysia bridge connecting the two countries. I saw the buses but kept walking straight towards what I guessed was the way. Another officer stopped me. I got the confident voice on and said I was walking across to meet my friend (bluffing). He said its a long walk but yea if you want go for it, confirming my previous guess was correct. Winning.
The walkway was narrow, you wouldn't wanna have a couple beers in ya that's for sure. Eventually I found a spot where cars can possibly pull over and stuck the thumb out. I got no bites, trying to be the smiley charming lad. 15 minutes went by and I called it quits, you need a sign to have any luck I reckon.
The walk was cool, then hairy as all paths disappeared and I was again hugging the side of the road. Thankfully the left lane was a motorbike lane so they didn't get to close. I was getting near customs and someone actually stopped and I jumped on the back for last few hundred meters or so. Winning.
Turns out I wasn't quite in the right place but the officers helped me again and I was through Malaysian immigration in a flash and came out into downtown Johor Bahru.
I was lost sweaty with my life possessions in me, having already done some hiking earlier ad the heat not giving away nothing. But Wikipedia was wrong. Oh shit, wonder how many "facts" I put in Uni assignments turned out to be false back in the day.
I decided to flag the hitching from JB to KL and booked a train from JB Sentral to KL Sentral leaving at 4.20pm (twas on time!). Couldn't bring myself to put myself in someones car as possibly the smelliest backpacker at that very moment, nobel right.
Step by step instructions to walk across border from Singapore to Kuala Lumpur:
Get MRT from anywhere in Singapore to Marsiling station.
Walk 15 mins north to immigration (the route I took is detailed below, including sides of the road I walked on)
Keep walking north to Malaysia (ignore buses) and walk down the staircase when you hit it).
Walk across the bridge to Malaysia customs. hug the left hand side the whole way (you will get told where to go at the other end but it's a 2 minute correction, hard for me to explain).
Walk through to JB Sentral and book a train ticket (it's well signed).
Here is the map of crossing the Singapore side. Not what side of the road I walked on, that's crucial.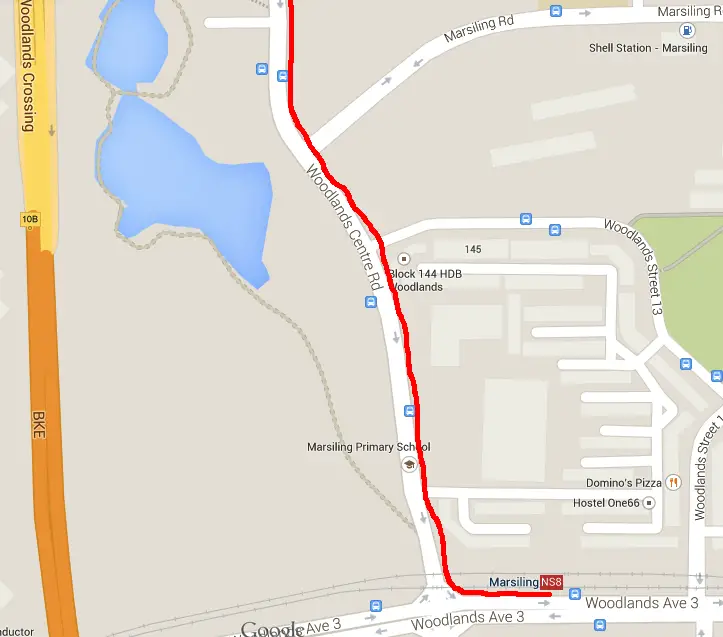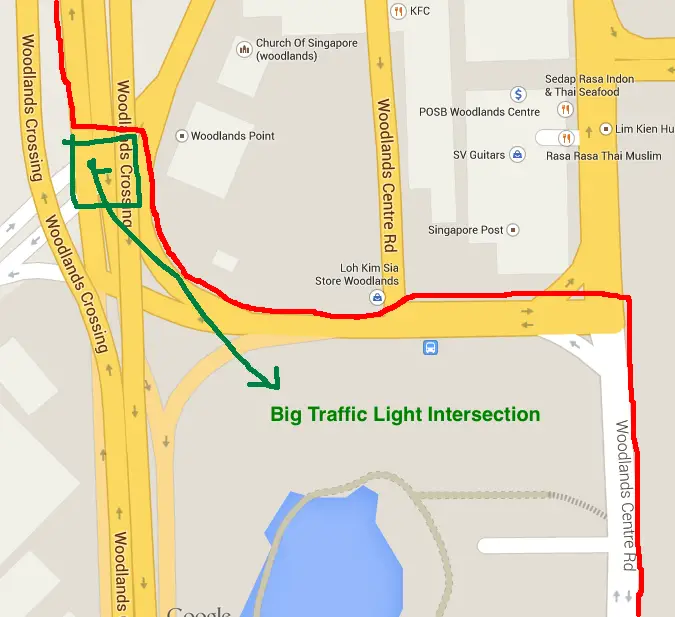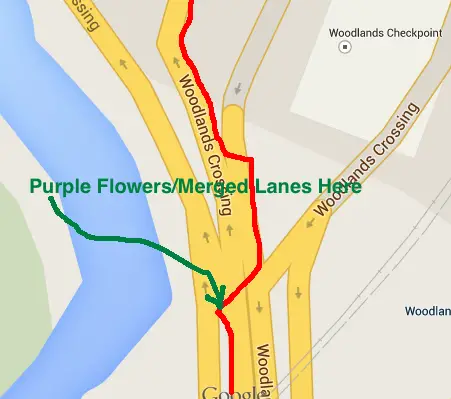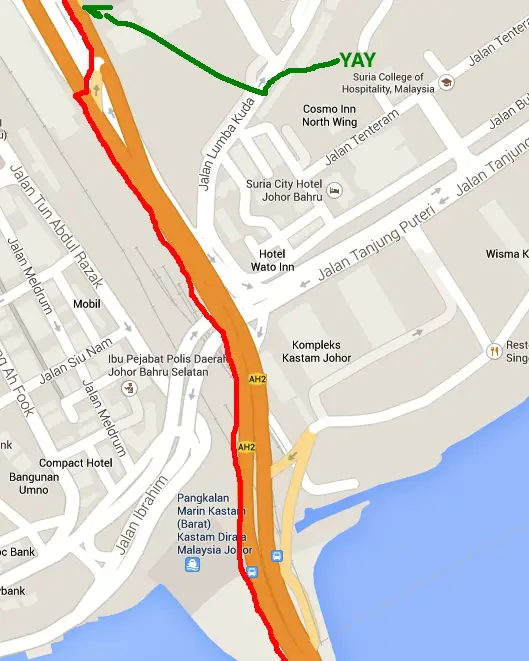 2.80 SGD Sky Train from Changi Airport (2.05 USD)
33 RMB train from JB Sentral to KL Sentral (9.10 USD)
= Sweet fuck all!
= 11.15 USD
Tips:
I've heard Malacca is cool, you may want to stop there enroute to KL
If you exit JB Sentral the main road could be a good spot to hitch hike from (pretty sure it's illegal)
If you want to get a bus to KL, jump on a local bus for 4 RMB to Larkin Terminal from here.
Have you taken the trip overland before? How did you do it? If not what border crossing has been craziest for you.
If you have done this route and have different info, let us all know in the comments!