Epic Northern Vietnam Motorbike Tour: Day 1
5am and we were out the door. Things got tricky as soon as we got to the train station though, on arrival a bunch of people came up to us and emptied our motorbikes of petrol as soon as we arrived; confused we figured it was legit. Shuffled through to a desk, we paid for our bikes to get onto the train ($8), they confirmed we should have an empty tank (yay no scam). We put our bikes onto the train and we were off.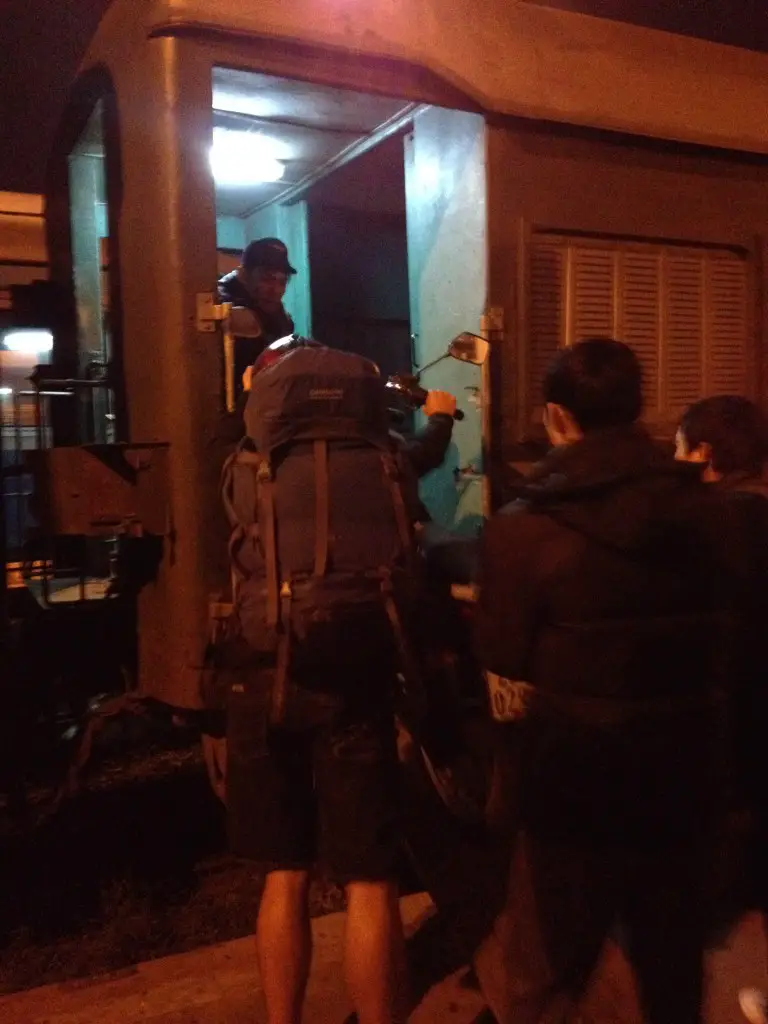 The train ride was a drag the scenery was all good as we killed time bantering. Next time I'd get the sleeper train overnight. Once we got off the train at 5:35pm, we got our bikes. It was getting dark but we located petrol and eventually got out of Lao Cai en route to Sapa after asking 5 or 6 people for directions.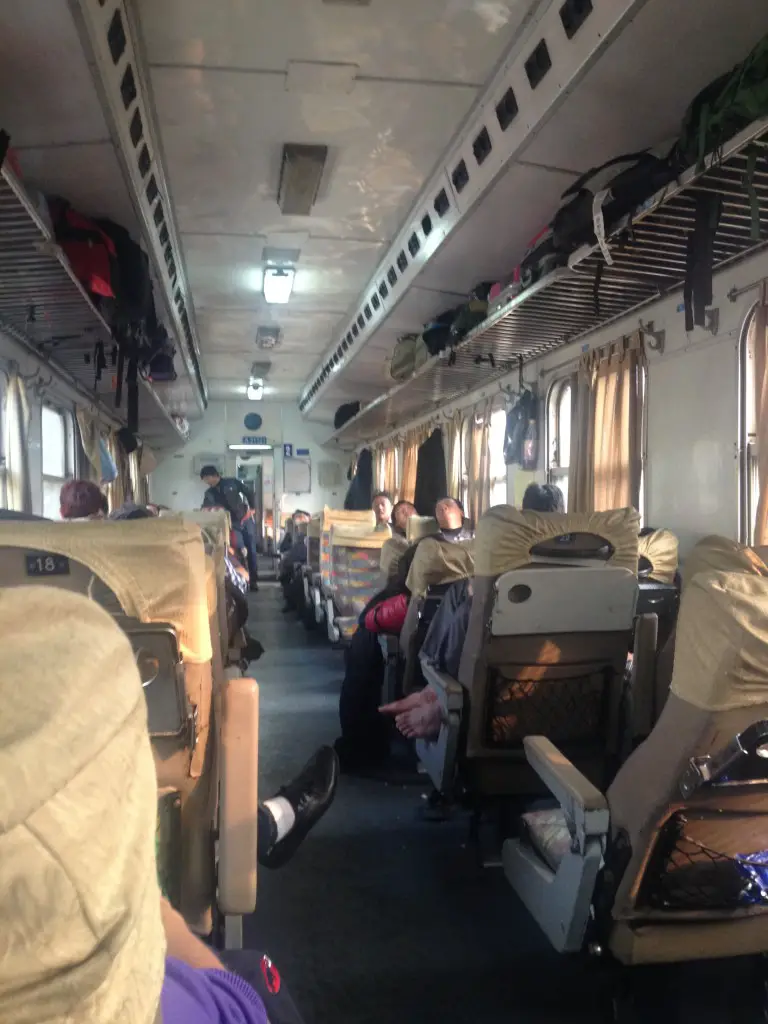 The ride was freezing cold! Uphill for 40km or so, we eventually made it to the town. With no accommodation booked we stopped soon after entering town after a lady came running out onto the road shouting 'HONEY MOON HOTEL STAY STAY' before jumping on her scooter to track us down. Finding out the rooms were $5 each a night, we were stoked and got settled. Awesome rooms, a massive California king bed for two of us and two doubles for the other two and we were set for the night.
Turns out they are a new hotel and the lady spoke reasonable English which was helpful and she was super nice. We ordered from their menu and were served up dinner on large proportions. We went for a wander, a couple beers in a karaoke bar then hit the hay (not really hay, the beds were very hard).
Day 2: Sapa to Dien Bien Phu
This was our longest day so we attempted to get a reasonably early start. 9:30 and we were on the road on the only way out of the town. It was verrrry cold, me stubborn only had a hoody on. As I felt the chill increasing more and more, winding our way up, we were stoked (kinda) to see some snow roadside. IN SOUTH EAST ASIA, did not expect that.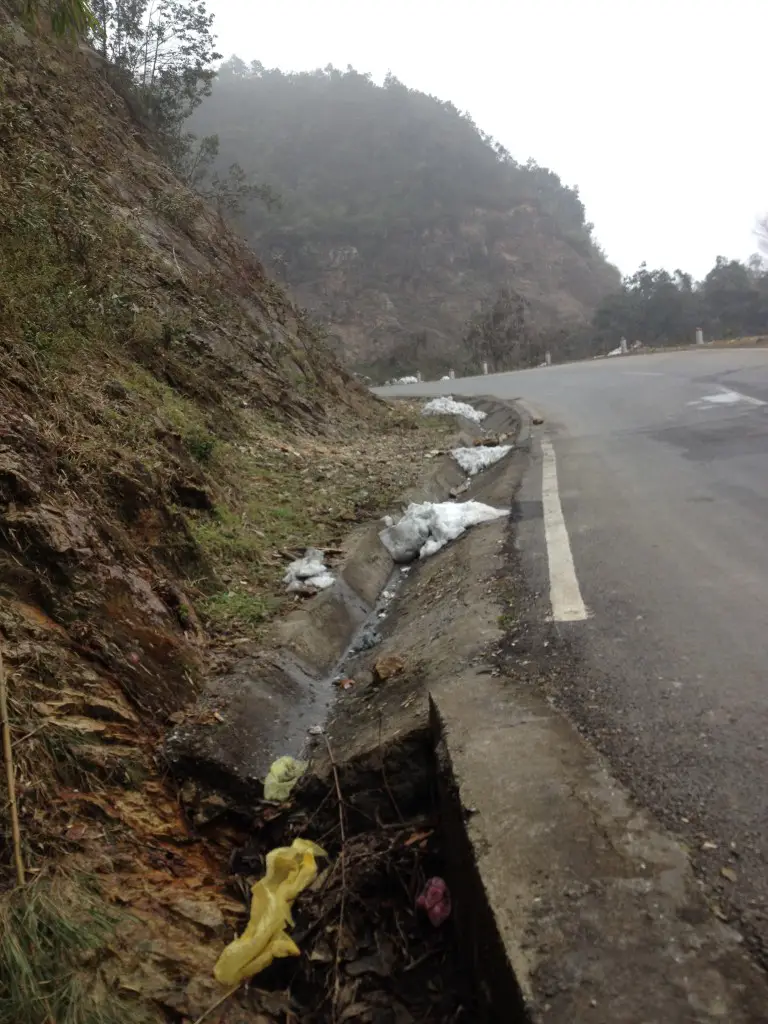 Carrying on the scenery continued to be amazing (although the fog was persistent), we paid way too much for a fried noodle lunch in Lai Chau before we hit our northern most point. Heading south, we then proceeded to have a nightmare few hours.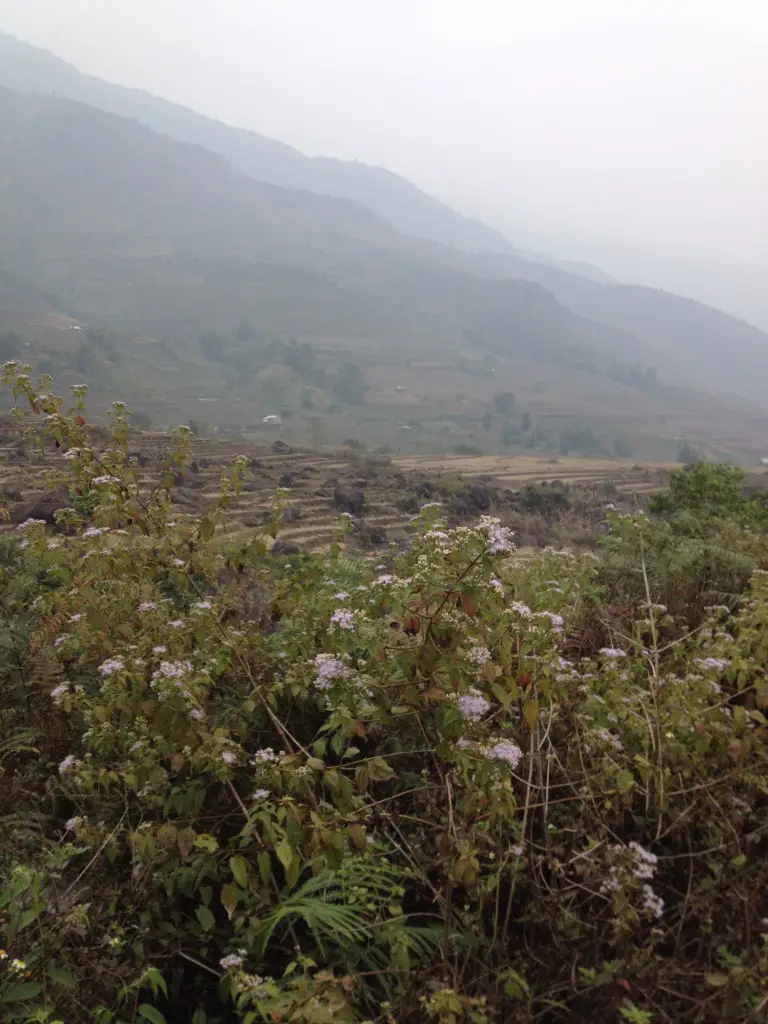 We hit some roads under construction and before we knew we arrived at a barrier. Turns out we just missed the cut off before diggers got to work on the road. An hour later there was now a lot of people now waiting with us at the barrier before the barriers were lifted. This was the start of a nightmare, 50km of straight road works – dust filled bumpy roads, gravel roads, mud and everything in between. We also waited another 50 minutes at another barrier.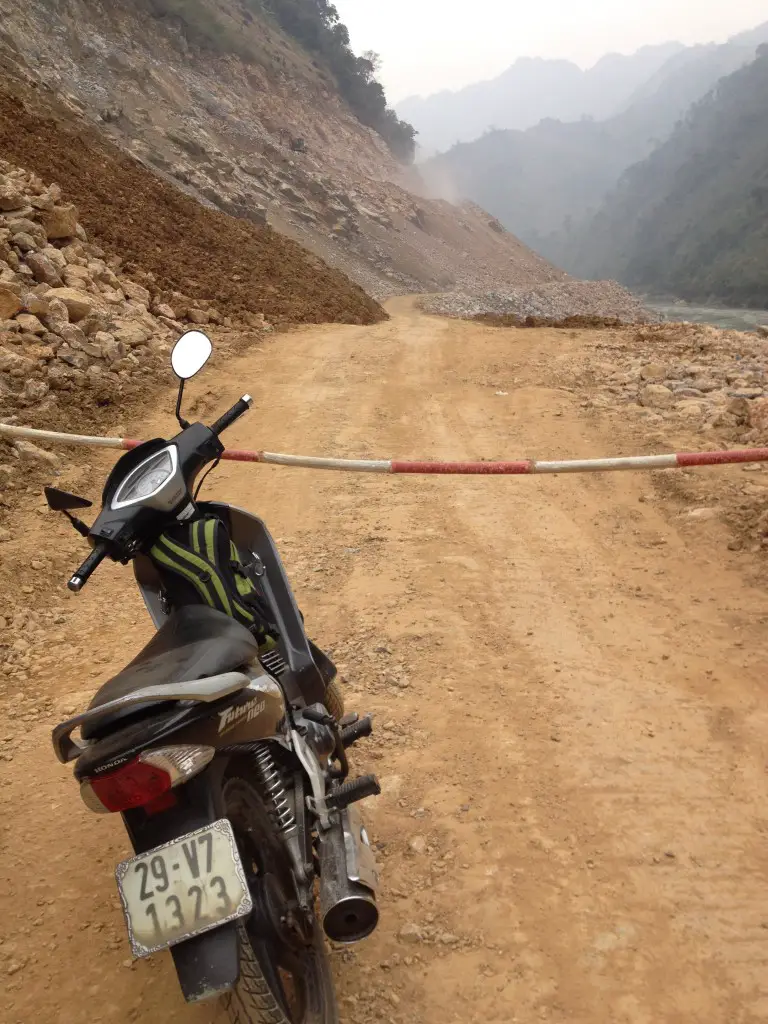 I fell off once, 10 minutes or so after the first barrier, this knocked my confidence the rest of the day, especially in the dusty clouds when visibility was literally nil and traffic was flowing the other way. No major injuries to me or the bikes so all was well.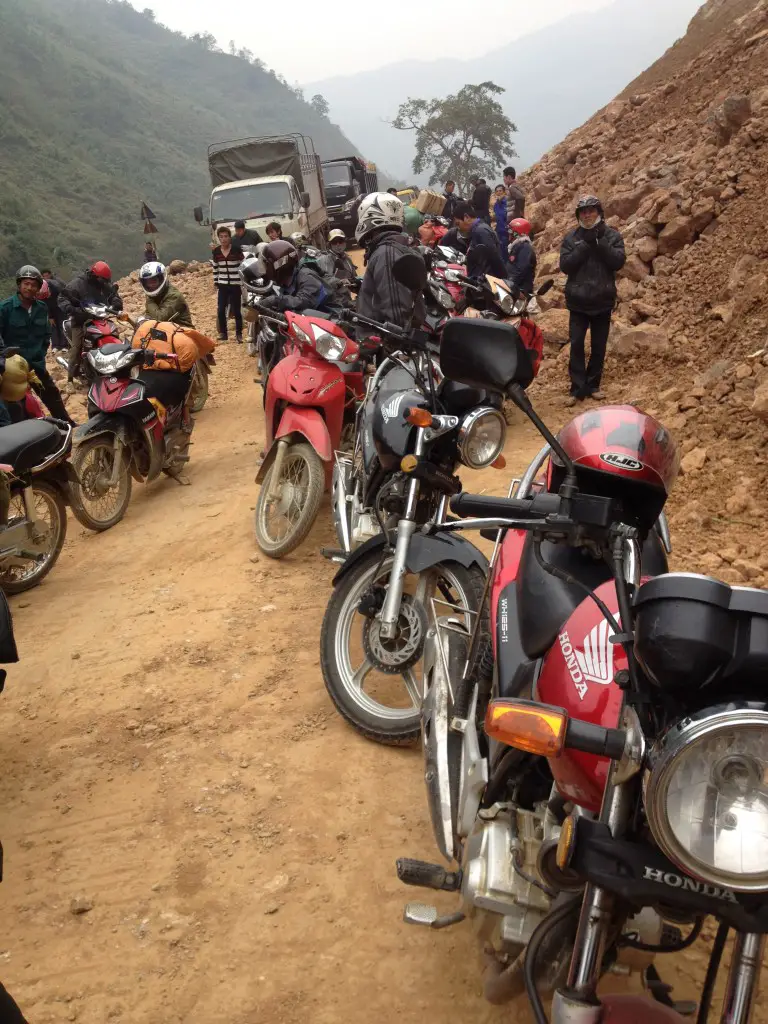 Finally hitting tarmac, our plans of reaching the destination by dark were never going to eventuate. 100km or so later, we finally arrived in Dien Bien Phu at 7:30pm stopped to sleep at the first guest house we saw. Solid accommodation, only downfall being no hot water and communication was impossible. We found a vegetarian restaurant which was awesome, and were early to sleep after a long long day of tough riding.
Fun Fact of the Day:
On this day we shared the road with: Water Buffalos, Pigs, Goats, Roosters, Cows, Dogs and Geese!!! Them water buffalos are massive!!!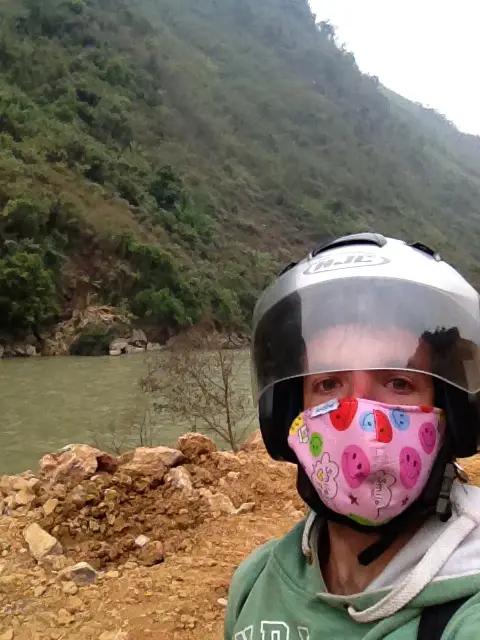 Day 3: Dien Bien Phu to Son La
Day 3 of the northern Vietnam motorbike tour was off to another chilly start as we put on every layer possible (for me, a hoody), our face masks and gloves and set off to find some breakfast in the center of Dien Bien Phu. As we are speed demons we completely missed the town centre and after a quick team talk decided to get some food at around the half way point of the journey.
First impressions for all of us was that this would be a way better ride than yesterdays ride. The roads were a lot smoother and with 160km to cover we figured we should be there by midday as we could go at 80 kph or so consistently.
That is until we hit MORE ROAD WORKS. This was getting crazy, however we were pretty much locals now and given that there was a bunch of people already waiting we figured we had a 15 minute wait or so on our hands. Thankfully we were right.
Not much to say about this trip on the road as it went so smoothly as we coasted through rice patty fields and mountains.
Arriving in Son La, we took a while could not find accommodation so got some lunch first, fried tofu, rice and kale, NOM NOM NOM. Having this screenshot on my phone helped a lot for me.
We then recognised the word guesthouse in Vietnamese after seeing it the previous day, turns out we were right. Again, no English was spoken but clean enough rooms at $5 a bed was good enough. No working Wi-Fi meant we were clueless to what the town entailed so we simply went wandering and getting some beers. We found a dinner spot after walking through the market, and we saw a dogs head :(, then again called it a early night. (I went for a walk at 10pmish, essentially a ghost town).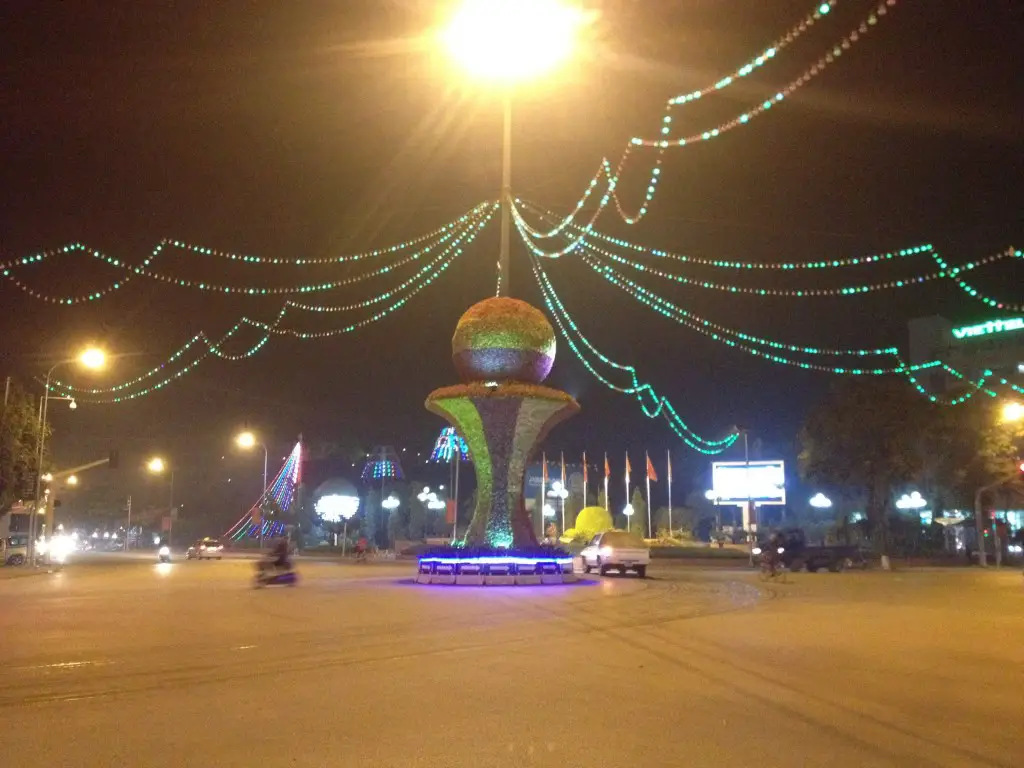 Day 4: Son La to Mai Chai
The fourth day of the trip was going to be very much the same in terms of riding – we hoped. The trip started off great, nice roads and good speeds. But 20km or so from Mai Chau the roads started to get rough, road works was the name of the game again. We battled through the crowds making our way steadily, until I came off again. No severe damage to the bike, my jeans ripped though an I ended up with some artificial scrapes to the knee and lower leg. Had to get a souvenir to remember Vietnam by I guess.
We eventually rolled into Mai Chau and quickly met up with friends who had already booked accommodation. If we had been on our own, we never would have found this accommodation. It was 5 minutes off the main road, as much as they tried to keep it authentic, it was very touristy. But better than staying in the guesthouses like we had been.
Once we settled in, we had a catch up and chilled out for the afternoon (we did find some of the best ever fried rice too). When we were finishing dinner, some local dancers came and performed some traditional dances for 20 minutes or so. They like to dance to tell their story, some were quite interesting…the more a guy drinks the more attractive he is to a girl….that wouldn't go down well in New Zealand. Once he gets a girl, he takes them home and she won't leave the house for three days…this is a sign of commitment apparently.
After that, it was time to hit the bamboo.
In the final part I detail our day in Mai Chau (no massive rides!) and our last day of the journey heading back to Hanoi and the chaotic streets.
DAY 5
Day 5: Exploring Mai Chau
Day 5 was a day where we were not trying to motorbike 100's of km across Vietnam. We were to spend the day in Mai Chau. Despite this we kicked off with, yeap you guess it. A motorbike tour around Mai Chau. With a guide we cruised the maze of streets around Mai Chau biking through villages, acres of vegetables and rice fields doing not a whole lot in the dead season. We did stop by at a cool hotspring and see a few locals doing there washing in the warm natural water.
Note: My phone was out of action on this day so these pictures will be a random selection of photos.
In the afternoon the boys were back together again and we had eyed up a lake to drive too. We found the lake quickly, turns out it was a lot of rough roads and access to the lake was tricky but it was fun exploring the villages (and getting funny looks) regardless.
In the evening we browsed the local market that was packed with guesthouses and people selling arts and crafts downstairs. It was most definitely built for the tourists (we saw minimal) but you could still find silk scarves for cheap! Probably should have got some…then it was off to bed after a few beverages for the last drive back into Hanoi which we were looking forward to.
Waking up for the last day of the great Northern Vietnam Motorbike Tour, we got off to a pretty fast start after working out what we owed for the stay (we paid for food, drinks, washing and accomo all at the end which was a bit annoying as its easy to forget exactly what we got). Once on the road we figured we would be back early afternoon to sort out bits and pieces then have a big night welcoming in the New Year.
Day 6: The ride back to Hanoi
The ride got off to a not great start as Iain crashed his bike early on going 60kmh or so…luckily only artificial damage to him (yay gloves) and the bike was somewhat damaged. It was drivable though but Darren took over the bike as there was damage to the clutch meaning blah blah blah (I have no idea what they mean).
The rest of the drive was nice, good roads as we only stopped to see what way we need to turn at some intersections. The traffic was starting to significantly pick up too. I soon felt a lot more comfortable on the road weaving between trucks, cars and pretty much breaking all the rules that apply on the western roads. Thanks Chiang Mai for training me up well!
Soon the traffic was intense, not bothering to stop for directions attempting not too lose each other among the millions of bikes that control Hanoi streets. At a red light we did quickly duck off the road under a bridge to get our bearings. The plan -> Keep going until we recognize something. Walking around the Hanoi streets is crazy with all the bikes, but actually being on a bike is way more exciting! Basically, don't worry about whos behind you, if you navigate whats in front of you the people behind you will work out their avoidance issue. This does include swerving to miss innocent tourists and locals on a suicide mission crossing the roads.
We executed the plan to perfection, finding the lake near our accommodation. 5 minutes later and the tour was over as we pulled into the bike shop where it all began.
4 bikes + 4 people returned = Northern Vietnam Motorbike Tour conquered!
Over 950km on the roads over 6 days was an epic mission. We were all glad it was over due to the sheer fact the Vietnam roads are tiring. At time of writing this just over a month later I can say for sure:
BRING ON THE NEXT ROADY!
Update: Looks like Vietnam is moving up the list again after a couple of recent motorbike trips. With so many things to do in Hoi An, Nha Trang & Dan Nang, watch out 2017! There could be one very busy month in there.
If you have any questions about the trip, happy to help out with answers in the comments below or send me an email!