Note: there are affiliate links in this post. When you book on Hostel World via the link you get the lowest price possible. The link takes a small portion of the revenue and gives it to me rather than Hostel World allowing me to keep travelling and writing these posts.
Zakopane was recommended to me by a Polish girl in Riga and was told it Poland's hiking paradise. After recommending it to Robyn, Holly and Leeza and hearing good things from them, I was always going to make it there. My first night in Zakopane was spent at Top Hostel, right in the heart of the walking street chaos so heading out to MTB Hostel the next day was a welcomed change of pace. Here's what I thought of it.
Staff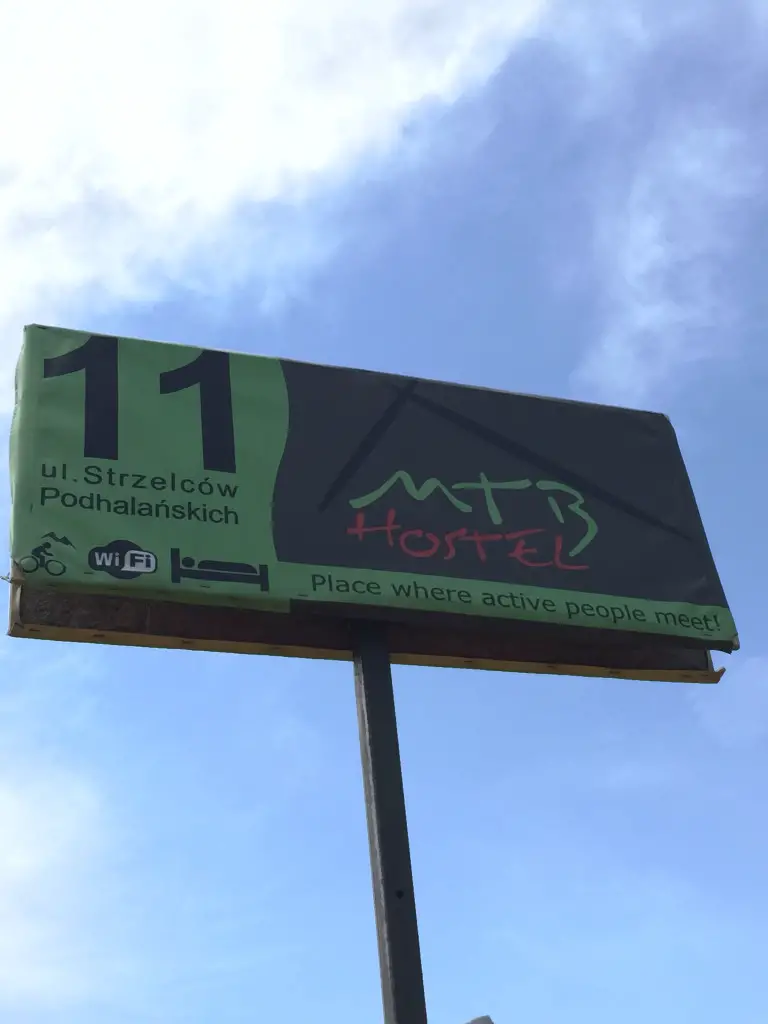 MTB Hostel (book here) is a family run hostel, with Ana (originally from Macedonia with fluent English) and her husband behind the operation. The reception is 8am – 10pm, but the desk is usually unmanned in this time meaning sometimes you need to go find them. For me this inconvenient, as soon as a few people start needing them at the same time you would wait ages for your turn; maybe they should hire a staff member for a couple hours. You are most likely at the hostel to go hiking in the Tatra's and when they are at the desk, they are very helpful in planning your hike.
Comfort
I took the cheapest room available, a bed in the tent for six people. I was expecting a small tent but it is large, with wooden walls dividing the walls. The mattress was pretty thin but still comfortable and I slept good as gold except for waking up overheated due to the heavy blanket (that's me though). The common areas are large and you have plenty of greenery to chill out on. Ana's kids can be a pain in the arse. One of them starting throwing pillows at me – it was very awkward. Plenty of toilets and showers (hot water) available. Oh, there was lots of flies while I was here (July 2015) which was really buggy (boom, pun).
Value
I was paying 20 Polish Dollars a night (€5) which is insanely good value. The hostel location is in a quiet village around 6km from Zakopane so if you don't want to walk to town, it will cost you four zoltys (€1) each way. Breakfast wasn't provided but the kitchen had full facilities and a espresso machine. If you need to live on the cheap for a few days, it is a great spot to do so.
Location
GPS Coordinates: 49.163521 19.525742
The location is interesting. It is set at the base of the Tatras and you can be on the trails in minutes. The little village has a convenience store and petrol station a couple minutes away. To get to Zakopane the main road will take you straight there with a bus coming each way every hour or so.
Digital Nomad Savvy?
The common room is huge but during the day the kids might be watching TV or running amuck. I found it best after 10pm when people were chilling out after hiking with a beer or two. I had trouble connecting my phone to the Wi-Fi (wasn't just me) but the laptop had no issues.
Speedtest.net Result here (66/7.32down/0.33up)
How To Get There?
Polski Bus is one of many bus companies running between Krakow to Zakopane (15 zlotys). Once you get to the bus station, ask around for a bus toward Koscielisko. Some buses will take you to the bus station opposite the hostel or you will get dropped in town and have a 15 – 20 minute walk to the hostel. Checkout maps.me for a great offline maps app. Bus will cost 4 Zlotys.
I would stay here again if I needed to save some funds, but the kids were quite annoying. It is so tranquil outside though so all is well.