You know how you have random small memories of your childhood? One for me was in 1998, a big year on the football calendar. I was 10 years old, and I remember CRUSHING FIFA 98: Road To The World Cup on PlayStation.
Why is that relevant to this post? Because the 1998 World Cup was hosted in France. and with France winning the trophy the countries love for football was clearer than ever, ensuring the sports would retain the title of the most popular sport in France.
But what other sports in France are popular? To be honest, I wasn't really sure what else they played other than Rugby.
With a bunch of research for this post, the following are five of the most popular sports in France followed by a few of the traditional and unusual sports you may or may not have heard of that are SUPER French.
Side Note 1:Having written this, I now want to do a sports trip and France. It'd be a combination of roughing it while following the Tour de France then trying to match the lifestyles of the French. Staying in a villa in southern France, playing Petanque and watching the rugby with friends.
Side Note 2: One of these days I'm going to figure out a system for measuring the most popular sports using some kind of formula….one day.
Football
Football in France became popular thanks to the French soldiers playing during the first World War (it's crazy how much sports soldiers played in their downtime) and the French Football Federation was then founded in 1919 shortly after the war.
By the late 1990's France had become a football powerhouse and that was all encompassed as they won the 1998 FIFA World Cup that they hosted and in doing so, became the seventh nation to win the trophy. As a bonus, Zidane Zidan was named the best player in the world later in the year.
The French national team have had their ups and downs since (fell to #25 in the rankings in 2015), but are still considered one of the teams that are going to be there or thereabouts when the big tournaments are on.
Rugby Union
As a kiwi, the French Rugby team are our bogey team. They love to beat us at just the right moments, such as big World Cup games in 2003/2007.
There are over 250,000 registered rugby players in France and the French domestic competition is one of the best leagues in the world. The money involved is huge, which means many great players from around the world head to France for a few years to earn a nice pay cheque before retirement.
Tennis
The French Grand Slam better known as Roland Garros has a long history of dynasties, perhaps none greater than Nadal in the last 10 years. Interestingly, despite having 1,000,000 registered players (the second most of any sport in France behind football), it's fair to say they've been waiting a long time for a number one ranking men's player to come to the top of the tennis world again (as in top 4).
You'll no doubt recognise some of these French tennis player names though: Richard Gasquet, Gael Monfils, Jo-Wilfried Tsonga, Amélie Mauresmo, Mary Pierce, and Suzanne Lenglen.
Cycling
The Tour de France is the sport with the most number of spectators year after year (millions they reckon), helped of course by the 30 days of the event. Cycling as a professional sport has gone through lots of doping setbacks, but that doesn't prevent the French hitting the road at an amateur level.
If you're on a road trip through France, you'll likely see a group of cyclists in all the appropriate cycling gear. If you'd like to cycle yourself in France, the French Velo Tourism site is a great resource with thousands of kilometers of cycling routes available in addition to all the practical advice you could ever need.
Equestrian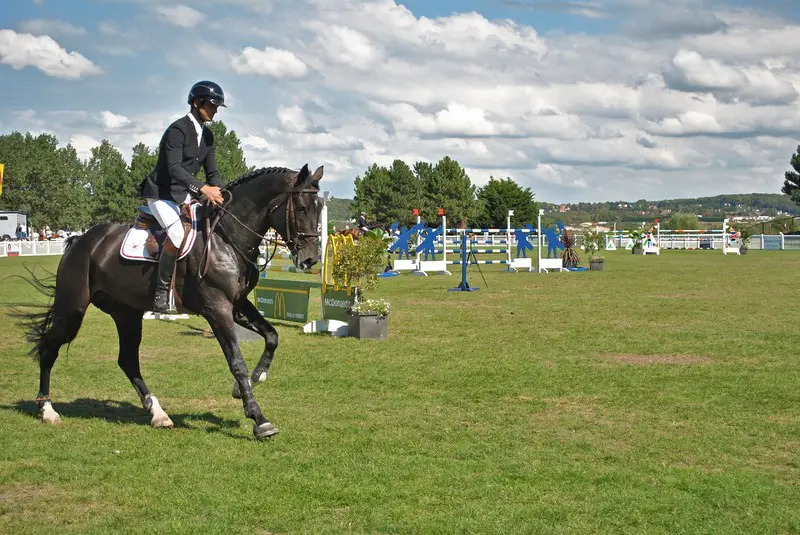 When I was researching for this article, seeing equestrian being so popular was definitely a surprise. It turns out there are regular equestrian events throughout the stage and France have produced great riders, with some going as far as calling France the center of the equestrian world. Known now for their showjumpers, they have traditionally been known for the form of dressage. The dressage style you see in the Olympics today is German rooted, the French aspects slowly going out of fashion.
UNESCO even acknowledge the history adding "Equitation in the French tradition" to the Intangible Heritage Representative List as the classical French style leads to a "harmonious relationship between horse and rider, with mutual respect and lightness."
Other Sports You'll See In France
Sailing
Skiing
Motorsports
Judo
Handball
One Traditional & Unusual Sport From France
Petanque
This brings more childhood memories back into play as we always played Petanque with the family on Christmas Day. I'd love to go play some Petanque in France, the south where it's most popular.
The game is a variation of lawn bowls with the game usually played on gravel or sand. With a federation consisting of 300,000 registered players, that shows the popularity of the game to this day. You'll find more people playing casually in the south of the country, so on a trip through France make sure you take a petanque set with you and get cultural as at every opportunity.
Parkour
You might be used to see parkour as a form of stunt work that originated in the small southern suburbs of Paris. Getting to the foundations of the sport is tough, but a small group of friends called there circle Yamakasi meaning strong man, strong spirit.
They kept everything lowkey after it started in the late 1980's into the 1990's. Eventually, the movement spread and with a documentary of high jumps released in 2001, the emerging sport started to get more publicity. Not for all the right reasons though with the documentary related back to two copycat deaths in the months after.
So while you probably won't see much in the way of parkour in France itself (unless you jump on a ledge and yell 'parkour'), you might this interesting like myself. And if John De Sena has his way, obstacle races will be in the Olympics by 2024 which is related to parkour indirectly.
---
For detailed stats about sports in France this site is useful.
Well, that is my article about the different sports in France complete. I hope you have managed to learn something about French sports. In researching this article I certainly did and learned a bunch of fun facts. Thought I was hoping to come across some more obscure traditional sports.