You know a country is football crazy when there are retail shops from clubs based in another city. In Antalya, there are Galatasaray and Besiktas retail stores. Both clubs are from Istanbul.
Back home in New Zealand, you'd never see a Wellington Hurricanes shop in Auckland.
In an unexpected twist, the first football match I attended in Turkey was an international.
Turkey vs. Albania at Antalya Stadium, 13/11/17
There was no match promotion around the city, odd for a football crazy country.
Luckily my Googling uncovered the fixture a few days before kickoff. I went with two friends from the hostel on Monday evening for the 8.30pm start.
The following are some observations from attending an International Friendly in Turkey. You'll read about:
ticket prices (cheap)
flags (insanely awesome)
food and drink (cliche as)
security (smooth)
crowd atmosphere (wicked)
You won't read about the quality of the game, as I'm not an expert by any stretch. I have popped a highlights video at the bottom for those who want to watch that.
Ticket Prices Are Crazy Cheap
After discovering there was an international match in Antalya, the next step was to get tickets. As is the case in most matches I've attended this year, buying tickets online is never easy.
Heading to the stadium three days earlier I had no idea the cheapest tickets were going to be 10 Turkish Lira. The 'expensive' tickets were 20 Turkish Lira.
A ticket to watch AntalyaSpor play at the same ground costs 80 Lira. I was expecting the prices to be at least that.
Tip: You'll need to bring your passport along to buy tickets.
The Turkish Love Their Flags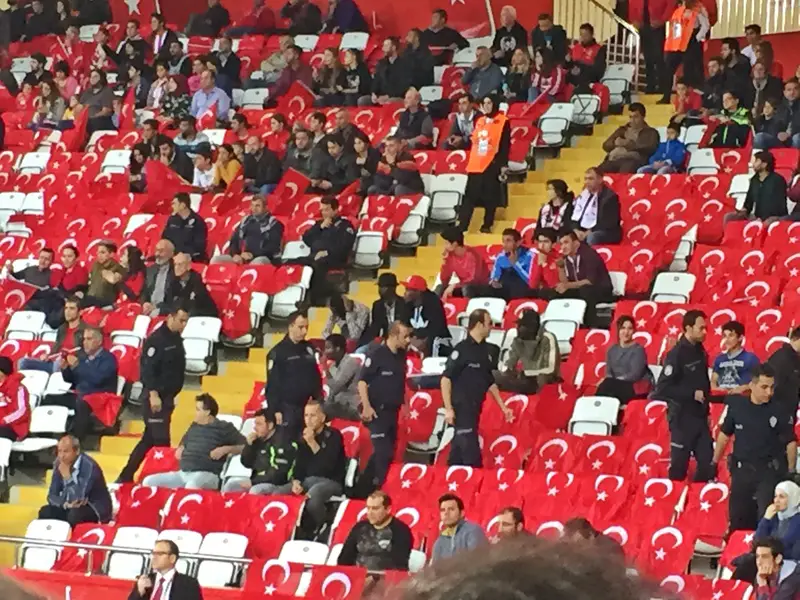 I read about the Turkish flag history and there's no stronger statement than this:
"Personally, I try to behave as a decent, modern man, but when there's an insult to Turkish flag in my presence, I'd shoot the offender without hesitation." – source
Turkey are a proud nation. When we entered the Stadium, there were more flags than people. Every single seat (32,539) had a flag on it. They weren't some silly four-inch flag either.
I've never seen anything quite like it. Thankfully for most of the game, the flags weren't waved so you could watch the football.
The red on the flag represents the blood of soldiers and the star and crescent moon are Islam symbols.
Turkey doesn't go over the top with their flag culture. You won't see it displayed on undies, sunglasses or anything like that. But when they decide to go all out with the flag, they don't hold back. The sheer amount of flags in Istanbul on arrival was bamboozling. Turns out it was the Republic Day of Turkey (29/10/17).
This was one of the best things I've seen!
The Crowd
The official attendance wasn't announced, and I didn't see any supporters from Albania. But I'd say there was at least 20,000 in attendance (32,500 capacity).<,/p>
With no hype around the city and Turkey missing out on qualifying for the World Cup (again), this could have been a fizzer. But they have enough passion for football and country pride to make an appearance.
From what I could see, except for the cluster of fans behind the goal posts the crowd was wide-ranging. From young to old, male, and female.
The fans tended to stick to mutual clothing rather than wearing their club shirts. This took the risk away from any conflict escalating. A wise move I must say.
The crowd were singing throughout the game. Interestingly, the area where ultra fans sit became quiet and empty in the second half. I'm not sure why, as despite being down 2-0 at halftime, ultra fans usually sing their hearts out for all 90 minutes.
Then there was the guy above. He was full of energy, keeping the fans along the lengths of the pitch engaged. He was getting the crowd waving, clapping and singing. He was magnificent. He must be a bit of a local legend as the crowd didn't resist his efforts what so ever.
There's always tension when a crowd is jeering at once. Especially when you don't understand why. The biggest jeer came at the end of the first half. I couldn't tell if they were towards Albania, in an attempt of intimidation or at the home side for a poor scoreline. Both?
Overall the crowd was sensational, and despite the language barrier, everyone was friendly.
Jolly Good, Seeds, Chips, & Tea At The Football
There were no alcohol sales at the match, nor any massive retail presence in the walkways. That too makes Turkey like most of Eastern Europe football matches I've been to. But yet again, smoking seemed to be okay.
I did get a hot tea 🙂
Fun thing about the tea was the tea bag was built into the bottom of the cup. All they needed to do was fill with hot water and I had a fresh cup of tea. Have you seen this before?
A marvellous invention.
The goto snack was sunflower seeds. Getting up at fulltime took me back to China, when you sit in outdoor seating areas among all the husk discards.
When leaving the stadium there was an insane amount of stalls selling Turkish kebabs on the street. Classic Turkey.
Useful Tip:
Don't bring coins with you, there's a chance security will confiscate them
The cashiers don't provide change in coins (round up your purchases)

The Security Situation

I was expecting a high level of security. Why?

Turkish supporters from opposing clubs might not see eye to eye
Dissapointed fans after missing out on qualifying for the World Cup
The picture below was my first glimpse of the stadium, three days earlier

As we entered I was 'patted' down twice. Given I was expected metal scanners, sniffer dogs, riot police, the works; the process was quick.

There was a police presence in the stadium, there just wasn't that high tension in the atmosphere.

Is this why they call international matches a friendly so often in football?

Having listened to a podcast on stadium security, I was more aware of their movements throughout the game.

There was one security man on the phone in front of where we were sitting, he appeared to be the boss man. Security and fan safety is a situation that's always evolving. When Turkey went down 0-2, the crowd was silenced, and security got tighter. Police and security were standing shoulder to shoulder.

When Turkey got back in the game, the security was more relaxed (you wouldn't be able to do a nude run). Then with about 10 minutes before full time, they tightened up again.

There was a visible number of female police and security staff present. That's not something you always see. YAY TURKEY

I saw security not having to deal with anyone, so with a great crowd, the security was barely visible.

But Jub, Who Won?

Albania (the massive underdogs) won 3-2 in a goal-fest. Check out the video below for highlights:

---

Given the price, this was a great night out where I spent less than 5 euros! I'm not sure if the ticket prices for an International match in Turkey will always be that cheap, but it's worth a look.

You get to see the pride of the nation, drink tea, eat seeds, watch some football, and as one of the few foreigners, get lots of smiles. Sensational.