This is my Interflix bus pass review, an unknown offering from FlixBus.
If you're looking for a FlixBus code online, you won't have much luck from my experience. But if you happen to be staying in hostels, ask the staff members if they have any 10% off discount codes. FlixBus often send a bunch to various hostels in Europe for guests to use (even if you just save 99 cents on a 9.99 ride).
Alternatively, for the last few years, there has been a subtle offer on the FlixBus website that is really great. It's called InterFlix and here's the link.
I was finally able to take advantage of the Interflix bus pass in 2019.
Why do I say subtle? It's not advertised on the FlixBus app at all, and can only be found on the website as the last of the seven options on the dropdown menu under Plan Your Journey.
At the time of writing (November 2019) the deal was simple, 99 euro for 5 rides. But of course, there is some small print.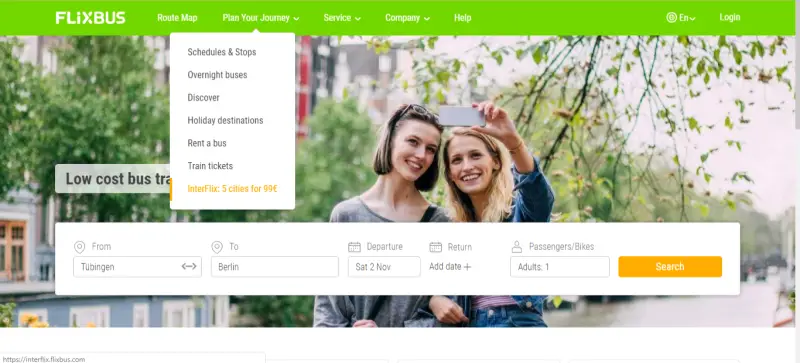 You can only redeem the codes when booking via the app/web app (not on desktop).
Payment for InterFlix is only via PayPal (you can connect your credit card to PayPal) where as you can use credit card when booking the actual buses
The rides must be direct, which does limit your options but there's still lots of freedom and it's easy to distinguish a direct ride from a non-direct ride.
You must redeem all the codes within 3 months.
A return trip along the same route is not allowed which isn't a biggie if you're genuinely travelling Europe.
So is the Interflix pass worth it?
In short, yes. I'm writing this on the last of my five bus trips using my Interflix bus codes from Frankfurt to London.
The five routes I redeemed are below. The prices are the price I would have paid for a regular fare when I booked the bus.
Heidelberg to Berlin (€39.99)
Prague to Zagreb (€32.99)
Bled to Prague (€29.99)
Tubingen to Frankfurt (€13.99)
Frankfurt to London (€49.99)
Total value of buses = €166.95
So that's a saving a €67.95, about 40%. That's a good hourly as the codes take a couple seconds to input and just a few minutes is needed to buy the pass online.
Why did I book a bus from Tubingen to Frankfurt that is less than €20? Well, I had two codes left to book, and only two rides left on my trip to Europe. I thought that route might get more expensive at the last minute, but it didn't. And given the code would just go to waste, I may as well use it.
Benefits of InterFlix
The three month time frame is large.
The direct routes include night buses (they could have been stingy and limited this).
You aren't exposed to price increases.
You can be super flexible and book the buses up until 30 minutes before the expected departure time.
You will save money unless you only take short rides/don't use the codes.
You can buy multiple passes (for 10/15/20 rides etc).
Every time I mentioned the InterFlix deal in hostels and to friends, they were surprised as they didn't know about it. I want to increase the awareness of this offering.
Interflix Bus Pass Review: Cautions
This won't be for everyone of course. Before purchasing the pass, play around on the FlixBus website/app to check out potential routes you'll take. If there are no direct bus options, you'll be out of luck unless you get creative. The same goes for those taking short rides. And if you're travelling with carry on only, there may be cases where flying is cheaper (not so likely with last minute flights).
Let me know if you've used the InterFlix pass before, and if you remember, how much you saved! If you have any more questions, please let me know in the comments below and I'll do my best to help.