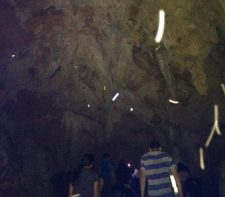 Caves are bad ass. When you enter a cave, you're expecting an adventure. Peninsula Malaysia's largest limestone cave certainly delivered, well eventually. I was looking forward to checking out Gua Tempurung cave after hearing about it in Penang. The perfect chance came up when I wanted to meet some friends living in
Kuala Lumpur
. Ipoh is the gateway to Gua Tempurung, roughly halfway between Penang and KL. The perfect spot to catch up with the buddies! We decided to do the Gua Tempurung tour 4 the night before (
click here
for a
description of the tours available
…prices are at the bottom of the post). Thankfully we did some research as the last tour started at 11am – rather early by our standards. We made it just in time running inside to catch up with the rest of the tour who started a few minutes earlier. The first 20 minutes of the tour was lame. We followed the concrete path up and down stairs in the sauna like conditions. With nothing interesting to look at and no chat about the history of Gua Tempurung or any fun facts
I thought the tour was going to be a dud
. Luckily that all changed when we got to the end of the 1km concrete walkway. Our guide told us to turn off our flashlights momentarily. When everything went pitch black that was the cue for adventure time.
---
Gua Tempurung cave is over 3km long, 1.9km of which we would be exploring. The largest limestone cave in Peninsula Malaysia is made up of five different domes. Each unique with different:
stalactites & stalagmites
water levels
limestone and marble content
temperatures
Before we knew it, we were shimming through small gaps, crawling through the rivers, jumping over gaps in the path and sliding on our bums up and down levels. Our Gua Tempurung caving experience was now at the gnarly level we were looking for.]. We also met some friendly cave dwellers on the way. I've got no idea how our guide spotted them but we saw two large spiders, a scorpion, a centipede and some bats. It was definitely one of those situations where you think, crikey, if you turned on the lights right now I'd probably freak out big time and possibly poop my pants a little bit with all the creepy crawly's around. Two hours later we found light. It wasn't where we entered the cave but the turn around point. We got a 15 minute break and this gave me a chance to see just how big the cave was (see photo below). Time to head back into the cave. It's crazy to think we went back a different way, I saw no alternative routes on the way through. That's why you have a guide I guess. There was an adrenaline pumping moment on the way back. At one section you slide on your bum with no chance of reclaiming your grip. You only slide for a couple metres but the guide definitely needs to be there to catch you or else 8/10 people are going to break something! After 3 hours and 15 minutes of intense sweating and maneuvering our body like a pretzel we exited the cave. Our Gua Tempurung caving experience was epic. There was around 15 of us in the group and everyone had smiles hidden behind their exhaustion and wet clothes. I highly recommend this tour!
Gua Tempurung Entrance Fee
A few notes:
These prices are as of 22nd August 2016
Bring your student ID along, you may get the discounted rate if you ask nicely 😉
The Gua Tempurung ticket price includes the guide
How To Get To Gua Tempurung Caves
There is a large car park so can drive there. The caves are located just south of Gopeng and 25km south of Ipoh. Gua Tempurung Map Link (Google):
click here
From Gopeng:
Hitchhike:
There's plenty of room for cars to pull over on the main road through Gopeng. Get your ride to drop you off at the turnoff to the caves. From there you can hope to get a ride with someone else or walk the ~2km the rest of the way.
Taxi:
There are plenty of taxis available from Gopeng bus station. We took a taxi from here for 20 MYR one way. Our driver provided his business card so we could call him if we wanted to get picked up afterwards (20MYR as well).
Bus:
You can bus from Gopeng to the turn off and walk or hitch the last couple of kilometres.
From Ipoh:
Bus:
From Medan Kidd bus station, take bus no.66 (they run every 20 mins or so). You can either get off at Gopeng bus station or at the turnoff to the caves. From there, see above. The bus fare is 2.70 MYR and takes 50-60 minutes from Medan Kidd Station to Gopeng Station.
We asked a couple of people who were on our tour to drop us off at the bus stop near the turn off so we could get the bus straight back to Ipoh afterwards.
My recommendation:
If you want to get the 11 am wet tour, get a taxi from Gopeng. You wouldn't want to miss out on the tour because you were mucking around with buses and hitchhiking. If you ask nicely, getting a ride back from Gua Tempurung – Gopeng or the bus station on the main road shouldn't be too hard.
What To Bring Caving Gua Tempurung
A spare change of clothes:
Assuming you are doing the wet tour, you will get wet! There's no avoiding getting wet unless you have spider man abilities. There are showers available at the cave entrance for 1MYR.
Shoes or sandals with straps:
I brought my sandals along and they weren't recommended, rightly so. They have some shoes available there. If you bring shoes, they'll get wet….don't forget that 🙂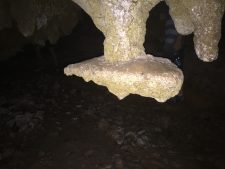 Waterproof camera/cover:
If you don't have a
waterproof camera or phone case
, don't bring them into the cave. They won't last very long in most cases. Cave photography is for the experts only anyway.
A head torch/flashlight:
One flashlight between two people is fine. If you don't have one, they're available at the entrance for 5MYR (cheap low quality ones but they do the job).
Food and drink:
You won't be bringing food on the wet tour. You can take a water bottle, but please don't litter. There are a couple of rubbish bins on the concrete path you can use in the first 1km of the cave. Food and drinks are available afterward at the shop. There are lockers available for your stuff near the entrance for 5 MYR.
Is There A Hostel Or Hotel Near Gua Tempurung
If you'd like to stay near Medan Kidd Bus Station in Ipoh, I can recommend
Le'Bug & Boat Backpackers
. A chilled out hostel where you half expect a hipster to come pour you a coffee! The hotel scene in Gopeng barely scratches the surface, so I recommend
using airbnb in Gopeng
. Otherwise
Ipoh has lots of options
. There's my Gua Tempurung review for you. 10/10 would do again! My other epic Malaysia adventure was also memorable,
climbing Mount Kinabalu
in one day.