Was that title clickbaity enough for you?
In the context of this post, the grave diggers are the super passionate supporters of FK Partizan. One of the two football clubs based in Belgrade, Serbia.
Here's a quick video to give you a taste of grave digger action. The better one is towards the end 🙂
Known as the Grobari in Serbian, they were given the name by the supporters at the other Belgrade club, Red Star.
The reasoning is simple. The black and white club colours resemble the uniform of, you guessed it, grave diggers.
I first learned of the grave diggers via my buddy Andrew who went to watch them play when he was visiting Belgrade towards the end of August 2017.
Partizan vs. Red Star, one of the hottest football derbies in the world.
His Instagram story that night was full of flares, chants, cheering and even bonfires.
Having seen the insane craziness of his stories, there was no way I wasn't going to miss either Partizan or Red Star play when I was due a visit a couple weeks later.
Luckily, I was able to watch Partizan FC play Mladost Lucani in the Serbian SuperLiga on September 9th.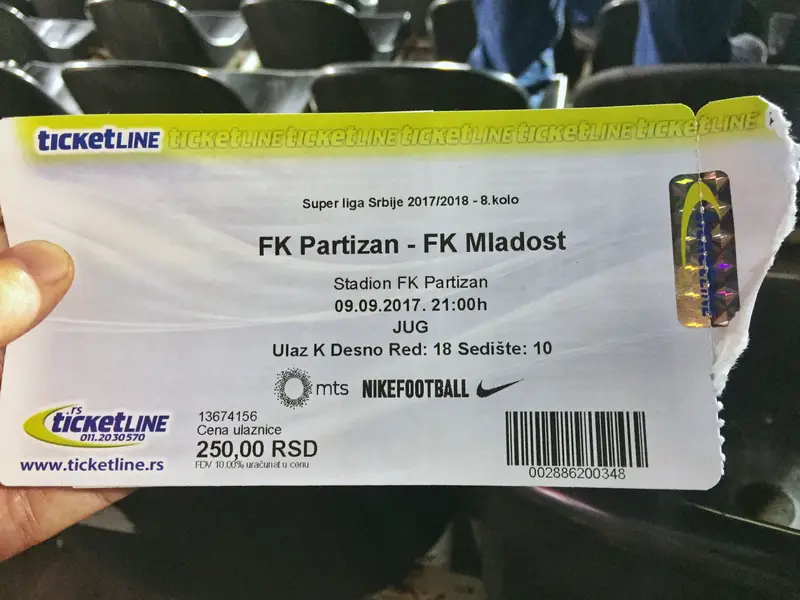 Not a massive game by any means, but I was keen to get amongst the football ultra shenanigans after missing out in Krakow (they weren't at the stadium for some reason). They're an intimidating bunch so I was glad to drag a couple of new friends from the hostel along for the 9 pm kickoff. Late kickoff much?
The public bus was full by the time we arrived, but it became clear this wasn't a big match with seemingly few people walking towards the stadium.
In a first for me, we were searched by the police about 100 metres away from the stadium. Even going as far asking us to empty our wallets (they threw away my coins). Approaching the stadium, New Zealand safety officials wouldn't have been happy with the concrete breaking away on the stairs.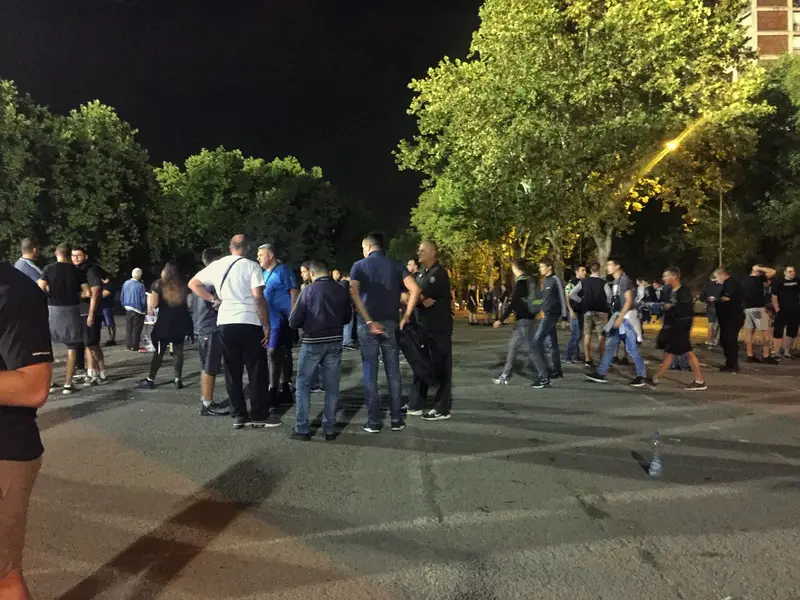 It was a bizarre atmosphere with all the crowd in the black and white of Partizan. Everything around the stadium was black and white in support of the home team. It's was like being at a heavy metal concert, zero colour to be found.
There was no food trucks or massive brightly coloured advertising, just small stalls set up by locals selling snacks in paper cups that were scoffed down before entering the stadium.
We managed to buy tickets (see below) and it was time for the second frisking as we entered through the gates. This frisking came with a bonus stroke of the beard. Or maybe they were searching for rice hidden deep within the beard that could act as a potential weapon.
Seriously, though, the riot police were really friendly with us. To see a Kiwi, Aussie and an American turn up to their games isn't exactly a norm.
Entering the stadium was airy. With a lack of a big crowd and graffiti/art on the cold concrete structure, it almost felt like we were in a graveyard after dark.
We quickly found out they don't serve beer (water, coke, and sprite only), While disappointing, we would soon find out why. These supporters probably preload a fair bit and have enough enthusiasm that beer would likely stoke the passion beyond the healthy level.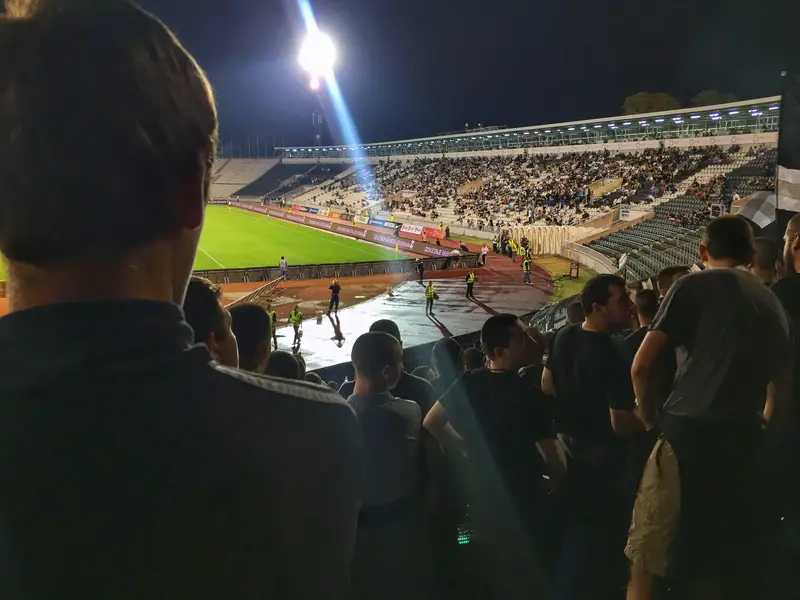 WANT TO VISIT BELGRADE? THERE'S PLENTY TO SEE
Our seat section, K, was within the roped off area that separates the ultras from the rest of the crowd. Not that that was required on this night with the stadium doing well to be a quarter full.
Time to embrace the next 90 minutes as we scrambled towards the edge of the group.
The next 90 minutes were full of the Grave Diggers singing, chanting, moshing, shouting, laughing and in general having a great time. From time to time, they did seem to follow the football as well.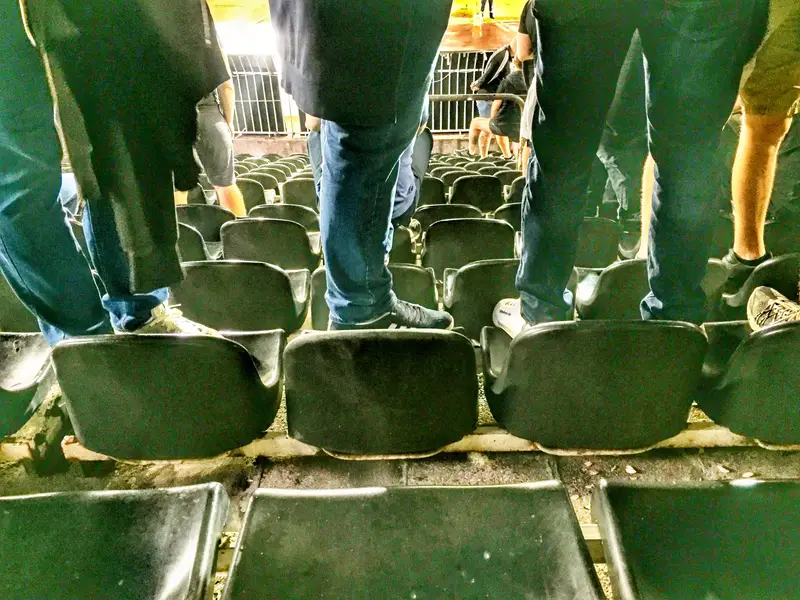 I can't say I saw any females getting amongst the gravediggers, but in terms of ages, there were a few rebellious teenagers and adults of varying ages. The bulk of the fans were in there 20's. This is the norm for Ultras.
For the entire 90 minutes of the game, every Grave Digger (and us) was standing on top of the seats.
This proved tricky for one chap who had a bit too much booze before arriving at the stadium and was falling up and down the stand for the first 10 minutes before he slowed down. He decided to sit down right behind me, leaning forward in that precarious position we all recognise as the preemptive vomit.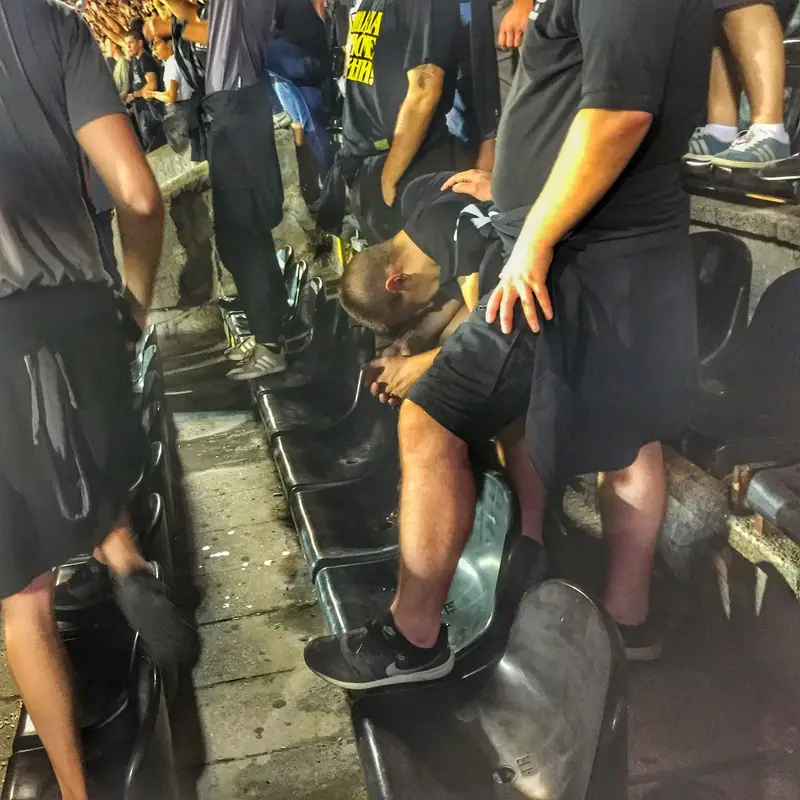 We decided to move 10 seats or so further left in what was a brilliant decision as he vomited shortly after. He remained in the same position for the rest of the game as the rest of the undertakers continued on undeterred (a couple of his mates, got him water, keeping an eye on him).
Alright, so there is some organization as to how the Ultras work. There were a couple of ringleaders spaced out towards the ground level of the group who had loud microphones echoing out instructions for the next chant (I assume they were instructions).
We could tell the chants were catchy, but I was still impressed by how in sync everyone was. Hand movements included. We tried to keep up from time to time, but our timing was doing more harm than good.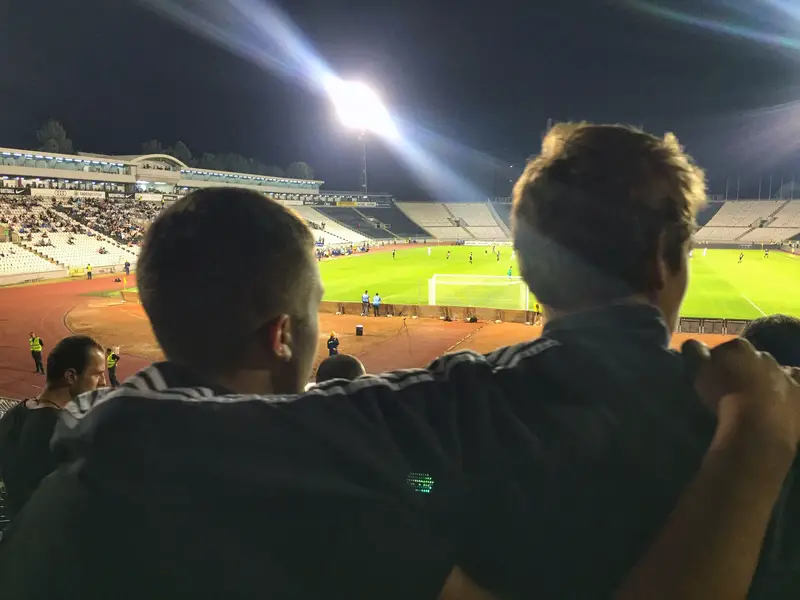 We didn't chat with anyone. There isn't exactly a chance as they are too busy chanting, that is until halftime of course.
Whereas I'm used to seeing everyone leave their seats at halftime to:
buy beer
take a leak
buy snacks and,
all the 'normal' stuff the supporters were now sitting down.

If you walked into the stadium at halftime, you'd never have known these lads had been non-stop noise for the previous 45-minutes. It was bizarre.

As the teams and referees came out for the second half, the supporters started to find their voice again by jeering at the officials. It was quite nasty really!

There were a lot of fouls let go that would have been pulled up in the Premier League I'd imagine. That was something I noticed straight away, but it was also refreshing to see as a non-soccer follower usually. Good luck trying to get your Hollywood past these officials. You almost have no choice but to be legitimately injured if you want the officials to act. Great success!

The second half got underway and there were three things of note about the Grobari in the second half that I noticed:

1. The flares came out. It was about the 70th minute when our eyes were directed to our right as the red burst of the flare ignited. I'd secretly been hoping flares were going to be lit, especially as firefighters had been patiently standing along the running tracks in front of the grave diggers.

It started out as a couple flares before one of the pack leaders started throwing out several flares at once. Before long, there was a bunch of flares going, which combined with the chants created quite the gloomy atmosphere. It reminded me of a scene from The Simpsons where they all march in protest of someone (I can't find a clip of this scene dammit). Anyway, check out the video below to get a glimpse of what we saw.

2. They weren't busy on their phones. You seemingly can't go to a live event now without seeing hundreds if not thousands, of phones taking photos and videos throughout the event. This was different. Few were taking videos or photos. I was feeling awkward taking photos and video. Doing so in as subtle way as possible. I'm not sure if this is a group rule or something, but a couple of people didn't look at us friendly. They said some stuff we couldn't understand when they saw us taking videos, we got the idea though.

3. Moshing. It was hard enough for me to stand on the chairs for 90-minutes stone cold sober. With about 10 minutes to go, the crowd started moving out of sync. We had headed to the back of the group for a different view by now but on closer inspection, they were moshing. It was all friendly but crikey, some of them took some awkward looking falls. That was brutal. 10/10 stoked I wasn't in the middle of this mosh pit.

---

Once the game was over, we quickly left. I can't help but wonder, where the Grobari goes post-match. Do they have a bar they all go to and get wasted? All head off in their own directions? Are they all family lads?

It's almost better not knowing. You have to leave a bit of mystery about them right?

How To Buy Partizan FC Tickets

We rocked up to the stadium without any tickets purchased. There are people scalping tickets but that isn't necessary unless the game is sold out (maybe only against Red Star?).

The ticket office isn't attached to the stadium, we needed to walk 150 metres or so. The staff helped direct us.

Cost (note, this was for a Serbian SuperLiga match):

450 dinars (~4.50 euro)
250 dinars (~2 euro)

We asked for section K, which is where the Grobari sit and are the 250 dinar tickets.

How To Get To Partizan FC Stadium

The stadium is located just past the Museum of Yugoslavia. Assuming you are staying in or around the old city, you can catch bus 41. The journey took no more than 20 minutes. You can then take the same bus home.

Is It Worth Going To A Partizan FC Game?

In terms of the quality of the football, you can give it a miss. It's not horrendous, but it's not one of the top European leagues for a reason. The whole night was a blast. I've never seen anything like it from the gloominess around the stadium, the police:fan ratio, and passion. It was impressive and a great way to experience a bit of Serbian culture on a budget.

Final score? 3-0 to Partizan FC.