Monkeys. They can be found throughout Southeast Asia bringing smiles, cries and laughter to faces young and old. The typical monkey you see in Southeast Asia is known as the crab-eating macaque. Prior to this recent trip to Indonesia, I've experienced monkeys up close at the Ubud Monkey Forest, the 'Monkey Temple' in Lopburi and the Orangutan Sanctuary on Borneo (yes, technically they're great apes) and randomly throughout the continent.
The sum of all these previous close encounters? I'm not a massive fan of monkeys.
Visiting the crested black macaques in Tangkoko Nature Reservehowever was by far the coolest monkey encounter I've had. I would go back in a heart beat and you should probably visit them too.
The Monkeys Were Simply Enjoying Nature
I definitely remember seeing the first crested black macaque. There was a couple of branches in the way as we all stopped to try to take the perfect Instagram photo and snapchat the wildlife encounter in real time. I figured it'd be the one and only macaque we'd see.
Yay for being wrong…sometimes.
We started to see a few more black macaques in the surrounding area and before long there must have been 30-40 of them in a 60 metre radius. Initially they all seemed to be one big family strolling through the forest but then they split up into smaller groups. Before long our group was scattered around the area watching monkeys be monkeys. They were eating, playing, jumping, climbing and doing other *cough cough* 'el naturale' things, as you'd expect/
You Can Relax With These Guys As They Aren't Thieves
Monkeys are cheeky. I remember coming across my first ever 'wild' monkey in Costa Rica. He was stealing peoples stuff as he pleased. Since then I've always left them to it. I enjoy bananas to much to be fighting tooth and nail for them. Most of us left our bags on the bus but that doesn't mean these black beauties couldn't have had fun with us if they wanted. There was plenty of camera straps and phones to grab on to if they wanted. There wasn't any need though. If we got a little close we could sense it and all would be well. We could simply enjoy the company.
They couldn't have cared less though which is good. It was like they were talking to us…. speaking of which, this is Rahul below. This is pretty much how our conversation would go if Rahul spoke kiwi.
Rahul the crested Black Macaque: Don't get to close alright and we'll be sweet."
Jub: "Sweet as bro."
Rahul: "That includes encouraging me to make your life hell."
Jub: "Best mutual agreement ever. Chur."
Yay for friends.
It's A Non-Touristy Experience
Hundreds, if not thousands of people experience the monkeys in Ubud everyday. The Borneo Orangutuans have fixed feeding times meaning you are joined by everyone else in the area on the viewing platforms if you want to catch a glimpse of the Lopburi monkeys you simply head to the Monkey Temple minutes from the train station and you'll have the crazy things all over you.
I couldn't find any stats on numbers of tourists that go to North Sulawesi but it isn't many – we spotted a dozen max in our time in North Sulawesi. I hadn't even heard of Sulawesi before this trip (have you?). Therefore when you're watching the crested vlack macaques it does feel very exclusive.
Let's be honest, we like to brag about getting off the tourist trail.
The Journey Isn't Easy To Get There (or back)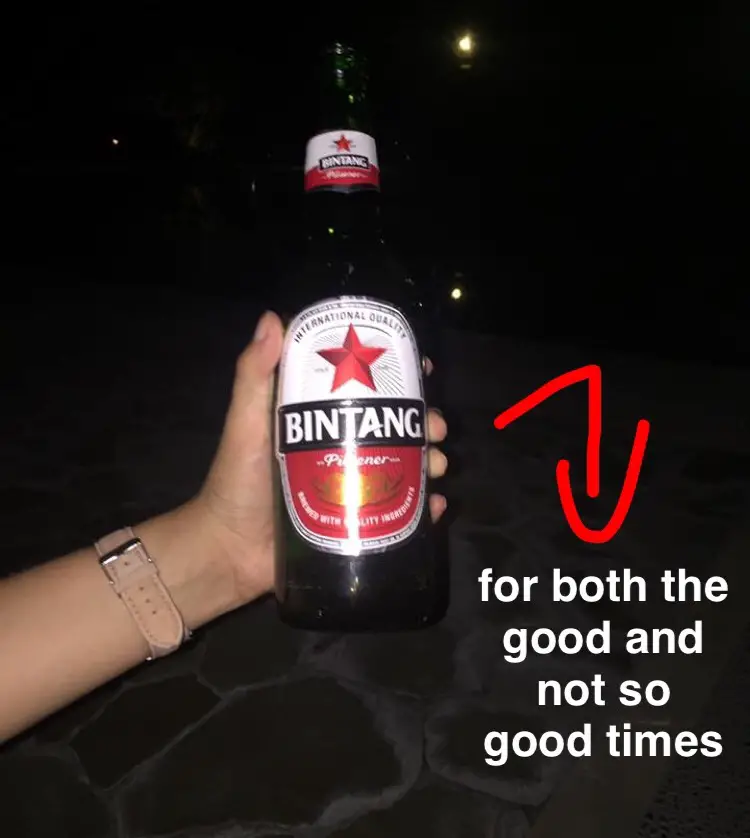 My usual accommodation on the road is hostels so staying in hotels on this trip was a nice change. What I love about roughing it is the satisfaction once you make it to your destination (insert cliche: 'it's about the journey'). The Tangkoko Reserve is only 58km away from Manado but after a boat trip to Bunaken in the morning, the 2-3 hour bus journey to the reserve wasn't 'classy'. The roads are bumpy, traffic is hectic and as we neared the rainforest the roads got tight.
It was totally worth it though and makes the whole experience way more memorable getting there.
Depending on when you finish your adventures in the Tangkoko Reserve you might find yourself wandering back along the path in pure darkness. It's safe to do so, just make sure you bring some sort of torch.
They Share The Tangkoko Reserve With A Pretty Unique Buddy
You can spot the average black macaque comfortably. Their jet black colour sticking out from the usual rainforest colours. What you might not be so lucky to spot though is a tarsier. The tarsier is one of the smallest primates in the world. The Tarsiers chilling in Tangkoko are nocturnal creatures who spend their days in the trees before heading down to ground level on dusk for feeding.
You aren't guaranteed to spot a tarsier so we got lucky to catch one just before we left. Their eyes are massive just like in the cartoons and while it'd be fun to have one in your hand, just seeing a glimpse of one of the wee fellas capped of the best monkey experience ever. When you head to Tangkoko, just remember their eyes are sensitve so don't go using the flash.
Cheers Aga for taking the sweet photo above and letting me use it here! Her post on things to do in Sulawesi will give you many more reasons to visit Sulawesi.
Other Things To See At The Tangkoko Nature Reserve
Right on sunset we made the quick walk to Black Sand Beach. Much like the Pink Sand Beach on Komodo is actually pink the beach is definitely black. We only had a few moments to spend here before darkness set in but I'm so glad we did. The sand was real grainy, I hadn't experienced it like so before.
With at least 120 mammals, 230 bird and 100 reptile species in the Nature Reserve there's plenty of wildlife spotting to be had in the rainforest. Many of the species can only be found here too. At least the coolest monkey has some pretty special and cool friends!
How To Visit Crested Black Macaques
Visiting the Crested Black Macaque isn't 100% easy but totally doable. They can only be found on Sulawesis Tangkoko Nature Reserve (Indonesia) and a neighbouring island, Bacan.
While Bali, Lombok and the Gili's dominate the tourist trail in Indonesia you should definitely consider checking out the crested black macaques in Sulawesi. Here's the link from above again with more ideas for Sulawesi.
You can catch flights with Garuda direct to Manado International Airport which is the closest airport if you now want to visit the coolest monkey ever. There are tours available from Manado to Tangkoko or alternatively you can stay at accommodation closer to the reserve (you need a guide with you when you enter the reserve).
We stayed at the Manado Tateli Beach Resort (affiliate link). While the rooms were pretty solid overall and the resort grounds epic I wasn't able to connect to the WiFi from my room.
Thanks to the Indonesian Tourism Board for making this Fam Trip happen. All opinions are mine.