Why spend time working out what the best water bottle for travel is for you?
Because in theory, you won't lose the water bottle. Therefore it will be one of the few things you actually use daily whether you travel for days, weeks, or months.
Short on time? This is the best version of the classic water bottle.
The benefits of having a water bottle on you when travel are:
save plastic
always got it on you
productive habits
routine
What are the variables that will determine your best travel water bottle?
Volume, weight, material, size, and cost.
I've tried to make it easy for you and put these details on the table for quick selection.
**all these travel water bottles are made from BPA-free materials.
For me, the most obvious one is the lack of waste created by using plastic. It's one of the motivating reasons for me to dramatically reduce my Coca-Cola consumption! As I write this I'm based close to Wellington and we have a water filter in the fridge which I have put a Coke sticker on. I've figured it's the brand recognition that is part of the reason I always buy it.
Alright, so using the list above, here are five water bottles that exactly same same but different.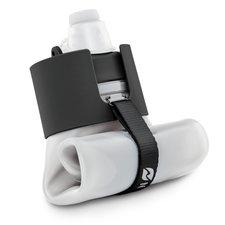 The Nomader Collapsible is a solution for those who hate lugging around an empty drink bottle. The founder Bryan didn't like the bottles he tried on his 8-month worldwide trip so came up with this idea.
The silicone material ensures you'll never have a cracked bottle. How frustrating is it when you have a moment of clumsiness to 'waste' a bottle?
The durability goes for the bottle's cap too with the patented sealing twist cap extra durable.
When it's empty, you simply roll the bottle up and if you'd rather not use the loop around your wrist, you can quickly attach it to your bag, barely noticing it's there.
You might not use a dishwasher when travelling a lot (it's dishwasher proof), but you will want a variety of hot and cold drinks, the best collapsible water bottle for travel is suitable for both.
Germs can be an issue in some countries, thankfully, all the materials are food grade safe (a.k.a. no odour, yay).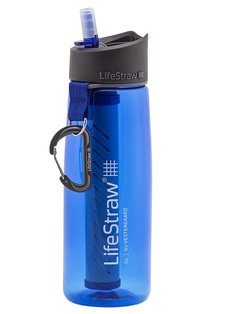 The LifeStraw brand has taken the water bottle industry by storm as they produce the best water bottle with filter for travel by far. The inbuilt water filter getting rid of any dodgy bacteria you might find in natures water like rivers, streams, and lakes (without any chemicals).
The silicone filters can be replaced as they can wear down over time but the 2-filter system means you've got nothing to worry about short term. They are designed to filter 1,000 liters (264 gallons) of water, at which point the filter stops taking in water and you can replace the filter right away.
Purchasing the LifeStraw Go bottle can also make you feel good. With every bottle sold a child in Africa receives an entire year of clean drinking water at school.
One of the early issues LifeStraw had been from customers mentioning the bad taste and odour of the filtered water. They since incorporated a carbon capsule to reduce this issues making it the best portable water filter bottle.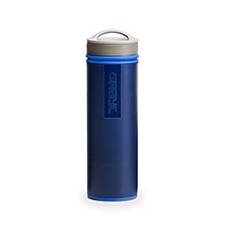 The GRAYL bottle thrives of it's unique Fill. Press. Drink.™ design which means you can get drinking in 15 seconds without any awkward sucking, squeezing, or waiting. You can see on the Amazon page exactly how it works with the pictures. Removing 99.99% of all bacterias, the replaceable purifier cartridge is good enough to last 150 L without any risk before it needs to be replaced. This does mean you could have this bottle for a life time. Does that make it the best water filter bottle for travel? I'm not sure.
Previous buyers compare the pressing procedure similar to that of a Aeropress coffee maker and total filling time takes about 30 seconds. In a small convenience factor the rubber o-ring on the bottom of the bottle prevents the bottle slipping. Others have been surprised how all the water does indeed get filtered even though it looks like there is a gap where non-filtered water can get through. This convinced them it's the best water bottle with water purifier for travelling when you include the long top lip for easier drinking without touching the outside of the bottle.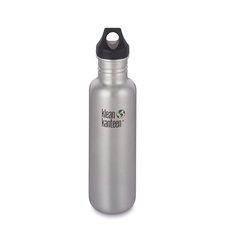 Klean Kanteen attempted to disrupt the water bottle industry with their stainless steel construction, believing plastic and aluminum bottles where hosting diseases and bacteria.
They have a large open mouthpiece making them a great choice if you like adding ice or fruit to your water (I do). The entire bottle beside the cap is made from the food grade stainless steel so you don't to worry about mixing tastes that get 'trapped' in plastic liners or to see if you've got anything unusual growing inside (electropolished interior wins!)
There are no square edges that are always a pain to clean properly meaning you don't have any major concerns about trying to remove all the old dirt which is where the bacteria and germs love to hang out.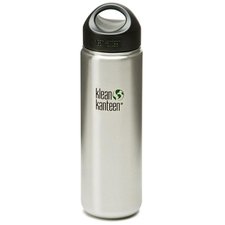 This is a similar bottle in terms of features as the previous Klean Kanteen water bottle, though the stainless steel is a slightly different model. The wide mouth bottle is great for obvious reasons and can even fit most screw cap seals, especially handy if you need to use a water filter.
The biggest difference is the Klean Kanteen Wide Mouth is slightly shorter and wider, so it is totally up to personal preference.

Can plastic bottles be good? Yup, when they are 100% free of BPA and BPS they can be. The CamelBak Chute is similar in design to your 'regular' water bottle, yet it streaks ahead in durability, use, and style.
The plastic used in the CamelBak Chute bottles is durable and if you do encounter a problem, you have the CamelBak lifetime guarantee backing you up.
This bottle is all about the convenience with the spout cap snapping into the handle, and there is no 'slack' between the lid and bottle body tether.
The chute the water comes out from is designed for easy, the high-flow spout makes drinking an ease with a half turn wist of the cap (all one piece) and you can easily fill it up one-handed. Too easy.
---
How To Look After Your Reusable Water Bottle?
I'm not great at this, but you do need to look after your new travel water bottle otherwise you'll be wishing you just went and got a plastic bottle from the shop as the bacteria cleanses your body in a not so fun way. Yup, bacteria love the dark nooks and crannies of your drink bottle, and they're not easy to get to.
To keep them clean, there are three common strategies:
Warm water and soap: The easiest way to clean your bottle when you're travelling. Add some dishwashing cleaner to water and, close and then get shakes. Make sure you rinse it properly and store upside down overnight.
In the dishwasher: Only really possible if you have an airbnb really. Make sure the water bottle is dishwasher safe and then clean all the pieces.
Vinegar: The old school way is best when you need to do a deep cleanse. With 1 part white vinegar to 4 parts water, let the mixture combine overnight and then get rinsing the next day.
What Do I Think Is The Best Water Bottle For Travel?
For me, it's the Klean Kanteen Wide Mouth. I've always preferred the wide mouth bottle as I seem to drink more freely (I always need to drink more). It's the heaviest of the five bottles here, but when we are talking ounces, I'm not too fussed on the weight.
Although how cool would it be to have best disposable water bottles list conquer all this. At the moment, water bottles that are disposable have a long way to go.
If you have any questions, or you'd like me to decide for you, email me jub (at) tikitouringkiwi (dot) com