Have you dismissed Nepal as a tourist location because you don't like trekking?
Trekking is by far the most popular activity in the country. But if you're like me, you wouldn't know about everything else possible! The safaris, extreme sports, culture, temples and beautiful scenery to start with.
I was invited to the first Himalayan Travel Mart and got to see a different side to Nepal.
If you aren't into hiking, take a read and prepare to move Nepal up your bucket list.
Best Places To Visit In Nepal For Non-Trekkers TL;DR Version
Kathmandu: Check out Boudha Stupa, Pashupatinath Temple, and Swayambhunath Stupa. And then eat every momo you can.
Panauti: Get a local experience with a homestay and maybe hang out with a saddhu.
Chitwan: Take a safari, you'll see lots of creatures. Hopefully a Bengal tiger and one-horned rhino.
Lumbini: Visit the birthplace of Buddha. religous or not, it's a powerful place.
Pokhara: The International Mountaineering Museum is popular but you can also spend time at the lake and/or find all the epic panoramic views.
The Last Resort: Four hours away from Kathmandu is an adventure playground. Bungy jumping, canyoning, mountain biking, white water rafting and more!
The Himalaya's From A Plane: Who needs to trek for weeks to see Everest when you can get a better view from a place!
Cities above are marked on Google Maps here.
---
Now the detailed version of the best things to do in Nepal to be all cultural and stuff.
Roaming About The Temples & Stupas In Kathmandu
Kathmandu is one of those cities that doesn't have a great reputation. The likes of Kuala Lumpur, Manila, Jakarta (big Asian cities?) have a similar reputation as a place to fly into, stay for a night then get out ASAP.
There's no denying Kathmandu is chaotic. With cars, cows, and people battling for space in the city streets traffic moves slowly most of the day. You'll have to get used to that, the roads are slow going across the nation.
I don't care if you're templed out or not, check out these religious sites in Kathmandu. They each offer something a little different. Enough to keep you concentrating long enough to make them worth a visit.
Boudha Stupa: The large white temple is believed to hold magical things inside. I liked the prayer flags (is Buddhism sending me subliminal messages I need to become a Buddhist?) and the ability to create fun photos here as per above.
Pashupatinath Temple: This place is crazy! There are bodies being cremated next to the river throughout the day. It's a Hindu temple, but you can't help notice the lads with their faces painted faces. They make for the ultimate cultural photo, whether that be selfie style or a portrait of them. Make sure to hand them over 100 rupees. They don't paint up for anything.
Swayambhunath Stupa: I'd been told this place was a monkey temple before arriving. I'm glad there aren't as many monkeys as Ubud's Monkey Forest or the Lopburi Monkey Temple but still, I was on high alert. This is the spot to go if you want to get awesome panoramic shots of the city and get your bearings.
Pro Tip 1: The three sites above are awesome spots to visit during sunset for people watching and photos.
For more details (and history) on the above check out this post of things to do in Kathmandu from my buddy Marissa.
Pro Tip 2: Eat all the momos. They're the Nepalese version of a dumpling and by jolly they are quality. My buddy Emily did more momo research in Kathmandu than me, but the ones I had at Kantipur Temple House were marvelous everytime (made from scratch).
My biggest disappointment with Kathmandu? There are few cats in KAThmandu.
Want an awesome visual read of Nepal? This post is a great read!
A Panauti Homestay Experience
Homestays aren't my thing really.
I like mixing with locals but independence is something I crave. Hanging with the host family, chatting away, eating dinner and drinking tea isn't something I like to feel committed to (commitment phobias be real).
Alas, I had little choice on our culture tour and it was surprisingly relaxed. The home was more luxurious than I expected with our own room, western toilets and wifi giving me nothing to cry about.
The homestays in Panauti are a great initiative by Community Homestay. I can't recall the names of my hosts, but you can't pick and choose who you stay with anyway. To promote equality, they rotate bookings through the 17 houses in Panauti.
Our hosts took us for a tour of the town in the early afternoon, but they were great in that saw I wanted to explore on my own and let me do so.
I headed straight to the nearby hill where the next couple of hours would be a weirdly awesome experience (nope, no cats involved in this outing).
After taking some snaps of the view I casually approached the guy dressed in a dirty orange robe. He had hair, so he wasn't a monk which confused me. Turns out he is a Saddhu and lives at the temple!
We chatted away a couple hours. His daily routine is rather odd.
1am – 4am: meditate
4 am – 11 am: chill/hangout/chores etc.
11 am – 2 pm: sleep
2 pm – 8 pm: clean/smoke
8 pm – midnight: sleep
midnight – 1 am: shower/clean etc.
As the sun began to hide behind the trees, he lit the fire pit and along with a few other colourful characters (a truck driver, a guy from the army and a man who collects plastic bottles for a living) I enjoyed a cup of tea with them. They also had their daily smoke of the green stuff.
How To Reach Panauti: Public buses leave regularly throughout the day and take 1 – 2 hours.
A Safari In Chitwan National Park Looking For A Rhino & Tiger
I've yet to embrace Safari's like my buddy Chris, but have been on one in Sri Lanka but was excited to see animals do potential viral video shenanigans.
Chitwan was Nepal's first national park and became a UNESCO World Heritage Site in 1984. The National Park has a massive variety of mammals, birds, fish, and reptiles. We got a taste of them all.
After a long day's drive from Panauti, we arrived an hour or so before sunset at Tigerland Safari. We'd be chilling here before our epic animal encounters planned for the next day.
Well, it didn't take long for my first animal sighting having seen a pair of rhinos a couple hundred metres away across the river at dusk. There was an awesome peacock and a bunch of spotted deer too. The anticipation levels for the next day were suddenly a lot higher!
We set off early for a 20-minute canoe trip. The waters were still and while we didn't see anything massive, there were some colorful birds and some of the weirdest alligators I've ever seen.
To me they were a hybrid between alligator and sawfish. They were pretty cool to see chilling on the embankment, and thanks to the work of the park staff the numbers have increased greatly.
Later on in the day, we were onto the safari. This is what we really wanted to do as our friends had seen rhino's up close the day before. It's safe to say the one horned rhino (a.k.a. Chubby unicorns) and the Bengal Tiger was at the top of our bucket list.
Boom! We'd hardly started the tour before we encountered our first rhinos. We saw two, perhaps 25 metres away but with the long grasses, we didn't get a great look. After a few minutes of chilling and admiring their chubbiness, they ran off deeper into the jungle.
Wholly crap rhinos can move fast.
Alas, that would be the last of our rhino spotting. There are a few hundred in the jungle, but the long grasses and noise of the open air Jeep engine doesn't make sightings easy.
Our guides were no slouches though. Somehow spotting a monitor lizard, hornbill and a bunch of spotted deer (we all spotted these) before heading back. The elusive tigers couldn't be found.
In Chitwan we were hosted by Tigerland Safari. They were great hosts with a decent property but please if you go there, DO NOT ride elephants which they advertise. A lot of the travel blogger community has come togehter to promote alternative elephant experiences. Unfortuantely it would appear most of the places offer elephant rides in Chitwan.
Getting To Tigerland Safari: The drive is at least six hours from Kathmandu by bus (expect long delays). You can also fly to Bharatpur and take a short bus from there.
Time To Scroll Facebook? Pin This Post So Don't Forget About It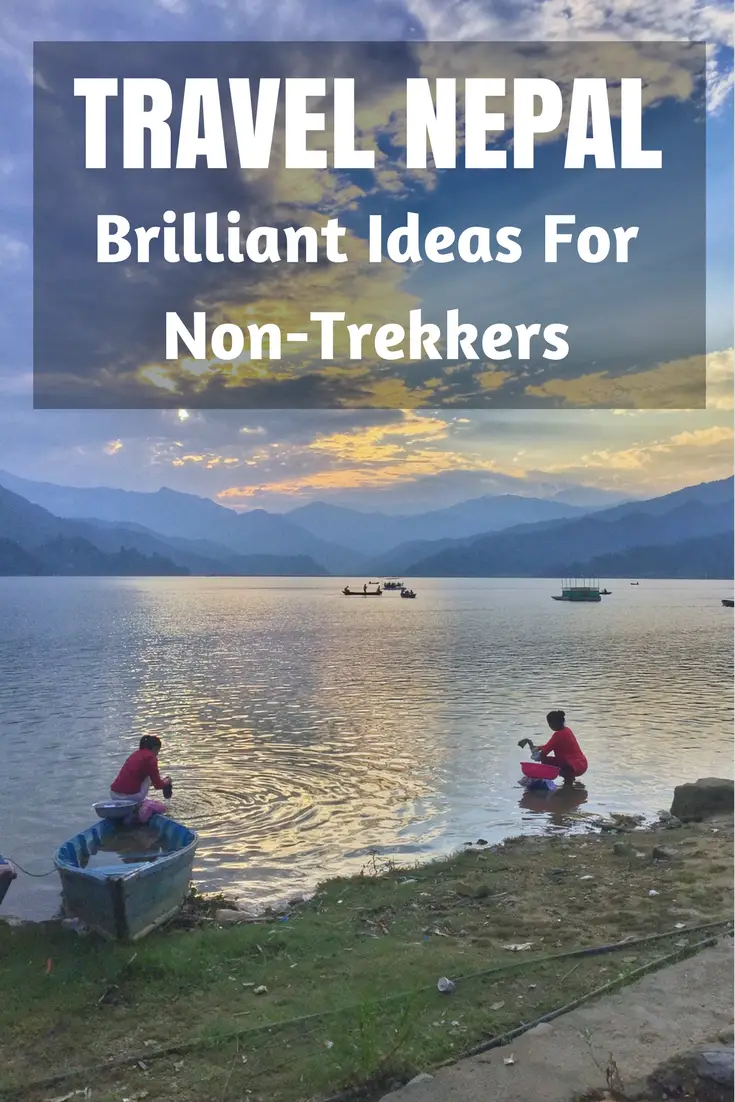 Visiting Lumbini: The Home Of Buddha's Birthplace
I'm as atheist as they come.
But I really like the guidelines of Buddhism so visiting the birthplace of Buddha gave me one of those powerful feelings.
Before the birthplace of Buddha we explored the various monasteries, temples, and stupas in the monastic zone. It was like a trip around the world with the Sri Lankan Monasteries and German Stupa my favourites.
When we passed the golden baby Buddha statue we were closing in on the birthplace of Buddha.
The tree under which Buddha was born is an Instagram haven (and magical) with hundreds of prayer flags hanging above.
It was a cool place to hang about for a 20 minutes or so, I even snuck off to a quiet spot to do five minutes of meditation myself.
I'm definitely grateful to have visited Lumbini!
If you're interested in Buddhism, read one of my favourite books What Makes You Not A Buddhist.
When we were finished up for the day I enjoyed hanging out at our hotel Buddha Maya Garden Hotel. Yay for fast internet :).
How To Get To Lumbini: Another long drive of seven plus hours or you can fly to Bhairahawa which is ~25km from Lumbini.
Pokhara With The Locals
After plenty of time on the bus for the previous week or so, we had a pretty open itinerary in Pokhara. The main reason for our visit to be present at the International Mountaineering Museum for Everest Day (May 29th).
The day Sir Edmund Hillary became the first person to summit Everest. Kiwis represent!
The Mountaineering Museum didn't excite me, to be honest. Maybe I'm biased but there was hardly a mentioned of Sir Ed and little organisation overall.
Away from the museum there's plenty to do in the area, the gateway to the Annapurna Circuit. I had fun heading down to the park to play football with some teenagers. The lake in general is a cool place to hang and the Peace Temple has some great views.
If I could live anywhere in Nepal, I'd choose Pokhara.
How To Get There: There are multiple short flights from Kathmandu or you can a ~seven-hour bus ride.
Bungy Jumping From 160 Meters High At The Last Resort
As a kiwi everyone assumes I've already jumped off a bridge. For whatever reason I haven't but when discovering that there is one of the highest bungy jumps in the world a few hours away from Kathmandu I had to go.
Check out my full post, including video, of my day trip to The Last Resort (totally worth it).
A Flight To Get Up Close And Personal With Everest
I'd like to think one day I'll have the fitness, time and cash to summit Everest. If you're like me and can't see that happening in the next couple years, you can take a flight to get up close and personal.
My buddy Steph raved about her mountain flight over Nepal, and that link has some wicked cool photos and details on how you can do the trip.
A piece of me wishes I did this!
---
Woah, writing this has made me realise just how much we did and these really were some of the best places to visit in Nepal if you don't like hiking day after day.
If you want to visit all of these places in a reasonable amount of time, you could squeeze it all in a 15 day tourist visa time period. I'd prefer to get the 30-day visa (doesn't cost much extra) so you aren't stressed getting from A to B in between the long travel days.
Has Nepal Moved Up Your Bucket List At All?

Pin this post to help plan your trip.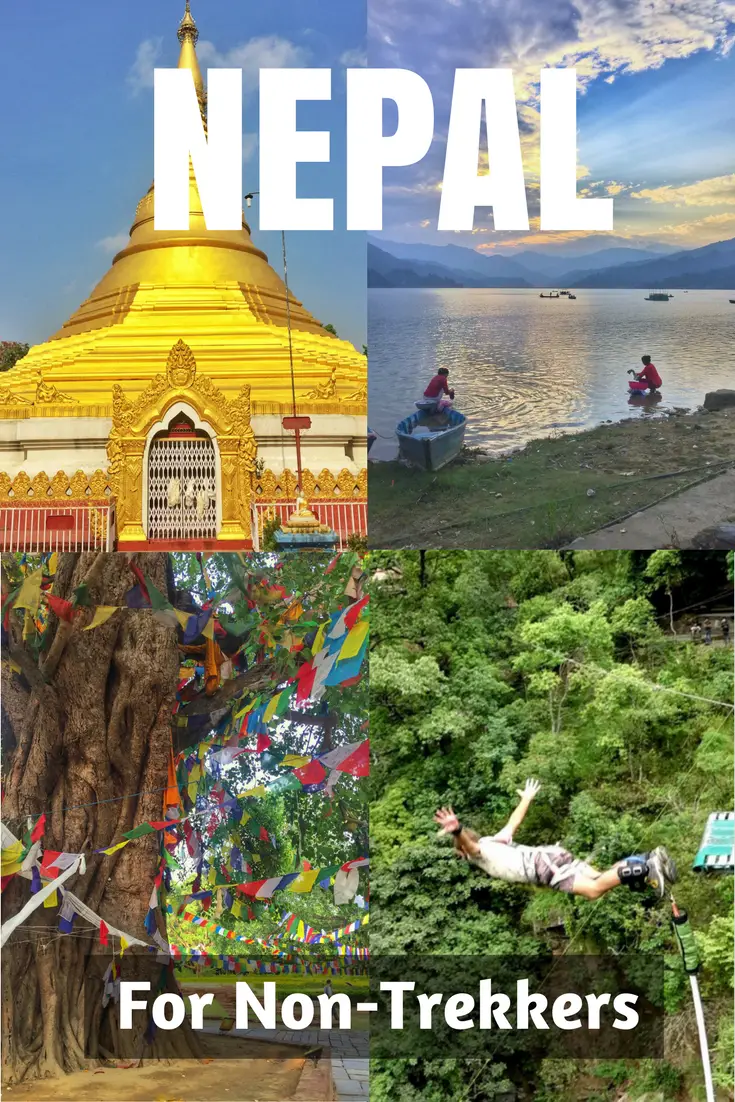 Disclaimer: I was invited to Nepal thanks to PATA and the Himalayan Travel Mart #HTM2017. All these opinions are my own. Even I was surprised how cool Nepal even though I didn't get a chance to go trekking. This time.