I was familiar with 3-on-3 basketball but was stunned when the tournament MC mentioned that we were watching one of the new sports to be added to the 2020 Tokyo Olympics.
An hour earlier, I was on the way to a cafe in Riga when distant chants of 'Latvia, Latvia, Latvia'caught my attention. Assuming it was some sort of free summer concert, FOMO got the better of me and I wandered over to discover it wasn't a concert but a U-18 3×3 Championships qualifier tournament. The cafe would always be there tomorrow.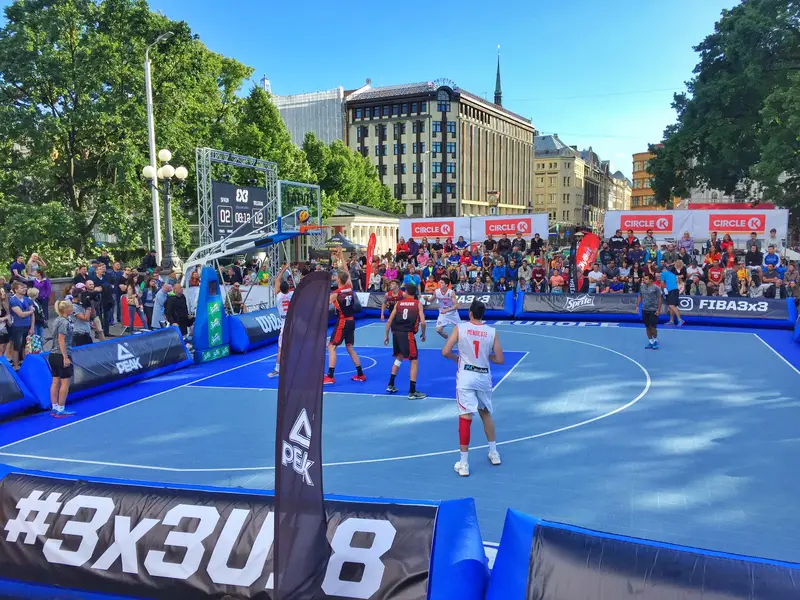 I quickly worked out the basic 3-on-3 rules:
1 point for shots inside the arc, 2 points outside the traditional 3-point arc
10 minute games
Games are played on a half-court
12 second shot clock
3 active players and 1 bench players with rolling subs
Turns out street ball and 3-on-3 basketball are more or less the same. 3-on-3 basketball is more formal of course as the streetball motto 'No blood no foul', doesn't quite fly here (and the game has officials). It's street ball with a rule book.
How Did 3-on-3 Basketball End Up In The Olympics?
In 2016 IOC President, Thomas Bach, announced the additions of surfing, skateboarding, and sport climbing to the 2020 Tokyo Olympics schedule. He justified the controversial inclusions with the following:
"You have to go, and sport has to go, to where they are and with this organisation we go to where the young people are so I'm extremely pleased with this proposal." – source.
FIBA had been petitioning 3-on-3 basketball to be included in the Olympics for the past seven years. The seven years of hardwork was reward when the sport was given the green light on June 9th 2017. 3-on-3 basketball has started too pop up in pockets of communities all over the world they reckon.
Just because it's cool now, doesn't mean it's guaranteed to be a success at the Olympics.
Does It Have A Chance Of Being Successful?
Yes. Because…
Fans are close to the action. This is similar to 5-on-5 basketball, the fans are intimiate with the players.
Fast paced games. This creates a lot of opportunities for upsets, which can create awesome story lines at the Olympics
Most of all, I like how the best 3-on-3 player, Dusan Bulut, summed it up: "Everybody has fun. The players, the audience, they have a really good time, they are surrounded by music, it's in the open air."

This is a similar theme to beach volleyball which is a fan favourite at the Olympics, it's a party atmosphere!

The game was started in the 1980's, so it's a relatively new sport meaning different countries are still coming into the game with their unique style. There is no dominant country in the sport, yet.
No. Because…
Former NBA players might take over the game. With the BIG3 league (see below) having started up, organisations could be inticed to bring in NBA players as a drawcard, rather than the best players regardless of their backgrounds.
It's too new. It's less than four decades-old! Golf took a long time to get into the Olympics and wasn't a success. They know the risks involved I spose.
Fans don't understand the game. Because of reasons above.
How Did Latvia Go At The Championships?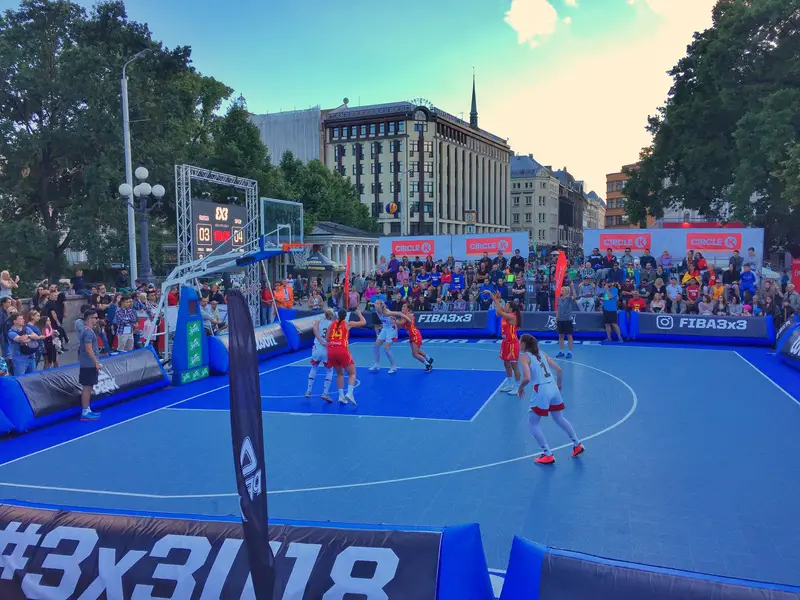 I stayed and watch for about two hours watching half a dozen or so games. The mini grandstand constructed was pretty cool example of how close you can get to the game.
The chant of 'Latvia, Latvia, Latvia' is quiet catchy. Unfortuantely for the Latvian lads, they lost in the quarterfinals and then again in a match against Serbia in overtime. That was a nail-biter. I sw the Latvian girls destroy Ukraine in the semi-finals before they went down in a nail-biting one point loss too Spain in the final.
I'm not sure who the favourites were, but seemed like a solid showing by both sides.
Want To Learn About 3-on-3 Basketball?
Having looked into the game some more, there is a new professional league that has started up in 2017. Created by Ice Cube and Jeff Kwatinetz, it's simply called BIG3 and features a number of former NBA players. One sports blogger believes it won't last (crikey, the ticket prices are high), but take a look for yourself in the video below.
Other useful resources to learn about three-on-three basketball are:
The FIBA 3×3 Youtube Channel and join this ewebsite, or follow tournaments around the world.
READ MORE: THE OLYMPICS MADE MY SPORTING BUCKET EVENTS
I didn't end up visiting the cafe the next day, but I got a taste of a new Olympic sport. I don't plan on competing, but it'll be cool to go watch in Tokyo. I do think it'll be a success though, it's different enough from NBA allowing players who can't match it in the NBA to show their skills at the half court game.