Looking to get out of Chiang Mai city centre for a few hours?
The Wat Pha Lat hike is the perfect way to do so within the city limits.
Most tourists head up the mountain to Doi Suthep having negotiated songthaew fares. They then get to pay an entrance fee to the temple to be suffocated by hundreds of tourist around them with the heat from the concrete not helping.
Ar Wat Pha Lat you get a chance to be mellow, for free in a go at your own pace adventure in a more authentic cultural experience.
The start of the trail is behind the back entrance to Chiang Mai zoo (GPS coordinates 18.797503, 98.942232).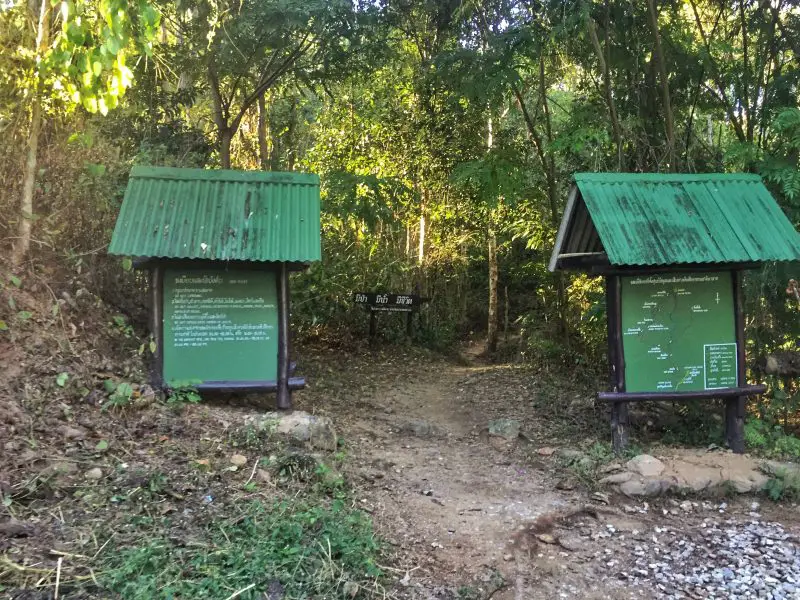 A few options to get to Wat Pha Lat trail head:
Walk along Suthep Road and follow the signs
jump on your scooter
Uber which isn't going to cost more than 100 baht from anywhere in Chiang Mai
Note: you can drive up there via the road to Doi Suthep, but that's no fun.
I've done the 'hike' a few times now. It's a 35-40 minute walk max.
I spent New Years Eve 2014 up there with my flatmate, the perfect introduction to the temple. I went back a few months later in burning season, the blanket of haze so thick you can't see the city 200 metres below.
Most recently I went in January 2017 after not being in Chiang Mai for over a year.
Over two years later, walking the Monk's Trail to Wat Pha Lat, meaning "Monastery at the Sloping Rock" remains magical.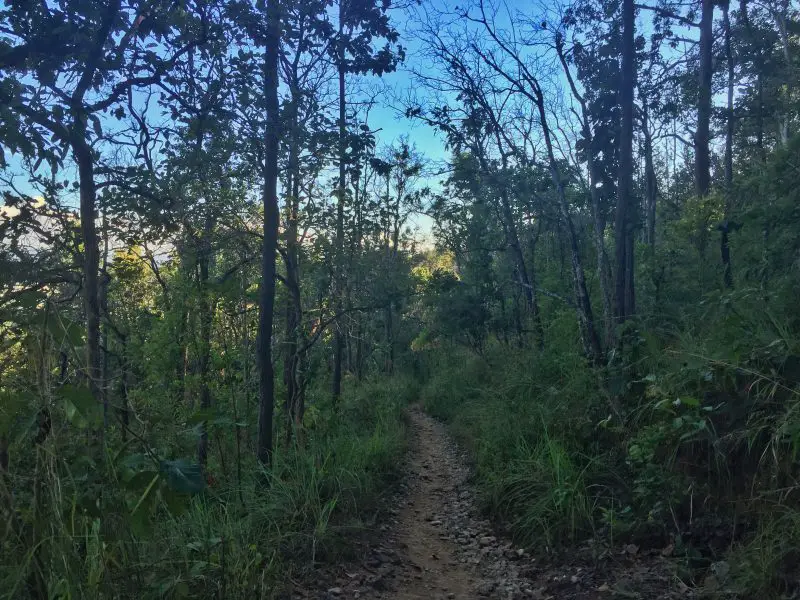 There have been some minor changes, but remains maximum awesome, fist pump.
I tend to ignore the green signs at the start, they're in Thai and the track is self-explanatory anyhow. As you progress higher up, you'll start to pass orange monk robes wrapped around trees, indicating the way. If you're lucky you'll come across monks on your walk.
Along the way, you'll find a few signs talking about the area. My, favourite once was the eighth sign instructing you to sit down for a moment.
My friend made the most of the moment. I was getting agitated, eager to keep moving. Not exactly in line with the experience with the faded monk's robe judging me from there trees.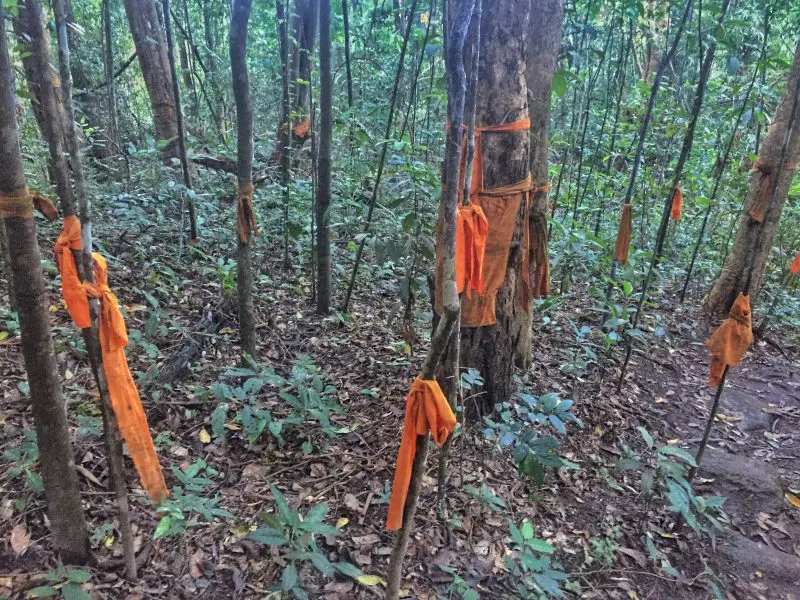 On the trail you'll find a couple forks. If you take the 'wrong' trail, you'll soon come to a dead end, otherwise, the trails meet up again further up. Let your mind wander, don't worry about right or wrong as you head up (so much wisdom, Jub).
Walking this trail in my sandals has never been an issue. Though after some rain it could get quite slippery. I'm a bit of an idiot, having not worn shoes for two months, my sandals go everywhere with me.
Before long you'll be at the top as you start to pass the statues up the final incline.
Remember, this is a temple so bring appropriate clothing and respect the area. Leave the loud, obnoxious behaviour at the trail head.
On one occasion a girl with a large sunhat, sweeping the area in front of the temple was being hounded by a tourist. The tourist wanted a photo of her, one he could brag to his friends about saying he saw the 'Real Thailand'. She was reluctant and embarrassed as he continued to ask her to look at the camera from afar.
He stopped before I stepped in. Taking photos of people is fine, be a nice, curious human and then ask nicely.
The temple grounds of Wat Pha Lat are big enough with a variety of Buddhas, temples and what not. Take a few moments when you first arrive to sit on the rocks where the waterfall will flow around you.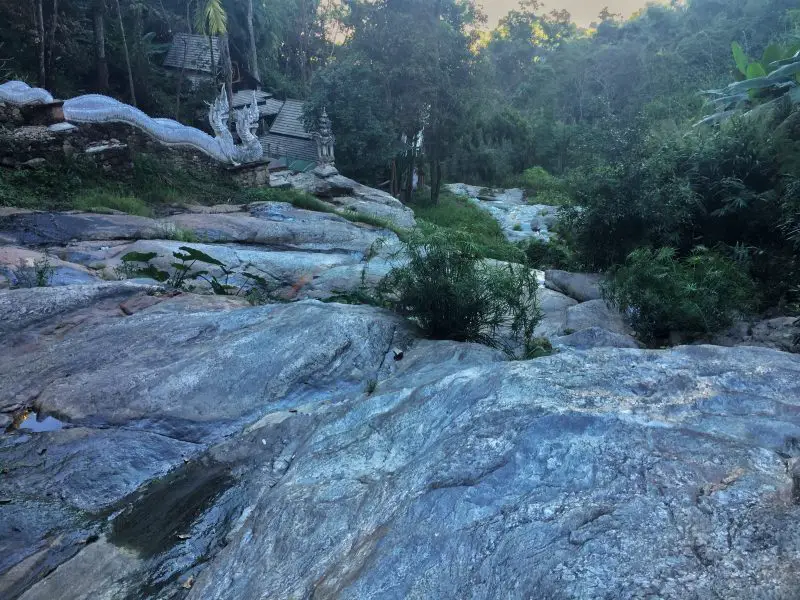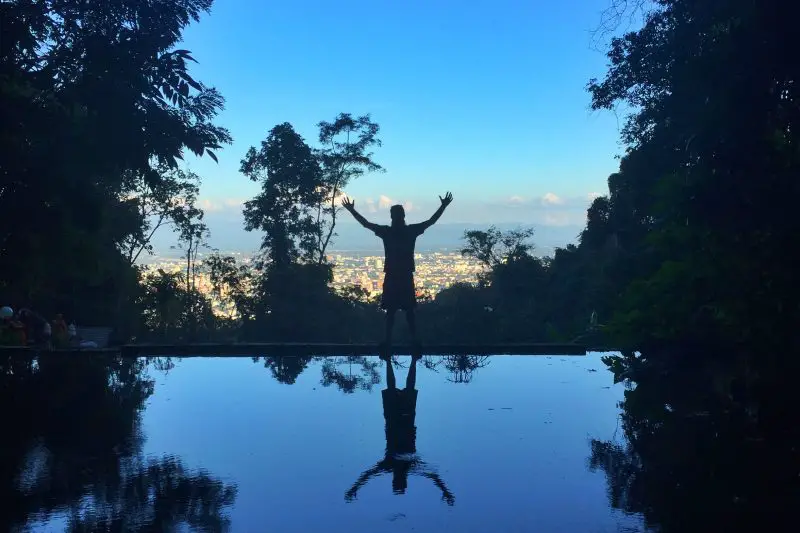 Can you spot any landmarks in the city below?
When you start to take a look around the grounds, don't get straight to snapping photos. There's heaps of cool things to spot, keep your mind in a conscious state and take your time.
You can upload the Snapchat story 10 minutes late, promise.
I never noticed the awesome laughing monk until my third visit. It's cool to see the different shit (couldn't think of a better word) at this temple, the variety is ideal.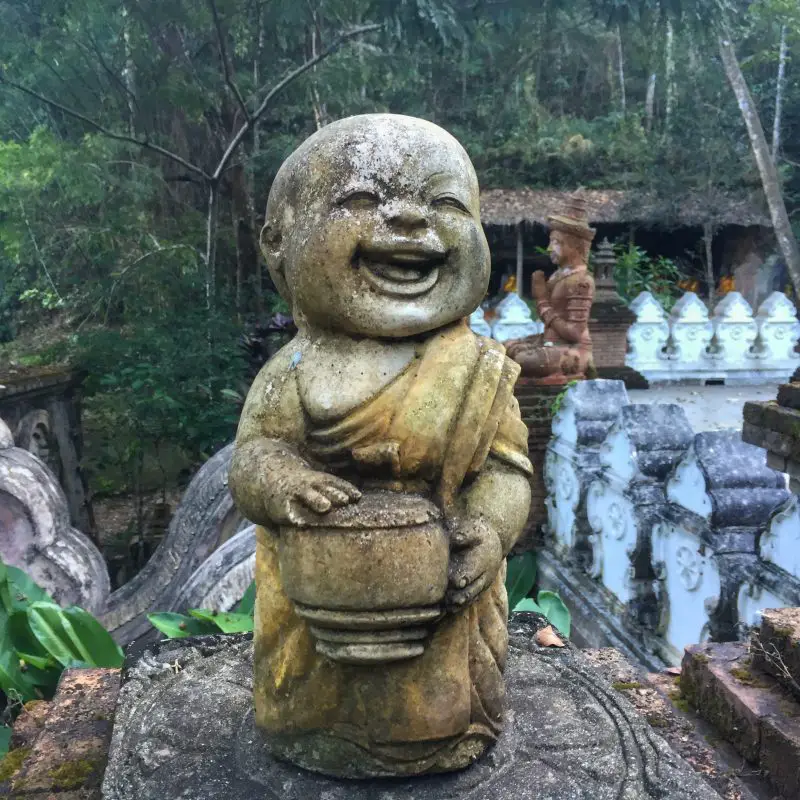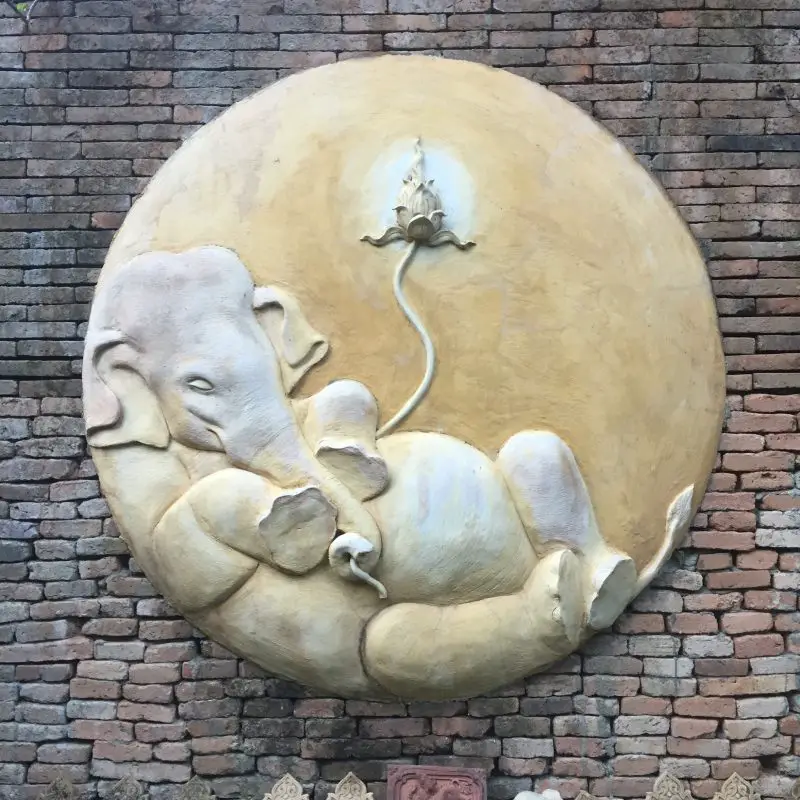 If you need a refreshment, keep an eye out for the stall in the corner selling drinks. It wouldn't be Thailand if someone hadn't set up a stall to sell something I suppose. She definitely has first mover advantage.
The trail was busier than previous visits, possibly due to going later in the day?
I can see the hike getting more popular as word spreads, especially within the expat crowd.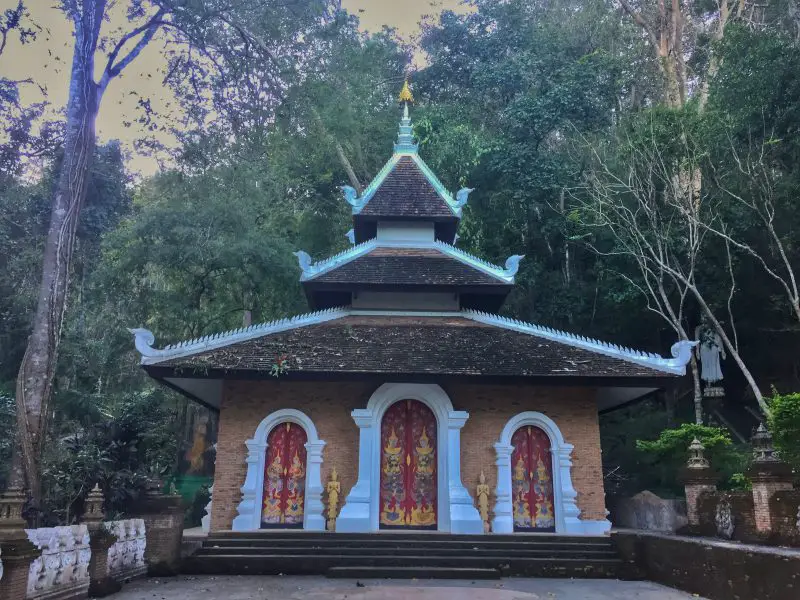 Definitely do this 'hike'. Wat Pha Lat is a magical little spot hidden in the foothills of Suthep Mountain.
You may even want to carry on walking up the trail to Doi Suthep and join the fellow hoards of tourists. Make no mention of Wat Pha Lat.
Doi Suthep is shinier, bigger, grander, higher and more well known than Wat Pha Lat. In this case, I'd visit Wat Pha Lat over Doi Suthep, every.single.time.
If you're spending some time in Chiang Mai, you should check out all my Chiang Mai posts.