The time has come. The Catlins have emerged from obscurity and the region is now on the tourist radar.
Honestly, I'd never ever heard of the Catlins growing up. Tucked away in the Southeast corner of the country. With a sparse population, farming and forestry are the regions, traditional economic drivers. Will the various things to do in the Catlins lead to tourism being another big industry for the region? I think so.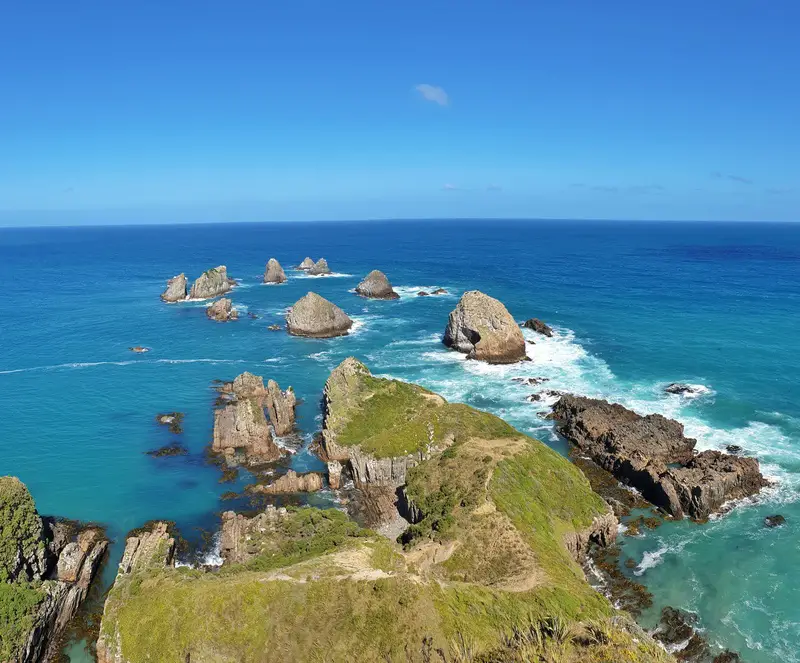 I'd started to hear The Catlins being mentioned more and more often. None more so than in my two trips to the South Island towards the end of 2018. I still didn't know much about the area, but people were throwing around the words 'non-touristy', 'beautiful', 'untouched', and 'highlight'. Words that make your ears prickle with anticipation.
So when planning a short kiwi road trip with Nina in early 2019, I suggested the idea of exploring the Catlins.
She went with the idea and we had a blast rolling around in a high-top van.
This post will include information about:
things to do in the Catlins
what not to do in the Catlins, and
other tips and tricks (how to get around, how long to stay etc.)
Things To Do In The Catlins
Visit The Waterfalls
We made a conscious effort to visit most of the waterfalls in the Catlins. Not all of them are awesome (you'll read which on was a massive disappointment later) but for the most part, they're great. Here are some quick notes on the ones that are at least worthy of your consideration.
Waipohatu Waterfalls (must visit): This was the first place we visited and they set the bar high. This is the longest walk you'll have to any of the waterfalls, but it's worth it. The main carpark is a couple hundred metres away from the start of the trail which can be muddy to start with.
The trail is a full loop, but we decided to walk back out the same way from the waterfalls to save time. The walk to the waterfalls is in a gorgeous forest, green as, with no major elevation to be worried about. It took us 45 minutes to reach the point where you have the choice of going left or right, each leading to a waterfall (the yellow sign doesn't give you much of a clue about which is which). We went left first which is the smaller of the two falls. Note, it can be super slippery on the trails around the falls.
Both falls are great, so be sure to visit them both. They're not great for swimming or any cliff jumping but are definitely gorgeous and perfect for photo opportunities. And totally different! If you're planning to continue around the whole loop, use Maps.me to make sure you stay on track.
Give yourself two hours of walking time to be safe plus however long you plan to spend at the falls.
Koropuku Falls: I'll give Nina credit here. She saw the Koropuku Falls sign and pulled over on a whim. The trail to this waterfall is visible but can be slippery and you'll want to wear shoes. The waterfall isn't massive but is super cute and you'll likely be the only ones here. Give yourself 10-15 minutes or so to walk each way plus the time you spend there.
McLean Falls: One of the top tourist attractions in the Catlins. It is epic and easily accessed. You'll see a couple of ways to get to the separate tiers for different photo opportunities. For the adventurous, you can hike to the top of the trail by finding the trails on the right-hand side of the falls when you're facing them. You can get right to the edge and it's nerve-wracking but great fun! (it's not a spot for cliff-jumping).
Purakaunui Falls: Along with McLean Falls, this is a touristy waterfall with a large carpark and well-constructed trails leading to a viewing point. It's a solid waterfall but personally, the number of people around taint the image. An obligatory stop given it's easy to access. The total return trip won't take longer than 25-mins.
Matai Falls: This is a solid waterfall. There are two waterfalls easily accesssed via another good track. They aren't wow-worthy, but pleasant and a waterfall can never be overly bad…right.
Visit Curio Bay
I didn't know much about Curio Bay, other than a friend mentioning she was swimming in Porpoise Bay (right next door) some dolphins came from nowhere to play. How cool! Apparently, this is a somewhat common (whatever that means) event but we stuffed up our visit.
When we turned up, we were a bit shocked by the number of tourists here having seen so few in the previous 24 hours. The main attractions to Curio Bay are the petrified forest which dates back millions of years and the rare yellow-eyed penguins.
Granted the weather wasn't great when we were there, the walk to the petrified forest is quick, and honestly, it's pretty meh. You can see some logs, but it's not exactly riveting. We would have loved to of seen the yellow-eyed penguins, but we were there in the middle of the day when they aren't due back on land until sunset.
Surfing too would have been an option but the weather was crappy.
While I can't say many nice things about Curio Bay (timing and weather), it's a place that has lots of potential as Maire writes here.
I'll give the place another chance next time.
Cathedral Caves
Not to be confused with Cathedral Cove in the Coromandel, the Cathedral Caves are Cathedral-like in size and are most definitely caves.
But, this is one of the places you'll need to plan your Catlins itinerary around. This is because the caves can only be accessed safely in the two hours before, and one hour after low tide from October to May. These are also the only hours the public has access to them as you need to walk through private land to reach them open to the public.
You'll want to visit this site to see when the low-tide time is when you're visiting.
When you arrive, there'll be parking wardens letting you know where to park as the place does get crowded. After paying the entry fee (adults $5, children $1 – cash only) you'll have a walk down a track to the beach. Turn left on to the beach and keep trucking until you hit the caves with a ~30-minute walk for most.
The caves are pretty impressive with two cave openings easily accessed. If you venture into the back of the cave (100 metres or so), you'll realise they're connected after the seas have edged over 1000's of years to form the sea passage. If you're here when the tide starts to come in, then be prepared to get wet when the waves surge in. Most people will take their shoes off and leave them on a rock. I really enjoyed these caves!
My advice: get there as early as you can as the carpark starts to fill up with people.
Visit Nugget Point
This place is absolutely beautiful! It's the cliche postcard Instagram spot for the Catlins, but you definitely need to take the walk out to the lighthouse along the trail with steep drops dropping down to the ocean below. The most popular photo opp is a few hundred metres before the lighthouse with the rocky islets framing the shot. This is an epic place for sunrise (apparently…didn't wake up myself), but even if you're visiting in the middle of the day like us, it's worth spending the hour or so here to walk, admire, and head back.
If you look close enough you'll spot seals hanging out on the land below (not close), penguins, and a bunch of other birds.
Visit Some Unusual Places In The Catlins
Tea Pot Land. As you're driving through Owaka's main drag you might notice this property but not think much of it. Make the effort to stop though! It started off as a little collection of teapots in the garden, but now there are over 1000 throughout the property as the owner, Graham Renwick, continues to collect teapots from around the country and even world. If you do take a look at the teapots (spot the cat themed ones!), drop a couple of dollars in the donation box.
Slope Point. Slope Point has become a place to visit in the Catlins because it's the most southern point of the South Island. I like visiting these milestone destinations. Slope Point is a 10-15 minute walk from the carpark along a well-defined trail on private-land open to the public. There are some nice views of the dramatic coastline here but other than that, there isn't any activity as such other than posing with the sign. Note: the winds are hectic here! I'm not sure how the wind is on a daily basis, but this is one of the windiest moments I've experienced ever.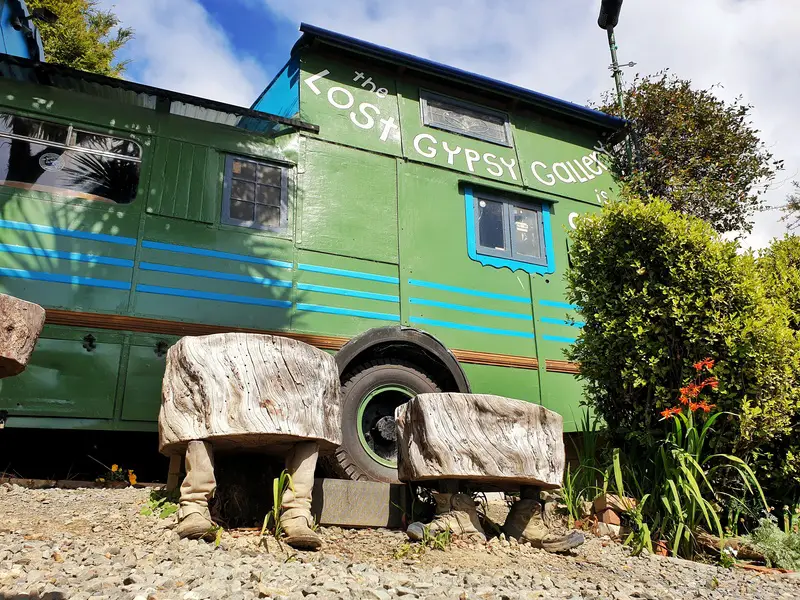 The Lost Gypsy Gallery. Not a fan of art galleries? Don't let this put you off visiting this place. We would have driven straight past this place if it wasn't for a recommendation from a friend. If that's not enough to convince you to stop here, there's a coffee caravan. Happy now?
The Lost Gypsy was started by Blair Sommerville, who liked to tinker. As you walk onto the property, take a close look at what you're really looking at. I couldn't believe I didn't notice the feet on the seats above for example! It's the details that make this place epic. Head on into the caravan and you'll see dozens, if not hundreds of (some interactive) automata creations. There'll be some memorabilia you may or may not notice in their too.
Entering the bus is free, but if you'd like to see some of the more experiential pieces, then you'll want to head to the theatre in the rooms out the back. You could spend as little as 10 minutes here, popping in an out, but for the super curious you could find yourself here for up to an hour. More if you want to relax while having your coffee!
Tunnel Hill Track. Not a major attraction, but it's easily accessed. The trail drops down to an old railway line (last used in 1971) through a tunnel. You'll need a torch/phone light as it's pitch black and you can't see the other end of the tunnel when you first enter. It's a bit of fun and can fill in some more time.
Places You Can Ignore In The Catlins
Niagara Falls. This is a piss-take, which is fine. But there literally is nothing to even have a lol at. Pass.
Lake Wilkie a.k.a. Mirror Lake. Maybe on a sunny day, the reflections here would be great, otherwise, it's a pleasant short walk along a boardwalk with a lake that may or may not wow you. For me it seemed meh.
Barr Falls. This one is way off the trail and you don't need to worry about visiting. It could be epic if it's been raining lots, but highly unlikely.
Where To Stay In The Catlins
The number of options for accommodation is limited in the region, but there are still options for every budget. We were traveling in a large hightop van and spent two nights freedom camping here, parked up at the Hillview campsite for a few dollars and "splashed out" at the Whistling Frog for some better facilities. I can recommend all of these spots.
If you're travelling in December/January or during a public holiday, you might want to consider booking your accommodation in advance (or get there early if freedom camping). Outside of these times, you should have no problem just showing up whenever you're finished with your day's activities (don't quote me on that).
How Many Days To Spend In The Catlins?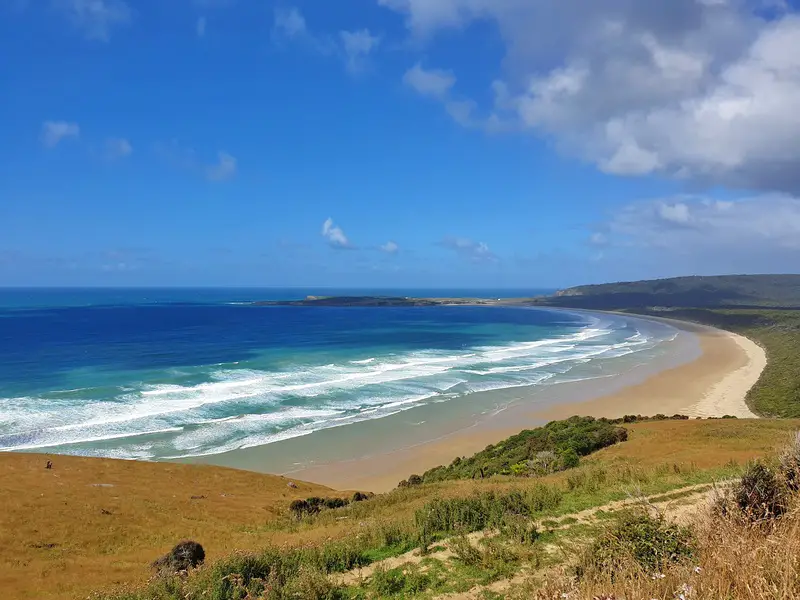 For the majority of you, two days is going to be plenty of time to see the main sites in Catlins. You could spend longer if you want to hang out in Curio Bay for the day to go surfing, but it's not a must. I'd like to go back and do the Blue Mountain Walk which would take up the majority of a day which you can add to the itinerary.
Other Tips For Travelling In The Catlins
Make sure you know which places you're going to stop at one the way in advance. While most places are either on, or not far from the main drag no one likes doubling back. Mark them down, and tick them off in order (unless tide/sunset/sunrise times dictate otherwise as mentioned).
There are longer stretches throughout the Catlins where you'll be out of reception/data will be spotty. Download Maps.me and Camper Mate , so you at least know where the places you want to stop are (these are the apps you need for travelling NZ).
Gas stations aren't too common in the area. Make sure to fill up in Balclutha or somewhere near Bluff, and keep an eye on your gas levels (the Campermate app helps). When you get to half a tank, start thinking where you'll fuel up. Always best to play it safe in places that are a little bit more remote.
Look at the forecast. It's super exposed down in that corner of the world, and overall we can't argue what cards we were dealt with in terms of the weather. It rained a little bit on the first morning but cleared up by midday which was great. If the forecast is looking mediocre, I'd suggest looking to make other plans as I can't imagine it'd be fun at all.
---
Have fun! If you've got any questions, let me know and I'll try help. Send me random stories on Instagram (@tikitouringkiwi) of your adventure in the Catlins too, that's always fun.